Heather Graham has been part of the acting business ever since she was cast in Licence to Drive alongside Corey Haim back in 1988. While the actress isn't someone who has been part of Hollywood's A-list at any point in her career, she is still a star whose work has been seen by millions of fans all over the world as part of a stint in the spotlight that's spanned more than three decades.
Graham has become well-known for playing provocative characters in some of the biggest films of the past few years, which is why she has been featured on lists claiming that she is one of the most beautiful women alive for most of her career. Her part in films like Austin Powers back in 1999 definitely gave her this kind of reputation, but it's one that has stuck to her throughout her acting career since she has appeared to play the same kind of role in many of the projects she has been made a part of.
Incredibly, the beautiful star is now 48 years old, but like many women in Hollywood, she has been able to defy the years and still manages to look almost two decades younger than her age would suggest. The following list looks at just 20 images of the hardworking actress that prove that she is still one of the most stunning stars in the business and could easily give a number of women who represent the new era of talent in Hollywood a run for their money.
20

She Dropped Out Of College To Pursue Acting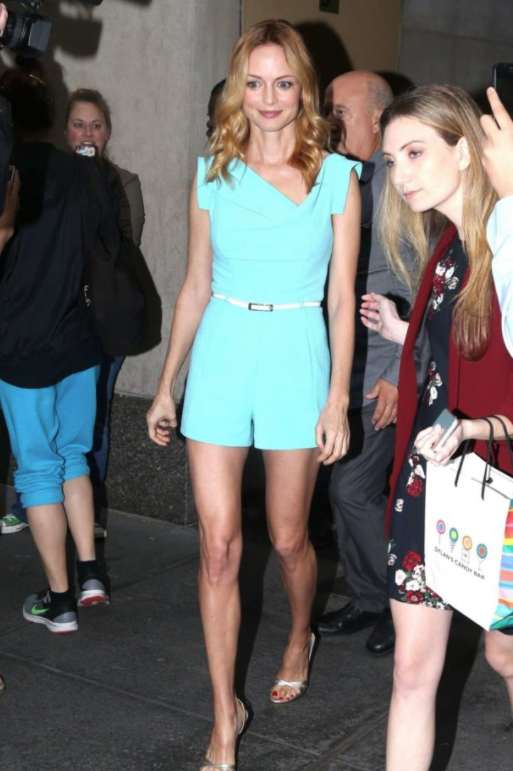 Graham was raised by parents Joan and Jim, and it's reported that they were very strict about her Irish Catholic beliefs. She moved around a lot while she was younger but finally settling in California when she was nine years old. The actress had her first taste of acting when she was cast in a school production of The Wizard of Oz, but didn't decide to push for it at that time.
After finishing high school she enrolled in extension classes at the University of California but after studying English for two years, Graham made the decision to drop out of school and pursue acting as a full-time job.
This decision obviously didn't go down well with her parents and the star has admitted a number of times that she has been estranged from her parents because of their strict beliefs and prefers not to talk about them publicly. Despite their obvious issues over the past few decades, Graham told The Guardian back in 2016, "I am very grateful that they supported me in becoming an actor." The feud between Graham and her parents has been something that has defined her career off screen but it's something that the star rarely talks about openly.
19

She Started Her Career In TV Commercials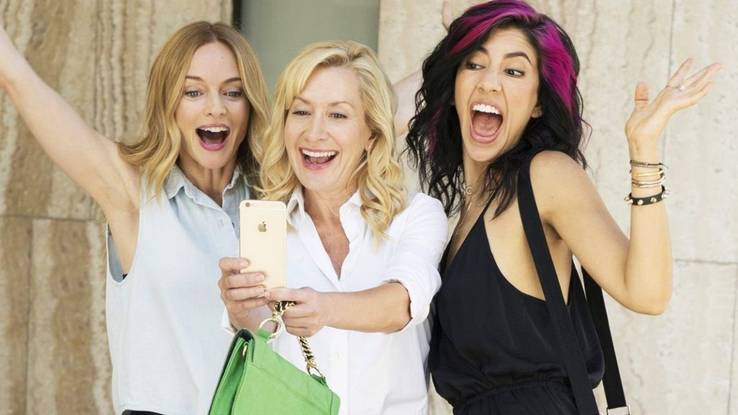 The above image is taken from Heather Graham's role as Honey in Half Magic, her latest movie that was released back in February and incredibly the actress doesn't look a day over 30 throughout the film. The star actually worked as the writer and director for the above movie as well, but still managed to deliver a fantastic acting performance. Graham's career has spanned three decades and actually began with a number of TV commercials and uncredited appearances in lower budget movies.
Graham appeared in an uncredited cameo in Mrs. Soffel back in 1984, before then appearing in television film Student Exchange the following year. The star then moved on to work on a number of commercials for the next three years before she was cast in her biggest project to date as Mercedes Lane in Licence To Drive alongside Corey Haim and Corey Feldman. Graham recently told Forbes that this was a big job for her and signalled the start of her career: "For me, that was a very momentous thing. I was a kid in high school, I got to drive on to the 20th Century Fox lot, to work with these two movie stars and I thought I was so cool. It was my first big job and that was just the start of my career."
18

Her Directorial Debut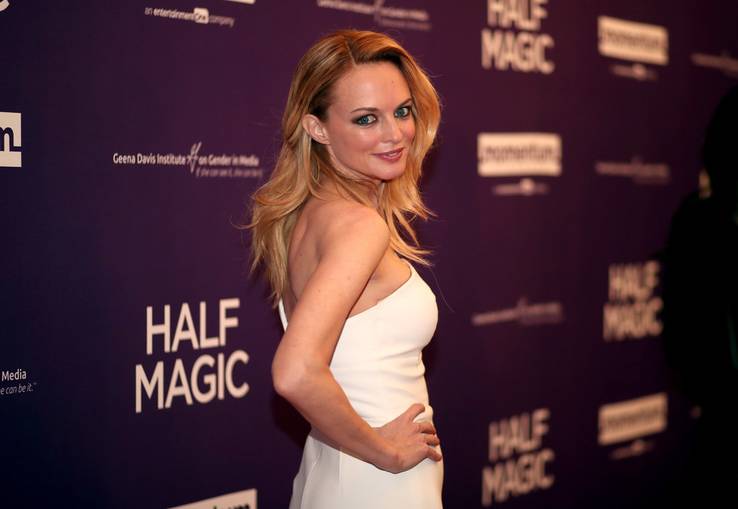 Heather Graham may have started her career back in 1988 when she was cast as Mercedes Lane in Licence To Drive but after thirty years in front of the camera, Graham decided to turn her attention to writing and directing her own film called Half Magic. The film has taken seven years to create. As the actress explained to Forbes, it was financing the movie that took the most amount of time:
"It was so hard and that's why it's taken seven years. Every party I would go to I'd just ask people to help me make my movie. It took another year for us to find a new financier, his name is Bill Sheinberg, and he gave us the money so thank God for him because that's why the movie finally got made."
The movie was released in February this year and also featured Graham in the role of Honey, alongside Stephanie Beatriz from Brooklyn Nine-Nine and Angela Kinsey from The Office.
It appears that the movie was something of a love letter to the actress' career as it looks at a group of women who try to navigate work, friendship and their personal lives in a male-dominated society. Reviews for the film so far seem to be mixed, which could be a good sign for Heather when it comes to her future career as a director.
17

She Missed Many Important Family Moments Because Of A Family Feud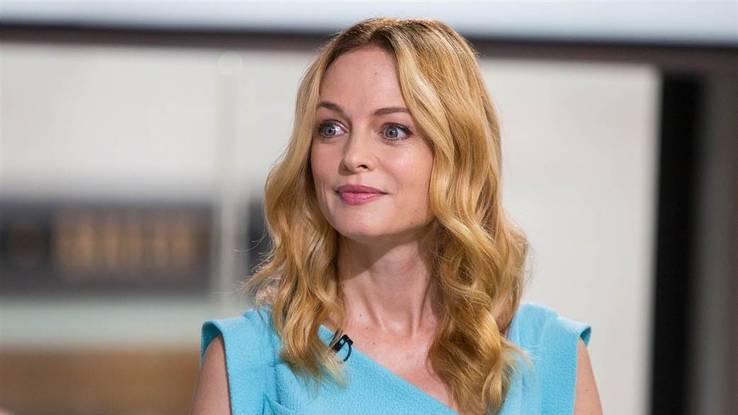 Heather Graham's personal life has made more headlines over the past few years than the classic movies that the actress has been part of. Her parents have even spoken out about the issues with their daughter in recent years. Joan and Jim Graham spoke to OK Magazine where they confirmed that it had been 16 years since they spoke to Graham and that the actress had missed her grandparent's funerals in that time:
"Up until Boogie Nights, we were a close, happy family. Then the movie came out and everything changed. It is safe to say that movie destroyed our relationship – that film is the anniversary of when Heather decided to take a break from us."
Boogie Nights was released back in 1997 and it appears that this was the turning point for Graham and her parents. Despite the distance between them, her parents insist that the most heartbreaking part of the feud is that she was unable to attend her grandparent's funerals.
"Of course we left messages telling Heather they had passed, and a part of us hoped she would come to their funerals. But, for whatever reason, she didn't. I can't believe Heather is 43 now and we have had no place in her life for a long time. It is desperately sad."
16

She Has Supported A Number of Causes Throughout Her Career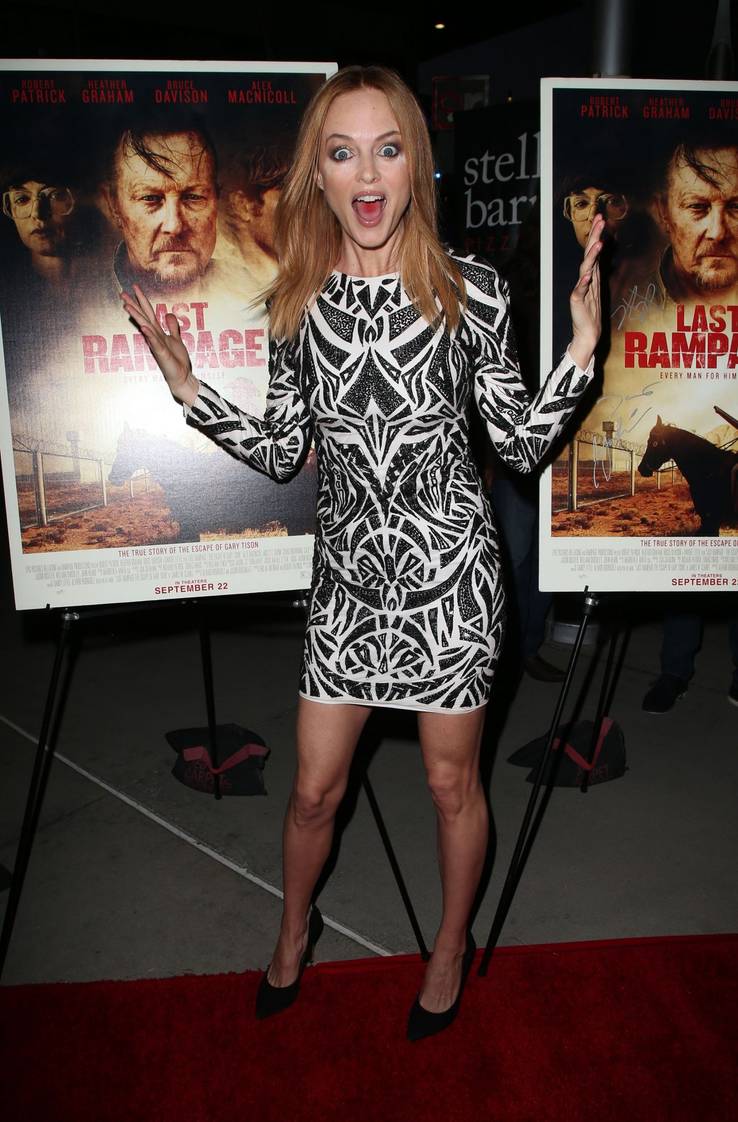 The 48-year-old hasn't only become known for her on-screen abilities throughout her career. She has also been able to cast a positive image of herself in her personal life as well, having supported a number of worthy causes over the past few years and ensured that she has never forgotten where she came from.
Graham is a public advocate for Children International. When asked about her reasons for supporting the charity, Graham told Boomsbeat, "You are helping a child have a better life. It's great for that child to know that someone who lives in another country cares about them." This isn't the only cause that Graham has supported throughout her career. She supported the climate change campaign Global Cool back in 2007 and the actress now also works for the Cambodian Children's Fund, which provides supplies and education, and campaigns to stop slavery.
She told Boomsbeat that the fund "provides free education, clean water and healthcare for communities… We're creating future leaders who will be able to help themselves." The stars charity work over the past few decades has helped her to become a positive role model for many aspiring actresses all over the world and it allows her to remain connected to her fanbase.
15

In 2001 She Was Named One Of The Most Beautiful People In The World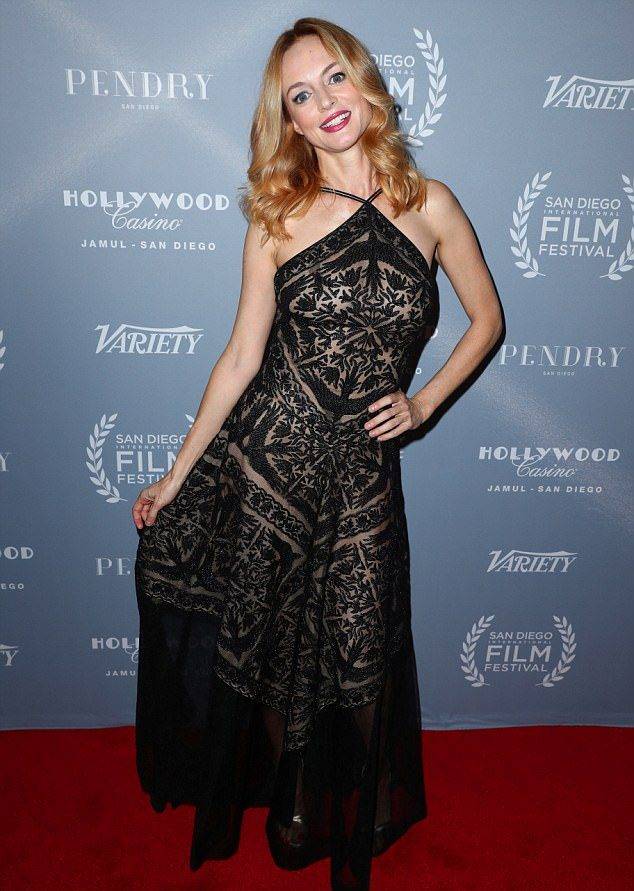 Heather Graham is definitely no stranger to the red carpet after walking it numerous times over the past few decades for some of the biggest movies in Hollywiid. The star is seen here as one of the main attractions of the San Diego Film Festival.
Graham was an ageless beauty as she appeared in a sleek black dress, but this attention isn't new for the 48-year-old, who has been seen as a blonde bombshell throughout her whole career.
Graham was named as one of the 50 most beautiful people by People magazine back in 2001, which stemmed from the popularity that the actress received following her role as Felicity Shagwell in Austin Powers: The Spy Who Shagged Me, a role that earned her a nomination for the Saturn Award for Best Actress. Of course, Graham has been cast in a number of provocative roles throughout her career, stemming back to 1997 when she portrayed a film star who was nicknamed Rollergirl in Boogie Nights. In an interview with SFGate a few years ago, the site seemed to come to the conclusion that Graham was unaware of the reputation she had gained on the silver screen and was more focused on the art she was creating rather than the message she was sending.
14

She Is No Stranger To Promoting Movies Alone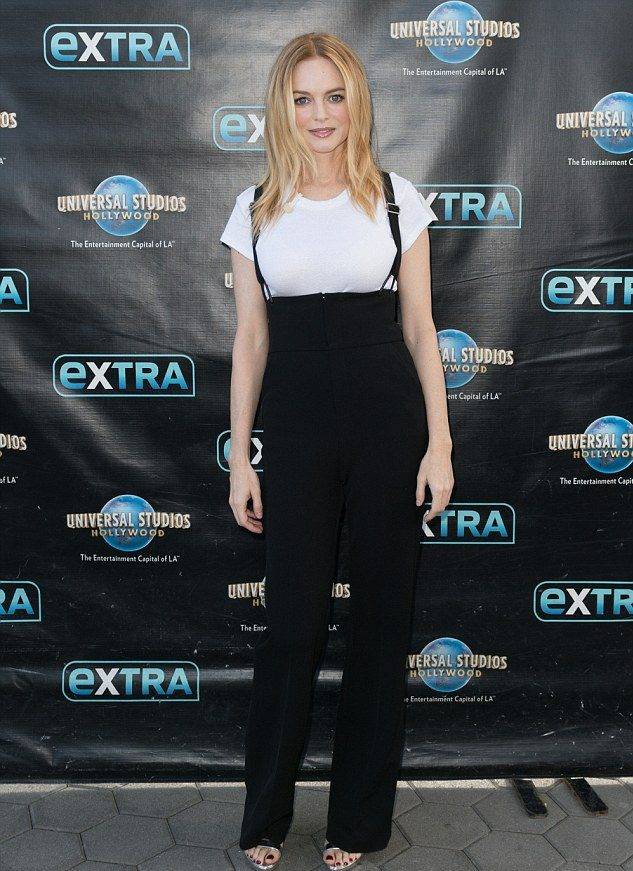 Earlier this year, Graham was pictured showing off her curves as she promoted her new movie Half Magic during a visit to Extra in Los Angeles, a movie that she not only starred in but also directed. Graham has become accustomed to promoting movies over the past few years and more than 17 years ago she was stuck promoting her role in From Hell alone after Johnny Depp failed to appear at The Toronto International Film Festival.
Graham had been part of a number of high profile movies at that time and was able to step in as the main star of the movie but even she stated in an interview that night with SFGate that she wished her partner in the film was there to help: "I wish Johnny could have come." The star was unable to be convinced to come to the Festival and instead remained in his home in Paris throughout the promotional months of the movie. This background has allowed Graham to push forward when it comes to promoting her new movie alongside her two co-stars Angela Kinsey and Stephanie Beatriz and the three women appear to be doing an incredible job of putting the film on the map in 2018.
Featured Today
15 Celeb Kids Who Will Probably Change Their Unusual Name When They Grow Up

20 Surprising Facts About Vladimir Putin's Family

20 Unusual Things Fans Tend To Forget About Natalie Portman

13

She Spoke Out About Harvey Weinstein
Not only is Heather Graham an actress, director, and philanthropist, it appears that she isn't afraid to speak out when it comes to the way that many women are treated in Hollywood as well. Graham revealed that she was one of many women who were propositioned by Harvey Weinstein throughout his time in power in Hollywood over the last few decades and promptly refused any of his advances, which included a meeting in his hotel room.
In an interview with LA Weekly, Graham was able to talk about how pleased she was that women were being allowed to speak up and that the #TimesUp movement was being taken seriously after a number of cases in the past where there have been no convictions.
She said, "I thought about Time's Up; I also like thinking what's next. What's next is us. Empowering ourselves as women to feel great about ourselves, and to ask for what we want, and to be happy. We don't want to be harassed. We don't want [jerks] at work being abusive to us." Graham is referring to her new movie Half Magic where her boss is portrayed as a stereotypical misogynist. It appears that the role could have been based on someone.
12

She Dislikes Reality TV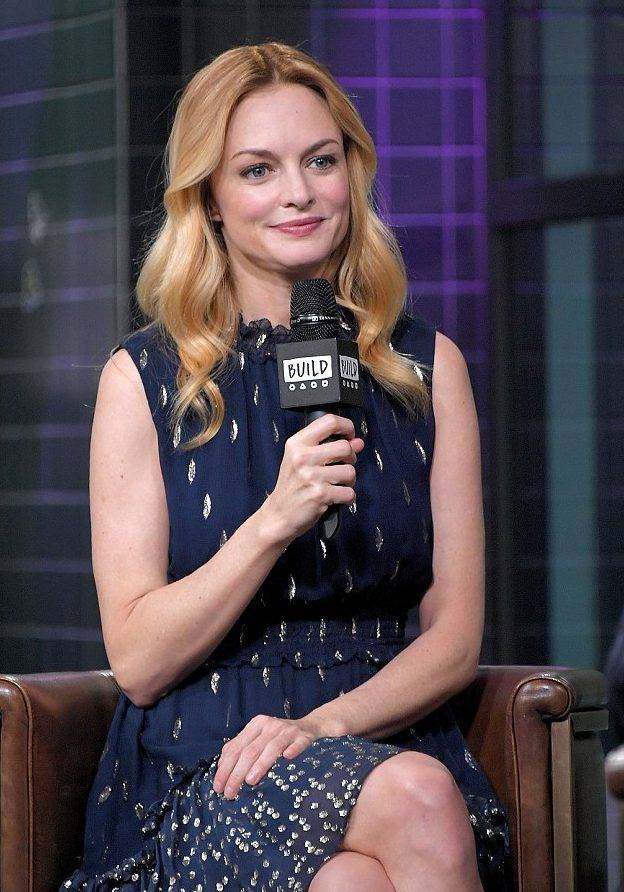 The acting world is changing and even though Graham has proved her versatility by being able to step behind the camera for her latest project, she isn't an actress who will be stepping into reality TV anytime soon. Many stars turn to reality shows when their careers need a boost or when there are ways for them to earn much-needed money, but it appears that the actress is not going to be one of these stars. Graham claimed that she is not a big fan of the fact that reality TV shows are taking over since she doesn't understand the fascination that many fans have with watching these kinds of shows.
Graham stated in a 2007 interview with USA Today, "I think some of it, it seems strange – why do we all want to watch people be so miserable? Other people's pain and misery – it seems kind of sad." The star has proved that she will never be a star who is in need of the boost of reality TV, but it is a type of show that is now taking over, which just shows how much the acting world has changed ever since Graham first stepped into it more than three decades ago.
11

She Cut Out Sugar And Drinking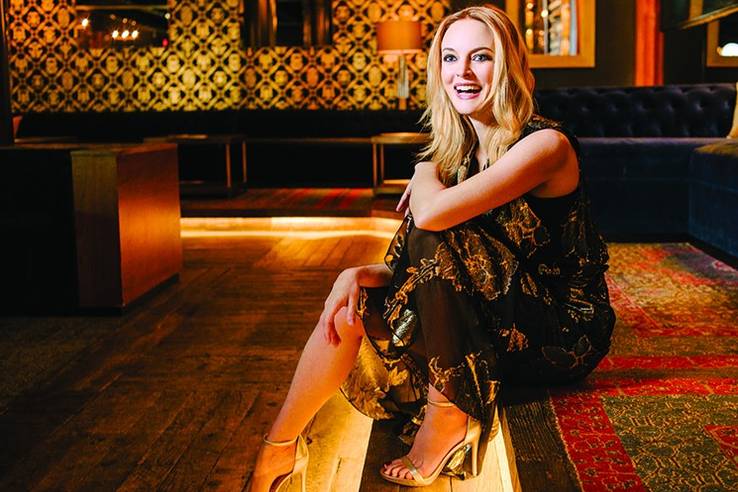 The 48-year-old has always been seen as one of the most beautiful women in Hollywood, but her role in The Hangover a few years ago lead to many fans pressing the actress for information about how she is able to maintain such a lean figure in a high-pressure environment.
Graham has been able to defy the years throughout her career and MotleyHealth revealed that one of the things that Graham does to ensure she stays in peak physical shape is cut out both sugar and alcohol. It was also revealed that Heather may have taken up pole dancing in order to remain in shape for the movie. The actress has been snapped leaving the gym many times which shows that she enjoys keeping in shape the natural way, but Heather also revealed to Zimbio that she does Pilates twice a week and even practices yoga up to four hours a day. It's obvious that Graham has worked hard to be in the shape that she currently is and this could be why she looks much younger than her age suggests. After all, exercise is the best way to stay healthy and fit, it could be a great way to remain young as well.
10

She Has A Lengthy Dating Resume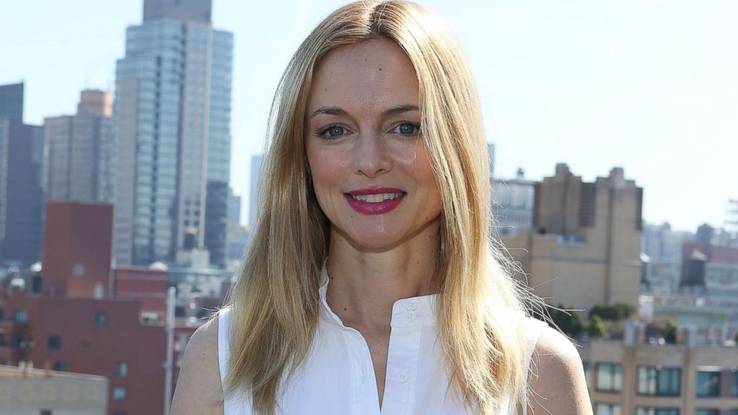 Heather Graham has never been a star who has wanted to settle down and start a family, which could be why she is still pushing her career forward at 48 years old. Despite not being a family-oriented person, Graham has been linked to a number of famous faces throughout her career, but these relationships weren't built to last.
Graham has dated musician Adam Ant in the past, as well as actor James Woods, who she actually met before she started acting herself when she was studying at UCLA. She was later linked to Heath Ledger, whom she met while she was filming From Hell in Prague back in 2000. Graham is now a director herself, but she has been linked romantically to a number of directors as well, including Stephen Hopkins, Edward Burns, and Yaniv Raz. Most recently Heather Graham and her longtime boyfriend Tommy Alastra decided to call it quits after a year together back in the summer of 2017, but this breakup wasn't confirmed until September. The Daily Mail reported that the star was spotted on a dinner date in Los Feliz with a mystery man back in March so it appears that Graham could have moved on from Alastra already.
9

Her Sister Is Also An Actress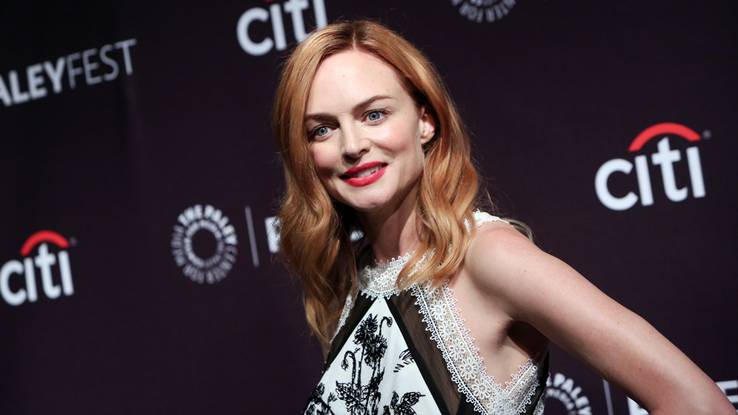 It has already been noted that Heather Graham doesn't have one of the most supportive families when it comes to her acting career, but even though she didn't speak to her parents for almost two decades, the star is reported to have recently been able to patch things up.
Despite her parents not being supportive of her choice of career and even forbidding her from accepting a role in the black comedy Heathers due to their strict religious beliefs, her sister has still been able to follow in her footsteps and make herself a career in the acting business. Aimee Graham is an actress and writer who has appeared in films like From Dusk Till Dawn, and If You Know What I Did Last Friday Thirteenth. Aimee hasn't been able to gain the same level of success as her sister over the course of her career, but she has still opted to go against her parent's wishes and into the business. According to TV Guide, the 48-year-old's last appearance was back in 2011 in The Family Down the Lane as it seems that she has decided to step away from the business for now, while her sister continues to push forward despite being just over a year away from her 50th birthday.
8

She Has Been Typecast Throughout Her Career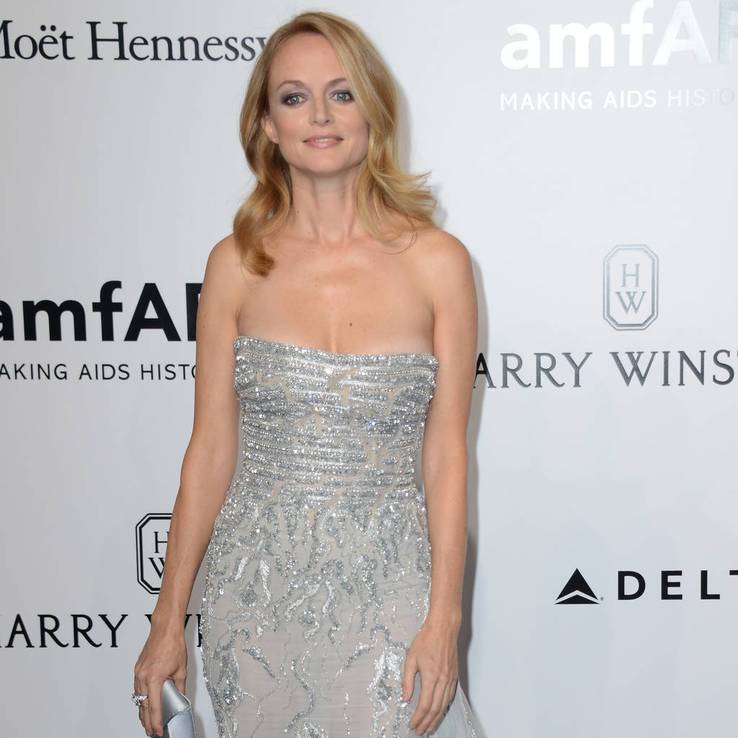 It's hard not to see that Heather Graham has been typecast throughout her career since she is always seen as a provocative character. Roles including Felicity Shagwell in Austin Powers: The Spy Who Shagged Me, Rollergirl in Boogie Nights, Sharonna in The Guru, and even Mary Kelly in From Hell have given the star this reputation.
Graham herself doesn't seem to think that she has been given any kind of presence onscreen and states that she finds many of these roles fascinating and worked hard to ensure that she was cast as part of the projects. She told The Daily Mail that is was all about the way the women were represented:
"I think it's all about the […] repression of women. Women don't have the same amount of freedom to express that side of themselves in films or in life. I like the fact that some of my roles maybe help people to open up their minds in the way they think about it." Graham has remained one of the most beautiful women in Hollywood over the past few decades, which is why she is still showing up on lists about the most beautiful women alive despite being 48 years old.
7

She Has Always Been Outspoken When It Comes To Women's Issues In Hollywood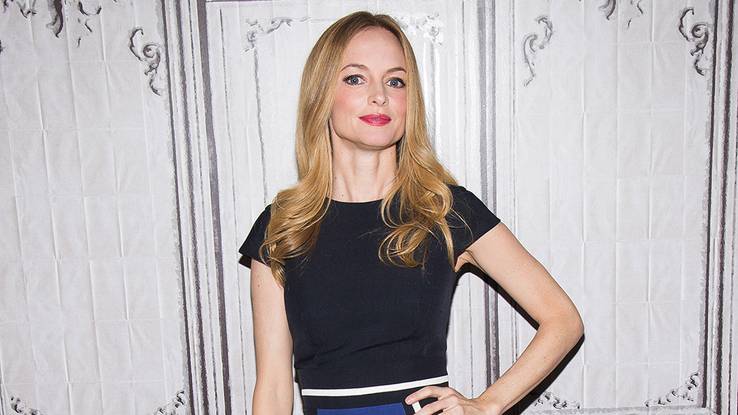 Graham may come across as the usual kind of blonde airhead in many of her movies, but the star is much smarter in real life and has stepped up and proved this many times when she's talked about how common misogyny currently is in Hollywood.
As a reaction to some of the ways she has been treated by directors throughout her career, Graham wrote the screenplay for, directed, and starred in Half Magic, a movie where she touches on some of the issues that she was subjected to when she was working in the industry.
The actress told NY Times, "We get a lot of mixed messages from the culture," one message is all that matters is your looks, and you're judged on that — you're supposed to be [beautiful]. On the other hand, your [sensuality] is judged in a negative way." There are a number of obstacles for women in the acting business and finally, Graham has been one of the women who has commented on it. The #TimesUp and #MeeToo campaigns in recent years have brought this kind of activity into the public eye, but this needs to continue to prevent these kinds of things happening again in the future.
6

She Gets Her Best Ideas While She's In The Bath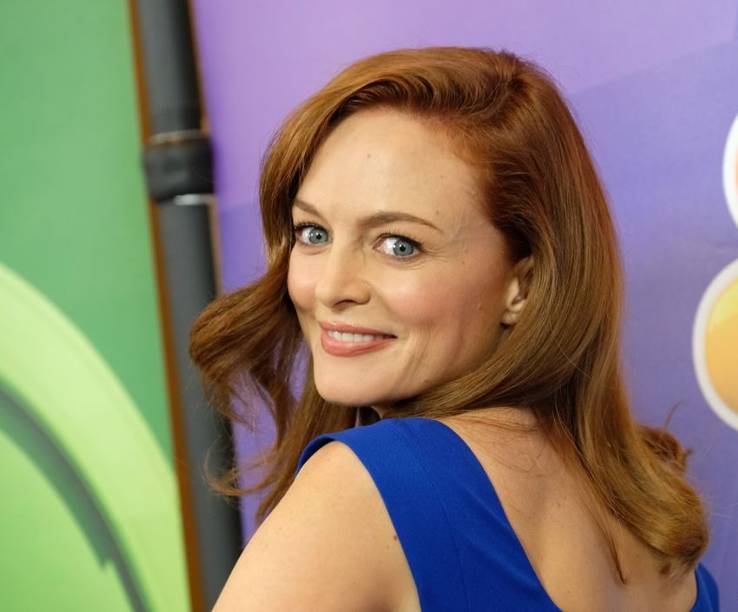 Graham has proved throughout her career that she is quite a creative star who has adapted to a number of roles in unexpected ways, but when it comes to her own ideas and creativity off the set, the actress revealed that her best ones come while she's relaxing in the bath.
She told LA Times earlier this year that it's when she's not trying to be creative that she gets the most ideas: "When I'm really relaxed in the bathtub, I get ideas. It's almost when I'm not trying to think of them that they just come."
The actress also revealed that the bathroom is her favorite place in the house because it's the place where she can relax and pretend that she's in the country because of the way that she's decorated. Finding the time to relax and ensure that your body is able to heal and grow is perhaps one of the main reasons why Heather is able to look so incredible, because she doesn't allow her body to be bothered by stress or anxiety, which is something that many other actresses have struggled with in their subsequent careers. Graham has been the face of many skincare campaigns in the past but it seems that much of her beauty is based on her own routines.
5

She Struggles With Self-Esteem Issues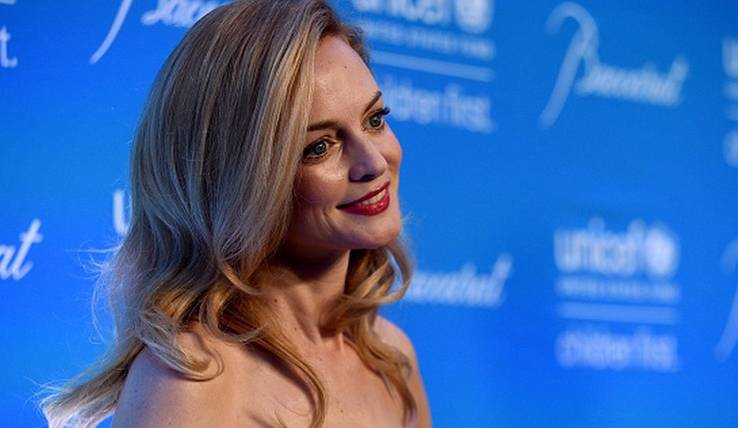 Being in the spotlight in the current era comes with a lot of negative attention from social media, something which many stars have struggled to come to terms with throughout their career, but it appears that even older stars like Graham have issues when it comes to their self-esteem. Graham's issues stem from her earlier career when she realized it was a male-dominated environment and she told Well And Good recently that this was hard for her.
She said, "Working in a male-dominated business is hard. It took me a long time to learn that I can ask for what I want because I struggle with self-esteem."
Graham only learned how to stand up for herself after she started attending female empowerment classes where she and a number of other women would hold rituals where they would light candles and reveal their desires out loud. Graham revealed that her biggest desire was to have better self-esteem, which was something she was able to work on with their help. The actress told Well And Good that it was easier because all her friends had the same issues as well. When I see my wonderful friends struggle with not being able to see how beautiful and special they are, it's clear that the most important thing to do is to love yourself.'
4

She Always Wanted To Be An Actress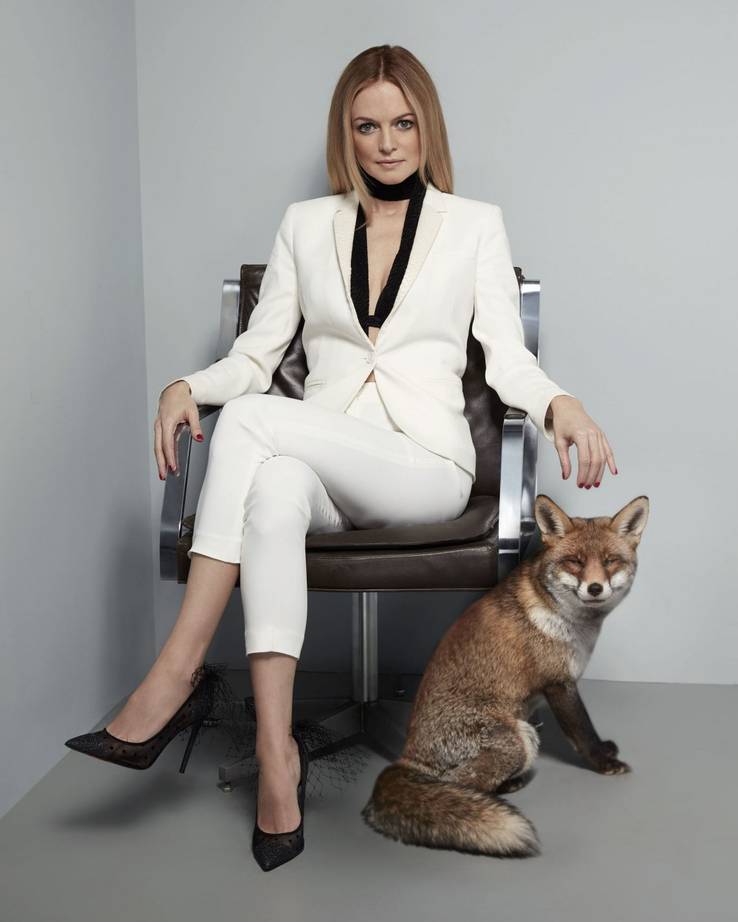 Despite not stepping into the acting business until she was 17 years old, it appears that it was always a career that the star wanted to pursue. Her strict parents tried to keep her in school, which ended up with her studying English at UCLA for two years before she decided that it was now or never.
The Guardian spoke to the star about her aspirations when she was much younger and she revealed that there was never any other career path for her: "I used to dress up in my mom's old clothes and play with these kids from the neighborhood and make up stories: I would pretend that we were all vampires. I became more shy and awkward when I was nine and my family moved again (my dad was in the FBI). Being in a new place made me feel insecure."
Heather's mother is an author so it's obvious where she gained her creative jeans from, but her father is part of the FBI, which meant that she and her family were forced to move around a lot in her younger years. Her earlier life has obviously prepared the star for the traveling she has had to endure as part of her career.
3

Her Guiltiest Pleasure Is Sleep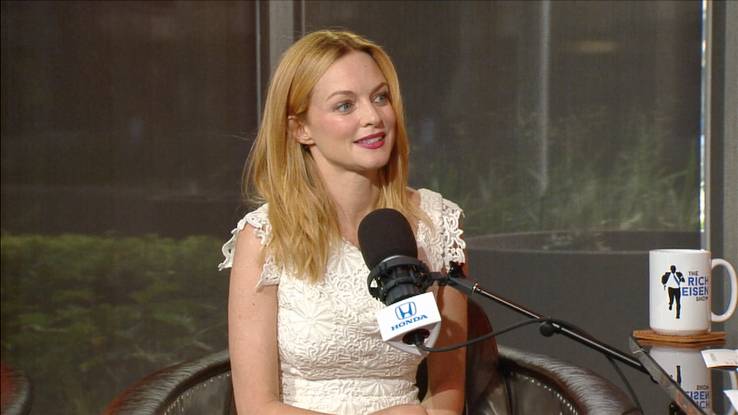 When many women make it in the spotlight they decide to splash their cash on some of their guiltiest pleasures to ensure that they are surrounded by their favorite things. This includes cars, houses, and sometimes even their favorite food, but Heather Graham is more grounded than that and even revealed that her guilty pleasure is something that comes naturally.
The actress told The Guardian that her guiltiest pleasure was sleep. She said, "I love sleeping. When I tell people how much I sleep sometimes, they are horrified. I basically sleep between nine and 12 hours a night."
An adult is expected to have around eight hours sleep each night to ensure that they are well rested for the day ahead, but Graham obviously cares about looking after her body. Sleep is one of the most important things because your body is able to heal and grow during sleep so having so much of it could be why the star always looks so youthful and refreshed. One of the best kept anti-aging secrets could actually be to do with how much sleep you get and the actress has already proved that sometimes it's better to get too much sleep than not enough.
2

She Doesn't Agree That She's The Perfect Woman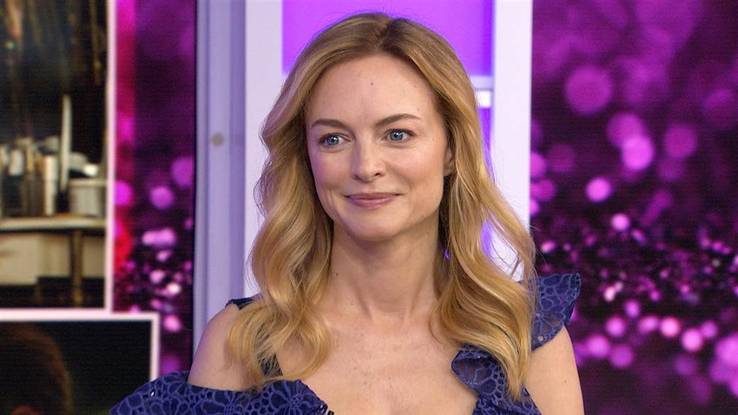 Graham has been portrayed as one of the most beautiful women in the world throughout her career, so much so that many of her male fans decided that she was "the perfect woman" for a number of years. Incredibly, the star still looks as stunning as the way that she started which has turned a number of heads recently. The actress was asked how this was physically possible by The Huffington Post earlier this year, and the 48-year-old revealed that it's all about finding the balance between being happy on the inside and this will then show on the outside:
"Well, I think it's not just Hollywood, I think that the world is unfortunately pretty patriarchal, and as a woman, it's good to counteract that by not buying into it. You have to feel good inside yourself and not base your self-worth on what other people think, and I think if you are happy and enjoying your life, then that sort of makes you more attractive."
Graham's age-defying beauty has been the reason her name has been in the headlines so much recently, but she's proved that sometimes the one thing that allows anyone to remain youthful is to feel happy on the inside and their body will react to this on the outside.
1

She Always Tries To Be A Generous Person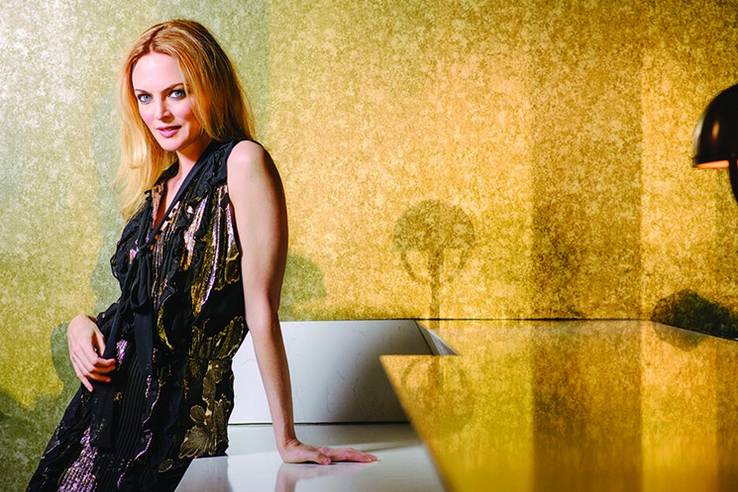 It's already been noted that Heather Graham has supported a number of charities and causes over the past few years, which could be why one of the biggest lessons that the star has learned throughout her career is to be generous.
When asked by The Guardian what the most important lesson was that life had taught her, she responded, "That by being loving to yourself, you are more kind and loving to others. I always felt, 'Oh, you're supposed to do everything for other people and not worry about yourself,' but it's important to be kind to yourself, and then you are a more generous person overall."
Graham has become a role model despite the roles she has accepted over the course of her career and that could be because she isn't afraid to stand up for what she believes in. She has also been able to achieve all of her dreams despite the obstacles that have been placed in her way, which is quite inspiring. Graham has gained much more attention over the past year because of the release of her new movie, but with this spotlight, the star has been able to relay an important message when it comes to the current issues in Hollywood.
Source: Read Full Article