The dating lives of celebrities never ceases to gain huge attention. That's bigger today with social media taking off nicely and boosting many a star couple to major fame. A big one going around now is Sophie Turner and Joe Jonas. On the one hand is Jonas, who rose up with his brothers to fame as singers but now winning more respect as a serious rocker. On the other is Sophie Turner, best known for her roles as Sansa Stark in the mega-hit Game of Thrones and playing Jean Grey in the latest X-Men films. They are engaged and are a fun couple, constantly seen together at various vacation spots and living up a high life. They're a great pairing and fans love to follow them and eagerly await to see how this relationship goes.
However, it can be argued it's a classic case of a woman so out of a guy's league. Turner's beauty has long been showcased on the show, growing from an already attractive girl to a stunning beauty. It's been featured on the show with Sansa going from naïve young girl to a cunning power player in her own right. At the same time, Turner has flaunted her beauty on the red carpet, magazines and her constant social media presence. She looks amazing, able to be a standout in just jeans and a sweatshirt but when she dresses up, she is absolutely stunning. So much so that it almost seems like she's way out of Jonas' league in many respects. Here are 20 pictures that show Turner may be too good for Jonas but not for her legions of fans who love her style.
20

Red on Red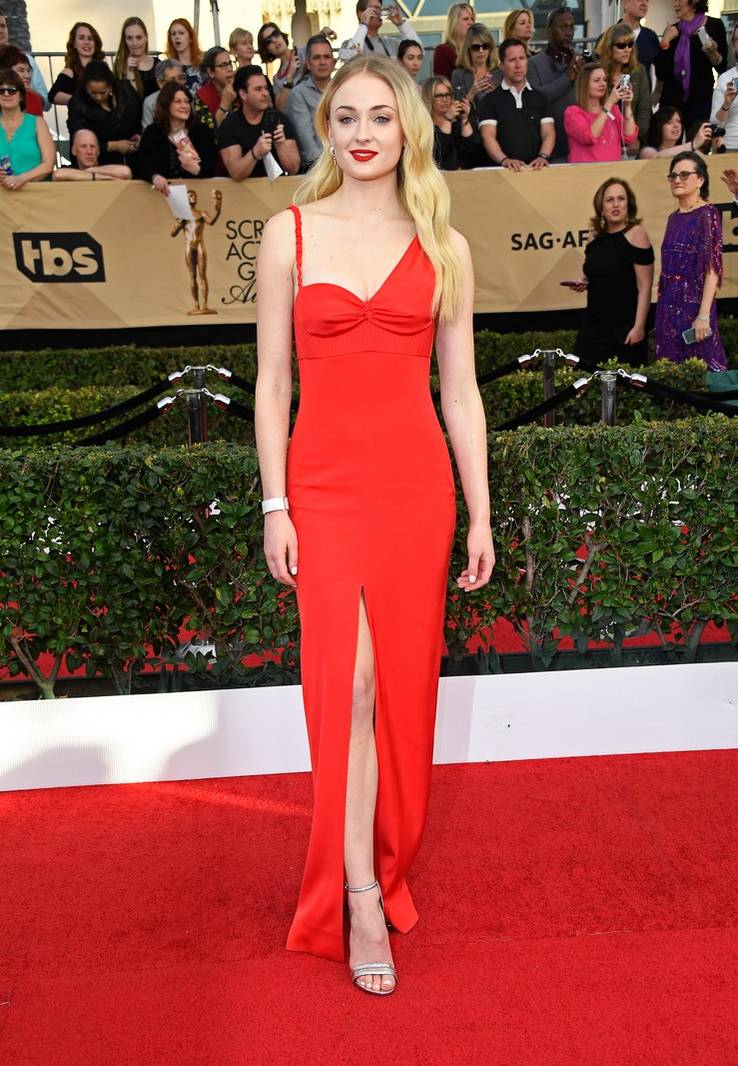 Turner has often poked fun at how folks mix her up with her character. She told Vanity Fair that "I have had people come up to me and think I am Sansa and treat me as such. I've had a few greetings as 'Lady Stark. It might be quite jarring to them because they come up to me and expect a stoic, cold person. And then they see me in s—-y shorts and muddy trainers, and they are like, 'Oh, she definitely doesn't have handmaidens.'" However, like any young starlet, Turner does need her stylists when it comes to major award shows. She's evolved from simple outfits to more elaborate dresses to flaunt her beauty as she's grown into a gorgeous woman. She also nicely picks outfits that can match whatever color her hair is, knowing how much you need to contrast but not clash.
For the 2017 Screen Actors Guild Awards, Turner looks gorgeous in a bright red dress, one shoulder strap thin, the other larger and a slit up the leg that looks good, not flaunting. She owes a lot to her stylist, Rebecca Corbin-Murray who shared much of Turner's choices with Elle magazine. When asked to sum up Turner's style choice in one word, Rebecca replied "Bada**." That seems to fit as the woman slays on the red carpet as much as on the series.
19

On the Throne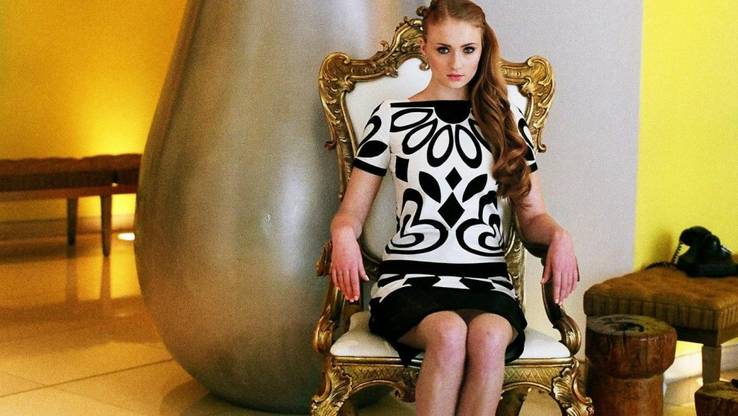 The evolution of Sansa on the series has been remarkable. She started off as really a spoiled brat convinced she was living a fairy tale life and expecting to be treated well. Her engagement to the horrible Joffrey woke her up fast to how dark things can get. Her next marriage to Tyrion was better as he respected her but that ended with her on the run. It was under the conniving Littlefinger that Sansa finally embraced being a player in this game, using her wiles and cunning more. It's paid off in the last season with Sansa becoming Lady of Winterfell and the fantastic scene in the finale where she shows Littlefinger just how well she's learned from him. Turner has noted the character was unpopular at the start because of her attitude but believes she's won viewers over. At the 2017 ComicCon panel for the show, she described Sansa as "woke" and paid that off with her performance in that year.
It's only natural this magazine shoot makes it look like Turner is sitting on a throne. The dress looks like a Rorschach pattern in the mix of black and white yet also alluring to flaunt her legs off. Turner seems to love it with her pose looking down and proving how Sansa has fit this world well.
18

Car Karaoke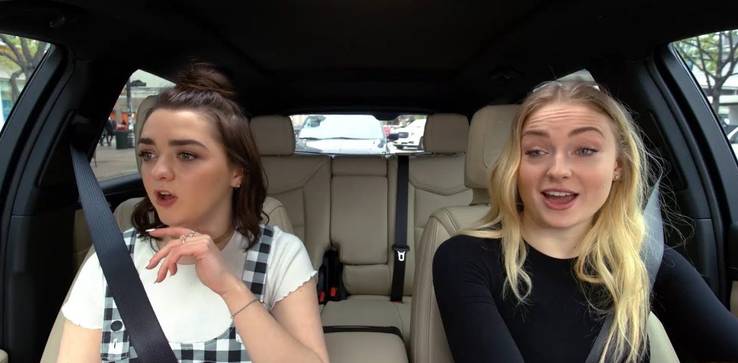 On the show, Sansa and Arya Stark have had their ups and downs. They bickered a bit as Arya tend to see Sansa as foolish and Sansa looked down on Arya as a child. Off-screen, Turner and Maisie Williams are best friends who love joining together on social media. From goofing off to doing great audio commentaries for the show, the duo are amazingly fun when they hang out. That's remarkable given that they spent six seasons apart on the series before the Starks reunited in the latest season. With Sansa now a conniving player and Arya a ruthless fighter, the duo are better than ever and showcase the real-life chemistry the duo have.
This image comes from the duo taking part in "Car Pool Karaoke." A major highlight of James Corden's Late Late Show, the segments usually have Corden and a guest driving around while singing to songs on the radio. For a prime-time special, the duo were part of several celebrity guests on their own. The two were a riot together, from their impressions of Sean Bean to singing along to Miley Cyrus, Britney Spears and more. Turner looks laid back in just a black top and jeans but her bond with Williams shows a lovely charm that adds to her amazing appeal and how these two are a fine couple.
17

Gear Up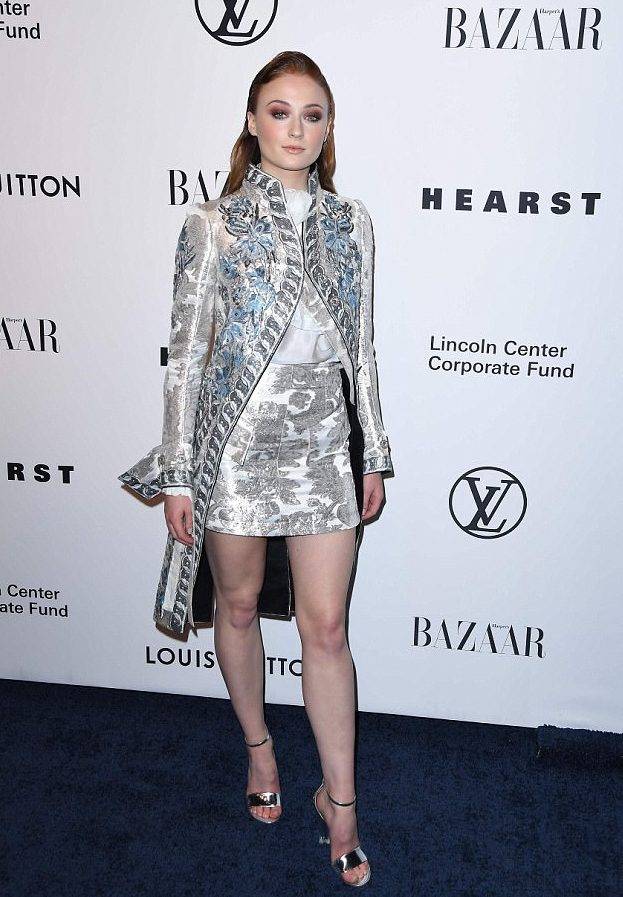 In public, Turner tends to cover up a lot and there's a reason for that. She told The Independent that she had to have her hair bleached for a movie role and in the process realized how many tattoos she has. She has five tally marks on her right ring finger, one for each of her family members. There's also a tiny wishbone on her wrist and she and Maisie Williams got "invisible ink" tattoos. "It's the date we both got Game of Thrones, but you can't really see it. I had a deal with my mum. I wanted a tattoo on my forearm and she said, 'If you want one, it has to be somewhere I can't see. It has to be discreet.' So I got it in peach so she wouldn't be too offended by it, but I'll probably go over it with darker ink eventually." Recently, Turner added to it with a rabbit tattoo on her forearm as part of her relationship with Jonas.
So it makes sense Turner can cover herself up a bit. However, even in those outfits, she looks amazing. This event picture has her in an outfit not unlike Sansa's own, looking regal in the silver skirt and lighter blouse with a vest that flows back like a cape. The arms totally covered contrast with her bare legs in a fun way and she even holds herself up like a queen to show she doesn't need ink to stand out.
16

Orange Glow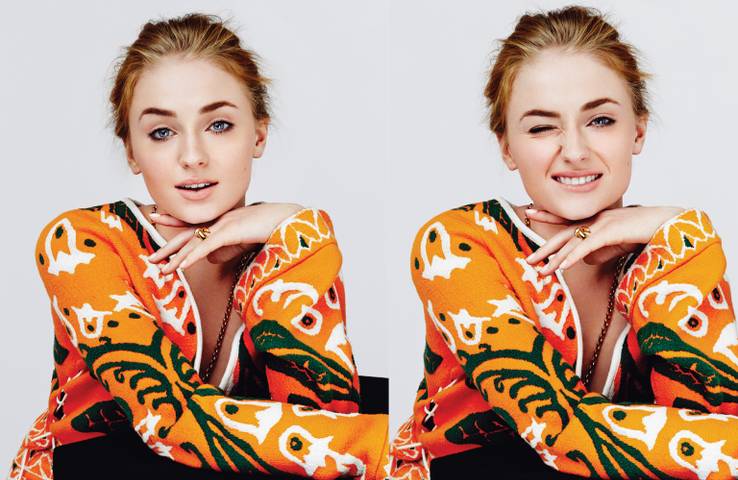 Turner is up front on how much her hair color changes her. She told refinery how "It's almost like I have a split personality. My redhead persona is Sansa — she's so strong and independent. So red, to me, is the ultimate strength. I'd like to think of it as my Sasha Fierce moment, but I'm no Beyoncé . With the blond, it's like I'm back to being Sophie. That felt empowering as well, because I was leaving my teenage years behind and becoming a woman." At the same time, she added that she figures she'll never shave her head for a role as "I'm just not that brave enough." Most would be happy for that as Turner's long locks are a key reason she looks so stunning in her various outfits.
This picture shows that off, a magazine shoot for Glamour. Turner wears an outfit that looks like it came from a late 1960s London club, an ultra-short pair of shorts and a flowing top with very long sleeves. The orange and white coloring makes it stand out with the large medallion around her neck drawing more attention. Her hair is red here and thus perfectly attuned to the outfit, making it glow a bit in the light. Whatever color she goes with, Turner's hair helps any of her outfits shine nicely.
15

Pretty in Pink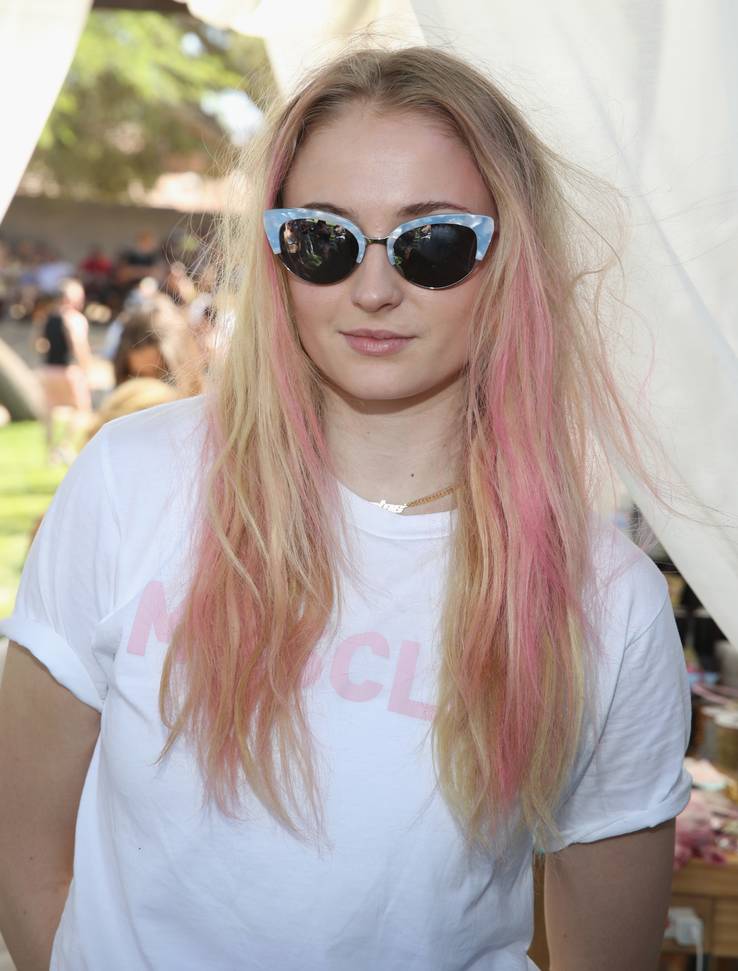 The Coachella music festival has turned into one of the hottest places for young celebrates to gather. For two weekends in April, thousands flock to the Empire Polo Club in California to enjoy some fantastic acts. The 2018 roster alone included Beyoncé, Ariana Grande and more. It's a great way for stars to kick back and enjoy themselves and often get into the post-modern hippie vibe of the place. Given that Joe Jonas has been doing a few performances there himself, it's no surprise to spot Turner at Coachella as well. She's seen hanging out with other stars like Hailee Steinfeld (who she starred with in the movie Barely Lethal) and just enjoying herself a lot. Naturally, Turner hits up the posh parties and hangs out at the expensive resort villas with the other celebrities but can also wander the various musical tents like anyone else.
This picture has Turner looking like any other young lady there. A simple white t-shirt with jean shorts but what gets attention is the hair. The great pink streaks make it look like bubblegum but it actually works for her. Turner loves a party style and so Coachella is a great place for her to be. She washed this color out fast but it showcases how well she blends in anywhere she goes and that maybe she doesn't need Jonas to know how to rock.
14

Club Fashion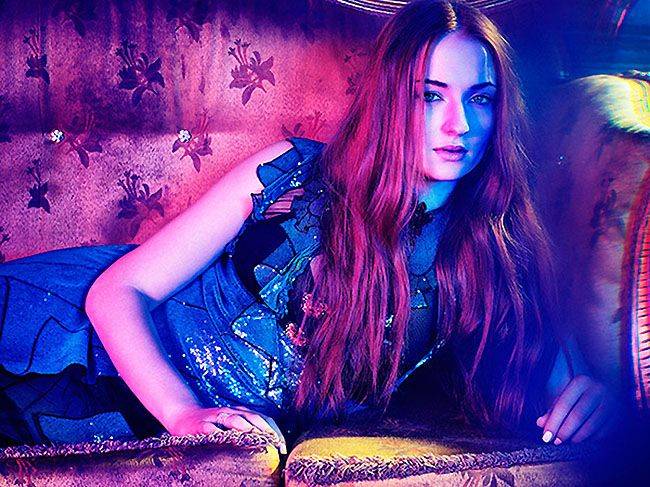 One change made from the GOT books to the series was to "age up" the child characters. In the novels, Sansa is only 12 when it starts and still under age through most of the dark acts of the series. Even HBO would not accept that and had the actors be a bit older. Turner was just 15 when she started out as Sansa and thus had to adjust fast to becoming a massive celebrity among nerd fans at such a young age. As she matured, Turner was soon a popular face in the London Club circuit. She told the Guardian that she prefers low key clubs as "I'm obviously not a posh girl." She cites the fact that shooting leaves her so exhausted that she'll often sleep until three in the afternoon on days she's not working and thus be wired up by nightfall. She's smart about not getting too wild and avoided the usual messes young actresses get into when they party too much.
This magazine shoot showcases the sort of outfit you might see Turner showing off at a more upscale club. The black dress fits her nicely, a great pattern and ruffles to make it stand out and her hair flowing outward to focus on her face. Turner did cut down on club-hopping when filming X-Men but seems more into it with Jonas or by herself
Featured Today
20 Surprising Facts About Vladimir Putin's Family

20 Things Kim K Spends Her Millions On That Fans Wouldn't Expect

20 Unusual Things Fans Tend To Forget About Natalie Portman

13

White beauty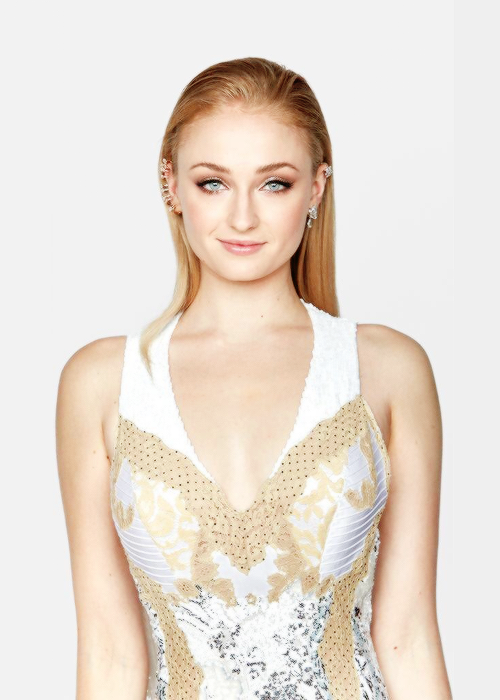 Fans have long been used to Turner as a redhead thanks to her role as Sansa. That's why it took a while for them to grasp her as a natural blonde. Turner has spoken of how she has to dye her hair red at least once a week while shooting to fit the character who George R.R. Martin always described as having lush dark red hair. However, she's shifted it to wearing a wig for the latest season, wary of overdoing the dye for fear of damaging her hair. She said to People that she did find the red hair helping understand how to play such an empowering figure. "I find power in every haircut and color because you can transform yourself into whatever you want and you can reinvent yourself."
Her hair is a nice mix here of light red and blonde that comes off as a great bright glow. It's contrasted with an absolutely fantastic dress, almost totally white with gold trimmings and a nice plunge in the front. There's also how one ear is decked out with several earrings and the other with just a few nice gems. Turner's fun smirk is another good touch, showing her nice heat off with the white backdrop. No matter her color, Turner shines so nicely.
12

Natural Beauty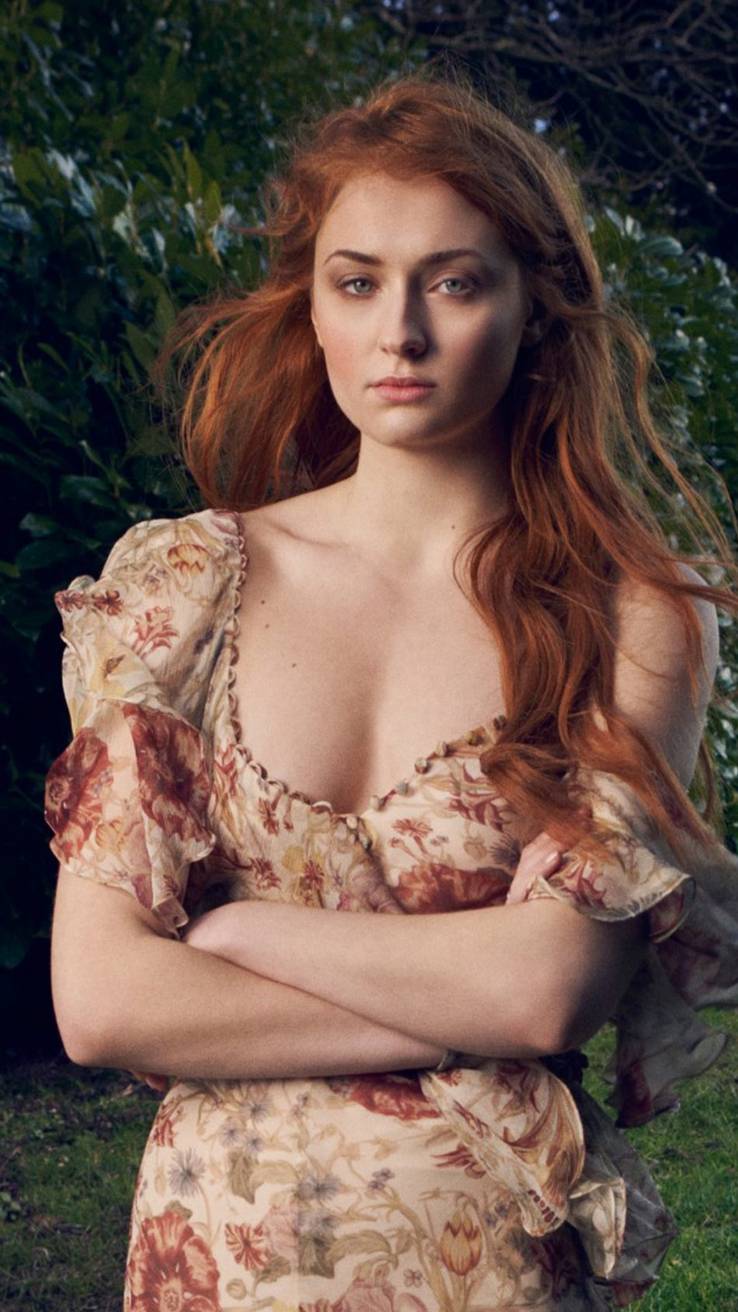 One thing Turner has gotten used to in the last few years is traveling around the world. First, Game of Thrones films a lot abroad with Turner having to spend time in Ireland, England and Spain for scenes. She's also been spending a lot of time traveling to be with Jonas at his various concerts. But it's not always fun as Turner told In Style and other magazines about a trip to Rwanda to help refugees which made her realize how lucky she was. Turner has cracked about how she never even left England before being cast as Sansa but now has multiple passports stamped out. It goes to show she's a well-traveled figure which adds to her appeal.
Turner does seem more drawn to nature than cities, often photographed at the beach with Jonas and enjoying some nice hikes. Given she's often in distant locations for filming the series, it only makes sense as she talks on the show's audio commentaries of taking long walks about the sets to take in the sights. This pic shows her in a natural setting, a lovely forest backdrop with a gorgeous floral dress, her red hair flowing about her. It showcases how gorgeous she can look in any setting and that this lady loves to travel a lot more than her on-screen counterpart.
11

Powering Up
A common way for the paparazzi to get photos of Turner is to follow her to and from the gym. She was always in shape before but has stepped it up with her fame and for her role in the X-Men movies. For a cover story for Self magazine, Turner was up front on her need to stay fit. "I feel the pressure to be toned, yeah, and everyone's going on about the thigh gap, but I like food more than exercise so I'll just carry on that way. All that's changed is I've learned about my body shape and what looks good on me – for instance, I have swimmer's shoulders so I can't wear halternecks, stuff like that." But she did need to step it up to play Jean Grey which required her to do 60-minute workouts every day for six months as "that costume is pretty unforgiving."
This pic shows Turner sure does pay off on that fitness regiment. The outfit is terrific, a sports bra with a nice wrapped top, colored red to match Turner's hair. The red pants are long and comfortable, able to be used at either the gym or just walking around with checkered tennis shoes. It shows how Turner sure loves to keep herself in shape and do it well.
10

Blue Belle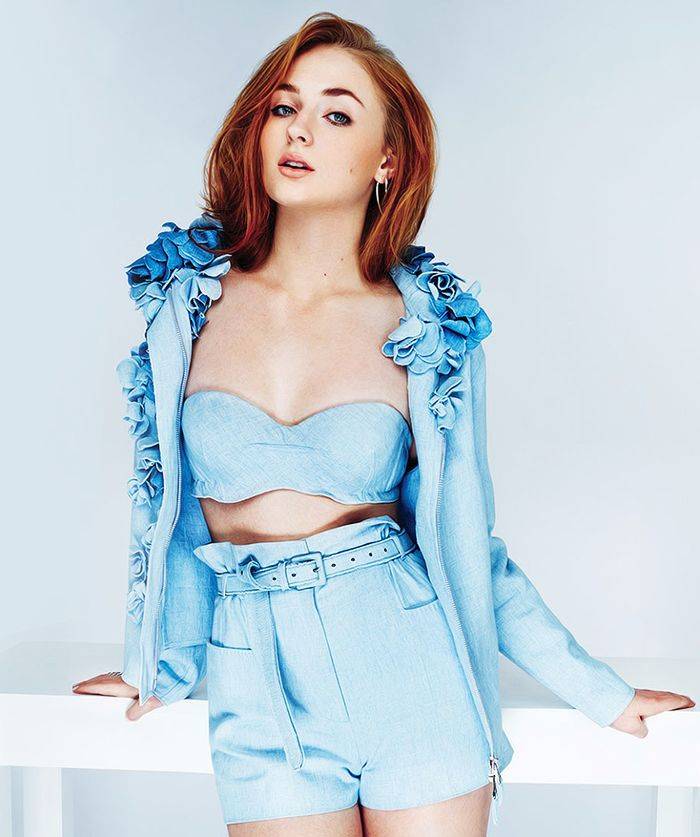 On GOT, the big threat has long been the White Walkers. This ancient evil is basically the show's version of zombies, unstoppable, only killed by a special fire and their victims can join their ranks. In order to keep them out of Westeros, a giant wall was built in the north. But as time has gone on, they've drifted into legend and most believe they don't exist. That's a key reason why it's so hard for Jon Snow to organize an army against them, which is a key point in the show now. It appears the final season will feature the epic showdown between them and the rest of the kingdom to send the show off in style.
It's also led the Walkers to become popular in cosplay with fans loving to dress up in their blue-white skin and such. It's unsure if the photographer was going for that in this shoot but it does seem a fun vibe. The blue top is lovely as are the matching shorts. The blue coat about Turner's shoulders is also a fine design with the ruffles around her shoulders giving it a good vibe. Her red hair is a fine contrast to it but it all works out nicely. We may not see a White Walker Sansa but this showcases how blue is as great a color on her as red could possibly be.
9

Shining Shirt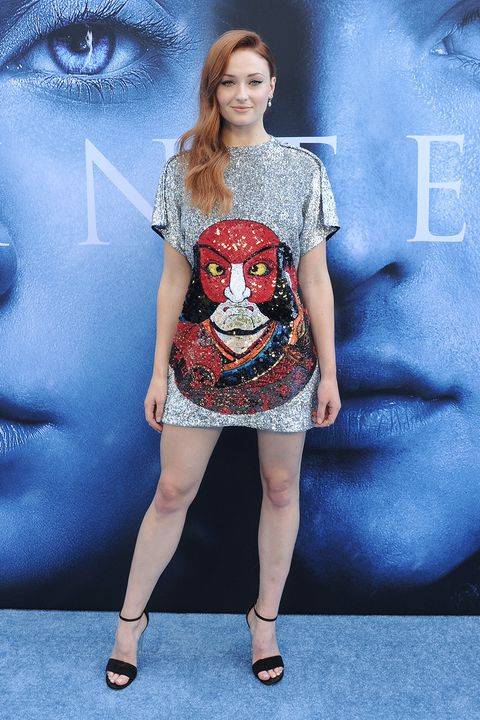 You'd expect for a big premiere event, Turner would come out in a fancy dress of some sort. But for the GOT season premiere in 2017, Turner instead arrived in a lovely Louis Vuitton shirt. Turner told Harper's Bazaar that she had been front row when the shirt debuted at a Tokyo fashion show and instantly fell in love with it. Turner does love Vuitton, often wearing their items in various events, including big red carpet stuff. This look is unique, featuring a samurai face designed by rising Japanese fashion star Kansai Yamamoto, the sequins making it stand out nicely. The event was a big deal as the GOT cast were breaking it to fans that the final season won't be hitting until sometime in 2019, meaning it'll be a long wait for the next premier.
However, Turner just looks astounding, mixing the shirt with shorts so high up the shirt covers over them and nice black sandals. The diamond earrings also help and boost her nicely for some attention. The seventh season of the show was notable for events from Sansa taking charge to finally reuniting with sister Arya and a fantastic finale. So it may be a long wait for the final season but if Turner keeps wearing outfits like this, it's likely to be worth it to make fans adore how the woman has stepped up majorly in her fun style.
8

Street Style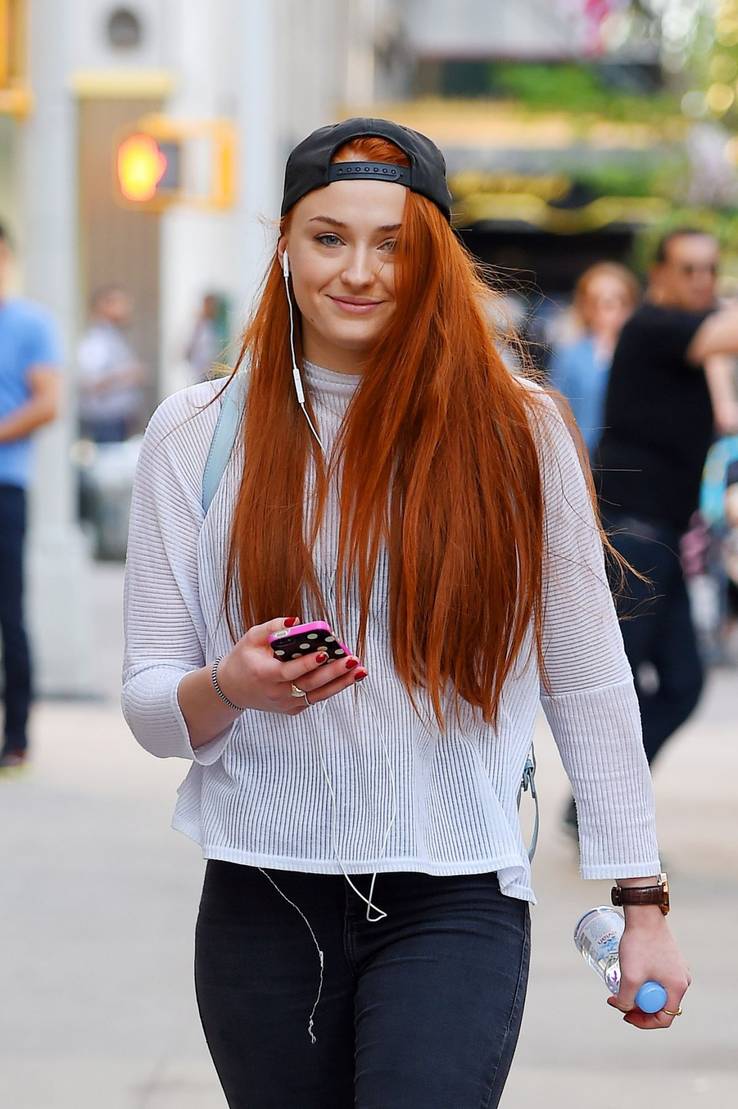 A delight for GOT fans are the audio commentaries on the show's Blu-Ray sets where the actors have a good time talking about the show. A major feature has been Turner and Maisie Williams chatting their roles up with Williams cracking on how "you're in a great dress in a palace while I'm wearing the same outfit in the mud every week!" In turn, Turner fires back that at least Williams doesn't have to handle the often ridiculously complex outfits she wears and that she has to stand around in them for hours.
This shows how Turner's style has always been better but it's added to her great appeal off camera. She really seems to love letting go of the often intricate outfits her character requires to enjoy herself as a normal gal. This shows a great laid back style walking in New York, a loose shirt that shows her off nicely. The tight black pants are a good fit with what looks like a pack on her shoulders. Not everyone can pull off the reverse baseball cap look but Turner does it very nicely with that light smile on her face and shows how without any "glamour," she can look amazing.
7

X-Citing Style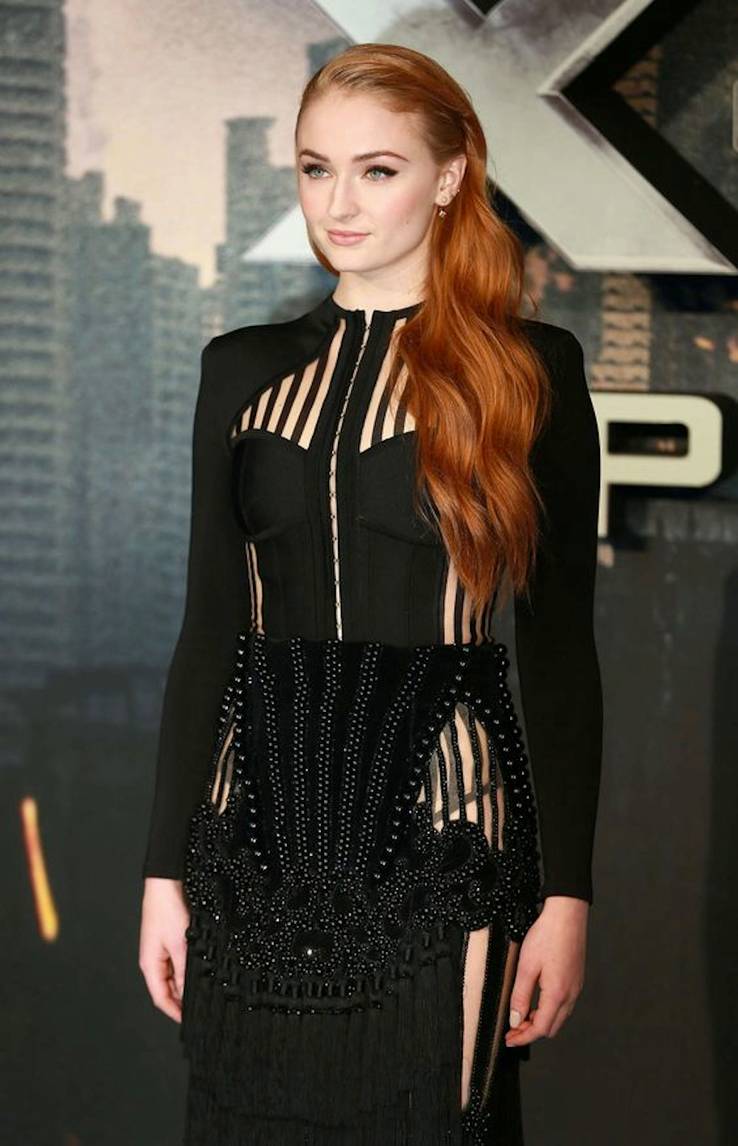 The role of Jean Grey was originally played by Famke Janssen in the original X-Men movies and she did a good job. Thanks to some whacky time travel hijinks, a new history was started with Turner cast as a younger Jean in X-Men Apocalypse. Most critics cited her as a great point with the showcase of Jean's powers and standing up as a heroine. It will be bigger in the upcoming Dark Phoenix sequel. Turner told Entertainment Weekly how she had to "put my ego away" in order to handle a bigger part for Jean. What she doesn't need to handle is her red carpet style.
This dress from the premiere of Apocalypse is fantastic, mostly black but has nice slits to showcase legs and hips, not flaunting it too much but clearly showcasing Turner's amazing beauty. The way her red hair cascades over one shoulder is gorgeous and makes her stand out nicely. The mix of the red and black is a fine contrast to make her shine and show her beautiful ways off without being too overt about it. It proves how well Turner fits the part and that she's ready to take off in the future.
6

Wrapped Up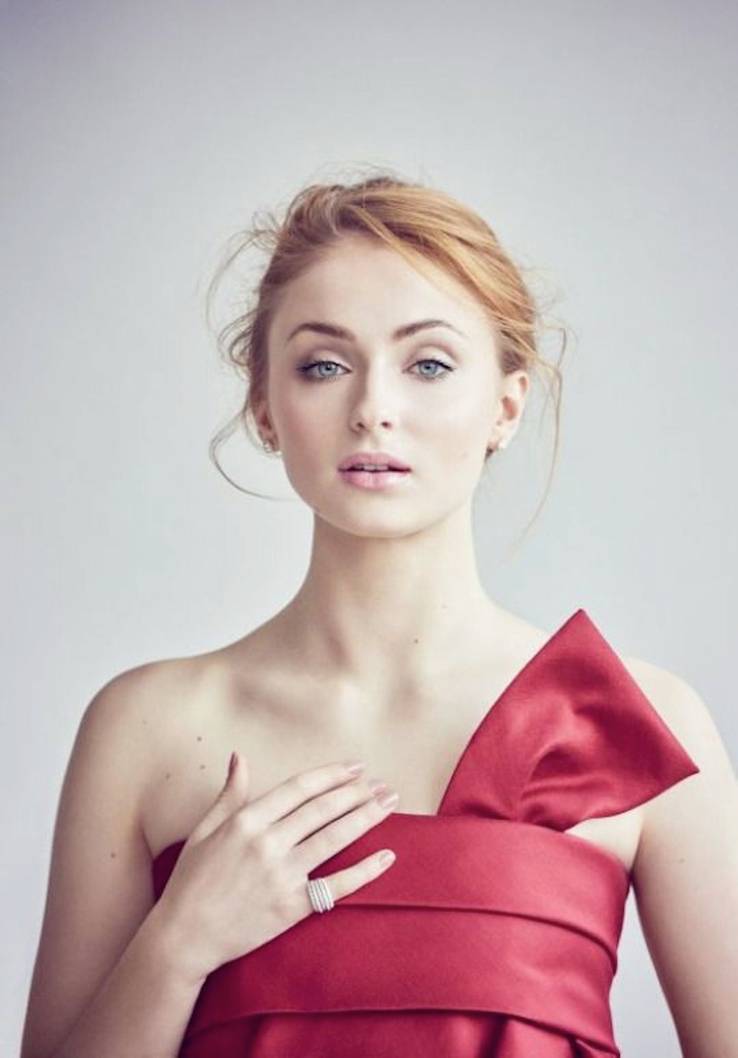 One would think Turner would have a lot of challenges becoming Sansa. The adult material of the books, the gripping scenes, getting used to so much cursing and more. But Turner told W Magazine that the biggest issue was dying her hair red for the part. "Being a thirteen year old girl and going red, of course you kind of get mercilessly teased about it, but I spoke to the producers before I got the role and they explained to me that it is so integral to the part and her ancestry and it's a subliminal message to the audience about her mother and Robb and then Arya's closeness to Jon and her father. Once they explained, I realized it was kind of amazing that for my first role, I got to transform myself. That was pretty cool." Turner has gone back to blonde more outside the role to let her natural locks flow.
This pic showcases how great red looks on her with a red bow dress, adding to her nice allure. It's almost like a bright red bow wrapped around one very nice package of an actress. Some may argue on Turner looking better as a blonde but it's obvious how her red hair looks so great on her.
5

Walk and Talk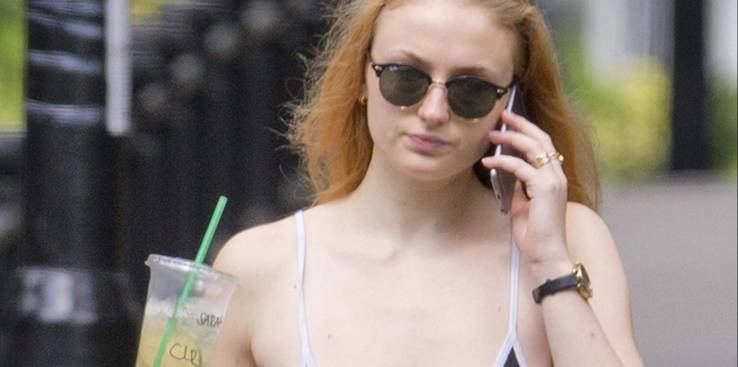 Turner acknowledges that her fame has led to some major turns for her. Game of Thrones was arriving just as social media took off and Turner was among the actresses using it to boost her stardom. She has almost 7 million followers on her Twitter and Instagram to build up her base massively. That's led to fame outside the role but Turner claims it's a double-edged sword. In an interview with The Telegraph, Turner stated that she landed a role over a "far better actress. But I had the followers so I got the job. It's not right but it's part of the industry now." Turner refuses to name the actress or the movie and does seem to be putting down her own talent.
It does show how well she's connected with this pic showcasing her on the phone while walking. The jeans and light shirt with a hint of her belly help her stand out more and a drink in one hand makes her look like any other young lady. She's a social media force but Turner just looks like any regular hot lady here. So while Turner may put herself down on not having the talent, this pic alone shows she has quite a few of the goods to have such a huge following.
4

Jean Style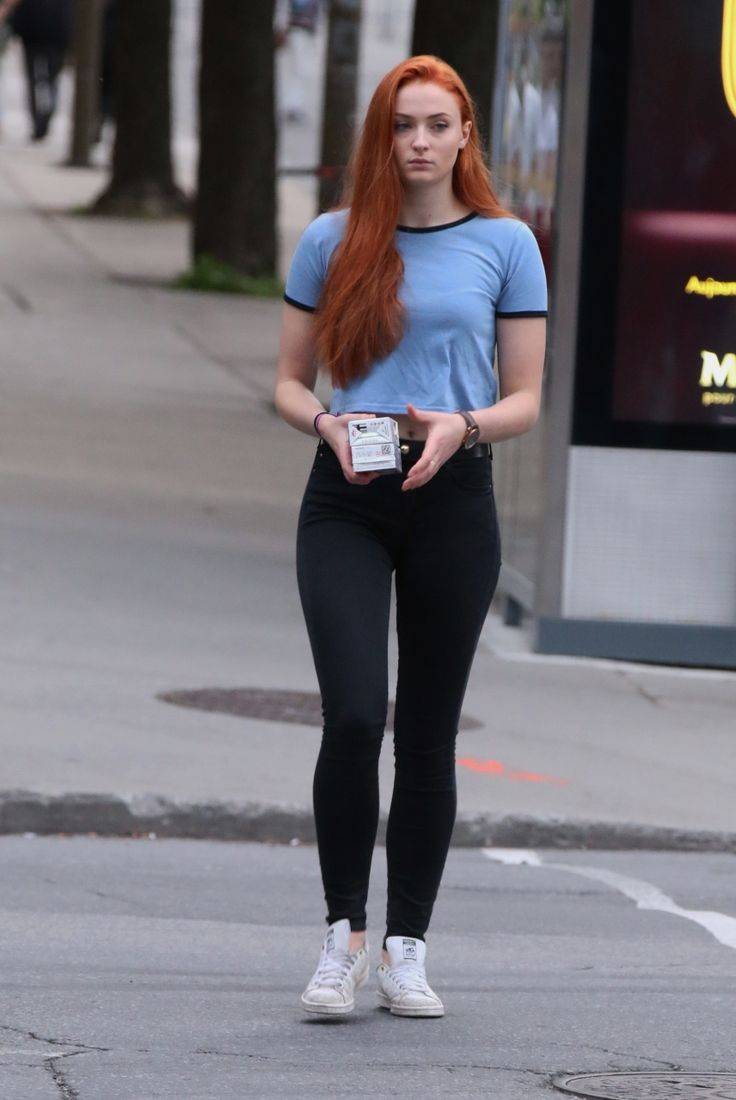 Fans are used to some goofy stuff from Turner. But in early April, she rocked fans by revealing she'd set up a secret Instagram account just to review…sausages. Yes, the actress was getting fans to send in pics of various types of the meat and she would judge them on their size, shape and likely taste factor. It's a wild touch but oddly fits her as she boasted on her page of how she "love love love sausage! Tell the world!" It's impressive how she can be such a sausage fanatic and yet be in such terrific shape.
This pic shows her on the march around L.A., her legs in ultra-tight jeans and a great blue shirt that flaunts a bit of midriff. With her lush red hair around her, Turner seems to be on an errand of some sort. She looks to be holding a pack of food and now one wonders if it's something to add to her next sausage meal. She loves to work out and now it's clear why she needs to burn off the calories. But if you are what you eat, then Turner is ingesting some great meals to be able to look this great.
3

Slinky Sansa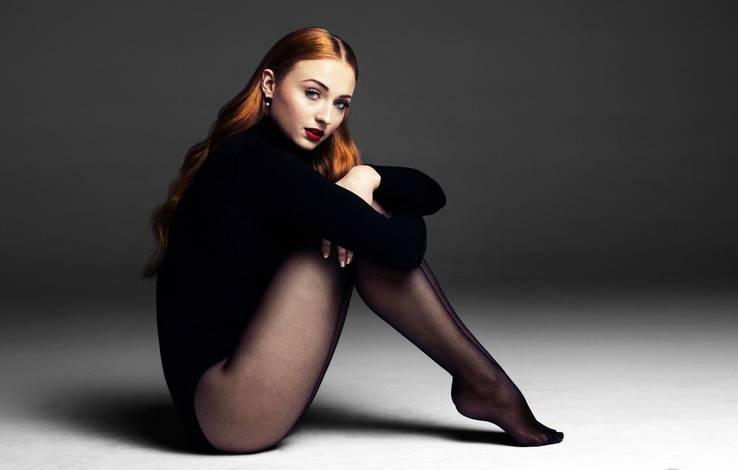 Turner is five foot eight, an average height for a woman, although this means she often towers over Maisie Williams. That's something both actresses love to crack about, especially when doing a photo together. She's also a few inches taller than Joe Jonas which naturally leads to cracks from fans whenever they're photographed together. Turner doesn't do as much to show off her legs as a woman her height normally would, which makes this pic so notable. The hose over her legs is terrific. Turner's red hair perfectly mixes with it, showing off and the way she has her heels up is like a unique ballet move.
The actress actually doesn't dance much but here she looks remarkable. Even with her X-Men role, she's in leather and thus not showcasing them that often. When she does wear outfits on the red carpet, she tends to go more for full dresses than just skirts but when she does wear them, it's very eye-catching. It's a shame that GOT buries her under such massive outfits as Turner's legs deserve to be shown off more and this pic shows the Lady Stark has got a lot of mileage on her.
2

White Marvel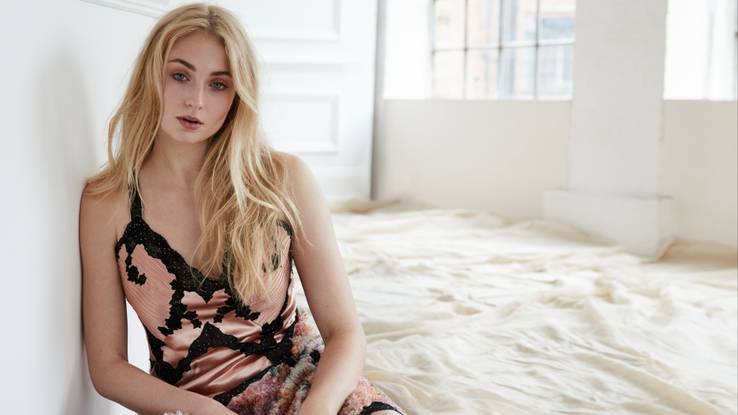 This pic is notable just for showcasing a stripped-down take on Turner's beauty. The choice of what looks like a renovated house for the backdrop is unique but it makes Turner herself stand out. Her blonde hair flows about her nicely and the lovely dress makes her light skin shine out. The nearly totally white setting is a good choice, the light of the windows making it shine and shows off Turner's own perfect beauty. Her face is just as lovely with a nice expression, proving she doesn't need ultra-fancy dresses or costumes to show off but just be herself.
Turner and Jonas have been spotted in New York's Greenwich Village checking out homes themselves and look ready to settle in. That no doubt means that Turner will be doing some home makeover herself although probably not looking this good. Although, then again, we're definitely sure that even if she was walking around her home with a pair of sweatpants and a t-shirt, she could pull that off too. We expect nothing less from the Lady of Winterfell.
1

Fiery Phoenix
This may be a publicity photo but it's also a stunning example of Turner's real-life heat. A big movie for this fall was going to be X-Men Dark Phoenix, the latest entry in the long-running series. It would adapt what many consider the greatest X-Men story ever as Jean Grey is corrupted by her psychic abilities and transformed into an insane being of near god-like power. For the cover of Entertainment Weekly's 2018 movie preview, Turner was front and center, looking like a phoenix in flames, the fire mixed perfectly with her red hair.
The way she's posed makes her look amazingly beautiful and enhances her sultry standing. The article posted more about the movie and how it will touch on Jean wanting to do the right thing but this new influx of power is too strong for her to handle and leads to darkness. Thus, instead of any classic X-Men baddie, the big threat is going to be Jean herself. Sadly, the movie has now been delayed until 2019 meaning fans will have to wait longer to see Turner cutting loose. But this pic showcases her incredible heat and the vibe she brings to the role and so when Dark Phoenix hits, Turner is ready to set moviegoers ablaze.
Source: Read Full Article