20 Reasons Why The Rock Outshines Vin Diesel
Dwayne "The Rock" Johnson is one of the most recognizable Hollywood stars. He's one of the top leading action heroes today. He brings an intensity, charm and unique sense of humor to all his film roles. Other action heroes might feel a bit intimidated by somebody with his massive size and charisma. CGI couldn't create an action hero this perfect. Johnson has starred in several popular action films and franchises. For years, fans wondered what would happen if The Rock and Vin Diesel ever crossed paths. They both star in the hugely popular Fast and the Furious franchise. They've butted heads in the past and don't always get along. Diesel has a presence all his own but its overshadowed by The Rock's.
Johnson casts a large shadow and often steals the show. Not even someone like Vin Diesel can get noticed. The two action heroes had a public feud that has fans discussing a dream match. The two stars continue to work together for the best of the films but the underlying tension still exists. Regardless, The Rock always outshines Diesel in every category. From his freakish physique to his undeniable charisma Rock is in a league all his own. Here is a look at 20 Reasons The Rock Outshines Vin Diesel.
20

The Rock's Physique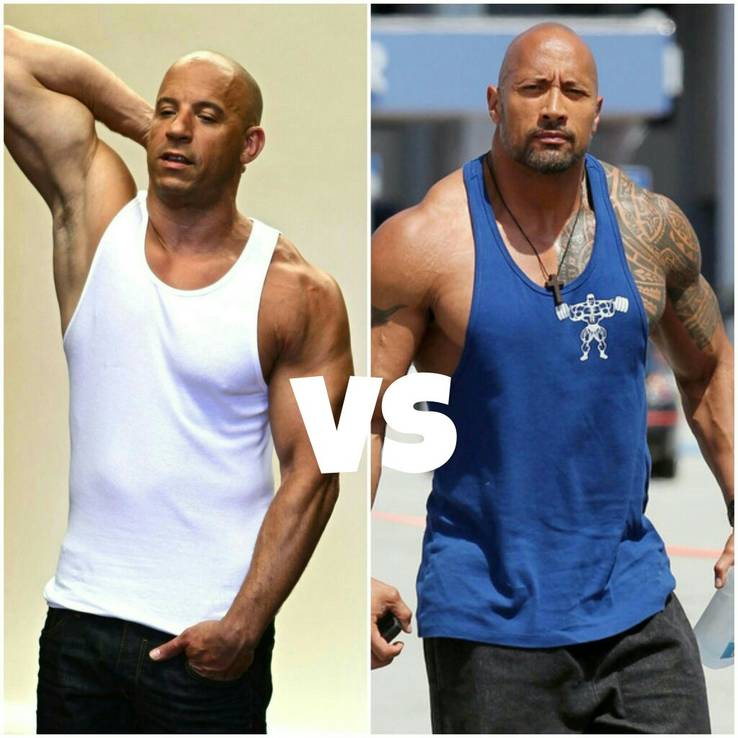 Vin Diesel is best known for his role as Dominic Toretto in the Fast and the Furious franchise. The first film was released in 2001 and Diesel has starred in the majority of them. 8 films have been released with the ninth on its way and the tenth expected to be the final film. Dwayne Johnson made his first appearance in the 2011 film Fast Five. He portrays DSS agent Luke Hobbs and is initially in pursuit of Toretto. Johnson was so impressive in the franchise that he has received his very own spinoff. Fans had waited a long time to see the massive stars face off and they didn't disappoint audiences. They're both in incredible physical shape but Johnson is slightly bigger.
To be fair, Diesel is no slouch; it's just that the Rock is a freak. They both have incredible physiques and both put in a great deal of work at the gym. The Rock stands at an impressive 6 feet 5 inches while Diesel is a solid 6 feet. Johnson also has slightly larger biceps as his are 20 inches while Diesel's are 18 inches. Diesel is in exceptional shape but The Rock is on a whole different level.
19

The Rock's Workout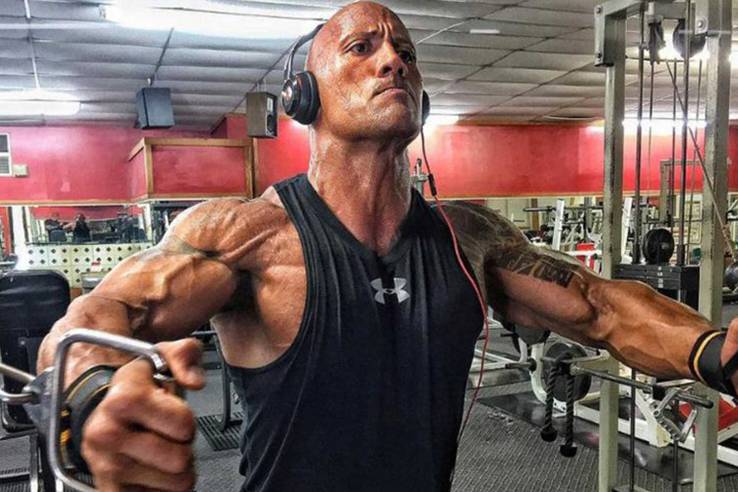 The Rock is known for his impressive physique and giant muscles. His body and look certainly helps him land all these action hero roles. However, Johnson puts in a great deal of work into his body and health. If he's not on set, he's at the gym or squeezing in a workout at the hotel. He said, "Working out is my therapy, and it's cheaper than a shrink." He wakes up each morning at 3:30 am and hits the road for his morning run at 4 am. He said,
"I love putting in that hard work as early as possible to get my day started off on the right foot, mentally and physically." He trains for each role differently and sometimes uses the elliptical for his morning workout.
After his cardio, he hits his private gym for some weight training or as he calls it, "Clangin' and Bangin.'" Working out has benefitted his personal life and career positively. He's extremely committed and dedicated to his workout and hitting the gym. It's very important to his life and success. He said, "I can't imagine my life without training, honestly. And for getting results—as with anything in life, but especially with working out—there's no substitute for hard work." (Bodybuilding)
18

The Rock vs. Vin Diesel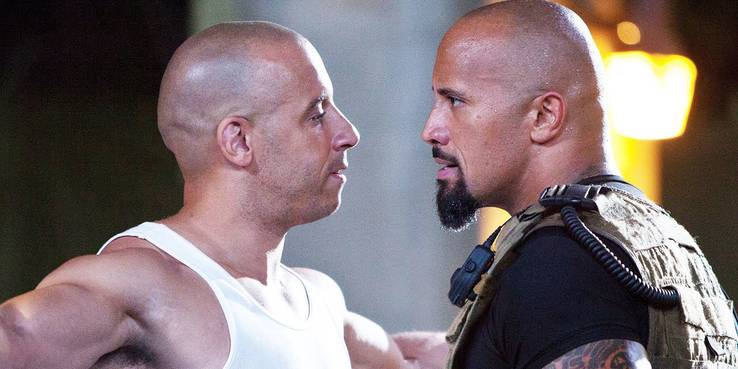 Dwayne Johnson's workout is a crucial part of his daily routine. He likes to stay in the best possible shape. He works out 6 days a week and dedicates one day each to arms/abs, back, shoulders, chest and two days for legs. Anyone that ever wants to challenge Johnson must also be in phenomenal shape. Vin Diesel certainly has a great physique but might want to reconsider feuding with The Rock.
In 2016, Johnson sent out a message on Instagram that many interpreted as a shot at Diesel.
He wrote, "Some [male co-stars] conduct themselves as stand up men and true professionals, while others don't. The ones that don't are too chicken (expletive) to do anything about it anyway."
This had fans and media buzzing. It was later revealed that the tension was so intense that their scenes were shot separately. They have since had a meeting where they attempted to clear the air. Johnson said, "And what I came to realize is that we have a fundamental difference in philosophies on how we approach moviemaking and collaborating." According to Johnson, they now have clarity between them. Diesel said, "It's not always easy being an alpha and it's two alphas. Being an alpha is sometimes a pain in the (butt)." (CNN)
17

From The CFL To The WWE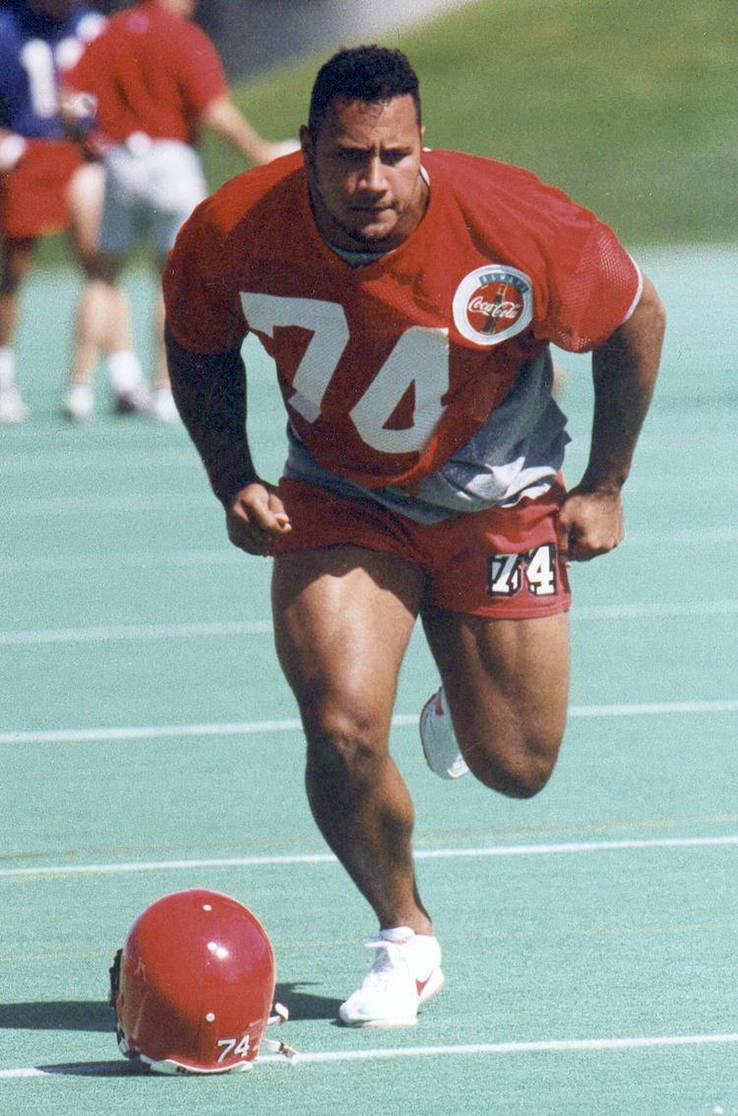 Vin Diesel made his acting debut at the age of seven when he appeared in the play Dinosaur Door. Diesel, his brother, and friend had actually visited the theatre to vandalize it and were caught by the director. Instead of calling the police, he had them join the play. This was clearly a blessing in disguise. Eventually, Diesel ended up falling in love with acting.
However, The Rock has been successful in several different mediums. Before his days in the WWE and Hollywood, Rock had plans to play in the NFL. He won a national championship as a member of the 1991 Miami Hurricanes. He had aspirations to compete in the NFL but was sidelined with numerous injuries. He then briefly played in the Canadian Football League as a member of the Calgary Stampeders but was eventually cut. He said, "The dreams I had, they're dashed. There is no more football. My relationship was crushed. That was my absolute worst time." However, Rock would display the very attributes that have helped turn him into a major star. He refused to give up and found a new path in life. In 1996, he debuted in the WWE under the moniker Rocky Mavia and soon became a household name.
16

Rock's Diet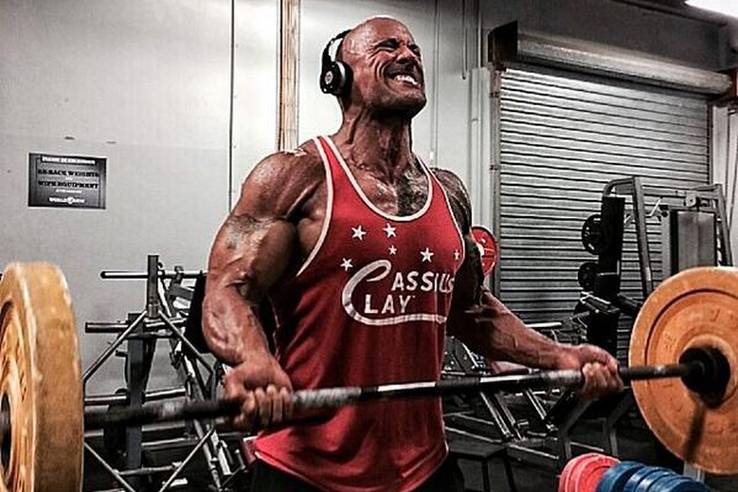 Rock made an easy transition from WWE superstar to Hollywood megastar. Early in his film career, he received praise for many of his film roles. His first leading role was in the 2002 film The Scorpion King. He impressed Hollywood with his performance and more opportunities opened up. He starred in several popular films, such as Walking Tall, Be Cool and Gridiron Gang.
Johnson doesn't just workout six days a week in the gym but he also has a strict diet he sticks to. Without the diet, he wouldn't be able to push himself beyond his limitations in the gym.
He said, "Diet-wise, I generally eat five meals a day. I'm very prepared and organized, and everything is planned out in advance. It's all measured depending on what I'm training to achieve. Usually, I start off my day with some dead cow and oatmeal for breakfast."
It's easy to see that his diet plan and workout routine are certainly paying off. Vin Diesel might want to take a few pointers from The Rock. Johnson added, "The other staples in my diet include chicken, steak fillets, egg whites, broccoli, halibut, rice, asparagus, baked potato, leafy salads, peppers, mushrooms, and onions, and then also some casein protein." (Bodybuilding)
15

Rock's free Meal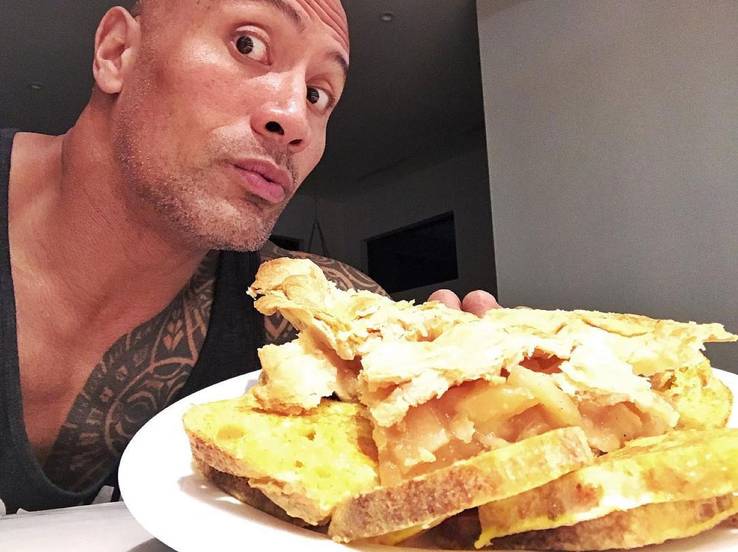 The Rock has shown off his impressive physique is several films and any time he makes a return to the WWE. The Rock always changes up his workout depending on the role he's playing. He said,
"My Workout is constantly changing and adapting, but for the most, I do 4 sets of 12 reps with a 60-90-second rest. I don't play around in the gym. I always aim to be the hardest worker, and I make sure I clang and I bang to best of my ability."
For some roles, he goes a little lean while others he bulks up. For his role in the 2013 film Pain & Gain, The Rock bulked up. He ate seven meals a day and increased eating for the role. He put on 12 to 15 pounds of muscle for his role in the film. He eats healthy and trains hard but knows when to indulge himself. One of his favorite cheat meals is 8 slices of sourdough French toast topped with loads of apple pie. When preparing for his role in Pain & Gain, Johnson enlisted the help of a personal trainer, Dave Rienzi. Rienzi said, "He loves to train so you struggle to keep him out of the gym." (Bodybuilding)
14

Cool Laidback Vibe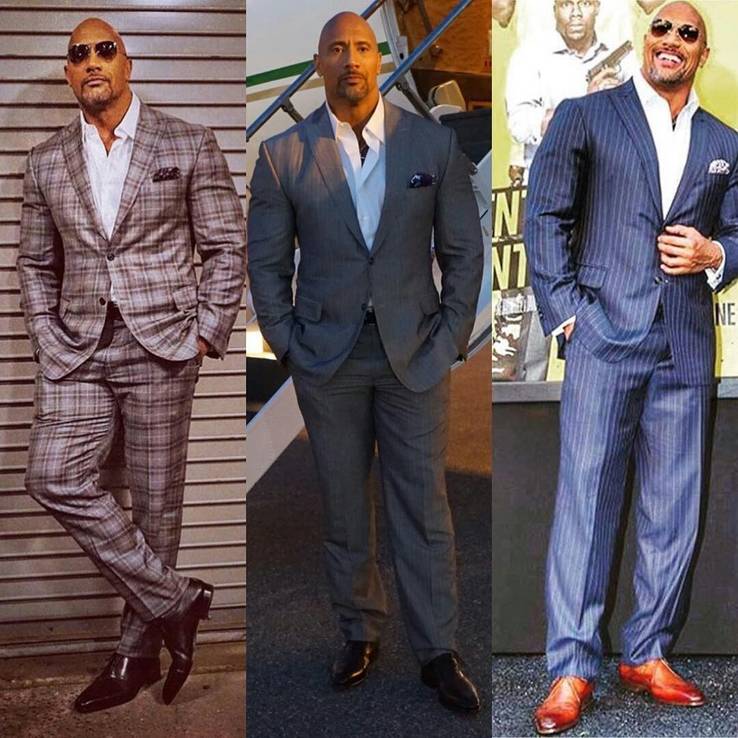 Dwayne Johnson always strives to be the best at whatever he does. He was one of the best wrestlers and is one of the best actors. He's also one of the best-dressed celebs in Hollywood. There is one thing that Johnson does better than every Hollywood leading man. He knows how to rock a suit better than anyone. Johnson is known for having exceptional fashion taste. He often wears stellar custom-made suits that no ordinary man could pull off.
He stands out at awards shows and takes risks as well. He wears unique and bright colors that few celebs would dare to try. Men's Journal once wrote about Johnson, "If there's one celebrity you wish you could swap lives with for the day it's probably Dwayne "The Rock" Johnson. His incredible physique, great personality, and cool laidback vibe are a powerful combination." (MensJournal) It's easy to see that he is one of the top leading men in Hollywood. He can star in a comedy or action film and will look good while doing it. Johnson has branched outside of Hollywood and teamed up with Under Armour to release Project Rock. It features his line of fitness apparel, including, gym bags, clothing, and footwear.
Featured Today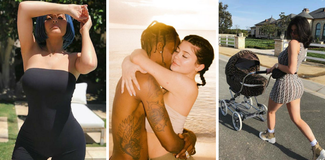 20 Photos Showing That Kylie Jenner Has Done A Total 180 Since Becoming A Mom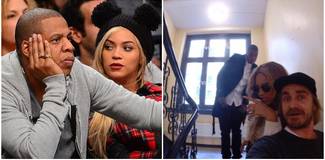 20 Rules That Beyonce And Jay-Z Make Their Staff Follow

20 Things Fans Should Know About Rising Star Alexandra Daddario

13

The Most Electrifying Man In Sports Entertainment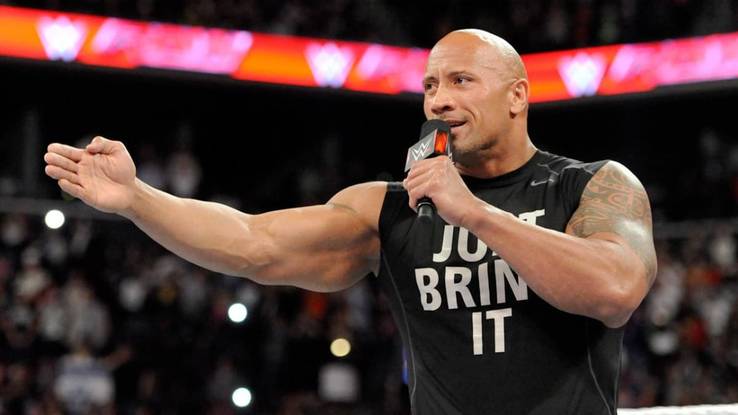 Vin Diesel has always been an actor and spent years honing his craft. Dwayne Johnson broke into Hollywood in a completely different way. Prior to Johnson and Diesel's feud, they actually had a desire to work together. Initially, the role of Luke Hobbs was written with Tommy Lee Jones in mind.
Diesel said, "The reason we brought Dwayne Johnson into Fast 5 was because of you! There was a girl named Jan Kelly who said, 'I would love to see you work together on the screen.' So the role that was originally written for Tommy Lee Jones, We gave it to Dwayne and he shined in it." (USMagazine)
Rock has a loyal fan base that he established a long time ago. He has years of practice of performing in front of large audiences. Johnson first started his career as a professional wrestler. He competed full time in the WWE from 1996 until 2004. He has since returned and made several appearances. He became one of WWE's biggest stars and regularly headlined major Pay Per View events, such as Wrestlemania, Summerslam and The Royal Rumble. He parlayed his success as a pro wrestler into a lucrative Hollywood career. In his first most prominent role, he portrayed his own father, Rocky Johnson, in the popular sitcom That 70's Show.
12

The Dwayne Johnson Rock Foundation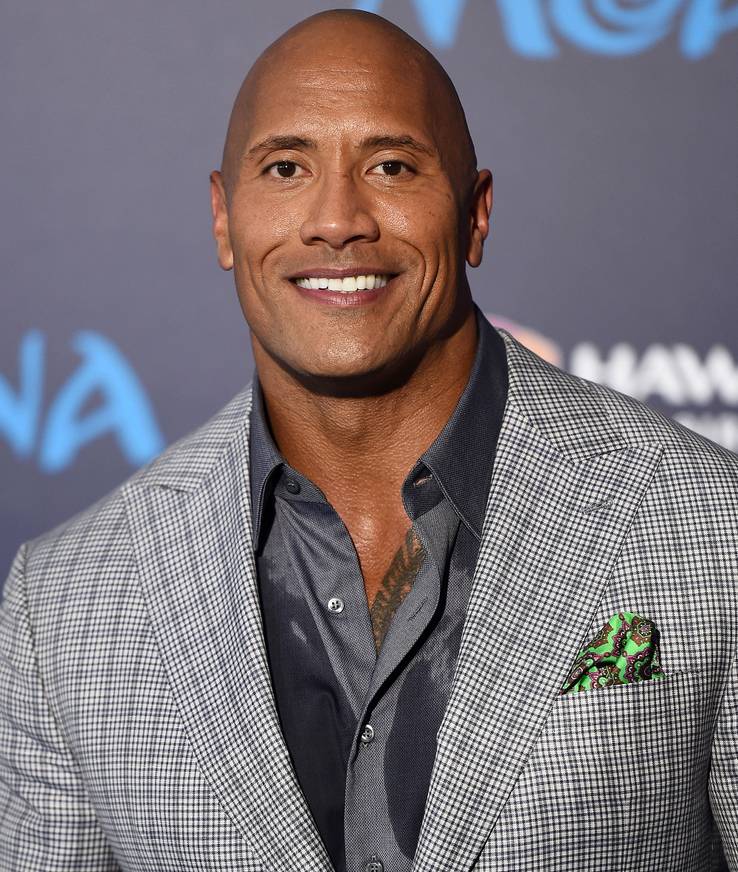 At the peak of his wrestling fame, Rock made the move to Hollywood. He has become one of the biggest stars in the world. There isn't a person that doesn't know the name, Dwayne Johnson. He has starred in a number of films that had varying degrees of success, such as, Hercules, Central Intelligence, and Baywatch. Regardless of the performance of the films, Johnson was always praised for his role. He's one of the highest paid action heroes in Hollywood.
Johnson is also known for his generosity and charity work. He's known for being approachable and going the extra mile for fans. He also donates a great deal of money and his time for charity. In 2006, he launched the Dwayne Johnson Rock Foundation. The program provides aid and creates hope for children who are in the hospital. The foundation also created a child obesity prevention program and encourages education for the youth. He is also a director of The Beacon Experience, which aims to encourage children to continue their education after high school. He donated between $1 and $2 million to his former school, The University of Miami. It was the largest donation the athletic department received from a former student.
11

Inspiring and Motivating 
The Rock and Vin Diesel are considered two of the powerful voices on social media. Both stars are known for inspiring and motivating their many followers. However, even online The Rock lays the smackdown on Diesel. Johnson has over 60 million followers and is immensely popular on all platforms.
While both post inspirational messages, The Rock leads by example. He often posts videos of his workout and intense training. He encourages his followers to follow his lead and hit the gym. While Diesel does encourage his followers, he doesn't post videos like the Rock does. To be fair, few celebs workout as intensely and post their workouts for their followers. Johnson loves to workout and shares it with his millions and millions of fans. He said, "I get busy with a nice session of clangin' and bangin'—epic pain, epic results. I'm big on 'together we conquer' and 'train to progress,' so I like to share that on social media. I treat training like a metaphor for life—the dedication, the determination, the desire, the work ethic, the successes and the failures—I take them all into life." (Bodybuilding) The Rock is one of the most motivational celebs in Hollywood.
10

105 Selfies In Three Minutes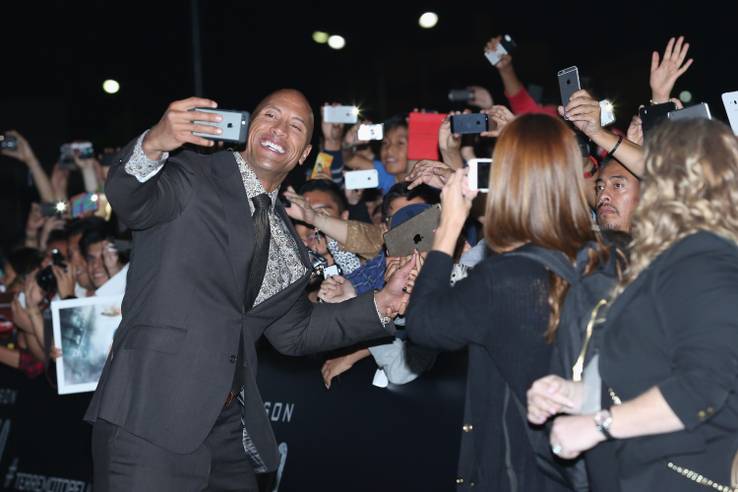 Dwayne Johnson currently stars in the HBO series Ballers. The series first premiered on June 21, 201,5 and is set to start its fourth season. The Rock dominated the squared circle, movies and now looks to take over television. Johnson's Seven Bucks Entertainment produces the series. Johnson has sold out stadiums all over the world and broken box office records.
Dwayne Johnson has made several amazing accomplishments in his career. 2015 was a big year for Johnson because he also starred in the disaster film San Andreas. However, his biggest accomplishment came on the red carpet. At the premiere of San Andreas, The Rock set a new Guinness World Record. The event took place at London's Odeon in Leicester Square. Johnson joined fans on the red carpet and took 105 selfies in three minutes. He entered the prestigious record books for this feat. The organization confirmed that Johnson's selfies met the requirements necessary to break the record. Rock took to Instagram to show off the certificate and said, "I have just broken a Guinness Book of World Records for the most selfies of all time. London, we did it!" The Rock won the WWE World Heavyweight Championship several times but this is a much more prestigious award. (USMagazine)
9

The Rock's Comedic Timing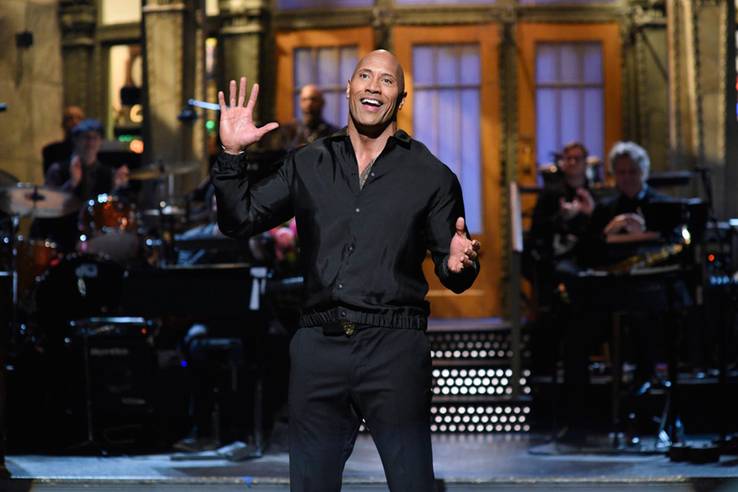 Dwayne Johnson has risen to the very top of Hollywood. He is one of the biggest and richest stars in the world. He often stars in action films and kicks serious butt. However, he has also shown his funny side and has incredible comedic timing. He has shown that in all of his appearance in Saturday Night Live. In 2017, he hosted for his fifth time and joined the 5-Timers Club.
Johnson has appeared in several memorable sketches in the series. The Guardian said, "His SNL outings have toyed a lot with the beefcake bod and public persona — see everything from The Rock Obama to his "Tough Guy" opening song — but he's been more than willing to look absolutely silly doing it."
He will certainly be starring in more and more comedies. He's come a long way from first hosting almost 18 years ago. The Guardian added, "It's wild to think that Dwayne Johnson first hosted SNL in 2000. Back then, he was still The Rock, just taking baby steps out of the WWE ring. While his star has risen, and Johnson has become famous worldwide for dishing one-liners while scowling in the Furious franchise and singing about his pecs in Moana, he's become a more confident actor and comic." (Vulture)
8

President Rock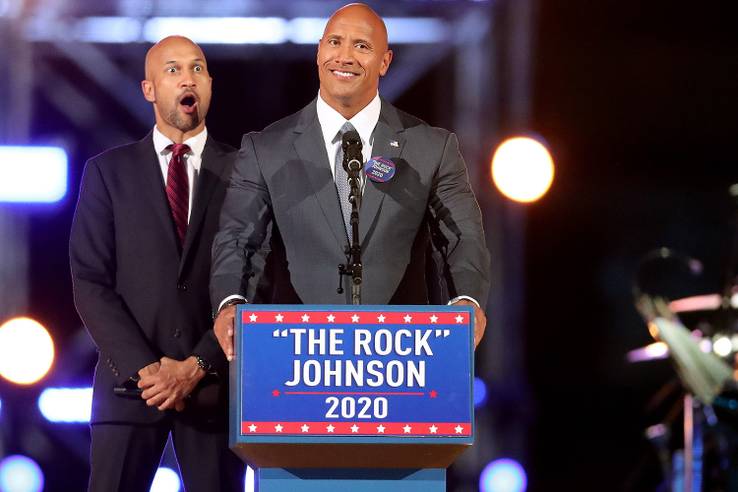 The Rock can do it all from wrestling to acting. He's even mentioned the possibility of running for President of the United States. Vin Diesel could run as his opponent but Rock will likely defeat him then too. However, Johnson won't be running in 2020 but isn't ruling it out.
He said, "Realistically, as we go into 2018, when you look at my slate as we're developing and shooting into 2019 and 2020, the slate goes deep into 2021, so it feels like the realistic consideration would be 2024."
Rock's transition to Hollywood was aided by his universally praised appearances on the sketch comedy series Saturday Night Live. He has appeared five times while Diesel has yet to host. Rock made his first appearance while still competing in the WWE. He impressed those outside of wrestling with his comedic timing and opened a lot of eyes. Prior to his fourth appearance, there was a great deal of anticipation. Rolling Stone said about his fourth appearance, "For his fourth outing, Johnson employed his biggest weapons, including high voltage charm, an endearing ability to poke fun at himself, and an almost inhuman capacity for holding character. Oh, and his arms, chest, and lower regions." (RollingStone) Diesel always does well in all of his late night appearances but can't match up to the quality of performance Rock brings.
7

Highest Earning Actor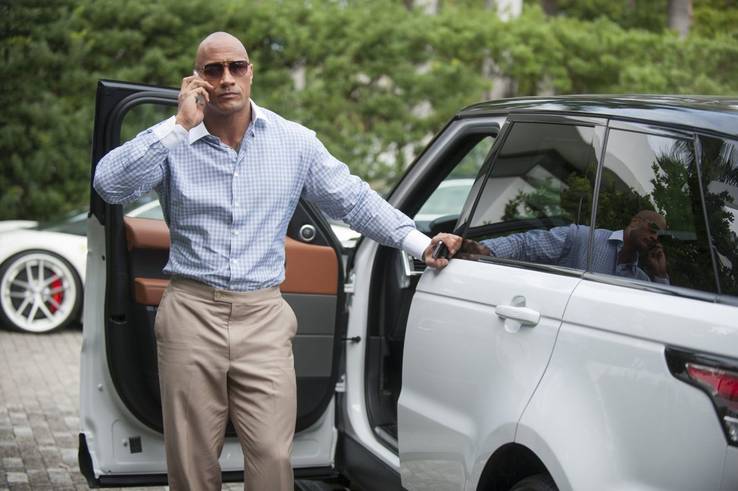 In addition to being action heroes, both Dwayne Johnson and Vin Diesel have starred in family friendly films. They don't always have to race cars and blow stuff up. In 2005, Diesel starred in the family film The Pacifier. Rotten Tomatoes gave the film a 20% rating and said, "Vin Diesel parodies his tough guy image for the family audience, but the result is only moderately amusing." (RottenTomatoes) Johnson starred in several family friendly films but didn't do all that better than Diesel. Johnson starred in The Game Plan, Race To Witch Mountain and Tooth Fairy. Tooth Fairy was a success at the box office but only holds an 18% rating on Rotten Tomatoes.
Despite the mostly negative review, the site noted, "Dwayne Johnson brings the full force of his charm (and his appropriately pale chompers) to the title role."
(RottenTomatoes) Johnson provided the voice for Maui in Disney's Moana. Diesel provides the voice for Groot in the Guardians of the Galaxy. However, Johnson has started to pull away from Diesel. In 2016, Rock topped Forbes Highest Earing Actor list. He reportedly earned $64.5 million that year. He tweeted, "I started w/ $7 bucks. If I can overcome, so can you. Waffle House on me!!" (BusinessInsider) In 2017, he was the second highest paid behind Mark Wahlberg.
6

The Rock And His Co-Stars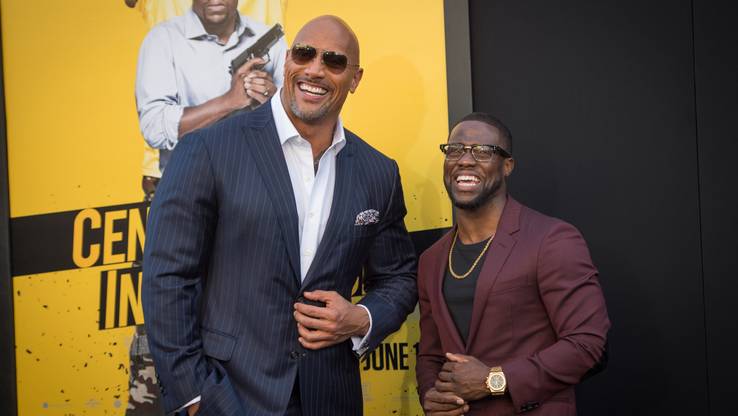 The Rock is in major demand by both studios and other actors. Every actor and actress in Hollywood jumps at the opportunity to work with him. That is partly because of his professional attitude and being a team player. The other reason is the glowing reviews he gets from his many co-stars.
Kevin Hart starred alongside Dwayne Johnson in Central Intelligence and Jumanji: Welcome to the Jungle. They have an incredible amount of chemistry and their friendship grows stronger. They are so close that they consider each other brothers.
Hart said about Johnson, "He's a positive guy that wants to see good for people. When you find yourself with a person like that, that attitude becomes contagious, and together, you spread a lot of that positive energy." (HollywoodReporter)
Johnson's other co-stars have kind words for him too. In 2017, he starred alongside Priyanka Chopra in Baywatch. She was impressed with his skills as a father and how he was around his kids. She said, "I definitely think he would make great marriage material because I've seen him with his family and I've seen him with his kids." She added, "The one thing you need in a husband is honesty and trust and The Rock totally exudes that." (HindustaniTimes)
5

The Rock vs. Tyrese Gibson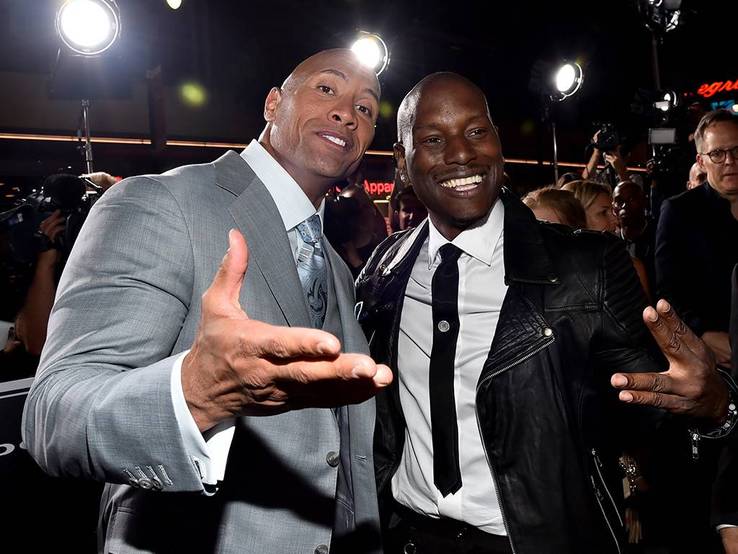 Dwayne Johnson's impressive performance in the Fast and the Furious franchise has received universal praise. It resulted in him landing his very own spinoff series. Johnson and Jason Statham will both reprise their roles as Luke Hobbes and Deckhard Shaw respectively. The film is tentatively titled Hobbs & Shaw and is due out in 2019. The studio decided to push back the release of Fast and Furious 9 to 2020. This made some of Johnson's co-stars a bit unhappy. The tension between Johnson and Vin Diesel got a little more intense but now includes Tyrese Gibson. Gibson portrays Roman Pearce in the franchise. Gibson was furious that Johnson would agree to the spinoff.
Gibson said, "You will have purposely ignored the heart to heart moment we had in my sprinter." He added, "We Don't Fly Solo." (E!News)
Gibson claimed that Johnson was just selfish and wanted to be the only star on the poster. He also claimed that several cast members had been offered spinoffs but they all turned it down because they're a family. Johnson responded by trashing Gibson's music. Gibson threatened that if Johnson is featured in the ninth film he'll leave the series. He wrote about the Rock, "Close your eyes dude you're a clown." (AVClub) Unfortunately for Diesel and Gibson, Rock simply outshined both stars to land the spinoff.
4

The Ultimate Professional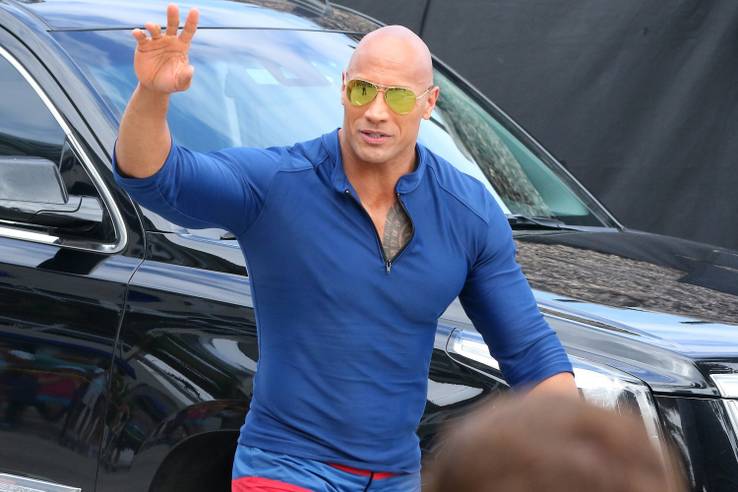 One of the ways The Rock outshines Vin Diesel is his highly professional approach to work. Rock is known for getting along well with his co-stars and the crew. On the other hand, Diesel can be a bit difficult to work with. During the filming of Fast & Furious 7, Diesel rubbed some of his co-stars and crew members the wrong way. He pushed his start time to 10 am since he didn't like waking up for 7 am start times. One source noted, "Vin spent a whole day in his trailer one day. The next day, they waited four hours for him. He called a meeting of studio execs to his trailer for two-and-a-half hours to say, 'what the (expletive) am I doing here?'" (IBTimes) He apparently criticized his co-stars performances as well and stressed out the crew.
However, Johnson's colleagues on set often praise him. The crew described Johnson as someone who "always nails his scenes and is easy to work with." They also called him the "ultimate professional." Johnson expressed his gratitude and said, "An incredible hard working crew. Universal Studios Entertainment has been great partners as well. My female co-stars are always amazing and I love 'em. My male co-stars however are a different story." (DailyMailUK)
3

Passing The Torch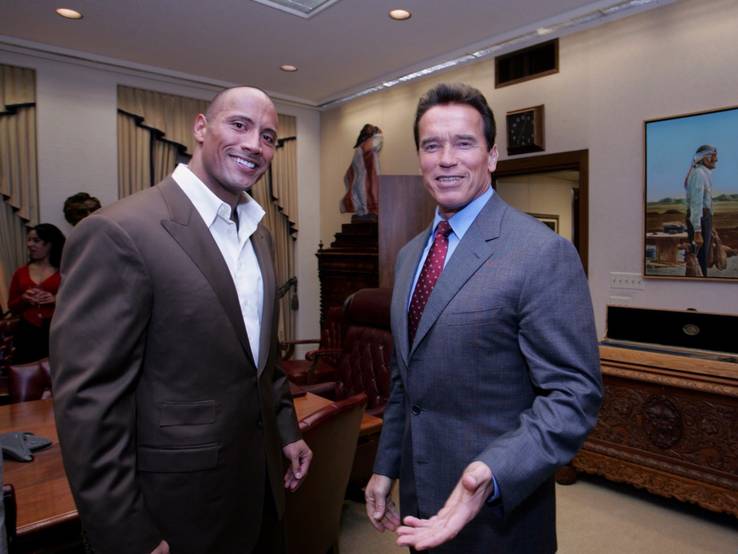 Arnold Schwarzenegger is widely regarded as one of the greatest action heroes of all time. He was a dominant force throughout the 80's and 90's. He starred in several classic action movies, such as, Commando, Predator, Total Recall and the Terminator franchise.
From early in his film career, The Rock was often compared to Schwarzenegger. In 2003, Johnson starred in the action comedy The Rundown, which also included Seann William Scott, Christopher Walken and Rosario Dawson. The film was significant for several reasons. Despite already being a big name, Johnson solidified that he has the ability to be a leading man. It was also significant because of an uncredited cameo appearance by Schwarzenegger. Early in the film, Johnson's character enters a club and passes Schwarzenegger. Arnold tells Johnson to "Have fun." Many critics and fans saw that as a symbolic passing of the torch from the previous action hero icon to the new one. Movie critic Roger Ebert was one of many that viewed it as a passing of the torch. He said, "Whether The Rock will rival Schwarzenegger's long run as an action hero is hard to say but on the basis of The Rundown, he has a good chance." (BusinessInsider) Johnson has gone on to have an enormously successful career.
2

The Bond Between A Father and His Daughter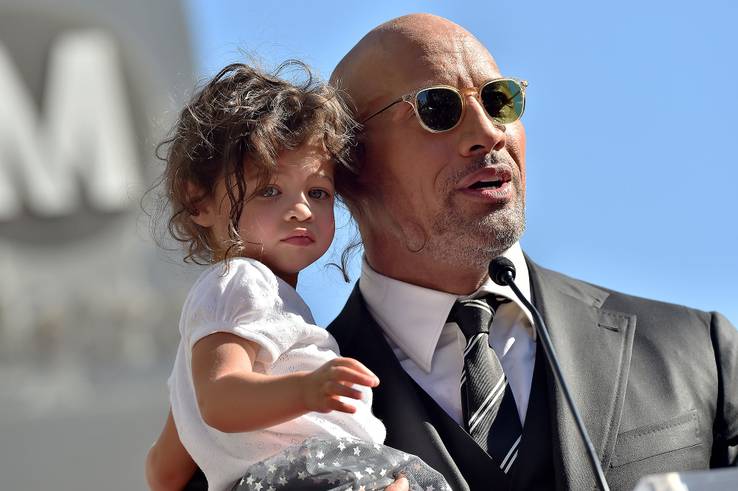 Dwayne Johnson is a father before he's an actor, a wrestler and the most electrifying man in sports entertainment. Johnson married Dany Garcia in 1997 and they have one daughter together, Simone, who is now 16 years old. Johnson and Garcia divorced in 2007 but have remained on very good terms. In 2006, Johnson began dating Lauren Hashian. They have two young daughters together, Jasmine born in 2015 and Tiana born in 2018.
Johnson is a dedicated and committed father regardless of his schedule. He said, "I realized being a father is the greatest job I have ever had and the greatest job I will ever have."
He once dressed up as Pikachu to entertain his daughter Jasmine and once posted a video signing happy birthday to her. He has a very close relationship with his eldest daughter Simone. She often accompanies him to award shows. He said, "So proud [of] you [Simone] for the young woman you've become and so grateful for the bond we have. I take complete credit for your wit and charm. All that brains and beauty you got go to your mama." He loves his daughters more than anything. He said, "It's the most unique, powerful, loving, irreplaceable, one-of-a-kind bond on earth. The bond between a father and his daughter." (HuffingtonPost)
1

Charisma and Charm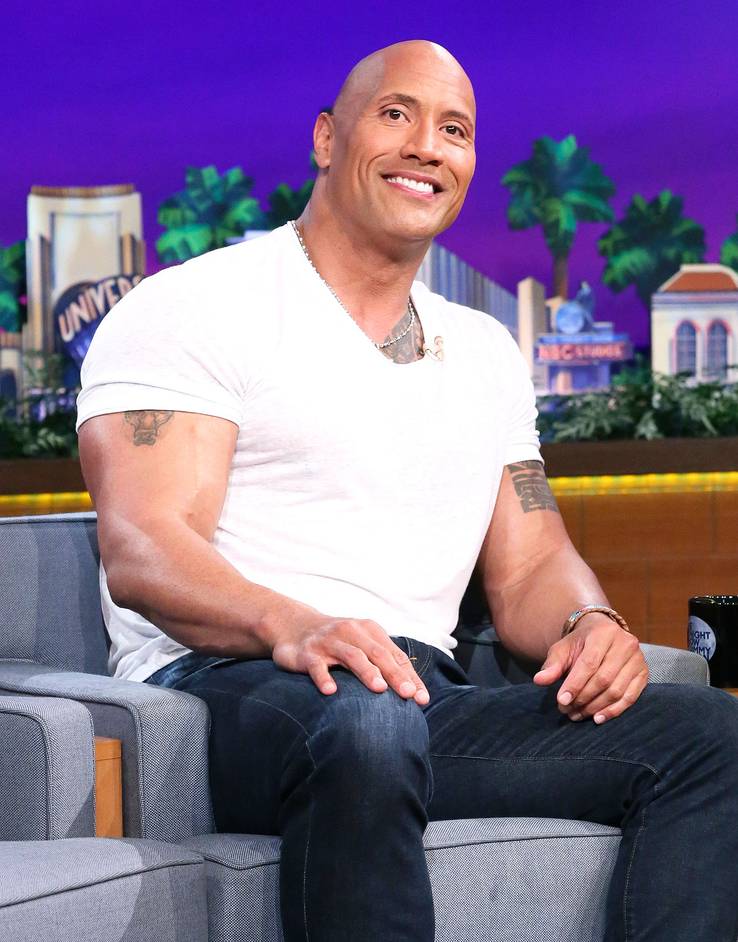 Dwayne Johnson is known for his electrifying charisma that is off the charts. He has shined in several sub-par films because of his delivery and charm. He has made painfully unwatchable films hilariously entertaining. Dating back to his days in the WWE, he was able to get the crowd on their feet with a simple catchphrase. In fact, one of his most famous catchphrases, "Smackdown" was added to the Merriam-Webster dictionary in 2007. Vin Diesel has a lot of charisma as well but it pales in comparison to Johnson's. In fact, Johnson has become one of the highlights of the Fast & Furious franchise.
The Hollywood Reporter wrote, "Arguably, Johnson's kept up a solid balance of movies for the whole family as well as more mature action films over his career. He's become one of the best parts (if not the best part) of the Fast and Furious franchise over the last decade."
Johnson is often credited with elevating the quality of a film's performance. He has been the shining star in several films that seemed destined to flop. The Hollywood Reporter noted, "Johnson is now among the most charming and welcome movie-star presences." The critic added, "His confidence and skill are impossible to ignore." (HollywoodReporter)
Sources: thisisinsider
Source: Read Full Article