20 Stunning Campsites Where We Can Spend A Night Under The Stars
Summer has finally arrived and there are only a few short weeks left to pack up the car and take a road trip for a short weekend trip, or a three-week-long adventure to a land we've never explored before. While the summer is quickly coming to an end, it's now time to pick a site, grab a thermal sleeping bad and bear-proof coolers, and hit the road, Jack. However, picking the right campsite is not always easy. There are those that are completely secluded from the world with limited phone range and those campsites that have restaurants right by the coastline.
For those who are looking for adventure, researching the proper campsite can be quite tedious. Luckily, we have a list that offers skylights of the Aurora, the Great Torii in Japan or even wild cougars of the Amazonian rainforests. These are all campsites that may go off the radar when researching, keeping campers from experiencing the world. On the flip side, there are other campgrounds that are dedicated to fishing, hiking and the good old rest and relaxation. Here are 20 of the best campsites that everyone has to add to their camping bucket list.
20

Yosemite National Park, California
Put away the phones and set your sights on nature's wondrous Yosemite National Park, located in California's city of the Sierra Madres. Nature is just what you're going to get here, with a waterfall at approximately every thousand feet, some with trails that make it easy to hike to, while other paths are rather tricky but are definitely worth the view. Travellers agree that the best time to visit the National Park is in the late spring, when the waterfalls carry out the remaining snow from the mountaintops.
Camping at the Yosemite National Park is also said to be very well organized for campers, with plenty of activities awaiting them. However, there are many locations where campers can escape without the buzzing of tourists and campers looking for an exciting, fun-filled vacation, by offering thirteen different campgrounds around the park. The waters of the many Yosemite lakes and rivers also allow campers to fish for leisure or for their next meal, and gives them front row seats to Yosemite's wildlife as well.
19

Boya Lake Provincial Park, Canada
It wouldn't be right to go through this list without having one of our Canadian friends on the list, eh? The Boya Lake Provincial Park can be found on Liard Plain, an area that was carved out by 20,000-year-old glaciers once they melted and shifted away.
The Boya Lake is known by many campers as a lake with many different colors, and it's extreme clarity that gives off a crystal clear look into the lake. This is due to the lake's floor that is fabricated of broken shell particles and silts, therefore it gives the water's reflection a marl look.
This Provincial gem is made up of two hiking trails, one easy and one not-so much, a biking trail and countless islands and bays to explore and discover by boat or kayak.
18

Miyajima, Japan
To get to the island of Miyajima, campers will need to take a ferry to cross over to this remote island where they will, most likely, be greeted by large deer. Yes, they are safe to pet and are accustomed to visitors with a ferry arriving every ten minutes. Campers will also need to cross the city streets of Miyajima before getting to their first Japanese landmark of the Great Torii, where campers can access the landmark by foot if the tide is low enough.
After the free tour guide through the Great Torii, campers will also pass the Itsukushima Shrine, before hiking 2.8 kilometers to the campsite. This campsite requires you to pay a rental fee, as they also offer campers rental tents that are already set up and a functioning BBQ. On the more non-traditional side of camping, campers are also welcomed to visit the Miyajima aquarium and ride cable cars to the top of the mountains.
17

Big Sur, California
When visiting the large and busy state of California, it's no surprise that even their campgrounds are filled with tourists trying to get the perfect selfie and filled with Sunday-driving cars, trying to take in the sights of Highway 1.
For those looking for a good hike, Big Sur is one that won't disappoint, especially with many closed trails. In order to get to the hiking location, one must hike to get there or take a helicopter (no joke.) Luckily once you arrive at one of your four campground options, campers will be greeted with decade-old, some century-old, redwood trees and a spectacular view of the Californian coast.
16

Flamenco Beach in Culebra, Puerto Rico
Camping on the Flamenco Beach takes some campers weeks and months of planning as getting their gear doesn't come easy. If you choose not to bring your own personal gear from home, Flamenco beach expats suggests renting all equipment, including tents and sleeping bags, at one of the many camping-gear stores in Culebra, as at the larger department stores like Walmart and Sam's Club in Mexico do not have all of the necessities a camper requires to camp or hike.
However, once they arrive on the beachfront campgrounds after taking a short ferry ride across, campers are offered a beachfront view, with white sandy beaches and lush green palm trees, and many shady spots. The campsite is divided into five different wings, some that favor families and are closer to the roads, while others are more remote and have only a few picnic tables.
15

Haleakalā National Park, Hawaii
The Haleakala National Park is home to two popular campgrounds that are only accessible by taking a nice little hike up the Hawaiian trails. Campers are allowed to a stay a maximum of three nights, as this campground can only host 25 people. It's also helpful to keep in mind that the weather changes dramatically at the Haleakala National Park, with the days hot and in the 70s Fahrenheit and the nights are cool and can drop to the 30s.
Haleakala National Park also has a lot of ancient artifacts left behind by their Hawaiian ancestors. Therefore, the park insists that campers, tourists and locals alike not hike or climb the rocks near their sacred temples, old lava rocks, ancient rock engravings and any other structure that is there for eyes only.
14

Corcovado National Park, Costa Rica
The Corcovado National Park in Costa Rica is one of the largest rainforest in the Amazon and Central America. In fact, this large mass of greenery had National Geographic's call it the "Most Biological Place On Earth." For those who enjoy camping with a bed and a once in a lifetime experience without the rocky and stick-filled grounds. Regardless of your accommodations, hiking shoes and a bathing suit should be worn at all times. You need know if a trail brings you to a rocky mountain to climb or a captivating waterfall.
Featured Today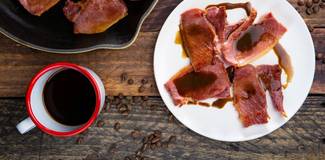 20 Southern Foods That Seem Too Weird To Be Real

24 Pics Of The Most Unique Sculptures In The World

29 Places People Go To For The Stuff of Legends

13

Denali National Park, Alaska
If you're brave enough to camp out in up to seven feet of snow during the winter months, than the Denali Alaskan National Park is the campground for you! The Denali National Parks also offers guests to rent out one of their many bear-resistant food containers for free, so long as you can provide a backcountry permit. These containers can carry anywhere between 3-5 days worth of food per person. Once you've set up your campsite and have packed away all your food in safe keeping, it's time to hike up the snow capped mountains and woodsy trails.
12

Jasper National Park, Canada
Another Canadian National Park is making it on our list of best campsites, and that's the stunning views from Jasper National Park. What makes Jasper different from most Canadian National Parks is the opportunity to go skiing in the avalanche terrains and even an overnight hiking trail. However, for those who are looking for something a little less thrill-seeking, rafting through the Snake Indian Valley may tickle your fancy, though it's important to note that this option is a multi-day rafting adventure.
11

Mount Cook National Park, New Zealand
The Mount Cook National Park campground is one of the only fully-equipped campsites tourists and locals will be offered. Campers are welcome to set up their tents under the stars of the New Zealand sky, but can join the common ground where travellers can find a kitchen, dining room, functioning toilets and showers, and even Wi-Fi and television. In fact, there is also a laundry area in case you run out of fresh socks. The campsite is found on a fully operating sheep station, located only 18 kilometers away from Mount Cook.
10

Amazon Rainforest, Peru
The popular Amazon rainforest can be found in Peru, and for all those who are wondering, yes, you can camp out in the rainforest. However, book quickly because this once in a lifetime camp excursion only allows fifty campers per year. Campers will be able to witness the magic of two rainforest waterfalls, nine different species of monkeys, over five hundred different species of birds and rainforest animals like Jaguars and giant anteaters, just to name a few. In addition to all this, once a year the land's keeper offers an exclusive tour deeper into the rainforest.
9

The Alps, France
Camping in the French Alps will allow you to grab a picnic blanket, handmade dresses made of old curtains, and belt out Julie Andrews' "These are a few of my favorite things," at the top of your lungs. There are multiple campgrounds that range in luxuries from tents to private villas with exclusive underground pools and waterfalls and unicorns. It's amazing. Of course, there is a plethora of mountains to hike, and the most commonly hiked mountain is the Mont Blanc.
8

Banff, Alberta
There are eight popular campgrounds in Banff, Alberta and, of course, there is plenty of hiking through the colorful Canadian mountains and numerous lakes and rivers to kayak across. Banff is also known for its variety of bears, so bring along a set of bear protection coolers. Although it is very close to the other campground on our list, Jasper, it does have its significant differences. However, travellers can explore both Banff and Jasper in just two or three days. It wouldn't be a complete Canadian experience without visiting the cute little town of Banff just off the hiking trails.
7

Patagonia, Argentina and Chile
Travel through an 11-day hiking trek across South America, camping throughout the Patagonia, Argentina and Chile many trails. As this is a popular vacation choice among campers, the larger campsites are also equipped with fully functioning cabins with working kitchens and fellow company who also choose to stay in cabins. In addition to cozy cabins, campers are also welcome to stay in a working ranch and volunteer their time to help with the animals, vegetable plantations and some production as well.
6

Tasmania, Australia
Tasmania is an island that is separated from Australia's mainland, but still remains part of Australia all the same. Close to forty percent of the island is covered by forestry, mountains and lakes, and the remaining part of the island houses a number of Australia's aboriginal population. However, while Tasmania is known to be exceptionally hot, the winter months are also extremely cold. So much so that campers are expected to bring under floor heating. Although the grounds are now covered in snow, the mountains can be found capped with a heavy white pile of fluff.
5

Lake Myvatn, Iceland
Iceland's Lake Myvatn is the fourth largest lake and is a popular travel destination for returning locals and travellers alike. Surrounding this fish filled lake is a nature reserve where campers can find a variety of different birds to watch and fish to catch for a tasty dinner. Off the trails, tourists can find a single village that only one bank, one gas station, a supermarket and a local pool. Thankfully, they have a hotel! This tiny village is six to seven hours away from the lake and can be an even longer trek during the winter months.
4

The Fjords, Norway
Norway may be an odd country to visit to camp, but it's definitely worth the travel. The Lysefjord was given this name due to the granite that surrounds the rocks. But the Lysefjord is not a trail that should be trekked for first-timers, as this hiking trail spans out over forty two kilometers of stunning views. Luckily, this trip also brings travelers and locals to a variety of different Norwegian landmarks that can be accessed by car, by boat, or by foot.
3

Sardinia, Italy
The Sardinian campground experience is one that is unlike any other on this list. It is a beach campground. Campers are given the breathtaking opportunity to wake up with fresh crisp beach air, cool sand below and even cooler waters. Campers are invited to dine at the many Italian restaurants on the coastline that specialize in seafood. However, some may want to book a hotel that overlooks the same ocean as the campsite, but at least you'll get a queen size bed and a fresh shower.
2

Tree Camping in Waldseilgarten, Germany
Enjoy the free-falling feeling that the tree camping experience in Waldseilgarten has to offer. This is considered "extreme" camping and has three different kinds of camping: tree camping, cliff hanging, or camping in a makeshift igloo. These options of camps are designed for rock climbers who take day-long excursions, and will need to spend the night somewhere comfy, cozy, and of course, thrill-seeking. The cliff camps hang from three hundred meters to two thousand meters from the air. Before climbing up to your desired level, hikers will be given a rock climbing lesson.
1

Acadia National Park, Maine
It wouldn't be a complete list without adding the Adirondacks' neighbors of Maine to the list. The Acadia National Park has twelve different campgrounds that range from forests and mountains, to lakes and rivers. There are some campgrounds that offer campers a fire pit to roast freshly caught foods, while others house log cabins for smaller groups. Each of these campsites also have lots for RVs, electricity, and water supplies for a small fee. However, the farther you go, the more remote your stay will be, which is probably why you're travelling in the first place.
References: bustle.com, roughguides.com, buzzfeed.com, travelandleisure.com, wanderlust.co.uk, rvcoutdoors.com, env.gov.bc.ca, the-wadas.com, outsideonline.com, puertoricodaytrips.com, nps.gov, costaricaexperts.com, Alaska.org, jasper.travel, glentanner.co.nz, tripadvisor.ca, conservetheamazon.org, rei.com, backpackersshop.info, scamandersanctuary.com.au, guidetoiceland.is, nexttostopnorwary.com, tourists-attractions.com, newatlas.com, jameskaiser.com
Source: Read Full Article