Oh, New York City. The Big Apple. The Concrete Jungle. The City of Dreams. The Empire City. The fact that New York City has more nicknames than we can list proves that it's humungous to say the least. Yet, a trip to New York City is one that brings forth possibilities that we might not have ever dreamed of. From going to see a Broadway play to exploring all things Central Park, New York City's to-do list can be super massive. There are countless ways to prepare for a trip to New York City, which unfortunately also means there's ton of room for error. But no worries. There's an app for that.
Yes, there's an app for anything in Gotham, including things we didn't know we needed, like an app to tell us how to avoid construction on the subway (which we all know can be super annoying), or the app that lets us create a replica of some of New York City's best sights. So, before going in totally blind, check out the top 25 apps that everyones needs in their iPhone, Android, or Windows phone before they land in the city that never sleeps.
25

NoWait
It's no secret that a trip to New York City is synonymous with waiting in long lines whether it's for a restaurant or the bathroom. But at least with NoWait you'll be able to avoid long lines as much as possible. It informs you of just how long the wait is before you head to the eatery, and even allows you to add your name to the list while you're still getting ready in the hotel. It'll simply shoot you a text when your table is good to go. See, it's the little things.
24

Metropolitan Museum of Art
Your trip to New York City might not be complete without a trip to the Metropolitan Museum of Art (MoMA). If you have plans to go to the iconic gallery, the app helps you find each collection within the museum, because there are literally thousands. It gives you a good place to start as you can take a multimedia tour and even get information about the artists featured and – drumroll please – take a snapshot on MoMA Snaps to share your good times with others.
23

WNYC
You might actually feel like a real New Yorker with the WNYC app. It's completely free and lets you listen to public radio right from your phone. While this doesn't sound like the most exciting thing during a trip to NYC, the app also gives you information from resident and longtime New Yorkers. It even lets you get vocal and sound off with your opinion on some of the city's biggest debates and topics with well-known and notable radio personalities.
22

NYC WiFi + Coffee
It pretty much goes without saying that you'll need WiFi and coffee during your trip to New York City. Considering that, you won't have any problem finding either of them while in the city. But at least the NYC WiFi + Coffee app makes it easier. It directs you to the closest restaurants or coffeeshops that offer both high-quality Wi-Fi and a good old cup of Joe. Keep in mind the closest Starbucks isn't the only venue on the list. It could also include a library or a kiosk that provides coffee for customers.
21

Top Of The Rock
Available on iPhones, iPads, and even iPod Touches (if you're still rocking yours), the Top of The Rock app is perfect for social media enthusiasts and those that want to capture the most memorable moments of their trip. It's recognized as the app that makes it much easier for tourists and locals to take pictures of the city's most iconic spaces and offers a postcard option with special visual effects. You can even make your own version of notable events and times and of course share your photos directly to social media. It also helps that it comes with a handy dandy map to stores and eateries that are close by.
20

I Love NY
It's the motto for the most comfortable hoodies and vintage tees. But the app of the same name marks not only the city but the state of New York's official app for its visitors. It helps you find the state's most popular attractions and events that are happening during your time in the Big Apple and all surrounding areas. And good news: it's available for both Android and iPhone users. Apple users can also download the app on their iPads.
19

CultureNOW: Guidebook for the Museum Without Walls
iPhone, iPad, and iPod Touch users can indulge in the CultureNOW app. Catering to every tourist's inner artist, the app lets you know where you can find the city's best art that isn't in, you guessed it, a museum. Yes, we're familiar with the Met and the MoMa, but if you're looking to experience a different type of art, be sure to download this app. If you're moved by any of the pieces, the app informs you on the artists, podcasts that feature the artists, architects, curators, and more.
Featured Today
26 Apps That Are Necessary For Everyone Under The Age Of 35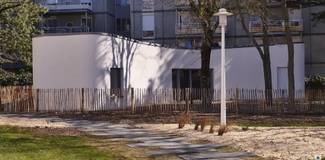 Family Moves Into The First Livable Home Made By A 3D Printer

12 Things People Always Take With Them On Vacay (12 Things They Tend To Forget)

18

Weekender
This app has more to offer than a fun name. It also helps you avoid something a majority of tourists and locals alike can't stand: construction. Fortunately for you, the Weekender app tells you if there is construction on the subway route you plan to take. It gives you quite the aesthetic display to help you choose a detour to steer clear of any work being done. Now you can get back to, you guessed it, your weekend in New York City.
17

Gett
Move over Uber. Gett is a major car service that is apparently giving Uber a run for its money in New York. You might want to download this app for your smartphone for your NYC trip, before everyone else catches on to the new wave. Some of the benefits of Gett include fixed prices in the heart of Manhattan, and the ability for riders to book their rides ahead of time. Here's another bonus: you don't have to worry about surge pricing during high-volume traffic jams.
16

311
Considering the "If you see something, say something" phrase is now more important than ever in mega cities like New York, it only makes sense that the city officials thought to provide a 311 app for residents and tourists. Of course, locals have been able to take advantage of the phone number pretty much since the beginning of time. But if you're new to the area, the app lets you report anything you feel necessary in a silent and discreet manner. You can even report something as simple as noise or if you lost a valuable item.
15

NYC Health Ratings
If you want to know the real deal about the restaurant you can't wait to eat at, download the NYC Health Ratings app. While many of the restaurants in the city have already fallen in line and displayed their health rating and grade on their windows, with the app, you'll know what it means. It comes with more than 24,000 restaurants at your disposal. So, before you dig in, take a look and see how healthy the restaurant really is. And unlike in high school, a C is basically an F.
14

Seamless
If you're having a night in, you can still enjoy what the city of New York can bring. The Seamless app provides delivery and takeout options from some of NYC's most popular restaurants. One of its latest feature is that it includes gluten-free restaurant if you're hoping to keep your health lifestyle intact during your trip. And it's safe to assume it includes reviews, any promotions or specials a restaurant or diner has, making your food experience in New York City nothing less than seamless.
13

Downtown Culture Pass
Discounts during vacation is an automatic score. The Downtown Culture Pass lets users know all of the discounts they can take advantage of in Lower Manhattan. From cultural experiences to restaurants or a unique event that you'll only find in New York, the app makes sure you get the best price for what you have on your bucket list. Some of the most popular and talked about areas are Wall Street, the South Street Seaport, and Century 21. So download and get ready to save.
12

Tweat.it
One of the best things about New York City is the food. And one of the best things about the food is a food truck full of greasy cuisine. Want to find the nearest one to fix whatever craving you have? Download the Tweat.it app to find out. It not only offers up information on the location of each food truck (with real time updates, we must add), but it also tells you which one is closest and of course lets you now the type of food it serves, and which is one having a discount or daily special.
11

Broadway.org
What's a trip to New York City without going to see a Broadway show? After all, it's the city where dreams come true. With the Broadway app, you can check out any shows that are going on in New York City during your trip and the ones for the future. Of course, it also provides information like what times the curtain opens and how much the tickets cost. If you're looking for dinner and a movie, the app also gives you a list of hotels and restaurants located in the Theatre District.
10

Red Rover
If your trip to New York City is going to be a family-friendly one with the little ones, be sure to download the Red Rover app. It gives parents the chance to explore unique activities that kids of all ages will enjoy. The cool part is it also gives their friends the chance to get in on the fun. You can share photos with those on the trip and the others who couldn't make it, and even plan social activities with other parents like a playdate. Here's another cool feature: it lets you know where to find the cleanest public bathrooms.
9

Trip Planner
If you're in a rush and aren't a fan of public transportation (and even if you do love it), trip planner helps you make the most use of your time. Simply plug in your destination and the app will tell you the fastest route you can take whether you're riding the subway, a bus, a PATH train, or even via Uber. It also works in other major cities like Los Angeles, Boston, and Washington D.C. Sorry Android users, this one is only available for mobile Apple products as of now.
8

Goings On
The New Yorker magazine is the go-to place for all happenings in New York City. Its app, Goings On (that goes hand-in-hand with the publication's Goings On About Town section), makes sure you have access to it all right at your fingertips. And trust, it's not the typical stuff that you'll find. It gets pretty unique with letting you now about indie film festivals and theater troupes to iconic EDM pop-up dance parties. It also provides a brief description of the event, so you'll know exactly what you're getting yourself into.
7

HopStop
If you're on a tight time schedule or simply want to make sure you don't waste any valuable and necessary time in none other than NYC traffic, the HopStop app can help you. It tells you the exact amount of time it will take you to get from your starting point to your destination. It even includes all of your walking time from the subway or any other form of transportation as well as any train interruptions you should know about.
6

MenuPages
This one is pretty self-explanatory, but still an app that you need on your trip to New York City. It allows users to search for menus and restaurants categorized by the type of cuisine. So, whatever you're craving, go for it with MenuPages. It also lets you search by the neighborhood and the price you're looking to spend. But wait! There's more. You can download the delivery and takeout options from a selected list of stores to make the best use of your time and appetite.
5

TKTS
Another app that helps you make the most of your Broadway experience and visit to New York City in general is the infamous TKTS app. But this one takes things a step further than simply giving you a list of all the Broadway shows that are must-sees during your visit. It also provides real-time updates on where you can purchase tickets at a discounted price at the main three ticket agencies. This app is available for Androids, iPhones, and iPads.
4

Exit Strategy
While getting more steps in than usual is a major plus to going on vacation, sometimes it's nice to get a little break. With the Exit Strategy app, you'll know which subway car door will drop you off at the closest exit to your destination. That way, you can avoid wasting time in the subway and spend more time in the city. Keep in mind the Apple version provides the complete subway system, but the Android versions only provide a limited amount of stops in Brooklyn, The Bronx, and Queens while providing complete stops in Manhattan.
3

Central Park
When it comes to attractions, Central Park is one of the best in the entire city. Still, it's also no secret that it's a pretty massive place to enjoy and can come across as a little overwhelming. The Central Park app (provided by the Central Park Conservancy) gives users everything they need to know concerning all things Central Park. Whether you want to know what concerts will take place while you're there or simply get educated on its history, the app will tell you all of that and more.
2

OpenTable
So, let's be honest. Pretty much everyone is in a rush in New York City, including tourists like us that are just visiting. If you want to eat on to the go, you can download the OpenTable app to look for your choice of restaurants and see their menus as well as what others who have gone there have to say about it. Users can also make reservations and earn rewards points that can be used at any OpenTable restaurant.
1

ShopDrop
Can you even picture a trip to New York City without going shopping at your favorite store? We can't either. The ShopDrop app makes the inevitable shopping trip much easier. It not only dishes out information on brands, stores, and of course sales, but it also gives you details on sample sales that you might not have even known about if you didn't have this super informative app. And of course it gives you the address and times the retailer is open, too.
References: NYCGo, Too Many Adapters, Thrillist
Source: Read Full Article