As with so much in television, I Love Lucy pioneered the appearance of guest stars on sitcoms. It became more popular as time has gone on and many a sitcom has used a guest appearance to give their ratings a boost. True, some can backfire if the celebrity's star fades. Several TGIF shows have guest appearances of singers or actors who have long passed from the public eye and been forgotten. There's also how future events can alter perceptions of such celebrities as Bill Cosby or Kevin Spacey. Still, some appearances by actors or musicians aren't just popular but almost iconic in a way.
That's especially true given the sad passing of several celebrities, a few ahead of their time. Their appearances on these shows thus become more special, focusing on their fame and impact. There's also how a few shows boast very notable appearances by actors who weren't a big deal at the time but would go on to become mega-stars. Some are more modern while others are from the past ages of TV but showcase how a big guest star can be something truly special.
25

Patty Duke, Liv & Maddie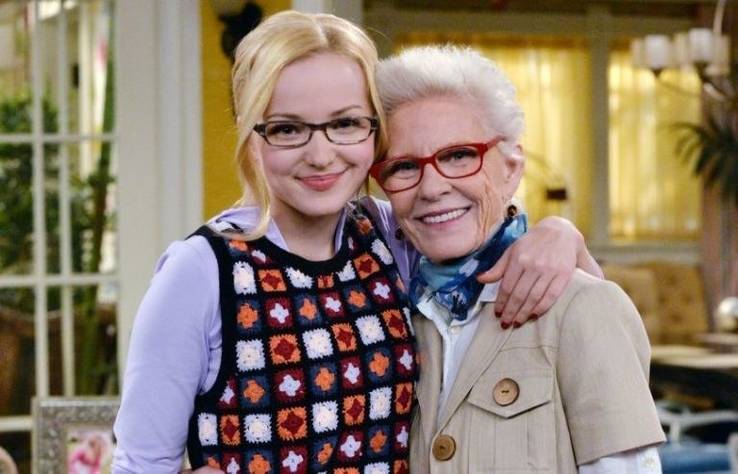 The popular Disney comedy had Dove Cameron in the title roles of identical twins with differing personalities. It was a concept right out of the old The Patty Duke Show. Thus, in a genius casting touch, Duke herself appeared in a 2015 episode as the girls' visiting grandmother. A further twist reveals this isn't their actual grandmother but her twin sister. In classic sitcom form, the real grandma drops by in the middle of an event to cause some trouble. The episode was fun but became more notable as it was Duke's final role before her passing in 2016. Thus, it stands as the final showcase of a talented actress.
24

Kate Winslet, Extras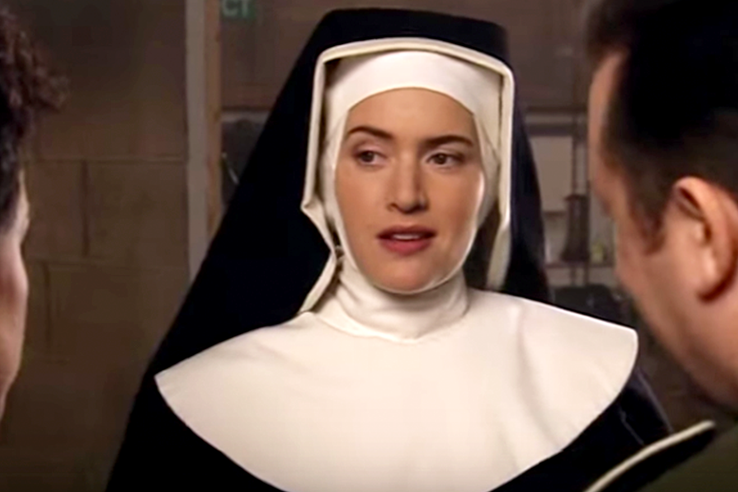 This appearance was funny at the time but is even better today. Extras had Ricky Gervais as a low-level actor with delusions of being a star. Kate Winslet was one of the many celebrities playing themselves and was starring as a nun in a Holocaust drama. Talking to Gervais, Winslet admits the only reason she's taken this role is because, "the best way to win an Oscar is to do a Holocaust movie." It shows a rare look at Winslet's comedic side.
23

Brooke Shields, Friends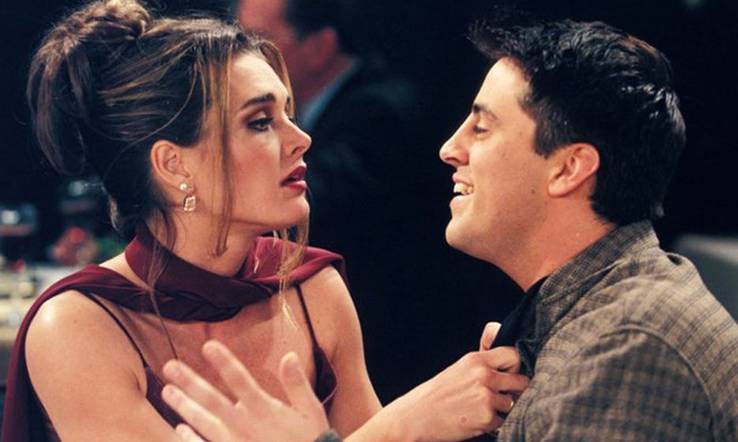 Brooke Shields was already well known as a super-model. However, this appearance on Friends showed her great acting talents. She plays a fan of Joey, who had just landed a role on a soap opera. They go out for dinner where it hits Joey that the woman is a nutcase who thinks he actually is his TV character. She later confronts him and makes it clear she's ready to keep stalking him. So the gang convinces her that Joey is actually the "evil twin" of his soap character to send her off. Shields was such a hit that she landed her own sitcom, Suddenly Susan, and showed she was more than just a pretty face.
22

Tom Hanks, Happy Days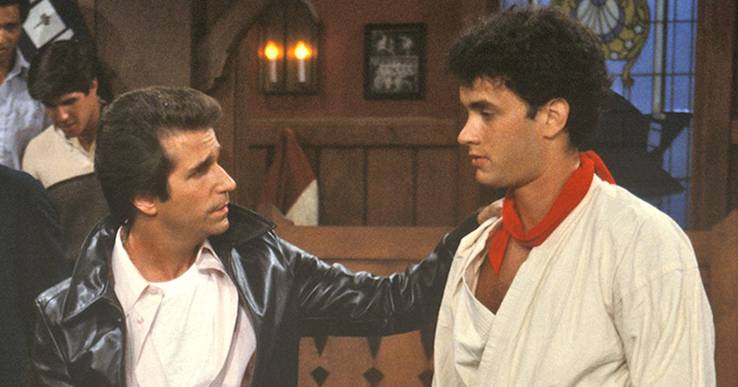 Whenever talk show hosts want to needle Tom Hanks, they show this clip. A then-unknown Hanks plays Dwayne, a psychologist who's nursed a grudge on Fonzie for pushing him off a swing…back in the third grade. Fonzie doesn't even remember it and just brushes aside Dwayne's threats. This leads to the moment of Hanks showing up in full karate gear and challenging Fonz to a fight. He actually kicks Fonzie out a window only for him to come back. Rather than be upset, Fonzie is impressed at Dwayne actually standing up to him and offers friendship. It's still hysterical to see a future two-time Oscar winner in this role.
21

Jennifer Saunders and Joanna Lumley, Roseanne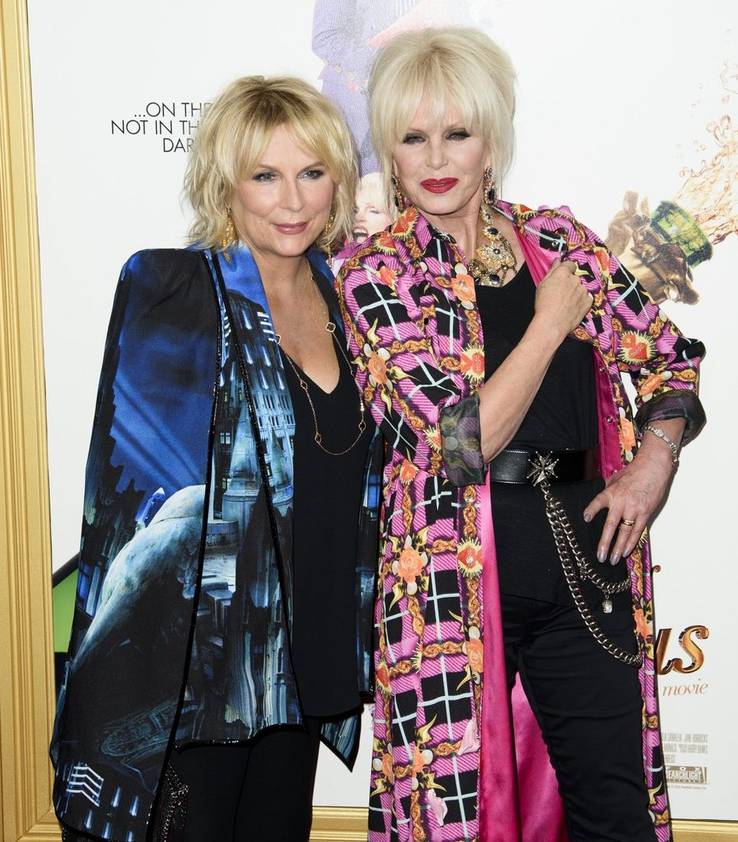 The final season of Roseanne isn't well remembered by fans. The idea of the Connors winning the lottery just didn't fit the show. At a posh New York party, Roseanne and Jackie are told of a couple of folks they should meet. Down the stairs comes Edina and Patsy (Jennifer Saunders and Joanna Lumley) from the beloved British comedy Absolutely Fabulous. The two Brits have a ball, there are some fights and some confusion and the whole thing is great. It says a lot that the appearance of these two is the best part of that otherwise terrible final year.
20

Charlize Theron, Arrested Development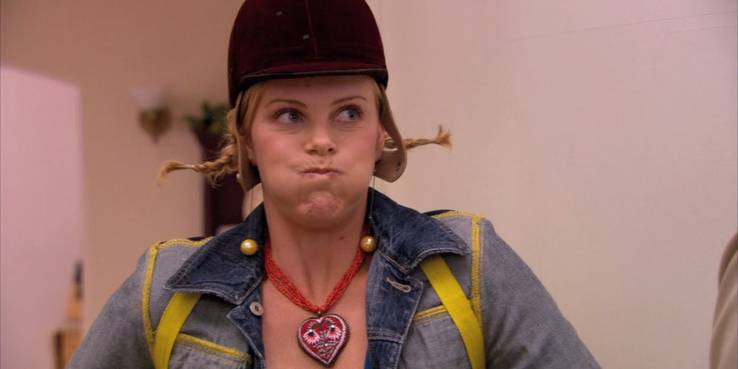 Fresh off her Oscar win, Charlize Theron decided to show off her comedic chops on Fox's nutty comedy. She played Rita, a quirky British lady who quickly romances Michael. At first, her weird behavior hints she may be a spy. In reality, she's a mentally challenged woman. When the family finds out, they want to call the relationship off…until they discover Rita is rich so naturally, they press Michael to marry her fast. He doesn't as he knows Rita doesn't understand what marriage is but they part on good terms.
19

Aretha Franklin, Murphy Brown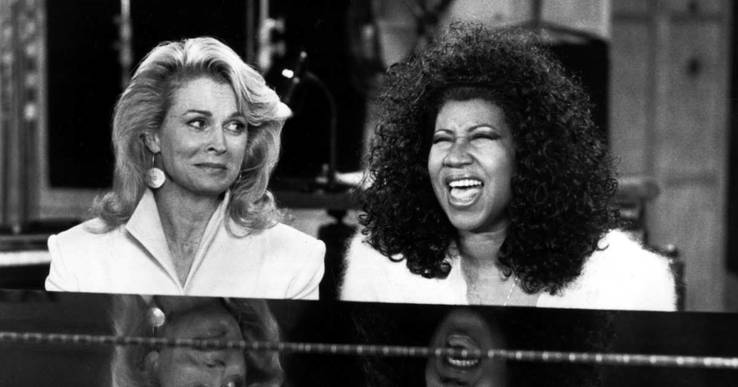 Her recent passing has reminded people of Aretha Franklin's amazing influence on pop culture. The title character of the CBS sitcom was a huge fan of the star, often singing her songs. One episode has Murphy pushing a solo interview with Franklin. However, Franklin is delayed for various reasons and the "special" ends up being nothing but Murphy talking to others about her. Murphy is all alone in the studio when Franklin finally shows up. She and Murphy do a duet of "Natural Woman" that proves how The Queen of Soul could rule on any TV show.
Featured Today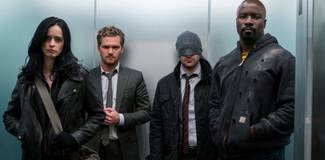 20 Netflix Shows That Need To Be Cancelled ASAP

25 Shows That Fans Think Were Cancelled Way Too Soon (And Deserve A Reboot)

20 Surprising Details About Penny From Big Bang Theory We Still Can't Get Over

18

Muhammad Ali, Different Strokes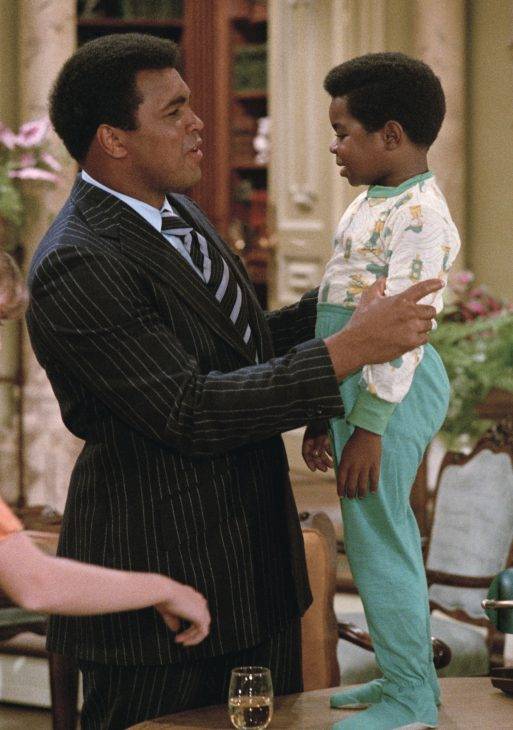 It's a well-known formula: Someone talks about knowing a famous star, is put on the spot and has to find a way to get that star to appear. Different Strokes used that when Arnold boasts about knowing Muhammad Ali. When he's pressed on it, Arnold pretends to be ill and Willis tricks Ali into showing up. It doesn't take long for the Champ to find out the truth but is actually impressed at meeting someone with "my kind of mouth." He also calls up Arnold's bully, the Gooch, and warns him to leave Arnold alone.
17

Dwayne Johnson, That 70's Show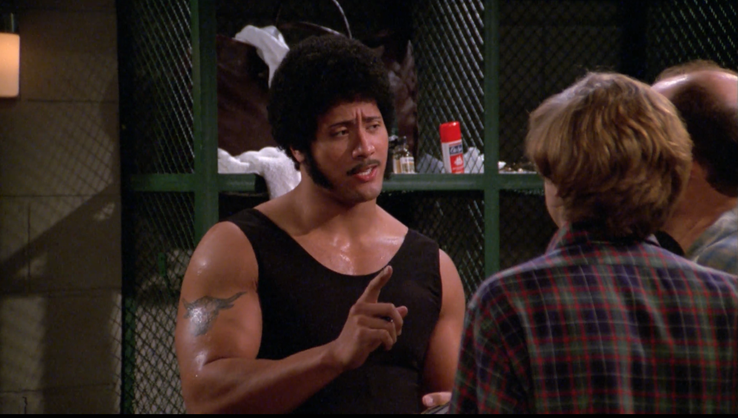 Today, Dwayne Johnson is well known as a huge Hollywood star. Back in 1999, he was still the Rock, the big name of WWF. Having him guest star on That '70s Show as a wrestler was a no-brainer. But the true genius is that Rock plays his own father, popular 1970s wrestler Rocky Johnson. He even has the same hair and mustache as his dad and obviously knows how to do the same moves.
16

Bob Dylan, Dharma & Greg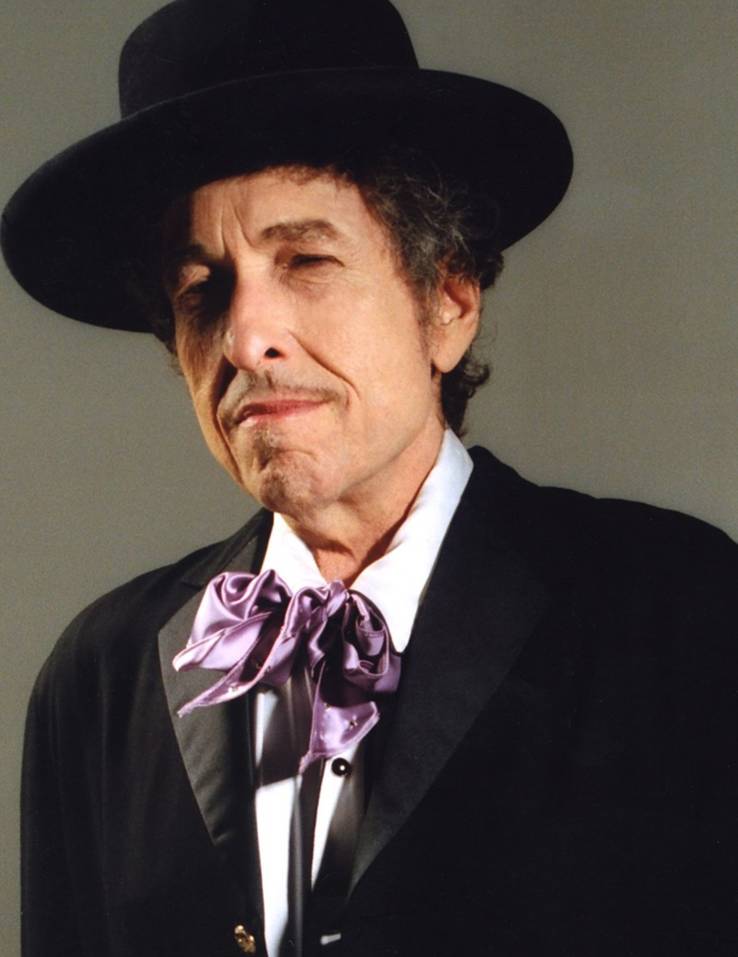 Usually, when a major music star appears on a sitcom, it's hyped majorly ahead of time. Instead, ABC played it differently as they merely said there would be a big star on Dharma & Greg but did not say who. So, it truly came as a surprise to viewers when the quirky Dharma decides that a stint in a garage band means she can audition for bigger acts. Thus, she's at a studio to meet the iconic rock star Bob Dylan who's clearly thrown by her antics. It's obvious Jenna Elfman is starstruck around him and Dylan.
15

Sam Kinison, Married With Children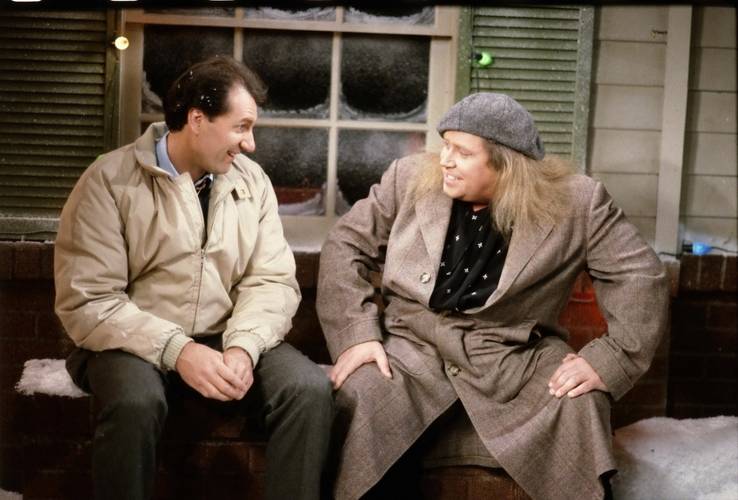 Sam Kinison was a major comedy star in the late 1980s. Fans loved his nutty antics, notably his wild screaming. He thus fit in well on Fox's raunchy sitcom as Al's guardian angel. It's a spin on It's A Wonderful Life as Kinison shows Al what the family would be like without him. The joke is, without Al, they all turn out to be having terrific lives. Kinison is in great form with some jokes. As it happens, Al decides he wants to live rather than have his family happy without him and Kinison leaves with his trademark scream.
14

Stevie Wonder, The Cosby Show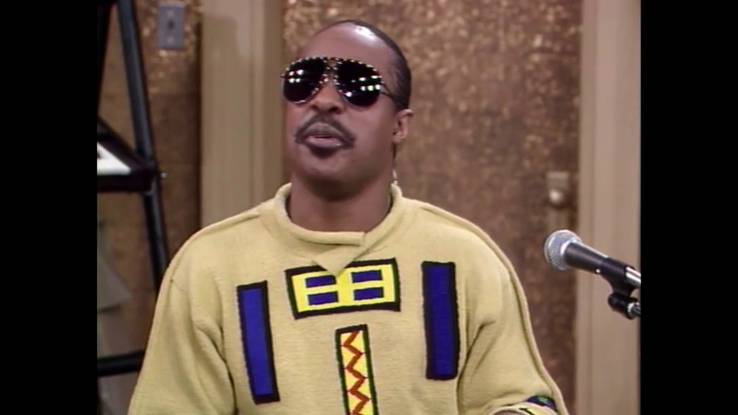 The impact of The Cosby Show is sadly tarnished today by Bill Cosby's actions. But in its time, the series was a huge hit that attracted several celebrity guest stars. One episode has Theo and Lisa get into a fender-bender with Stevie Wonder's car and he invites the family to his studio to make up for it. It's a fun showcase for Wonder's music as he shows a then-new device called "the sampler" to them. Its clear Wonder enjoys the performance and hanging with the cast.
13

Tom Jones, The Fresh Prince of Bel Air
A running bit on the NBC sitcom was how Carlton was a huge Tom Jones fan who would often sing and dance to his music. So when a depressed Carlton has a dream of meeting his guardian angel, who else could it be but Jones himself? He shows how, without Carlton, the family would turn into a total mess, proving how important he is. They bounce off each other with jokes before sharing a special version of "It's Not Unusual." It was a hit with the audience to see Carlton finally meet his idol.
12

Oprah Winfrey, 30 Rock
Anything Oprah does is a huge deal. Thus, her cameo on the NBC comedy hit got some major attention. Liz is flying from Chicago and has to take a sedative to handle the stress. She's thrown to find Oprah sitting next to her, amazed the woman is flying coach. However, Liz finds out too late that the sedative was making her hallucinate as "Oprah" turns out to be a 12-year old girl.
11

James Earl Jones and Carrie Fisher, The Big Bang Theory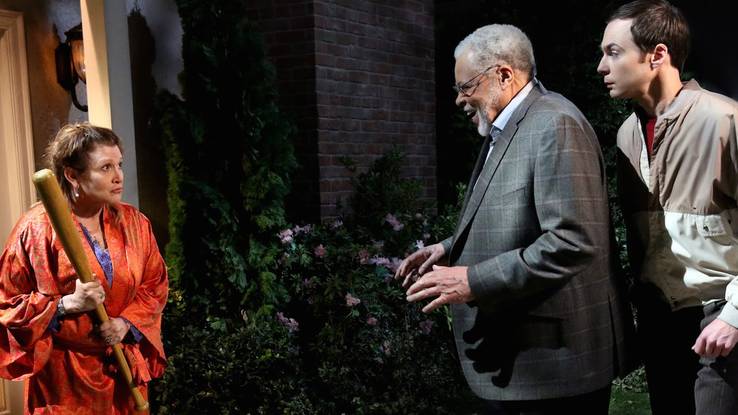 TBBT has always had fun with sci-fi actors. At a restaurant, Sheldon runs into James Earl Jones. Unlike other celebrities, Jones actually takes a liking to Sheldon and they try to have a "wild" night on the town. That includes racing to a door, ringing the bell and then running off. The door opens to show a baseball bat-wielding Carrie Fisher who yells she's tired of Jones doing this to her all the time. Amazing as it sounds, this was the first time Jones and Fisher had ever actually met in person, making this a historic moment for Star Wars fans.
10

Winona Ryder, Friends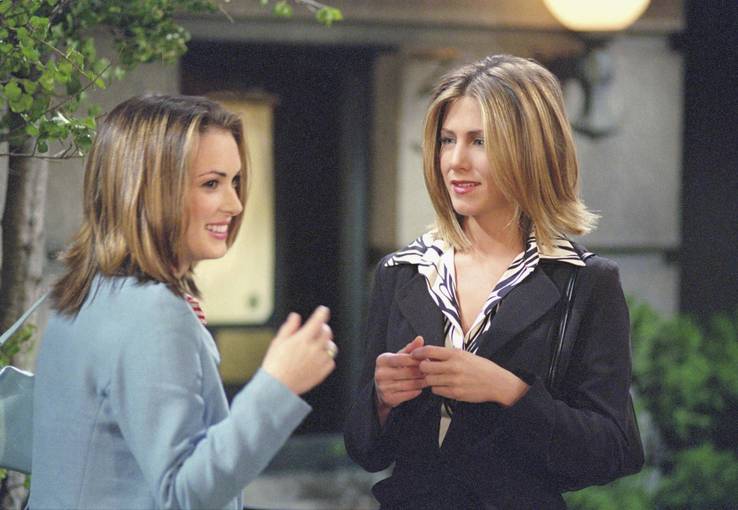 This got some attention when it first aired and is still one of the most notable episodes of the series. Rachel runs into an old sorority sister played by Winona Ryder and they catch up. Rachel tells the gang the two shared a quick kiss after a party. At first, Melissa acts like she doesn't remember it at all so Rachel kisses her. At which point, Melissa starts gushing about this being true love and Rachel has to backpedal and say "I'm just a good kisser."
9

Stephen Hawking, The Big Bang Theory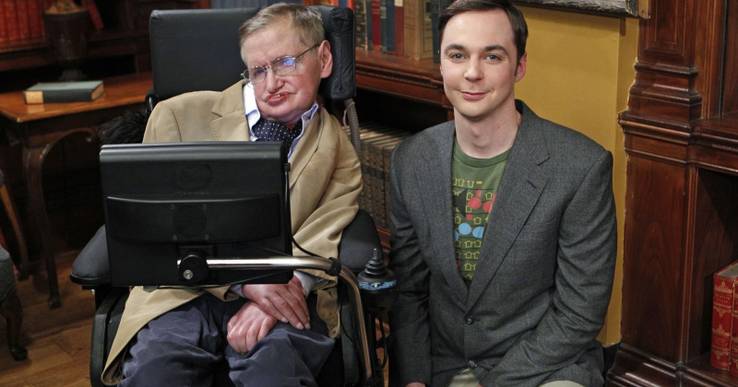 Fans of TBBT know that Sheldon tends to be rather full of himself. So it was great to see him put in his place by a legend.  Sheldon got his dream of meeting Hawking face-to-face and sharing a theory he has. He's excited until Hawking says there's a mistake with it. Sheldon doesn't believe it but when he double-checks his figures, he realizes it's true and faints dead away. Hawking merely "sighs" through his electronic speaker that this happens a lot around him. Hawking made a couple more appearances and the show did a special tribute to him following his passing to show how much this legendary scientist inspired the series.
8

Kareem Abdul Jabbar, Full House
It's always fun to have sports stars showing comedy chops. In this episode, Jessie is taking part in a charity basketball game but as he barely knows the terms of basketball, he's a terrible player. He's down in the dumps when Kareem Abdul Jabbar comes by to play with his son. As he has no knowledge of the NBA, Jesse doesn't realize that it's a Hall of Fame legend who's giving him tips on how to improve his game enough to not make a fool of himself. The fact that Jesse isn't treating Kareem with adulation makes it funnier.
7

Davy Jones, The Brady Bunch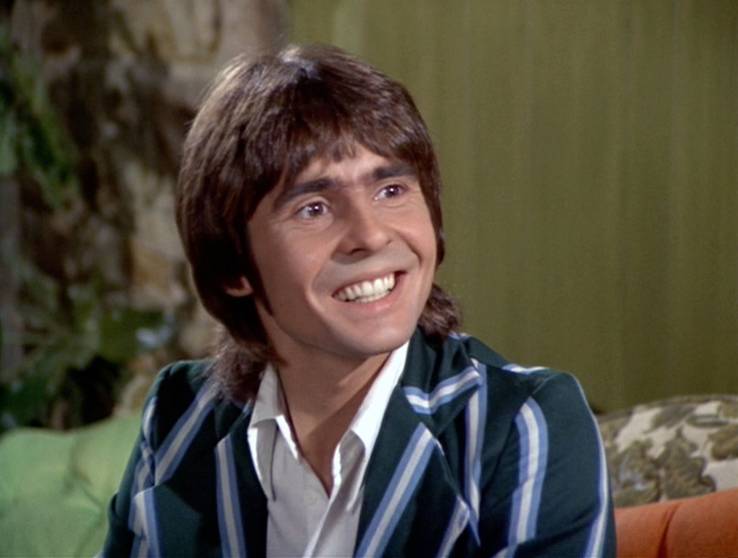 Best known for his work with the Monkees, Davy Jones was trying his hand at being a solo star when he appeared on this episode of the classic show. Marcia has foolishly promised she can get Jones to play at the school prom and now has to back it up. She manages to get into the recording studio to plead her case and Jones is so won over that he not only agrees to play the prom but also be Marcia's date. Jones later reprised the idea in the 1995 big-screen movie which was just amazing.
6

Cher, Will & Grace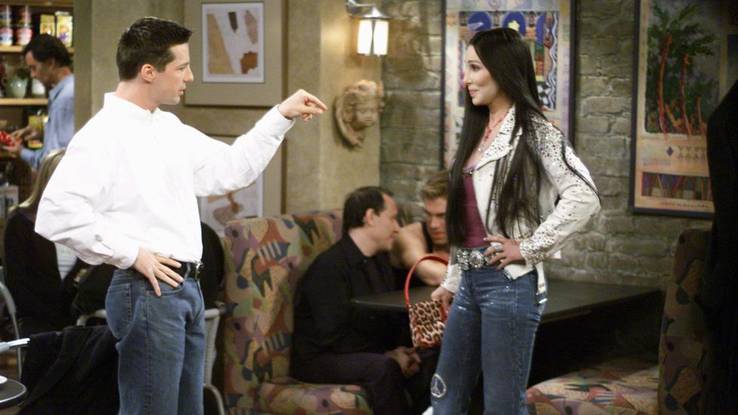 It was well known on the NBC sitcom how much Jack adored the legendary singer/actress. One episode has him taking a Cher doll around and driving everyone crazy by treating it like it were alive. Along comes Cher herself to mention how weird is it. The kicker? Jack thinks this is a Cher impersonator and mocks her for looking and sounding "nothing like the real thing." It's only after she slaps him and walks off that Jack realizes he just insulted his idol and faints.
5

Prince, New Girl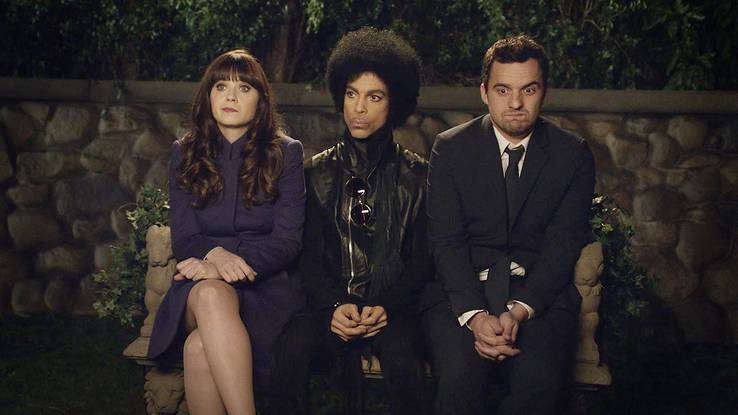 When the iconic music star asked if he could be on an episode of the Fox comedy, the producers thought it was a joke. As it happened, Prince was a huge fan of the show and thought a cameo would be a great thing. The producers agreed and had him on a special episode airing after Super Bowl XLVII. The gang is attending a party at Prince's house where Nick finally blurts out he loves Jess. This leads to Prince showing up and playing a relationship expert to get both of them to finally let go of their fears and face up to how they feel about each other.
4

Sammy Davis Jr, All in the Family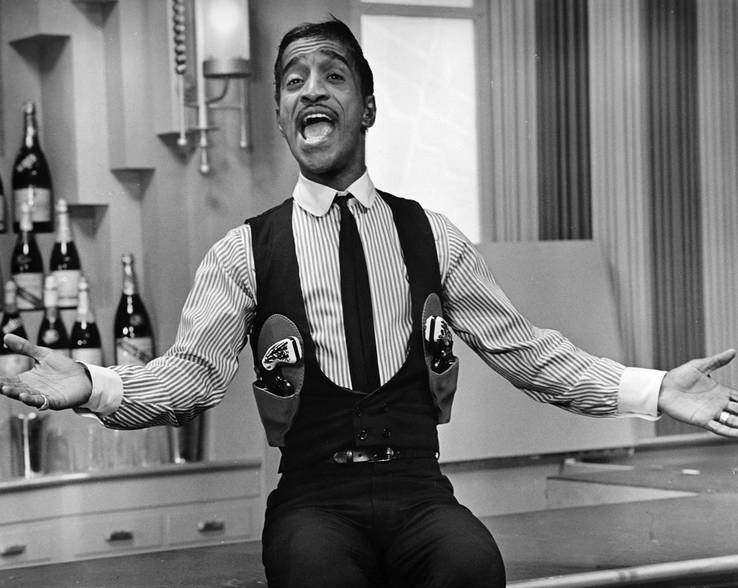 Archie is annoyed when a passenger leaves a briefcase in his car. The passenger turns out to be legendary entertainer Sammy Davis Jr who drops by the Bunkers' home to get it back. At first, Archie tries to be nice but it's not long before he's dropping horrible insults on Davis. But Sammy gets him back by asking a friend to take a photo of him and Archie. Just as the camera clicks, Sammy plants a kiss on Archie's cheek. The studio audience went wild at Archie's shock and it created a classic TV image.
3

Brad Pitt, Friends
For a time, Jennifer Aniston and Brad Pitt were the hottest couple in Hollywood. Anything they did was big news and that counted when Pitt guest-starred on Friends. It was the annual Thanksgiving episode which was always a showcase for some great comedy. Pitt played Will, an old friend from high school who Rachel is attracted to. It's not mutual as it turns out Will and Ross started a rumor about Rachel back in school. This leads to Rachel pointing out she started a bad rumor about Ross herself and some wild insults flying about. Pitt shows a nice comedic touch in the role.
2

Robin Williams, Happy Days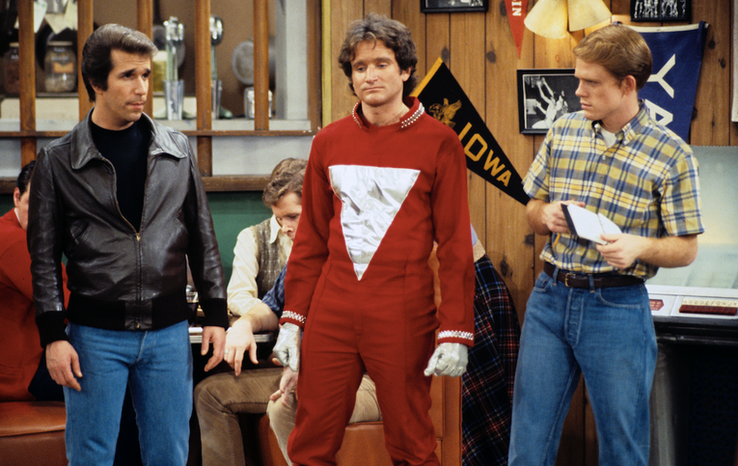 When Star Wars became a phenomenon in 1977, the hit sitcom Happy Days decided to capitalize on it. Gary Marshall created a weird spaceman character that only Richie and Fonz knew about. Cast in the role was an up and coming comedian named Robin Williams. His appearance was such a huge success that it led to the spin-off Mork & Mindy which made Williams an instant star. Williams would make a couple more appearances on Days while launching his Oscar-winning career.
1

Suzanne Pleshette, Newhart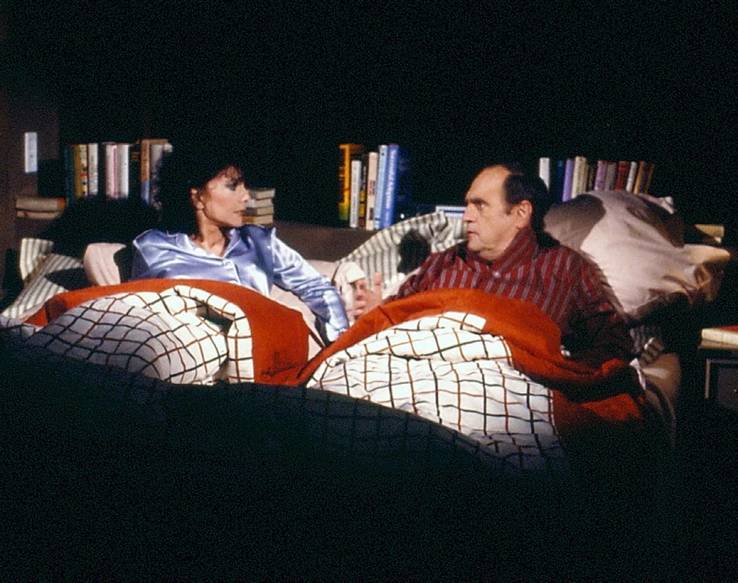 It's one of the greatest series finales of all time. The long-running comedy ends with Dick (Bob Newhart) waking up in bed and calling to his wife. Instead of Mary Frann, however, it's Suzanne Pleshette. It turns out "Dick" is The Bob Newhart Show's Bob Hartley who babbles about the dream he just had of "being an innkeeper in this crazy little town in Vermont!" The studio audience went wild to realize the entire eight-season Newhart show was "all just a dream".
Sources: IMDB.com, EW.com
Source: Read Full Article