Move over, 19-year-olds. Celeb youngsters have met their match, and revenge is a dish best served old(er). Hollywood is bursting with A-listers who've been around since before these kids were born, and they're owning it. Everyone from Jennifer Aniston to JLo is proving that 40's are the new 30's (and a fair few are showing that 50's are the new 40's). Age used to be something that Hollywood stars feared like the plague. Stars would hit 40, and that would be it— the shelf life. It would tip them over and they could kiss their Hollywood fame goodbye.
Hiding behind the walls of their mansions isn't something these celebs are doing. They're out and proud. Instagram posts celebrating 45th birthdays are getting more likes than "Hey! I'm 21!" It was a long time coming, but Hollywood is officially in revolution mode. That's not to say these stars aren't breaking their backs to look as good as they do, though.
If you think Sofia Vergara lounges around in bed before hitting the set, think again. Celeb trainers are showing up at the door before 5 a.m., and there is no "break." Kelly Ripa is putting her money where her mouth is, and ripped bodies are defying limits, regardless of age. Being a star "from the '90s" hasn't damaged the careers of Kate Beckinsale or Reese Witherspoon. These stars have had marriages, divorces, kids, plus a whole lot of scandal. Most of them are looking as good at 42 as they did at 22, although, a couple of these celebrities on this list are starting to show their age. We've got you the full lowdown. In all their 40+ glory, here are 2018 pics of Hollywood's biggest female A-listers (plus, what they're up to).
25

JENNIFER ANISTON ISN'T BUDGING
This woman is blowing our minds. Jennifer Aniston turned 49 this year, and yet, she doesn't look a day over 35. Girl-next-door charm and a smile that melted a generation made this Friends star an international sensation from the moment the show aired. Now that we're watching it all over again, Jen is making more headlines than she did in the 2000's. Of course, that was a pretty busy time for Jen with the whole Brad Pitt and Angelina Jolie thing. Friends ended in 2004, but Jen only got bigger. The $1 million per episode she was earning on Friends turned into movie salaries of around $25 million, according to Forbes. Somehow though, fame never went to this star's head.
"I don't think life stops at 50," Jennifer told Today. "If anything, it get more and more exciting." Jennifer Aniston is an age-defying 49 years old, and the Friends star looks as beautiful now as she did at 29.
Jen had gone through two marriages, two divorces, and a whole lot of heartbreak. At the same time, she's proven that she's one of the strongest women in Hollywood. This actress works out five days a week, according to her trainer, plus, she eats super healthy avocados and protein shakes. Jen is totally earning her number one slot here (not that we're ranking).
24

STILL JENNY FROM THE BLOCK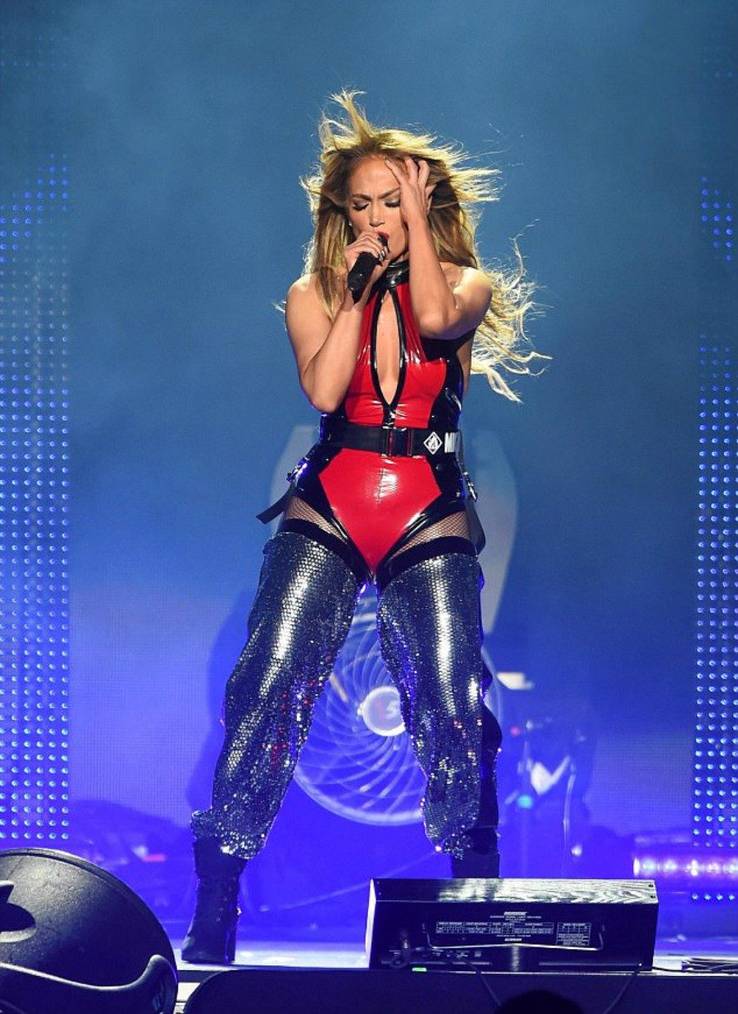 Yeah, she's not going anywhere. Jennifer Lopez has spent the best part of the last 20 years breaking down barriers, and now, she's conquering age. One year younger than Jen, J-Lo is 47 and she looks absolutely amazing. The singer is one of the most powerful Latina women in the industry, and this woman is respected. J-Lo's fee for being a judge on American Idol is a staggering $15 million per cycle, according to Time. That's without her earnings from sell-out records and tours. Jennifer Lopez is a walking symbol of feminine empowerment and body positivity, and it's hard to believe J-Lo is a mom to twins.
47-year-old Jennifer Lopez has youthful mantras embroidered on her pillowcases. "I am youthless and timeless at every age," is a quote Jen reads every day. But this star pushes herself to the limits to stay in fighting form.
Speaking to Vogue in 2018, J-Lo said that her beauty secrets lie within. Reminding herself that age is just a number, J-Lo also puts some realistic techniques to work. Her Instagram shows her early morning workouts, while her plate shows us healthy proteins for muscle fuel. "Jenny From The Block" also keeps the sunblock at hand, but this superstar puts the sun itself to shame. Remember, these pics aren't dug up from years ago. They're all from 2018.
23

SOFIA VERGARA IS MORE BEAUTIFUL THAN EVER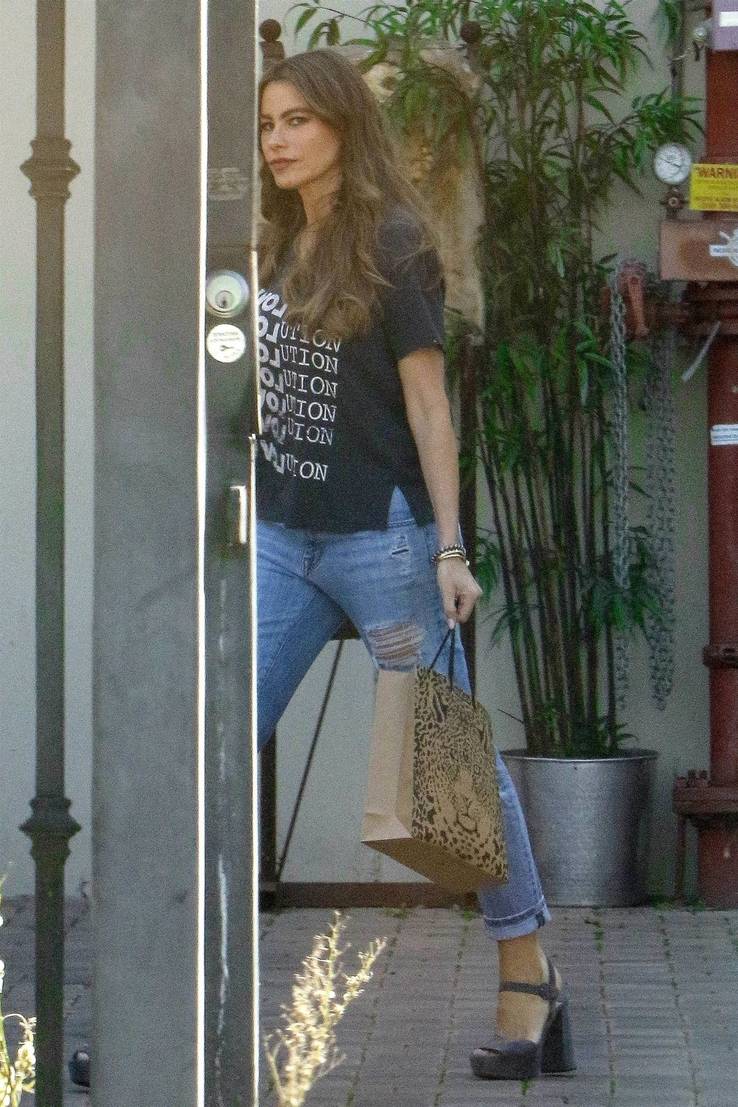 Here's something that's refreshing. A Hollywood star who's a real woman. Sofia Vergara has become the highest-paid TV star, thanks to Modern Family, and this sassy actress is as bold as she is beautiful. Feminine curves and a body positive image are her trademarks, and it's hard to believe someone this vibrant is 45 years old. That's like, a "mom" age, right? Forget that. Sofia is stylish, sophisticated, and laid-back all rolled into one. Being the spokesperson for Head & Shoulders and Cover Girl also means Sofia knows a thing or two about beauty. But her advice isn't what you'd think it is.
"I'm aging," Sofia said. "Things start to change, and I'm like the only thing to do is take care of it." Sofia does jiu-jitsu, boxing, and full-on workouts. A lot of fruit and vegetables are in her diet, but she said: "I also have ice cream."
It's kind of embarrassing when you compare Sofia to someone like Paris Hilton, who is nearly ten years younger than Sofia. Instead of yawn-worthy posing in candy pink Bentleys, Sofia sends out an Instagram message that's #nofilter and #nononsense. Morning selfies and French breakfasts are her (literal) jam, and this 2018 pic of Sofia says one word: awesome.
22

ANGELINA JOLIE IS STILL LIVING HER LIFE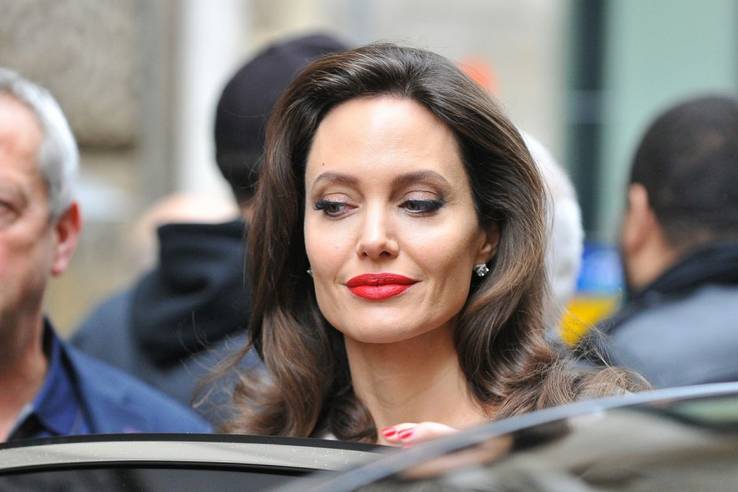 Oh, Angie. Where to start? Angelina Jolie earmarked her status as Hollywood's most beautiful woman a long time ago, and she's been officially voted that title by Vanity Fair. Angelic looks and a fierce attitude made Ange one of a kind, and Lara Croft: Tomb Raider made every single guy on the planet put his Nintendo down. In 2005, when Brad Pitt was still married to Jen Aniston, Angie found her way into Brad's life while filming Mr. & Mrs. Smith. The two fell in love, Brad ditched Jen, and he and Ange went on to get married and be parents to six kids. Oh, how the tables have turned.
Angelina Jolie is still considered one of Hollywood's most beautiful women. With Brad calling their marriage "chaos" and comparing life with Angie to "living in a mental institution" though, it's gone downhill for Angie. Hollywood is giving Ange the cold shoulder now.
Angelina has put as much into her acting as she has into her humanitarian work. She still campaigns for the world's poorest communities, but she can't cover up her past. #TeamJen warriors will forever resent Ange for what she did to Brad, and now that it's all over, Ange is a 42-year-old single mom. Showing the strain? Kind of.
21

KATE BECKINSALE IS #NOFILTER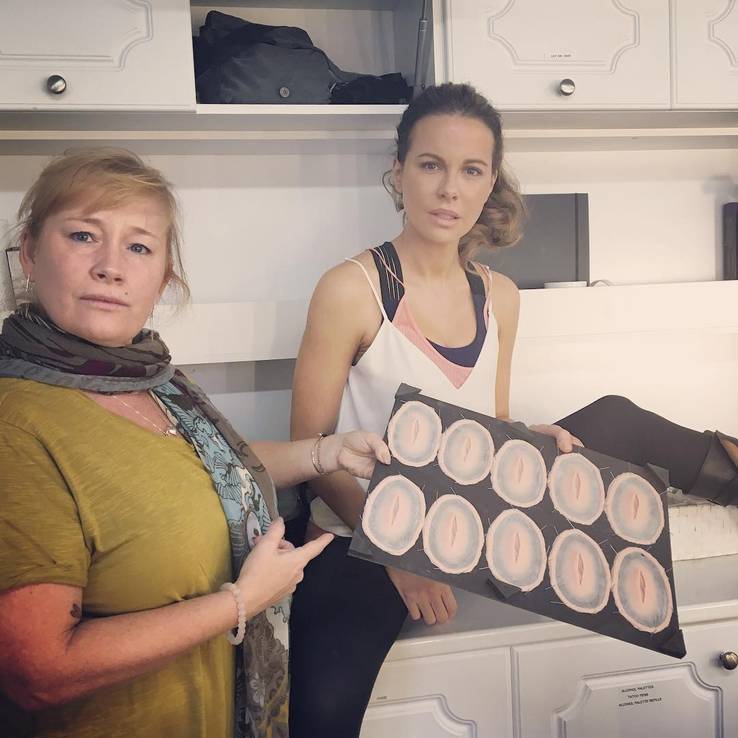 Here's the thing. When you're beautiful, you're beautiful forever. Kate Beckinsale hit Hollywood with a bang in the late '90s, but the Underworld star knows her action. With roles in films like Total Recall and Van Helsing, Kate isn't just a pretty face. Now aged 44, Kate is as fresh-faced as she was at 22, and there isn't a Photoshop wand in sight. Kate is known for her dedication to fitness, and she trains with the best. Gunnar Petersen is the celebrity trainer to have, and this guy puts everyone from Angelina Jolie to Kim Kardashian through their paces.
"I work out hard six days a week," Kate said. "I start out absolutely dreading it, and end up feeling 100% better when I leave." At 44, Kate Beckinsale is still owning the world of action movies. She's also the coolest mom ever.
Shape Magazine was desperate to interview the Underworld star about just how she manages to stay in fighting form. "When I was filming Pearl Harbor, I didn't have enough energy," Kate said. She's since learned to fuel her body properly and eats lots of broccoli, chicken, and fish. Of course, Kate takes some time out from her busy schedule to update her Instagram. Not a speck of makeup (and no need for it).
20

ANNA FARIS ISN'T HUGGING CHRIS PRATT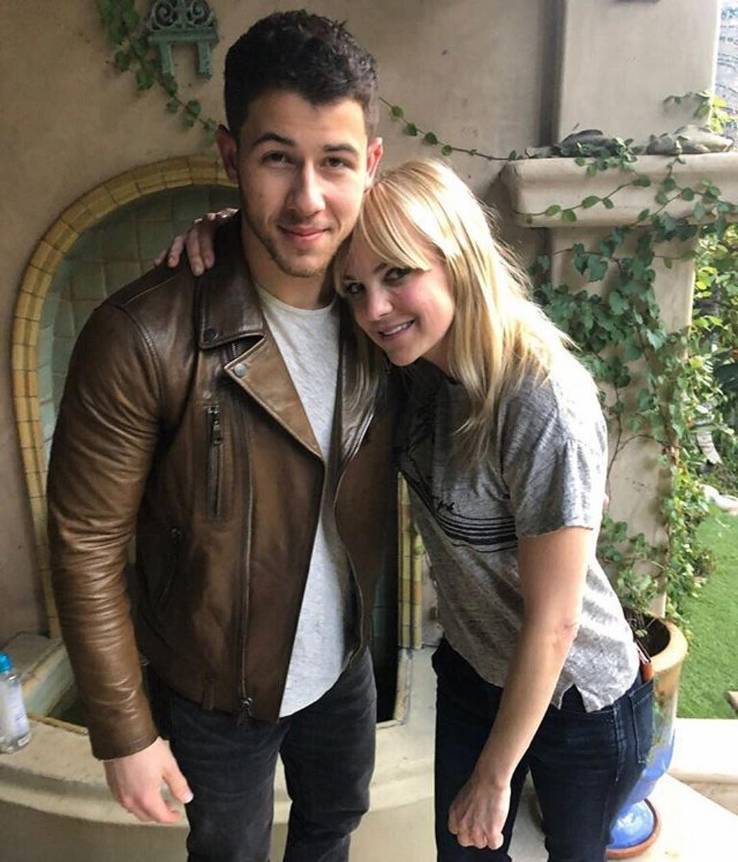 As she "figures out the purpose of marriage," Anna Faris sure isn't hugging her former-husband, Chris Pratt. Divorces in Hollywood are a dime a dozen, but when you're married to the star of Guardians Of The Galaxy, divorcing him will make headlines. Anna Faris went down the comedy route with her career, and you'll recognize her face as early as her guest appearance in Friends (she played Chandler and Monica's adoption mom). Anna has since starred in the Scary Movie franchise, Lost In Translation, and Brokeback Mountain. In 2018 though, it was her marriage that broke down.
Anna Faris is making major 2018 headlines, following her divorce from Chris Pratt. "I need to figure out what the purpose of marriage is," she said. Anna actually felt embarrassed that she was letting fans down.
In an interview with Elle, a freshly divorced Anna opened up on her failed marriage. "We tried hard for a long time," she said. "Our son has two parents who love him very much and for his sake, we want to keep this situation as private as possible." Guess it isn't all that private when the world wants to know every detail. Nor is the world knowing that you've moved onto another guy–cinematographer, Michael Barrett.
19

HOLLYWOOD IS NO LONGER CASTING CHARLIZE THERON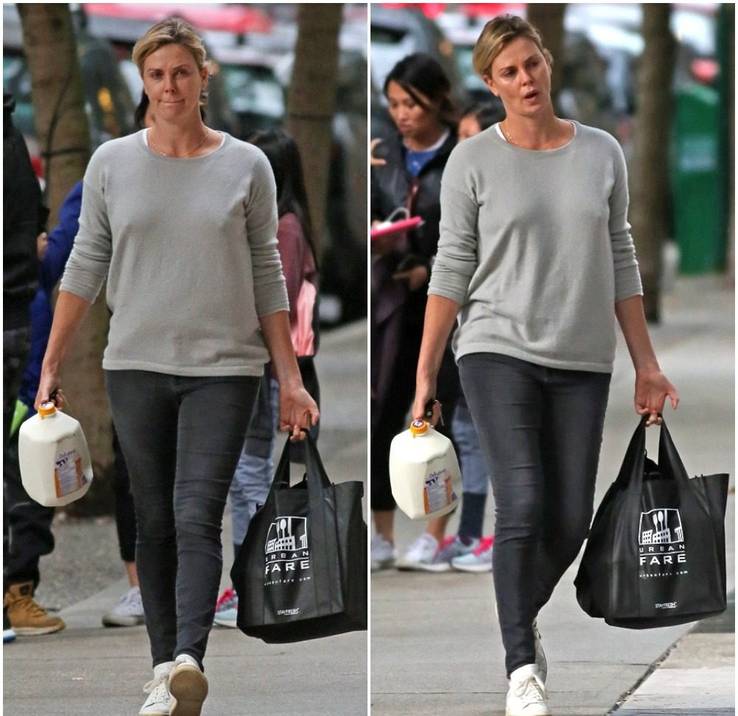 Just goes to show… A-listers don't need to quit the industry to find they're no longer being cast. 2018 has been a bit of a turnaround year for Charlize Theron (who needs to watch out if she wants to keep her career afloat). Despite epic movie roles like Monster's Ball and North Country, The Sun has reported that producers aren't taking Charlize's calls anymore. The blonde beauty has also earned herself a bit of a reputation for ghosting people– Tia Mowry said that Charlize flat-out "ghosts people" at SoulCycle. A string of unattractive personality traits, such as being picky with her co-stars and a rep for self-pitying, have landed this star on the road to nowhere. Fortunately for her, Charlize is sending out vibes that say: "talk to the hand."
"I guess there are very few actors that I've ever worked with that I would like to work with again," Charlize said. The actress ghosts other celebs, and the criticism is building up fast.
Despite being the face of Dior's fragrance and having an Oscar to her name, Charlize forms a lonely figure in Hollywood, these days. She's a mom now, so is focusing more on family. Worryingly, People reported Charlize saying that she gets less-than-legal substances from her own mom. Yeah, that's just not great when you're a mother yourself.
Featured Today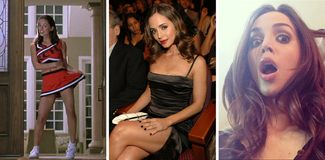 20 Photos Of Eliza Dushku (And Reasons Why She Needs A Comeback)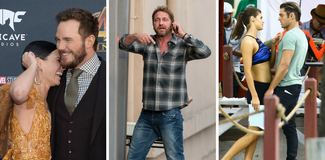 10 Male Celebs Who Can Get Any Woman They Want (And 10 Who Can't Get A Date)

20 Things Fans Should Know About Rising Star Alexandra Daddario

18

NOTHING DESPERATE ABOUT EVA LONGORIA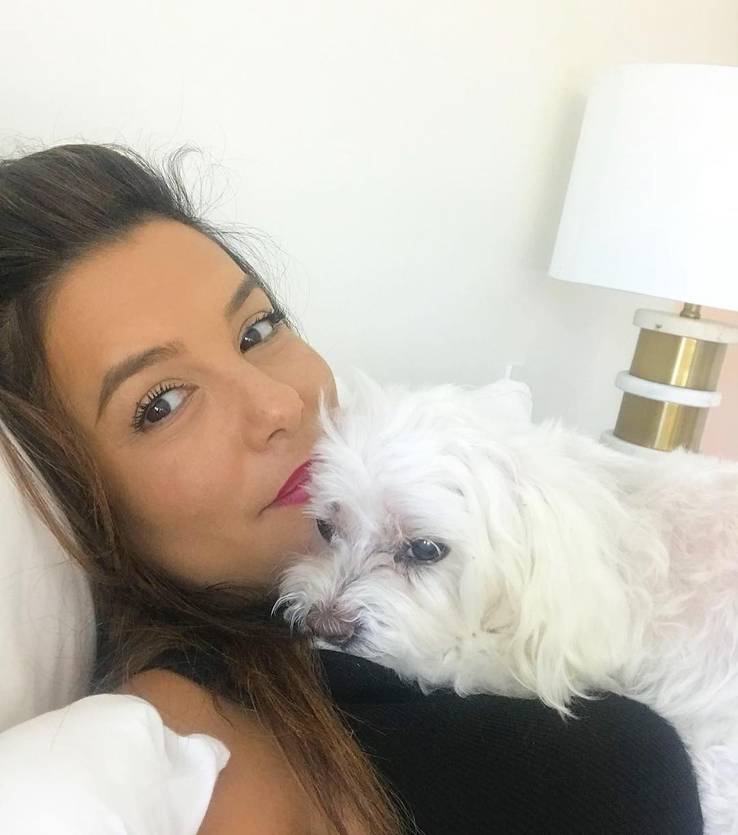 After years of freaking out about her personal life on Desperate Housewives, Eva Longoria is having her own exciting moment. The pregnant actress is due to become a mom this summer. Honestly, it's just nice to see a celeb having a healthy, happy pregnancy (*cough* Khloe Kardashian). Eva became an overnight sensation as the beautiful Gabrielle Solis on Desperate Housewives, where we saw her adopt a kid and go through a whirlwind of personal drama. To be fair, Eva's own personal life hasn't been easy. At 43 years old, Eva has two divorces behind her, although, she seems to have found love with her third husband.
Eva Longoria was earning $325,000 per episode on Desperate Housewives. Cozying up with her pets as she expects her first child though, there's nothing "desperate" about the ever-beautiful Eva. "I crave brussels sprouts," she said. Okay, maybe a bit desperate.
Eva isn't just an actress. She's a real foodie. In 2008, Eva opened a Hollywood restaurant, Beso, plus she has a cookbook out. Eva may have been the face of Lay's potato chips, but she lives a super-healthy lifestyle. In an interview with Good Housekeeping, Eva revealed that her chicken and spinach-packed lunches are accompanied by lots of yoga. Weirdly, Eva admitted to craving brussels sprouts (before she was pregnant).
17

CAMERON DIAZ IS ENJOYING ANTI-HOLLYWOOD LIFE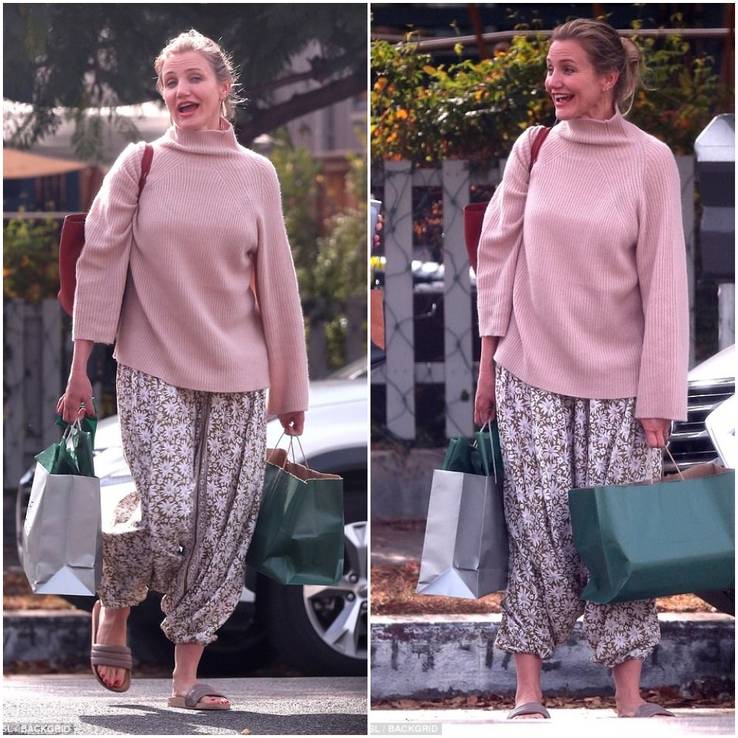 Choosing to leave Hollywood usually comes with wanting to avoid the spotlight. For Cameron Diaz though, it's only making more headlines. She's not on social media, and she's definitely not brunching with the Kardashians. Considering Cameron was one of the highest-paid actresses in Hollywood, everyone's wondering why she isn't still signing those contracts. There's Something About Mary was a long time ago, but now there's something about Cam. The mom-to-be wants to "normalize" her life, avoid controversy, and she keeps her personal life private.
"I am just at that stage of wondering where I go from here," Cameron said. The pregnant actress is living an anti-Hollywood lifestyle. Despite earning around $14 million per movie, there isn't a Louis Vuitton purse in sight. Cameron even drives a Toyota Prius.
The Daily Mail reported that Cameron has said: "I'm very happy with the way I look. I wake up some mornings, catch myself in the bathroom mirror and go: Hey girl, you're alright." Cameron became famous for her model looks, blonde hair, and icy-blue eyes, but she's turned her back on Hollywood's pretentious lifestyle. "Crowds are the most difficult thing for me," she said. 45-year-old Cameron may be dressing from the thrift store, but she's still got it.
16

MICHELLE OBAMA NEVER STOPPED BEING THE FIRST LADY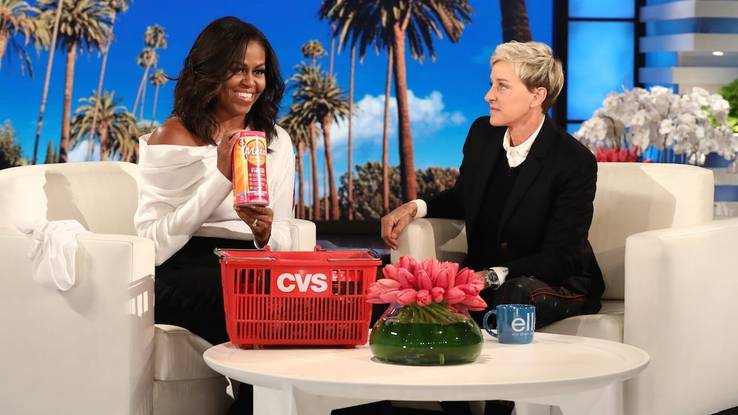 Being married to the former President of the United States is a pretty big deal. Whatever your political views, there's no arguing that Barack and Michelle Obama were refreshing and inspiring. Of course, this was a couple who managed to send out "love bird" vibes despite having been married for years. Michelle may no longer officially be the First Lady, but she hasn't lost her edge. Michelle is an inspiration for millions of women across the globe, and her campaigning for education, health, race, and awareness have made her a symbol of strength. Of course, it helps when you're beautiful, stylish and funny.
Michelle Obama may no longer be in The White House, but she's getting more invites on The Ellen Show than the Kardashians. Michelle looks incredible for her 54 years.  Back yard vegetables became a "thing" thanks to Michelle, and she's still a total icon.
Just this year, Michelle appeared on The Ellen Show to talk about the new Washington D.C. home the couple has moved into. "He's got the smallest room for his office," Michelle said. Her daughter, Malia? "A room in the attic somewhere!" Michelle said. To be fair, this couple has raised two beautiful girls, and Malia is now studying at Harvard University. Yeah, Michelle is all kinds of awesome.
15

GWYNETH PALTROW IS GIVING US NUTRITION ADVICE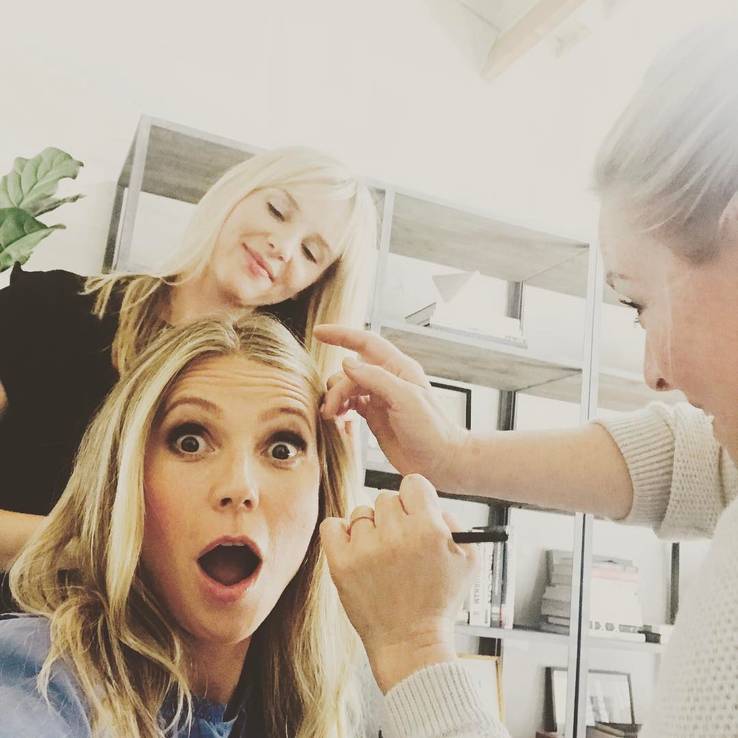 What, a glittering Hollywood career wasn't enough? For Gwyneth Paltrow, apparently not. The Shakespeare In Love actress has found a new love, although not everyone is digging it. Gwyneth has been slammed for her lifestyle website, GOOP, where the average subscriber income is $100,000, according to TMZ. Turns out, fans aren't all that enthusiastic about Gwyneth's super-extreme clean diets. Nor do they appreciate articles titled:"Achieving Your Leanest Livable Weight." Moms are supposed to be role models. Gwyneth is kind of pushing it.
Gwyneth has come under fire for her GOOP lifestyle website, which encourages women to eat as little as possible. "How about encouraging women and girls to be a healthy weight?" one fan tweeted angrily.
Gwyneth herself has always been slim. The waifish blonde Gwyn kind of fit the 90s look, but hasn't she heard? Real curves are in. JLo is proving it, and so are Sofia Vergara and Beyonce. At 45, Gwyneth is desperately trying to stay relevant. Her Instagram feels awkwardly "worked" as she tries to squeeze in selfies with Oprah Winfrey and Cameron Diaz. We do however get epic shots of her daughter, Apple, who is a rising dancing star. Gwyneth sits at a solid "meh" for now.
14

KELLY RIPA IS STILL WORKING OUT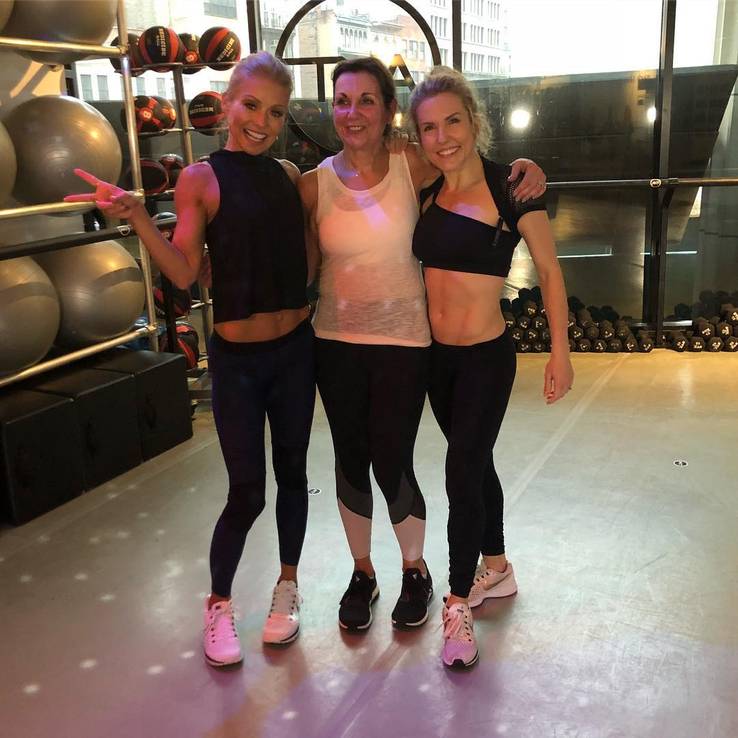 Fresh from her workout, here is Kelly Ripa in 2018. Yup, still living up to her "Ripa" name. The talk show host gets as much coverage interviewing other people as she does magazines running after to ask: "How do you look so good?" Kelly may be pint-sized, but she's made of seriously strong stuff. Good Housekeeping spoke to her about how she manages to be a mom-of-three, a celebrity, and a health fanatic. Kelly made it sound a lot more simple than it is, although she did give all the details.
Kelly Ripa looks amazing for her 47 years. "At the host chat desk, I'll have a triple shot skim latte. I usually have my yogurt and granola after the show," the mom of three said. "I would love nothing more than to have pizza and french fries every day, but I try to limit those to once a week."
Kelly's Instagram shows us a mom who wakes up early and works out hard. The midday snack she aims for are protein bars and flaxseed. Still, she admitted: "I always have Pepperidge Farm Goldfish crackers. I cannot give them up." To be fair, "not giving up" seems to be this woman's motto.
13

HALLE BERRY HAS FOUND INNER PEACE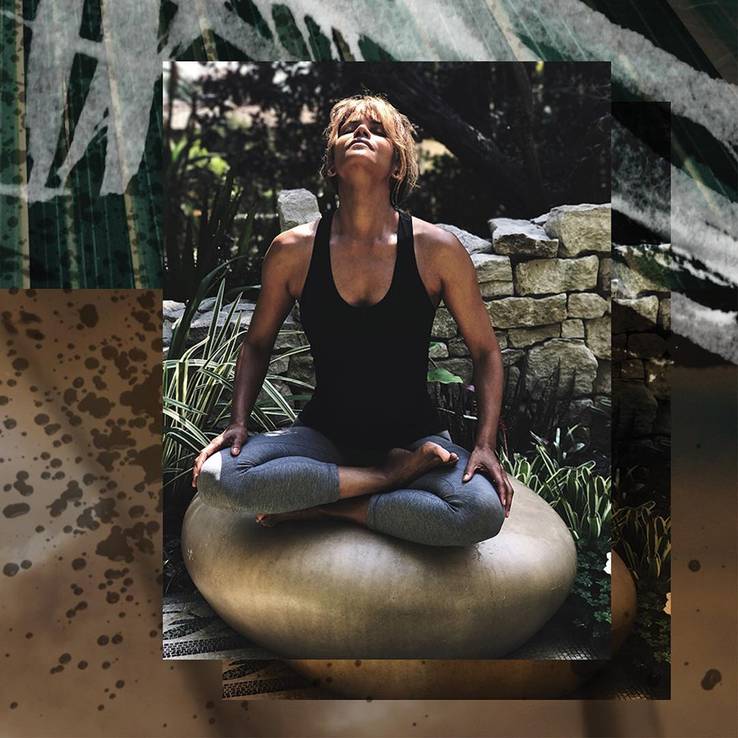 Halle Berry is staggeringly amazing. The X-Men star has won an Oscar, played Catwoman, and it's hard to believe this woman is 51 years old. Halle is an actress who pulls her own stunts– from her Bond girl role in Die Another Day to those insane car chases in Kidnap. And yet, here she is, totally at peace, in her own calm space. Yeah, Halle is a woman with a cool, calm head on those shoulders. Like any Hollywood star worth her salt though, she's also rocking a beautiful face. Halle is one of those timeless stars who flew through her 30's and 40's and still looks sensational in her 50's.
Halle Berry is blowing our minds with the fact that she's 51. The Catwoman star pulls her own stunts, but it's 100% zen yoga here. Halle has Type-1 diabetes, which means her diet story isn't the regular Hollywood deal.
Halle opened up to Good Housekeeping about having the medical condition, Type-1 diabetes. Fluctuating blood sugars make this condition seriously difficult to live with. Halle has to make sure she tops up her blood sugar levels. She made a joke of it in her Instagram post, captioned: "Me when someone says I'm coming over and I've got snacks." Seriously, though, Halle deserves all the respect she gets.
12

REESE WITHERSPOON SEEMS LIKE A FUN MOM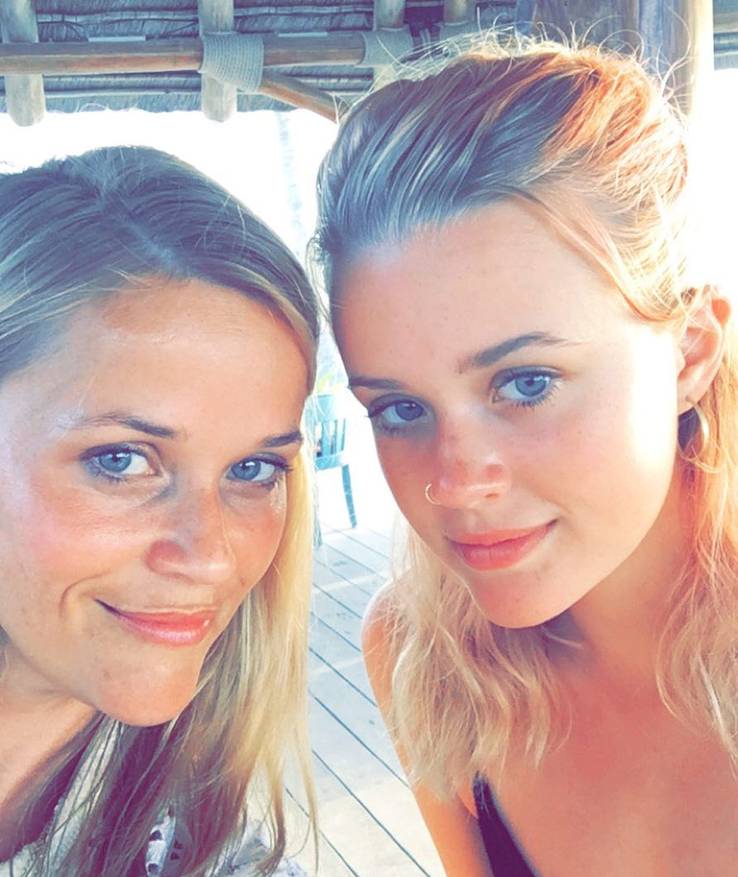 Like mother, like daughter. Here's Reese Witherspoon with her beautiful daughter, Ava Phillippe. Reese is kind of creeping us out with how young she looks here. These two could almost pull off being sisters, but Reese is an all-grown-up 42 years old. This actress has been a Hollywood megastar for decades now, although we haven't forgotten her early role in Cruel Intentions. Her marriage to co-star, Ryan Phillippe, didn't last, but boy, did Reese. The Legally Blonde actress has aced her romantic comedies like no one else, and that cherub face is perfect for the sweetheart innocent roles.
Reese Witherspoon is now a 42-year-old mom. The Legally Blonde actress was brave enough to answer Vogue's "73 Questions," where she reveals she loves pool parties and that her hip-hop name would be: Lil' Reese.
Okay, so Reese drinking coffee in the morning isn't anything out of the ordinary. According to Reese, her hip-hop name would be "Lil' Reese," and she admitted that Mad Men is her favorite show. Reese has a trampoline in her mansion's backyard, and she did some pretty impressive flips, on-camera. "How often do you have pool parties?" Vogue asked her. "Every weekend," Reese replied. Ava is one lucky kid…
11

MELISSA MCCARTHY IS WORKING ON HER HEALTH
In a world where the pressure to be slim is insane, Melissa McCarthy has really broken down barriers. The Gilmore Girls actress won an Oscar for her role in Bridesmaids, and the former stand-up comedienne is making a stand. Melissa spent nine years on the set of Gilmore Girls, and her character was loved. In 2017, Melissa joined Scarlett Johannsson, Justin Timberlake, Tina Fey, and others on SNL's Five-Timers Club show. Melissa is used to being interviewed for being a Plus Size girl, and she knows how to answer those questions.
Melissa McCarthy put all the haters in their place with a 2017 interview on how she's handling her weight. "The thing is, if that is the most interesting thing about me, I need to go have a lavender farm in Minnesota and give this up."
Melissa doesn't give much up. She definitely hasn't stopped making us laugh, and her Sean Spicer SNL impression remains one of the funniest moments on TV. Melissa has appeared on The Ellen Show, and her red carpet style is awesome. She did, however, say that she "wasn't invited back" to Gilmore Girls, but for nine years, we'll call this one a win for Melissa.
10

HEIDI KLUM STILL HAS THE LONGEST LEGS EVER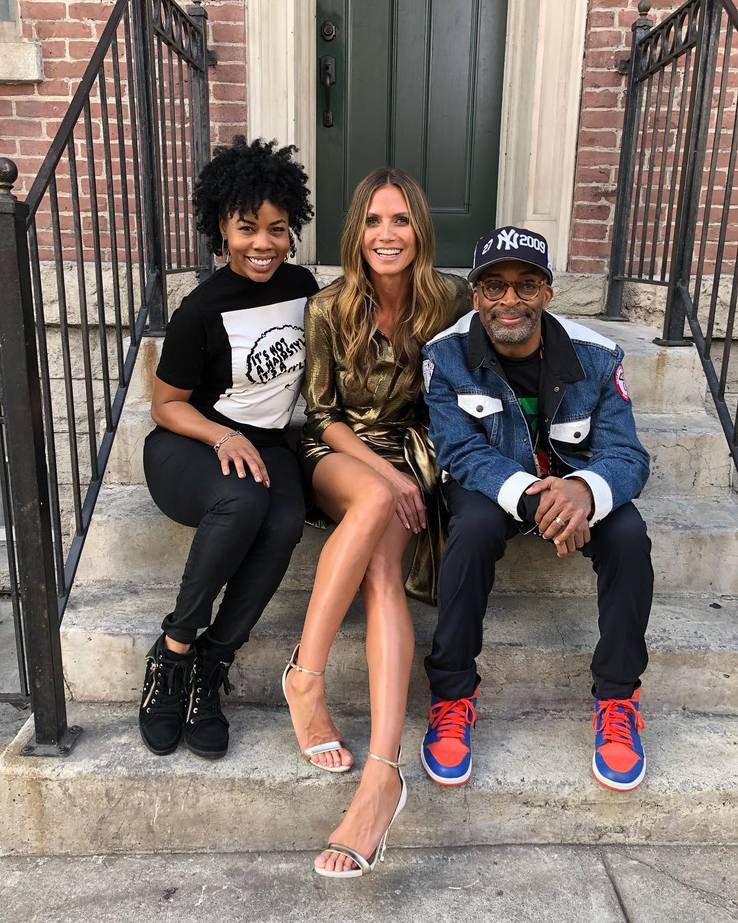 Just in case this pic wasn't proving it— yes, Heidi Klum is still a supermodel and yes, her legs are actually that long. The Victoria's Secret model and America's Next Top Model judge is 44 years old. Heidi is probably bringing out the jealous streak in every woman that sees her, but she's also super inspirational. Heidi has built herself a solid career from her modeling, and she's even been the face of McDonald's. Heidi is a sassy businesswoman who has made a fortune from her career, with a staggering net worth of $90 million.
Heidi Klum has $90 million to her name, a super successful modeling career, plus, she was one of the first Victoria's Secret Angels. "When did I last cry? Three days ago, when my makeup artist poked me in the eye," she told The Guardian.
It's even harder to believe that Heidi is a mom of four. Most women will find that their shape changes after having kids. Heidi? She just seems to ping back into shape. While her earliest memory is falling down a basement staircase in her native Germany, she's climbed the ranks to become one of the most powerful women on TV. Here she is prepping for the Super Bowl. A supermodel, indeed.
9

SANDRA BULLOCK HANGS WITH RIHANNA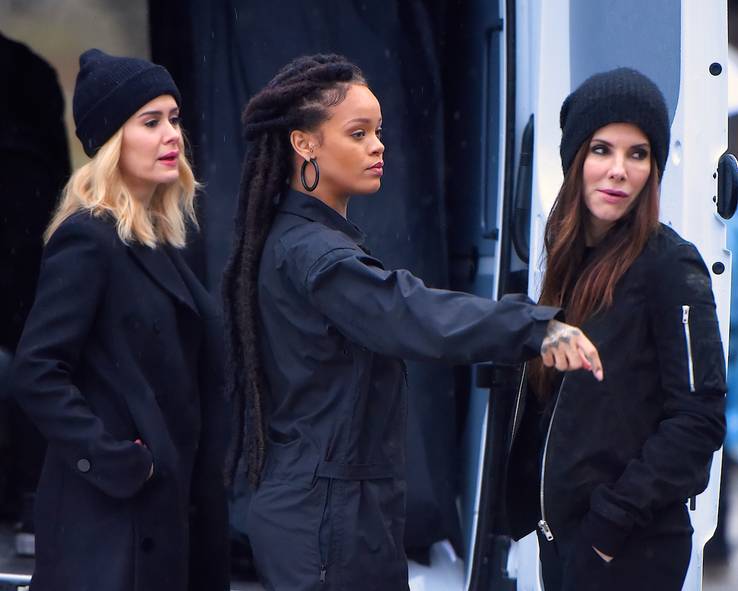 Newsflash: When you're papped on the set for Ocean's 8, you're still relevant. Sandra Bullock looks mind-blowingly good for someone who will turn 54 this summer. Are these women even for real? Apparently so. Sandra Bullock has been a Hollywood heavyweight for a long time. Her roles in Miss Congeniality and Crash have seen her stretch from comedy to thrillers, but Sandra is all about the action, now. Ocean's 8 is coming out in June 2018, and it has an A-list line-up. Sandra will be starring alongside Matt Damon, Anne Hathaway, Katie Holmes, and our very own @badgirlriri.
Sandra Bullock will appear in the much-awaited Ocean's 8. It's hard to believe the actress is nearly 55. Sandra's real life stays away from drama, and she likes to throw home birthday parties for her kids. "She has few close Hollywood friends," a source told E!
Sandra has also put her big bucks to good causes. She donated $1 million to the American Red Cross to help, after the devastating Hurricane Harvey. Sandra has moved on from her own personal scandals. In 2010, she divorced her husband, Jesse James, after an infidelity scandal. In fact, that's a word Sandra stays away from. Speaking of scandals, though…
8

PAM ANDERSON IS STILL HAVING A GOOD TIME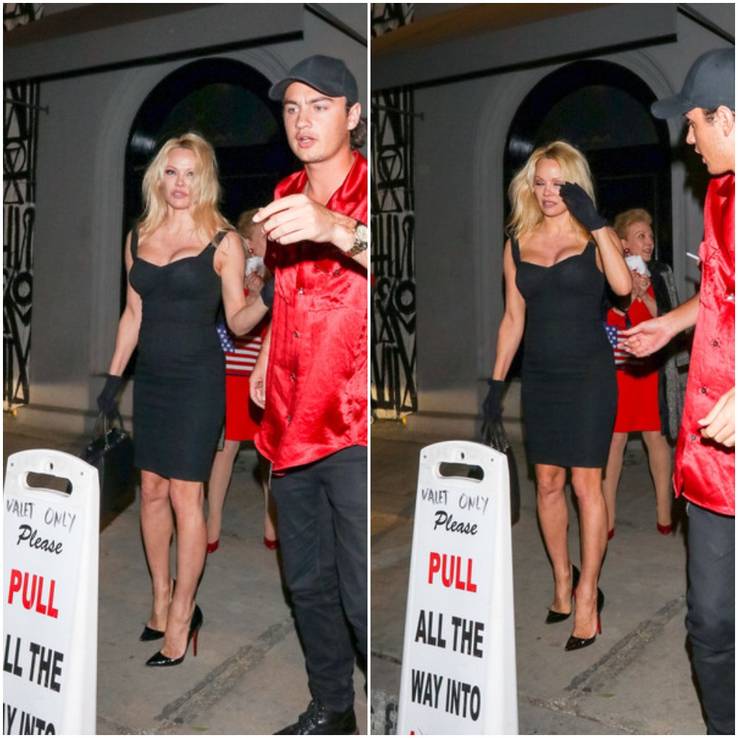 We wouldn't expect anything less. The original blonde bombshell, Pamela Anderson, has become an icon of Californian beachiness, thanks to surfer girl looks and her role on Baywatch. The Playboy model definitely isn't conventional, but that's kind of the whole point. Headlines have been bursting as much as Pam's slightly enhanced curves, and this star has always found a way to make front-page news. She married Motley Crue rocker, Tommy Lee, after just four days of knowing him, but that was many moons ago. Now aged 50, Pam is still hitting the Hollywood haunts, like this 2018 shot of her outside Craig's Restaurant in Hollywood.
The original blonde bombshell, Pamela Anderson wasn't going to give up the beach babe looks just like that. At 50, Pam is still wearing those tiny dresses, although she does look like she could use a good night's sleep.
FYI, Craig's Restaurant is exactly where Lisa Kudrow was papped, earlier on this list. Looking more dressed for the part here, Pam is still making sure she dines in Hollywood's most-exclusive spots. She has however opened up in recent years about her difficult childhood and personal problems. Oh, who are we kidding? This is a star who encourages her own kids to "experiment" with less-than-legal substances. Same old Pam, then!
7

VICTORIA BECKHAM RUNS A FASHION EMPIRE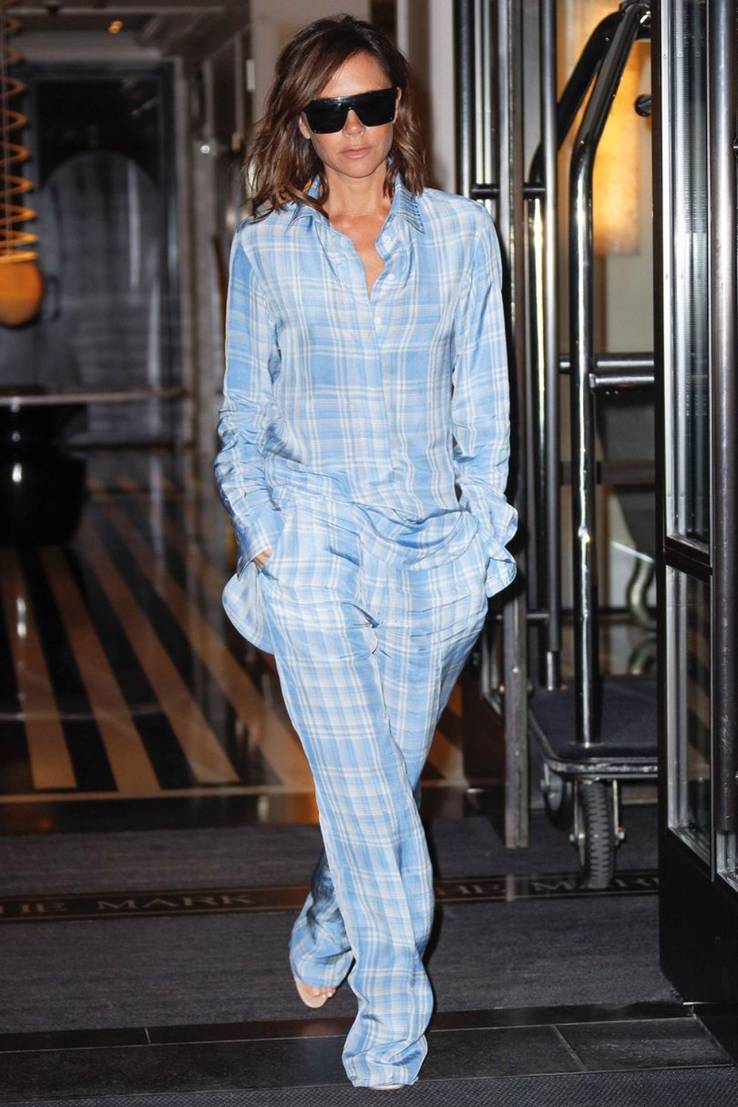 Call them pajamas all you like. Victoria Beckham is running the biggest fashion empire around, and she's worth $420 million. The former Spice Girl has re-invented her image more successfully than Madonna ever has, and Victoria is now a style icon. The trashy fake tan and bodycon dresses are firmly behind her, and the designer and mom-of-four is putting her best foot forward. Everyone from Eva Longoria to Michelle Obama has worn her designs, and even royal-to-be, Meghan Markle was dressed head-to-toe in Victoria Beckham on the TV show, Suits. Victoria has a bit of a serious image, but watch any interview with her. She's got a great sense of humor.
Victoria Beckham has revolutionized herself from trashy Spice Girl to fashion superstar. She's front-row at Fashion Week, and even her little daughter, Harper, has a shoe named after her. Victoria's $420 million are also one-upping husband, David Beckham.
"I feel quite confident in myself now," Victoria told Elle. "Getting older doesn't bother me." To be fair, older just means better with Victoria. It takes a lot to be taken seriously in the fashion world, and Victoria started from scratch. Instead of layering on the war paint and Photoshopping her Instagram, Victoria's feed is a steady stream of #nomakeup selfies and pics of her soccer player husband and celeb kids.
6

GWEN'S RICH GIRL DREAM CAME TRUE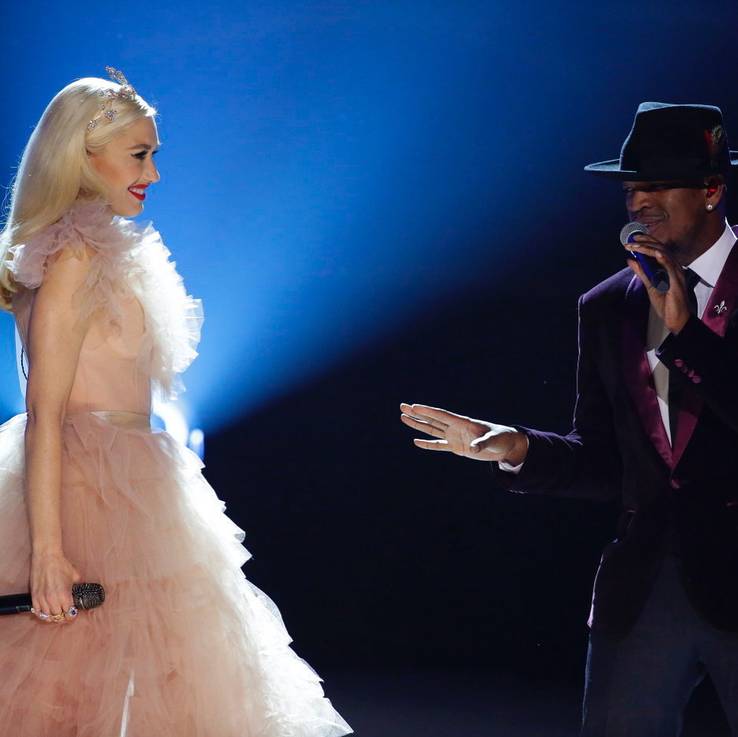 It's not like Gwen Stefani needs to be introduced as beautiful. The No Doubt singer and L.A.M.B designer has been going steady for over 20 years, although, this fairytale pic suggests she isn't a day over 25. Gwen is a no-nonsense, hard-working artist who puts her all into her career. While Gwen is married to the country star, Blake Shelton, she keeps the signature Gwen edge to her music, and her punk-meets-doll image definitely says: "individual." Gwen stays out of trivial celeb feuds, and she prefers to focus on music and motherhood.
Gwen Stefani is 48 years old, but she still has the most fierce abs in the industry. Gwen is a workout queen, but she keeps it behind closed doors. "If I were a rich girl" seems to have come true. Gwen has a net worth of $100 million.
TMZ reported that Gwen works out six days a week. She mixes up high-intensity cardio work, medicine balls, and dumbbell workouts. Of course, she gets the celeb treatment from the renowned celeb, trainer, Gunnar Petersen. Gwen is loved for her fierce girl image, but something about her means we wouldn't want to run into her in a dark alley. 48 years old, fabulous, and an absolute muscle machine, Gwen may eat organic food, but she's also 100% real.
5

JULIA ROBERTS LEADS A PEACEFUL MALIBU LIFE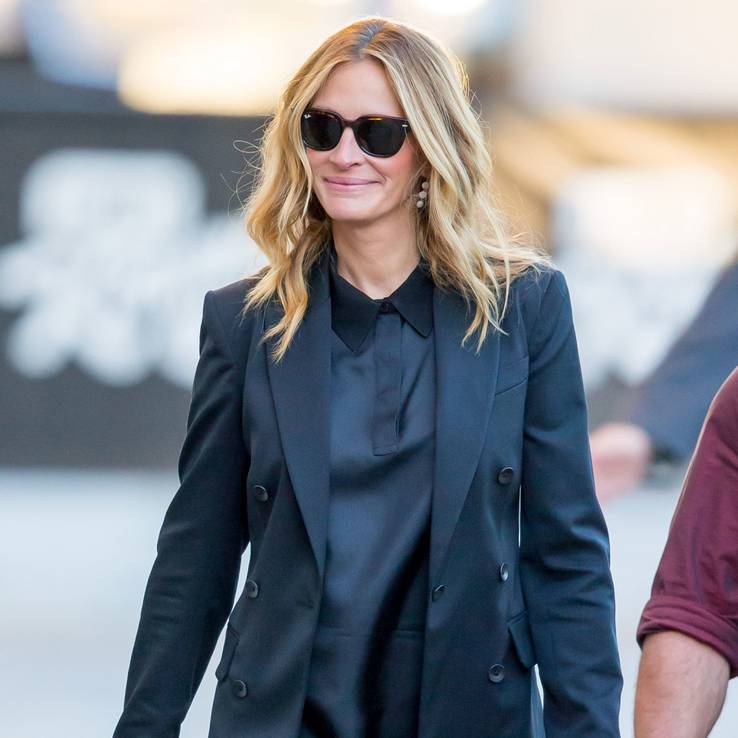 It's actresses like Julia Roberts who can really say they've conquered every milestone there is. My Best Friend's Wedding may be over 20 years old, but Julia has been racking up the roles ever since. Erin Brockovich earned her an Academy Award, and her movies have grossed $2.8 billion overall, according to Forbes. The million dollar smile is now a shining 50 years old, but you'd never know it. E! got some time with the star this year to find out about the "peaceful Malibu lifestyle" Julia is now leading.
Looking more like 40 than her actual 50 years, Julia Roberts is enjoying a secluded, comfortable life in Malibu. Glitzy parties don't interest her anymore. Julia hits up farmers markets and goes to watch her kids play soccer.
You'd think someone as rich as Julia Roberts would have picked a super-exclusive zip code, like Beverly Hills or Bel Air. Julia's no Kardashian, though. She told E! that she likes dressing down and walking her dogs over getting her nails done or upping her fame at high-profile spots. Julia has three kids with her husband, Danny Moder, and she's settled for being a regular mom. Well, regular (ish). When you walk away with $25 million paychecks, you need to work extra hard to be "regular."
4

COURTENEY COX STILL HANGS WITH THE FRIENDS CAST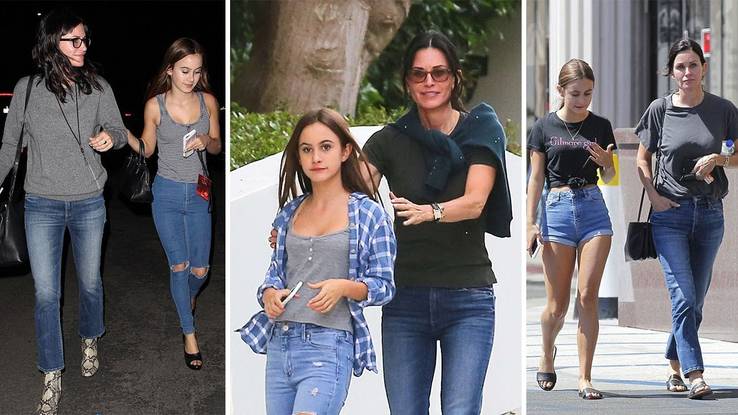 Courteney Cox will forever be associated with her hilarious, neat freak Friends character, Monica Geller. Ten seasons of this brunette's household obsessions taught us what "Monica Clean" means, and fans loved that Monica and Chandler really made it. Courteney Cox isn't nearly as much in the spotlight as Jennifer Aniston, but with everyone watching Friends all over again, the paparazzi have their eye on this mom. Courteney still hangs with the gang, and she was there to celebrate Jen Aniston's 49th birthday last year.
Courteney was brave enough to speak out and say that she "regretted" the facial enhancements she'd had to fight her age. Fans were dismayed as the naturally beautiful Court appeared suspiciously smooth-skinned and puffed up. The 53-year-old Friends star has since accepted that "real" is beautiful.
After Friends ended in 2004, Courteney continued her movie career in the Scream franchise, although she seemed most comfortable on the small screen. Court starred in the TV show, Cougar Town, from 2009-2015, although she's focusing on being a mom, now. Her daughter Coco is a rising star, and Courteney is raising Coco as a single mom, following her divorce from David Arquette. We prefer the Monica and Chandler ending.
3

SJP IS AGING GRACEFULLY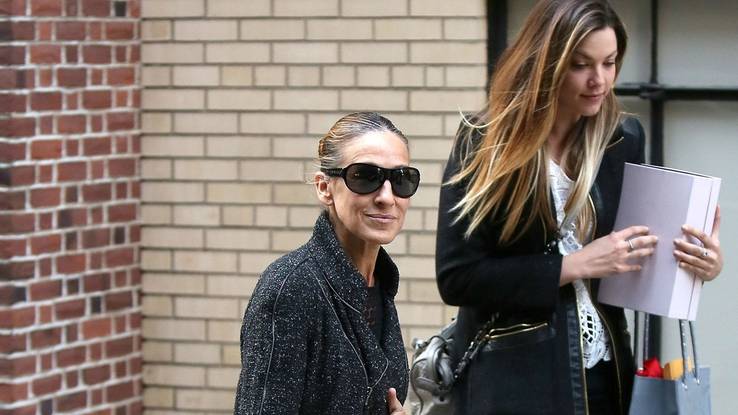 Her Sex And The City character, Carrie Bradshaw, was once the most popular woman in New York City. Sarah Jessica Parker has The Big Apple to thank for her glittering career, and she conquered NYC's avenues one strappy stiletto at a time. SJP hasn't lost our attention though, especially with the return of all things '90s– admit it, you'll watch the re-runs. In many ways, SJP and Carrie Bradshaw were the same woman. Both lived in New York, both had fashion as their religion, and they both had a thing for shoes. So what would any self-respecting actress-turned-businesswoman do? Set up shop with her own shoe line, of course.
Sarah Jessica Parker kind of looks her age. She's 53, but the Sex And The City star is one busy lady. Her fragrance line flies off shelves, and she's got a shoe line out. Well, we wouldn't expect anything less…
SJP is a famous face you'll see out and about in Manhattan. The mom has switched up the Carrie wardrobe a bit, though. SJP has been papped looking pretty frumpy in hide-out jackets and hats as she picks her twin girls up from school, but the fashionista underneath is alive and well. And hey! She's getting cast in movies more than Charlize Theron is…
2

KATE MOSS IS AGING OUT OF HER PARTYING LIFESTYLE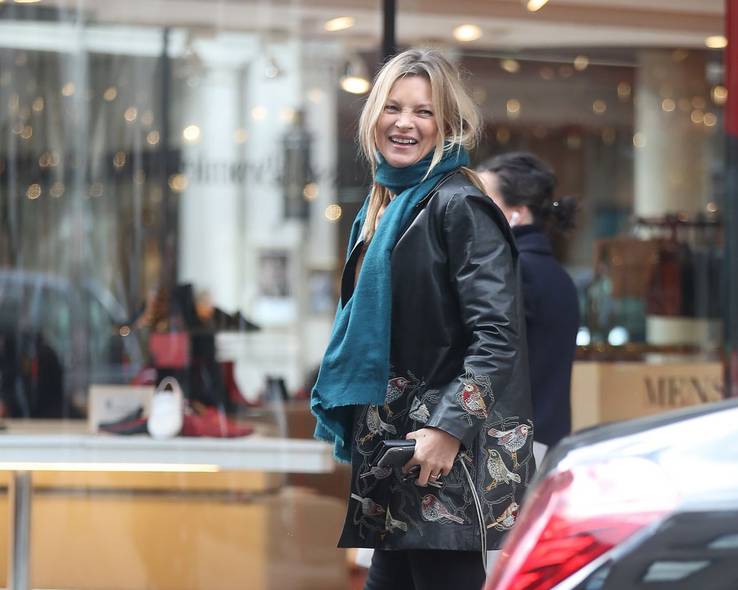 She was the supermodel of the 90s. And the 2000's. And the 2010's. Kate Moss has been a fashion icon ever since she was discovered at JFK Airpor, when she was only 14 years old. A talent scout for a top modeling agency immediately signed Kate, and the rest is history. At 5 feet, 7 inches, Kate is the shortest supermodel to have really "made it," but boy, has she made it. Kate has been the face of Calvin Klein, Chanel, Versace, Gucci, and every other brand Kim K would kill to be the spokesperson for. Kate never quite shed her "wild girl" image, and at 44, she's still hitting up Coachella.
Kate Moss has been a fashion icon ever since she was discovered aged 14. With more campaigns, endorsements, and Vogue covers than any other model, the 44-year-old is a total icon. Giving up the partying and the late nights? Nah.
Kate has had a fair amount of scandal. The world thought that Kate's career was over back when she was filmed allegedly using less-than-legal substances, but she only got richer. Her designs for Topshop are flying off shelves, and she's still a total A-lister.
If you're tired of seeing Ariana Grande and Selena Gomez, we're glad you stumbled on this list. 40+ A-Listers are stronger than ever, and now it's over to you. Leave us a comment on who you think is seriously outshining the kids. Who do you think actually looks their age? We dug deep for the 2018 pics of these 25 stars, so hit share to make sure your friends are up-to-date.
1

LISA KUDROW LOOKS A LITTLE DIFFERENT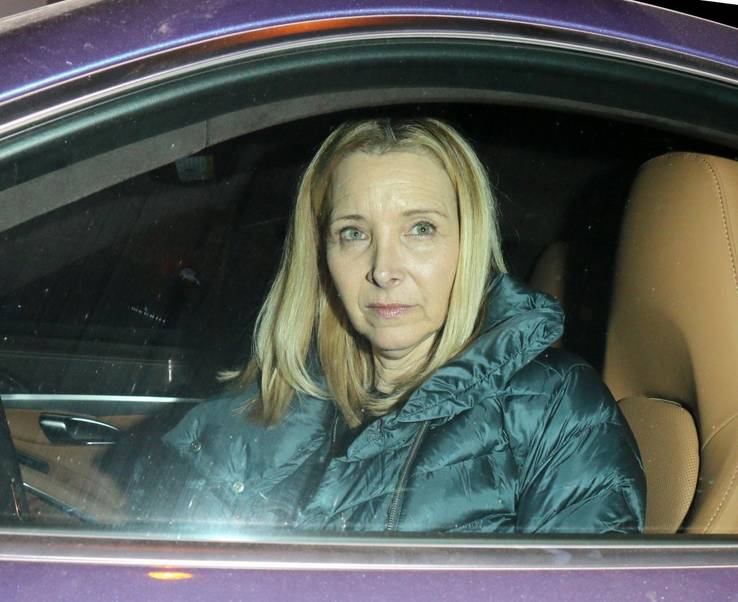 Remember Phoebe Buffay? You know, blonde, quirky, vegetarian… SMELLY CAT! Just like Jen Aniston, Lisa Kudrow became a household name overnight, thanks to Friends. The show hasn't aged, but the cast have– Lisa, unfortunately, seems to have been the hardest hit. This 2018 pic was a strange moment for the paparazzi, as Lisa was papped alone in the parking lot of Hollywood's biggest celeb eatery, Craig's Restaurant. That place is a literal carousel of celebs. Kendall Jenner, Eva Longoria, JLo, and Gigi Hadid have Craig's as their go-to lunch spot, but a very lonesome Lisa just sat in her car outside.
Lisa Kudrow will forever be remembered for bringing us the quirky Phoebe Buffay on Friends. Vegetarian pizzas, a certain song about a cat, and giving birth to her brother's triplets built her career. At 54, Lisa still has her beauty, but she's showing more age than the other Friends members.
On the plus side, Lisa has one of the longest-lasting marriages in Hollywood. Not only did she marry a non-famous person, but she and her French husband have been married since 1995. Friends was already airing then. Lisa is less in the limelight than Jen, although you'll spot her face in movies like Easy A. She's also done voice work for American Dad. A little less "twinkling than she was," but still a star.
Source: Read Full Article