Travelling to Thailand is one of the biggest vacation trends at the moment. It is the homeland of the best street food in the world, thousands upon thousands of Buddhist temples live, and where eating insects and bugs is a totally normal activity. For the more fancy readers, welcome to the motherland of the authentic Thai massage!
However, there is more to Thailand than what originally meets the eye. Unless you're an avid travel blogger follower or have an entire Pinterest board dedicated to travel images, one will never know what Thailand actually has in store for travellers. Travellers must remember to add some time to visit the beaches and waterfalls, temples and monks, and even take a hot air balloon over a romantic sunrise ride with breakfast, and that's just to name a few things. In fact, maybe you should extend your two-week vacation another two weeks.
Thailand is also home to some of the most amazing volunteer experiences for those looking to spend their summers doing some good for the environment, wildlife and making an impact in a child's life. From giving time to elephant and tiger sanctuaries, rainforest and jungle protection, marine life, or teaching English as a second language, the possibilities are endless. Thankfully, we've create a list of 25 things that millennials should do when visiting Thailand.
25

Take A Visit To The Grand Palace
The Grand Palace Bangkok may be the first Thai landmark that you may visiting as it is one of the most popular spots for tourists to journey to. While there are no members of Thailand's Royal family that live there, they do hosts attend large extravagant luxurious events.
The palace is also a colorful symbol of their native religion of Buddhism. With shades of green, red, orange and yellows will definitely take your breath away, especially against the pinks of a cool sunset. Although the colors are not only a symbol of the religion they've embraced since the time of the day, the colors also mean harmony, unity, tolerance and peace.
24

Take a walk with elephants at Mahawangchang elephant camp
At the Mahawangchang elephant camp, being able to bathe, feed, and take an elephant for a walk is a possibility, and it's one that fans of Dumbo all over the world have wanted since they were kids. However, all good things are not as they appear. While some tourists have written rave reviews about the so-called elephant sanctuary, others were not impressed. The jury is still out for this holiday leisure time.
23

Go to a spa and get a Thai massage
The famously known Thai massage is one that all spa-goers must have at least once a month. However, in Thailand you will want to call this muscle relaxing miracle Nuad Phan Boran. A sixty-minute massage will run you up to $65 and an hour and a half will cost approximately $125, which is roughly the same price as us back home. The only difference is that these massages are performed by Thai masseuses in Thailand.
The resort and spa life in Thailand is truly a one of a kind experience. Most of the resorts are tropical paradises, while others are still stunning but without the costly price tags. While many of these resorts offer spa services, the more higher end of resorts will allow guests to enjoy a relaxing, yoga-enticing, Thai massage by an infinity pool, overlooking Thailand's very own rainforest. Time to win the lottery!
22

Damnoen Saduak Floating Market
The Damnoen Saduak Floating Market may be the reason for this adventurous journey to Thailand, as foodies from all over the world come to witness the transactions made between vendors and merchants, and vendors and tourists looking for fresh ingredients, spices, flowers, and small souvenirs alike.
It is said that the best time to go to the Damnoen Saduak Floating Market is between 8 a.m. and 10 a.m., where it is mostly crowded with vendors, merchants, locals and tourists. While back home we may be accustomed to avoiding crowded spaces, the floating market is one that cannot be missed. This is when most of the river is crowded with boats and busy people, and these will be the fastest transactions you will ever witness.
21

Watch The Sunrise Over Chiang Mai From A Hot Air Balloon
The city of Chiang Mai houses one of the largest hot air balloon companies in all of Thailand, but it also has a leg up on the industry against its competitors. In fact, the hot air balloon experience in Chiang Mai is considered to be one of the best hot air balloon skies to fly over. In addition to the spectacular views of Thailand's many temples, the company will also provide a hot breakfast and the Thai's sunrise for one of the most romantic escapes in the world.
The hot air balloon ride will raise you high above grounds level, hovering at 500 feet in the air and climbing up to 2000 feet above the world.
20

Snorkel Your Way Around Koh Tao
The small area of Koh Tao is surrounded by many different beaches and bays, and deciding where to put on the snorkel gear makes it all the more difficult. However, according to Travelfish.com the Ao Leuk beach is the best beach to leave your personal belongings while you snorkel into the ocean to watch the world's most undiscovered life forms. In addition to this being a white sandy beach with a stunning coral reef system, this beach also provides guests with many shady spots to enjoy a quick and refreshing bite after a long swim.
19

Make A Splash At Songkran Festival
Mark your calendars folks for the 2019 Songkran Festival to be held in the middle of April. The Songkran Festival is Thailand's most famous festivals, where it celebrates the new Thai calendar year. The word "Songkran" means approaching or passing and the symbol is water. That is why it comes as no surprise when tourists and locals get splashed or soaked with water during the month of April.
Those who decide to take part in celebrating tend to throw buckets full of water, water soakers, and anything else they can find that can throw a good amount of water at someone idly passing by.
Featured Today
25 Uber-Luxurious Things That Tourists Can Only Experience In Dubai

The Definitive List Of New York City's Best Restaurants (In Order)

25 Castles That Are Affordable For Commoners To Stay In

18

Go on a temple crawl
Here's a fun fact: Thailand has over 40 thousand temples across the country, which makes it the ideal place to gather a group of friends and choose to do a temple crawl over a traditional bar crawl. But, as the saying goes, all paths lead to the same end, and during a temple crawl, the Doi Suthep temple is normally the best temple that is saved for last.
The Doi Suthep temple is located at the top of Thailand's mountain and is surrounded by brightly dressed monks and a heavy smell of burning essence.
17

Jump into Chiang Mai's Waterpark and Grand Canyon
Chiang Mai has it's very own Grand Canyon, so while you visit Thailand, you'll also be able to visit the Grand Canyon – two places are better than one. However, this Grand Canyon is definitely smaller than the one found in the United States as the Chiang Mai's edition is only the backdrop for their waterpark.
The land for the waterpark is part of a manmade quarry that was once dug out to expand Chiang Mai's international airport. However, the quarry's headlines abruptly stopped locals and travellers from visiting the manmade Grand Canyon, so they decided to introduce the world with a waterpark. Swimmers are advised not to swallow or drink any of the water.
16

Stroll through Chatuchak Weekend Market In Bangkok
The Chatuchak weekend market is one of the largest weekend-long markets in the world. In fact, this market stretches across one kilometer worth of land and houses over fifteen thousand vendors that sell everything from food to t-shirts, homemade household accents, clothing, spices and flowers. However, they also sell more authentic products than traditional ones such as Buddhist amulets, ceramic wares, silk, but most importantly, artwork.
If you're an art lover, walking through the art wing is like nothing you've ever seen before. No museum could put a price on watching the artist paint, sketch, design and sculpt on the streets of the Chatuchak market.
15

Eat bugs for extra protein
It's no secret that the Asian culture possess some interesting delicacies that would be highly frowned upon in the Western world (maybe not around these adventurous millennials). However, studies have found that insects are a very high form of protein that are perfect for snacking.
The streets of Thailand are filled with snack carts that can carry up to ten different kinds of insects. The bags of bugs, worms and insects are filled to the brim, sprayed with a soya sauce mist and topped off with some crushed hot peppers.
14

Visit the Yi Peng festival
There is something magical about a night sky, lit up with stars and candles. However, Thailand has an enchanting way of taking a simple candle and making it majestic – they use lanterns. Unfortunately, this event is only held once a year in November, but it definitely makes the trip all the more worth it when visiting during this spectacular event.
The event is held at the Yi Peng festival in Chiang Mai, Thailand. It is a festival where locals celebrate and believe that the rivers have been filled to their fullest and highest points and the moon is centered at its brightest. Locals believe it is the perfect time to make a wish for good luck and make merit in the new year.
13

Eat Thai street food
Foodies, pack your bags and start your hunger engines; it's time to travel to Thailand! Thailand has been known for their incredible and countless street food carts to fill the local roads with authentic signature cuisines. Not only will this be the best food you'll ever eat, it's also the largest quantities you'll ever see besides the Kentucky derby.
Tourists and locals alike are welcome to indulge their taste buds with delicious and fresh pad sew, kluay tod (fried bananas), chicken stir with fried rice and topped with a fried egg, and that's just to name a few.
12

Take a Thai cooking class
The hotels and hostels around Thailand will be able to recommend a specific and specialized Thai cooking class, depending on your choice of preference. The Thai cooking class in Chiang Mai even grows their own produce, in their organic garden, where students get to pick out their ingredients of choice.
Each class offers three course meals, teaching students about the history of the dishes, the ingredients used to prepare the stocks and fill the bowls, and also techniques on ways to cook it to taste like a traditional and authentic Thai dish.
11

Jungle trekking in Thailand
The Land of the Smiles is what tourists, locals and expats tend to call the jungle trekking adventures because it truly brings smiles. Whether you're backpacking across southern Thailand's Khao Sok National Park or the northern Chiang Mai's national park, there is a hiking path for every fitness level. What makes this adventure a memorable one are the many different jungle animals that wander in their natural habitat. In fact, the hardest hiking paths will teach the bravest about survival techniques in the jungle.
10

Bamboo rafting
One way to experience the jungle without having to stand is by taking a bamboo raft across the river. However, what takes the cake is the Karen hill tribe excursions that takes tourists and locals to the most intimate parts of the tribes, where visitors can enjoy sleeping in their homes and visit their schools. After waking up and enjoy a home cooked breakfast, it is then time to get back on the bamboo raft and continue trekking.
Another exciting excursion that visitors can enjoy is the visit to the elephant camp that we discussed above.
9

Meet a bunch of tigers
Now here is another prime example about travellers who are on the fence about this type of so-called fun. While some praise the experience of meeting fluffy tigers, others reserve their judgement and say the animals are overly trained and confined to small cages. Though these are the tourist-tiger experiences only, Chiang Mai does have its very own tiger sanctuary that is safe and does care for every single tiger to walk through their doors and call themselves at home.
Chiang Mai's tiger sanctuary, Tiger Kingdom, re-homes rescued tigers, but many fans still call this sanctuary a zoo. At the Tiger Kingdom, visitors must pay for a ticket and select the size of the tiger they wish to see, from cubs to fully grown adults.
8

Take a tuk tuk ride
A tuk tuk ride is one of the greatest thrill seeking adventures that definitely makes you feel as though you're going to teeter right off the road. I would know, as I was one that was up for the exciting transportation. A tuk tuk is a three-wheeled scooter that should only sit three guests at a time. However, they can easily fit almost eight people, some of whom will have to ride on the roof. However, just because this is a faster mode of transportation, the tuk tuk should be avoided during peak rush hour, as this would be a cause for major traffic.
7

Pay a visit to a hill tribe in Thailand
One of the most cultural visits one will ever witness is that of the five hill tribes of Chiang Mai. It is a very rare occurrence to be able to meet and learn from different indigenous groups without trekking through the jungles and having to seek them out. However, the Chiang Mai excursions offers a one-on-one experience with the members from the different tribes. In fact, the villagers are said to enjoy the company of the different ethnicities that walk through their woods, looking to interact with them and learn their languages and cultures.
The locals wear their traditional Palong long neck brass rings on their necks and their arms. They do, moreover, have a lodge where travellers can stay. It is a community lodge, where travellers have to sleep in numerous beds in one room, and have a shared toilet outdoors.
6

Go to Doi Suthep
The Wat Phra That Doi Suthep is the one of the most popular Buddhist temple in the world and it is one of the most sacred temples, sitting at the top of the Chiang Mai's highest mountain. The temple was built back in 1383 by Thailand's King Keu Naone, where legend has it that the king wanted to keep what is said to be a part of Buddha's shoulder bone. The shard was then brought to a monk where it was broken in two, housed in the temple, and the other piece was mounted to a sacred white elephant. It wasn't until the elephant allegedly passed when villagers found the second fragment and they secluded the area where a monastery was later built.
5

Go Diving off The Coast of Koh Lanta
Koh Haa Yai means "five islands," and that's because this popular diving spot is centered around five different islands, which gives divers twelve diving spots. Each of these dive spots have a depth of 30 meters. Thankfully, this spot is not only perfect for cliff diving, but also fantastic for scuba diving.
Divers are greeted with a breathtaking choice of marine life, with saltwater fish ranging from lionfish, angelfish, butterflyfish, and reef sharks. For the more adventurous and experienced divers, swimming with large calming manta rays and whale sharks are also a great possibility if divers arrive at the proper season.
4

Smell the flowers
It's time to wake up and smell the roses, literally. This 24-hour flower market is one of the biggest markets in Thailand, after the Damnoen Saduak Floating Market. The morning versus evening atmosphere is completely different from one another. Coincidently, what would be a morning rush in the Western world is actually quite the opposite at the Flower Market. In fact, mornings are calming with only the more intimate of strollers walking by, embracing the beautiful bright colors. In the evenings, the market is totally popping with vendors and farmers making deals with the merchants.
3

Take the Thai-Burma Railway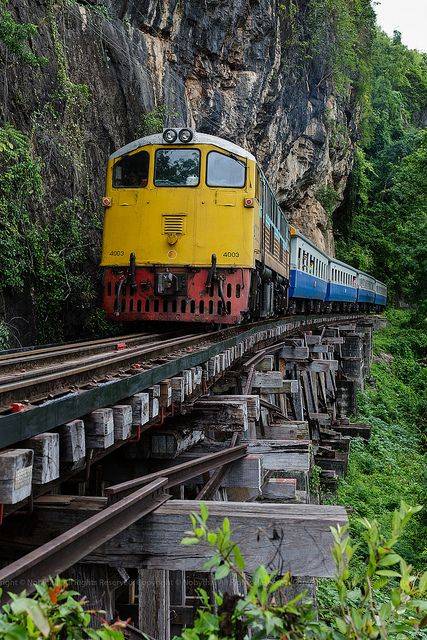 The Thai-Burma Railway is part of Thai's important history. However, it is not for the greatest reasons. Back in the Second World War, POWs were forced to build the railway tracks that stretches from Ban Pong to Thanbyuzayat. Since then, this part of history has created who they are as a country today.
The tour begins on the Kwai bridge and then makes its way to Kanchanaburi war cemetery, after making another pit stop by the war bridge museum. This railway tour visits six spots and visitors are welcomed to hop off and back on to continue the tour after visiting each site.
2

Get a Sak Yant tattoo or two
The Sak Yank tattoos were not originally part of the Buddhist traditions until the religion spread into the other cultures and adopted those of the Thai and the Shamanistic traditions. These Sak Yant tattoos have been around for over two thousand years.
Unlike in the Western world, these traditional tattoos are not used with a modern-day machine. Instead, the artist uses a long bamboo stick with a metal spike at the bottom. Here's a fun fact about the Sak Yank tattoos and their Buddhist monk artists, the monks actually read your aura, which is there that they will decide on the design and the location of the tattoo.
1

Visit their very own Game of Thrones
Thailand has its very own Game of Thrones, and while you may not enjoy the visits of Winter and cliffhangers, you will be greeted with a white large temple that looks like snow has kissed the temple. The Wat Rong Khun temple is made of white glass, which symbolizes Buddha's purity, wisdom, and his teachings.
Unfortunately, back in 2014, an earthquake hit the city of Chiang Mai and the temple was damaged. However, Thai architectures decided to rebuild and even expanded the Wat Rong Khun temple.
References: onarto.com, facebook.com, smilethaiwellness.com, passportchop.com, lonelyplanet.com, travelfish.org, hostelworld.com, hostelworld.com, chiangmaicitylife.com, nerdnomads.com, migrationology.com, mnn.com, theculturetrip.com, onlyadayaway.com, indochinatours.info, nextstepthailand.com, backpackdiary.com, travelcompany.online, thailanddiscovery.info, lonelyplanet.com, boldtravel.com, tielandtothailand.com, expertvagabond.com, renown-travel.com, outsidesuburbia.com
Source: Read Full Article