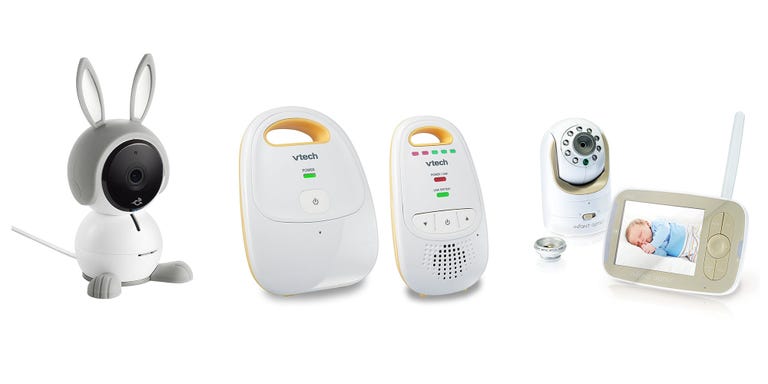 As much as you love your baby (and I loooove mine), parents know that one of the best times of the day is bedtime. (Fact.) And what better product to give you peace of mind (and you know, make sure a certain small human isn't trying to climb out of the crib instead of sleep) than the baby monitor?
Every mama knows that they can make themselves go crazy researching the absolute best baby monitor to put on the registry. So I did the work for you (you're welcome). These Amazon best-sellers are beloved by fellow moms, so you know they're good:
Infant Optics
amazon.com
$165.50
BUY IT
This monitor has a staggering 22,000 customer reviews, most of which are five stars. You can switch between different lenses depending on what you need—like zoomed for an infant or wide to capture an entire room when your future rambunctious toddler is playing in there by himself.
VTech
amazon.com
$18.99
BUY IT
If you're looking for a steal, go audio-only. This one has a 1,000-foot range, so you can easily take it from room to room. You'll also like how it lights up to indicate the level of sound (ahem, cries) coming from the room.
Cocoon Cam
Cocoon
amazon.com
$149.99
BUY IT
This one hooks up to your phone so you can see your little nugget in night vision HD video. It monitors their breathing (without needing them to wear anything to do so) and lets you know if they're crying or starting to rouse.
Honrane
amazon.com
$69.99
BUY IT
A good monitor comes in all budgets. Reviewers rave about the quality of the picture on the screen, the bright, clear night vision, and how it comes with some of the same bells and whistles as other monitors for way less.
Babysense
amazon.com
$74.99
BUY IT
You can purchase up to four cameras for this system, allowing you to track multiple kids or rooms. The infared night vision and digital zoom means you can see your sweetie pie clearly. Bonus: This plays lullabies and tracks the temperature in the room.
Wansview
amazon.com
$28.89
BUY IT
Technically, this is the number one best-seller in pet cameras, but it's also meant for babies, too. The camera has day and night-vision capacities, and the WiFi camera allows you to see the action from your phone. Perfect for when you're away and you want to check in. Like, 20 times.
NETGEAR
amazon.com
$199.99
BUY IT
This WiFi monitor does its job and is adorable, too. (Because you designed that baby room!) If you're obsessed with smart home devices, you can control this through Alexa and Google Assistant. Plus, this thing has temperature, humidity, and VOC air sensors, which send alerts to your smartphone.
Summer Infant
amazon.com
$79.99
BUY IT
Why not see more of baby? The five-inch screen, hi-res LCD video display, and zoom function means you don't have to miss any of the baby action.
Hello Baby
amazon.com
$69.00
BUY IT
Parents love this one because it's easy to set up (just plug it in!) and has a long range of 960 feet. The video image is high-quality, allowing you to see your baby's features (are his eyes closed? can I see him breathing?). Plus, the price is on point.
Source: Read Full Article