Hollywood has lost another one of its stars. Austin Powers actor Verne Troyer has died at age 49, according to TMZ. The actor's family confirmed the news Saturday, April 21 on Troyer's social media pages. Best know for his role as Mini Me in the Austin Powers movies, Troyer became an icon of early '00s cinema. He was hospitalized earlier this month reportedly due to alcohol-related reasons.
His family's statement on Instagram read:
Troyer was always open about his struggles with alcohol. In 2005, his addiction was documented in VH1's The Surreal Life, and he previously sought voluntarily treatment in April 2017. At the time, he posted on his Instagram, "As you know, I've battled alcohol addiction in the past, and whle it's not always been an easy fight, I'm willing to continue my fight day by day."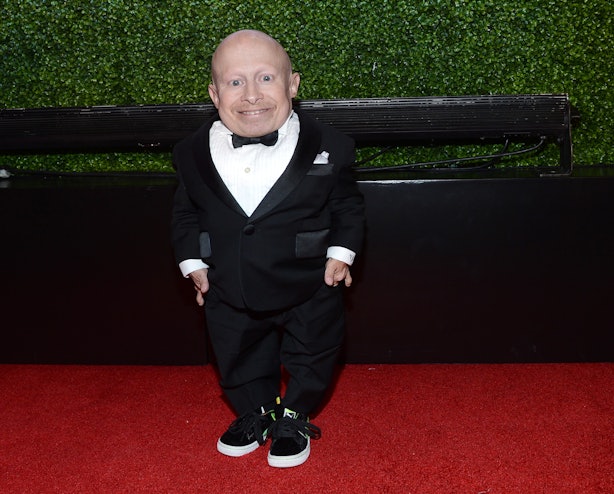 According to IMDb, Troyer's first credited role was in 1996's Pinocchio's Revenge. From there, he earned small roles in films like Men in Black and Fear and Loathing in Las Vegas. Then, in 1999, the actor landed the role of Mini Me in Austin Powers: The Spy Who Shagged Me. He went on to play the character again in Austin Powers in Goldmember.
Mini Me isn't the only iconic role that Troyer played. He also originated the role of Griphook in Harry Potter and the Sorcerer's Stone (Warwick Davis went on to play the character in future films). As a result, Troyer achieved cult status among his many fans.
There's no doubt that the gifted actor will be deeply missed by his friends, family, and fans. Troyer was an inspiration to many, and his performances were unforgettable. Right up until the end of his career, Troyer seemed to delight in making people smile with his comedic performances. He will truly be missed.
If you or someone you know are experiencing suicidal thoughts, call 911, or call the National Suicide Prevention Hotline at 1-800-273-8255.
Source: Read Full Article