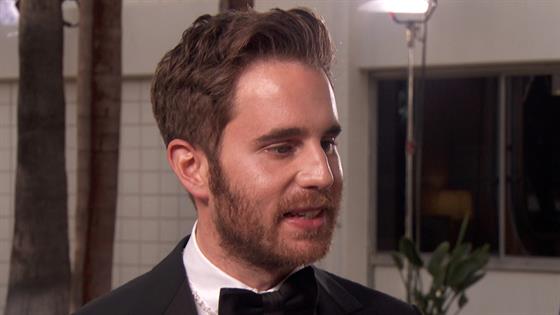 Ben Platt is living the dream at the Golden Globes.
He's not just nominated, both as best actor and an EP on The Politician, but he's also nominated alongside his best friend Beanie Feldstein, who's up for best actress in a comedy movie for Booksmart.
During Platt's interview with E!, Ryan Seacrest showed off a couple of throwback pics, including one that Platt explains was "us as Mr. Schuester and Jane Lynch from Glee."
"So here we go, Ryan Murphy full circle," he added.
Platt is the star of Murphy's first big show for Netflix, The Politician, a show that follows Platt as aspiring politician Payton Hobart through various political careers, starting with his run for student body president in high school.
Platt was excited that the show got nominated, but he was especially excited to share the night with Feldstein.
"That's the more exciting one to me," he said of her nomination. "I mean I'm obviously very excited that The Politician got included and I'm excited for my whole cast, but to hear about Beanie, that just kind of makes it feel like a home event, and it brings it all into reality for me, 'cause I've known her since we were in braces."
As for how he's going to celebrate tonight, he doesn't seem all that confident in his own chances.
"The moment someone wins in my category, I will start drinking heavily."
Hopefully that someone ends up being him.
Platt is nominated for best actor in a TV musical or comedy series, alongside Bill Hader for Barry, Paul Rudd for Living With Yourself, Ramy Youssef for Ramy, and Michael Douglas for The Kominsky Method, and The Politician is also up for best TV musical or comedy.
Watch the 2020 Golden Globes ceremony tonight on NBC at 8 p.m. ET/5 p.m. PT! After the telecast, recap the night's biggest moments by watching the E! After Party at 11 p.m. ET/8 p.m. PT, only on E! And don't miss E! News' new 7 a.m. morning show on Monday followed by Pop of the Morning at 11 a.m.
Source: Read Full Article