During this year's Met Gala on Monday, May 5, there were many over-the-top ensembles inspired by Catholicism that got fans talking, and seasoned actor and fashion icon Blake Lively was definitely one of them. But, as Blake Lively's 2018 Met Gala clutch showed, in spite of her A-list Hollywood status, the star's chief priorities lied with her family even at fashion's biggest night.
Suffice to say, Lively's Met Gala outfit proved itself quite the show-stopper on Monday night's star-studded red carpet. (As those who've seen the photos could probably tell you, the buzz over Lively's bejeweled Versace gown was certainly warranted.) And while Lively might have mounted the carpet with shoe designer Christian Louboutin in tow, rather than husband Ryan Reynolds, she still managed to include her beau in the evening's festivities in a small — albeit totally heartwarming — way.
According to several reports that surfaced Wednesday, May 9, Lively's Met Gala attire featured one particularly meaningful detail, which doubled as a homage to her family. Along with her intricate gown, she carried a custom-made beaded clutch bearing the last name "Reynolds", as well as the first initials of each member of their four-person family. The initials "B, I, R, J" — which appear on the front face of the clutch, situated around the spokes of what looks like a jewel-encrusted Gothic crest — signify both parents' first names, as well as those of their two children, 3-year-old James and 1-year-old Ines. (You can see the clutch in all its glory here.)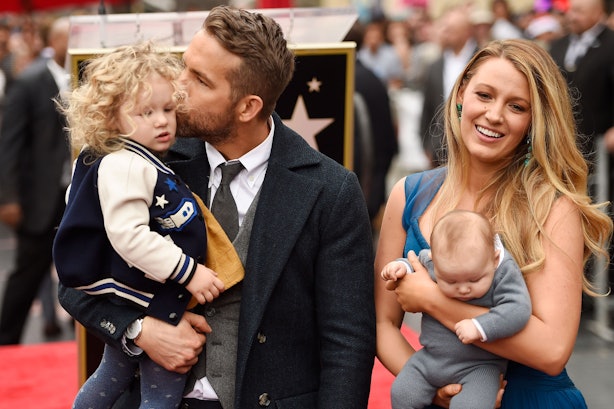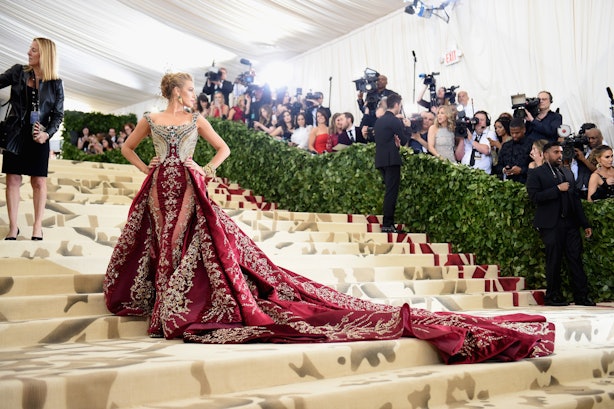 The greater fashion-consuming population might have originally missed the sweet family-oriented message that was part of Lively's look, which explains why reports of the clutch have only just now begun to crop up, two days later. But that's probably just because Lively's gown, which touted a jewel-infused bodice and extra-long train, stole the show.
Whether Reynolds himself was privy to his wife's fashionable family tribute beforehand is unclear, at this point. (As several news outlets have reported, Reynolds was missing from the Met Gala carpet this year due to a promotional tour for the upcoming Deadpool sequel.) Regardless, Lively's thoughtful shoutout to her and Reynolds' supremely adorable family unit really shouldn't come as much of a surprise to pretty much anyone who knows her — least of all her husband.
In addition to the references to her family and kids that crop up on Lively's Instagram every now and then, the star has spoken pretty openly in the past about her dedication to family, citing it as her upmost priority. Last month, speaking about motherhood and the state of feminism in Hollywood, Lively told Cosmopolitan Australia (via news.com.au) that "Family is the most important thing in the world to me … my personal life has always been my priority."
If Lively's Met Gala attire has any indication, it certainly seems like the superstar mom is staying true to her word.
Source: Read Full Article