Hope you didn't have any plans for Saturday night! Beyoncé and Jay-Z just dropped their surprise joint album Everything Is Love on Tidal. The album has nine standard-issue tracks and some seriously loaded lyrics…
There's rapping, romance, family, forgiveness, a Blue Ivy Carter cameo and—well, there's a lot. To help you make sense of Everything Is Love, we've broken it down track-by-track.
1. "Summer"
Consider this track the chilled out, mature version of "Crazy in Love." Bey sings, "Let's make love in the summertime, yeah / On the sands, beach sands, make plans / To be in each other's arms, yeah / I wanna drown in the depth of you / When the water's so blue, so blue, so blue." Jay keeps the vibe mellow with his smooth insertion of a "Let it breathe, let it breathe" into the chorus.
The catchiest lyric, undoubtedly, is Mrs. Carter's, "Up and down motion, come swim in my ocean, yeah yeah."
"Summer" isn't just about romance, though. Jay-Z goes back to his own childhood—then brings it to his kids'—when he raps, "I remember nights in the projects / Bullet rounds interrupting my Chi / When the worst thing that could happen / Zipped-up his jacket and ran back down the street / In Bel-Air only the nights get cold, I wrapped a yellow jacket around me / It's not lost on me, music has my kids sound asleep."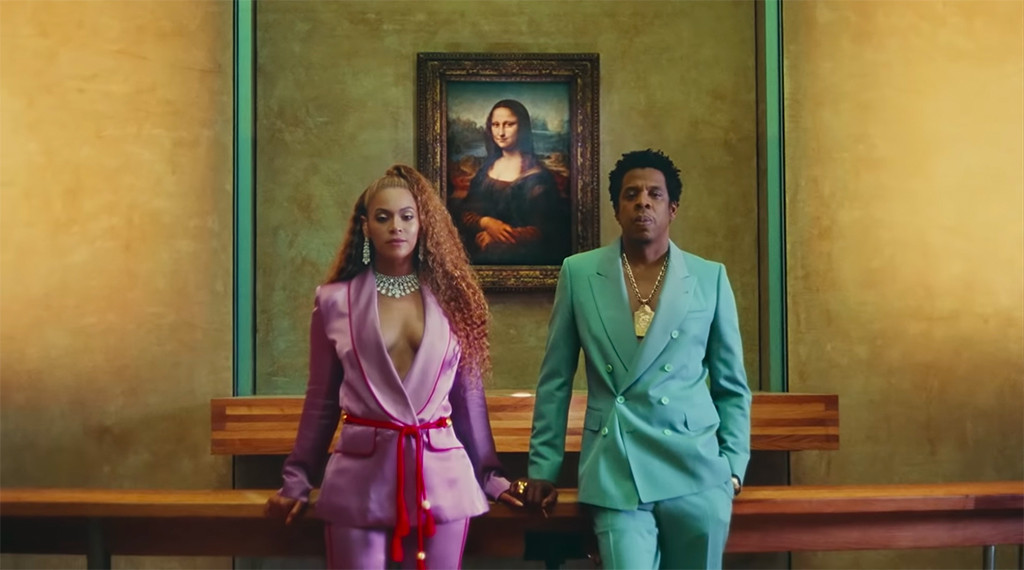 YouTube
2. "APES–T"
It turns out Jay-Z's not the only rapper in this family. In the Carters' first joint album single, Beyoncé gives her man a run for his money on the mic.
In her first verse, she raps, "RAH, gimme my check / Put some respect on my check / Or pay me in equity, pay me in equity / Or watch me reverse out the dick (Skrrt) / He got a bad bitch, bad bitch / We live it lavish, lavish / I got expensive fabrics / I got expensive habits / He wanna go with me / He like to roll away / He wanna be with me / He wanna give me that vitamin D / Ice ornaments, icy style tournaments / You ain't ownin' this / Don't think they ownin' this / Bought him a jet / Shutdown, collect / Phillippe Patek /Get off my dick."
Jay sets the record straight on a rumored halftime performance ask, rapping, "I said no to the Super Bowl / You need me, I don't need you / Every night we in the end-zone / Tell the NFL we in stadiums, too."
He also raps about his 4:44 album's ultimate Grammys snub. As Jay puts it, "Tell the Grammys f–k that 0 for 8 s–t."
The chorus makes it clear, though, that Jay and Bey don't need trophies or stats to prove their success. "I can't believe we made it (This is what we made, made)," she sings. "This is what we're thankful for (This is what we thank, thank) I can't believe we made it (This a different angle) / Have you ever seen the crowd goin' apesh–t?"
Photos
Beyoncé and Jay-Z's Date Nights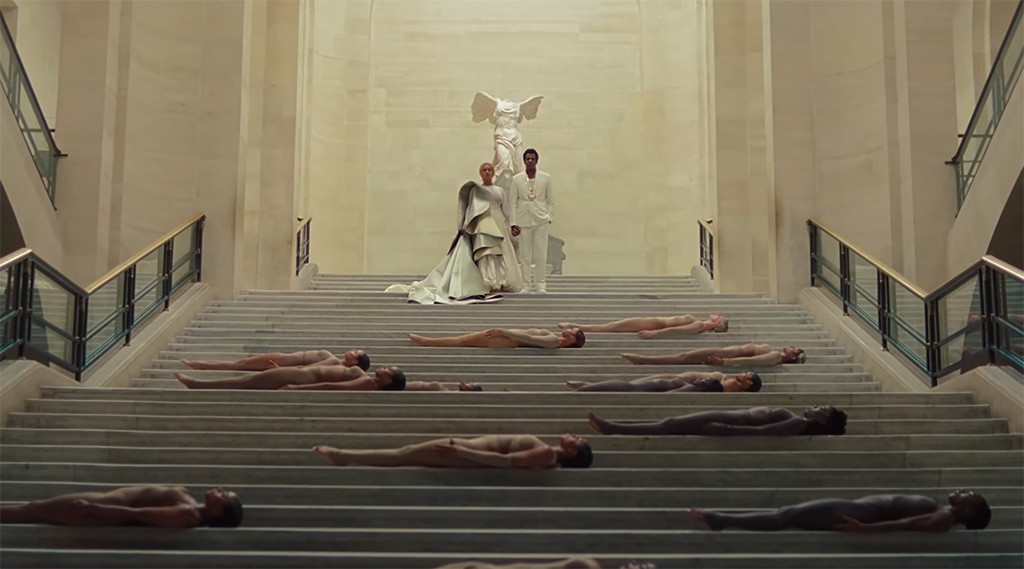 YouTube
3. "Boss"
Beyoncé isn't bossy—she's the boss. In this track, she isn't shy about her success, either.
"Ain't nothing to it, real one / Ain't nothing to it, boss," she sings. "Ain't nothing to it, real one / Ain't nothing to it, I boss / Ooh, real one, I'm a boss."
"My great, great, grandchildren already rich," she sings, "That's a lot of brown children on your Forbes list." (Fun fact: Beyoncé has topped Forbes' list of the highest-paid women in music multiple times—including this past year.)
Jay taps on his success, too, rapping, "Hundred million crib, three million watch, all facts / No cap, false n—a you not a boss, you got a boss."
Later in the verse, he raps, "It's disturbing what I gross (What I gross) / Survey says you not even close (Not even close) / Everybody's bosses, to the time that pay for the office / To them invoices, separate the men from the boys / Over here we measure success by how many people successful next to you / Here we say you broke if everybody gets broke except for you / Boss!"
The best part of "Boss" comes in the last few seconds when Blue Ivy, 6, hops on the track to "shoutout" (literally) to her 1-year-old twin brother and sister. "Shoutout to Rumi and Sir," she says sweetly, "Love, Blue."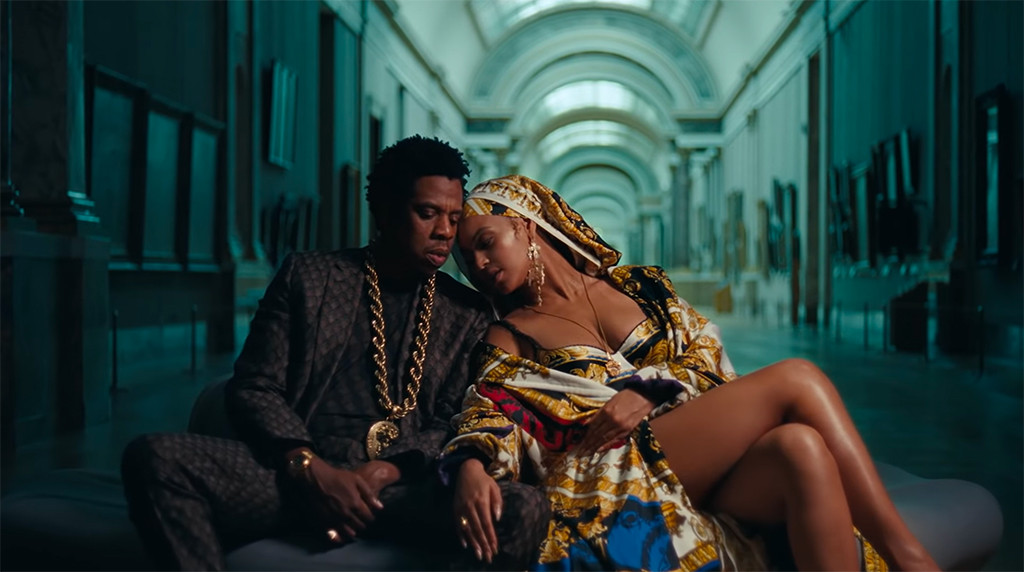 YouTube
4. "Nice" (feat. Pharrell Williams)
Beyoncé and Pharrell's "I can do anything, yeah / Hell nah, hell nah, hell nah, hell nah" won't be the only part of this song that gets stuck in your head…
Jay follows the chorus up by rapping, "And I'm nice, nice, nice, nice, nice, nice, nice / Up all night, night, night, night, night, night, night / Running from the lights, lights, lights, lights, lights, lights, lights / Covered in ice, ice, ice, ice, ice, ice, ice."
It's not just about the catchy lyrics, though: "Nice" takes on Beyoncé, Jay-Z and even Tidal's critics in a clever, we-couldn't-care-less kind of way.
"Patiently waiting for my demise / Cause my success can't be quantified," sings Beyoncé. "If I gave two f–ks, two f–ks about streaming numbers / Would have put Lemonade up on Spotify."
She also gives her firstborn daughter a shoutout, singing, "I ain't never seen a ceiling in my whole life / That's word to Blue / Freestyling live, blueprint from my Jigga who never bribes / I'm so n-i-i-ice / I'm everybody type, god damn right, I'm so nice, Jesus Christ / I'm better than the hype, I give you life."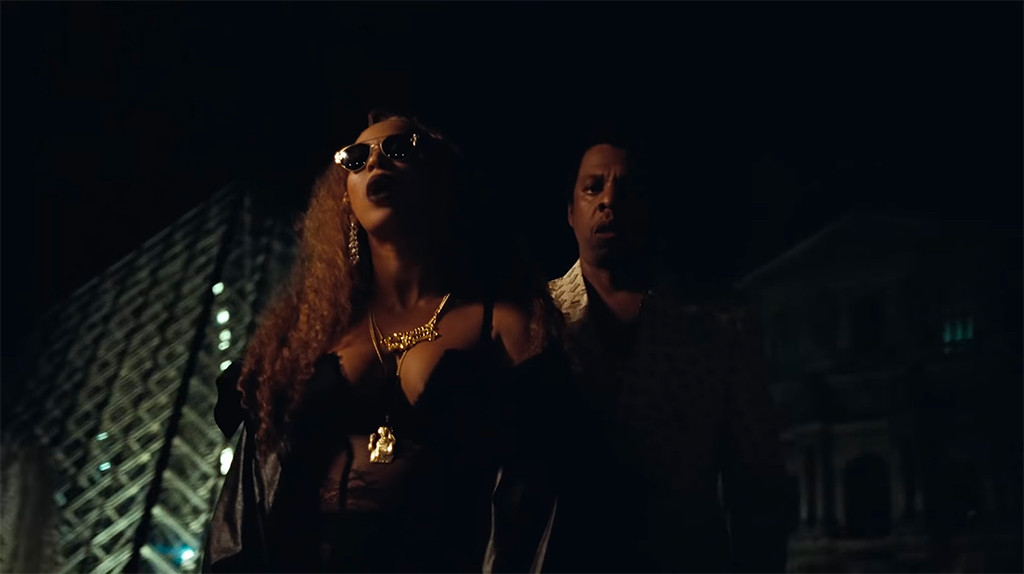 YouTube
5. "713"
Beyoncé pays homage to her Texas roots in "713" (Houston's area code) as she sings, "Representing for my hustlers all across the world (still) / Still dippin' in my low-lows, girl! (still) / I put it down for the 713 / And we still got love for the streets (ow!)"
Jay raps, "Cash, hit deposit / 24-carat faucets / Louis V and Goyard trunks all in the closet / Ain't s–t change, the streets is still watching / And my little baby Blue is like 'Who gone stop us, huh?'"
He raps an outro for "713" that goes: "To all the good girls that love hustlers / To the mothers that put up with us / To all the babies that suffered cause of us / We only know love because of ya / America is a motherf–ka to us / Lock us up, shoot us / Shoot our self esteem down, we don't deserve true love / Black queen, you rescued us, rescued us / Rescued us."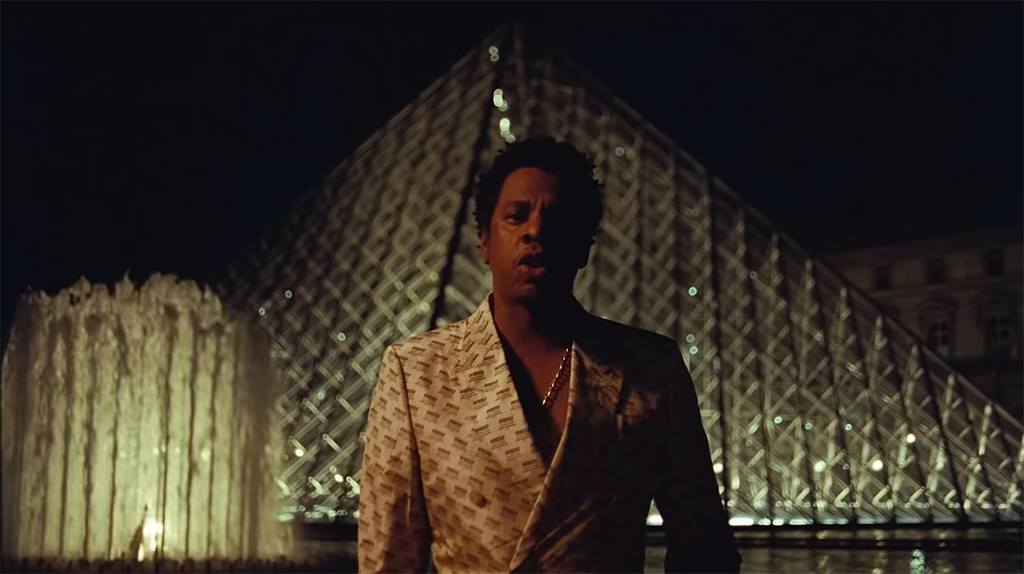 YouTube
6. "Friends"
If you were hoping to join up with the Carter crew, sorry: No new friends is still a thing. In fact, Bey even sings, "I don't know what I would do without all of my crew, yeah / I ain't making no room, yeah / I ain't making no new friends / I don't make no moves, yea, without telling my crew, yeah / That just how we do, yeah, that just how we do / Damn it, I love my life."
Jay-Z professes his loyalty to Beyoncé and Roc Nation co-founder Ty Ty Smith, rapping, "I ain't going to nobody for nothing when me and my wife beefing / I don't care if the house on fire, I'm dying, n—a, I ain't leaving / Ty Ty take care of my kids, after he done grieving / If y'all don't understand that, we ain't meant to be friends."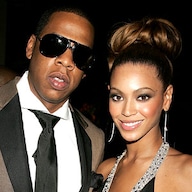 Photos
Beyoncé & Jay-Z Romance Recap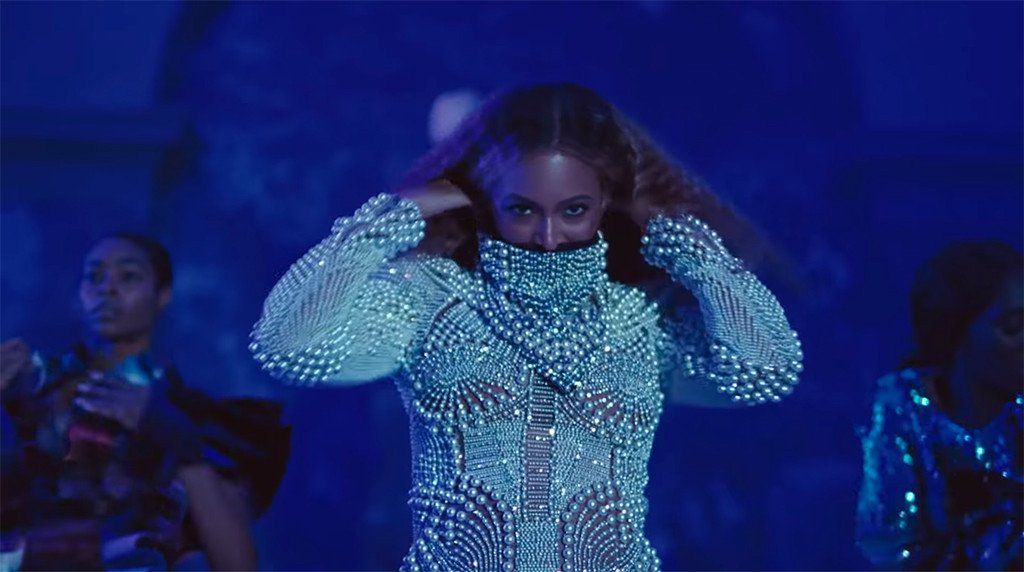 YouTube
7. "Heard About Us"
No secret love children for Jay-Z! In "Heard About Us," the father of three kids (with Beyoncé, obviously) raps, "Billie Jean in his prime, for the thousand time, the kid ain't mine / Online they call me Dad, kiddingly / You're not supposed to take this Dad thing literally / That's too famous, we don't even really do famous."
Of course, fame does have some benefits. As Jay raps, "S–t has its perks too ain't it / Shooting videos in the Louvre, ain't it / It could be far worse for you, can't it / Pain comes with penthouse views, ain't it / Bitch know me, I been me since the cocaine / Bitch know B, she don't even need a whole name (It's Beyoncé, n—a)."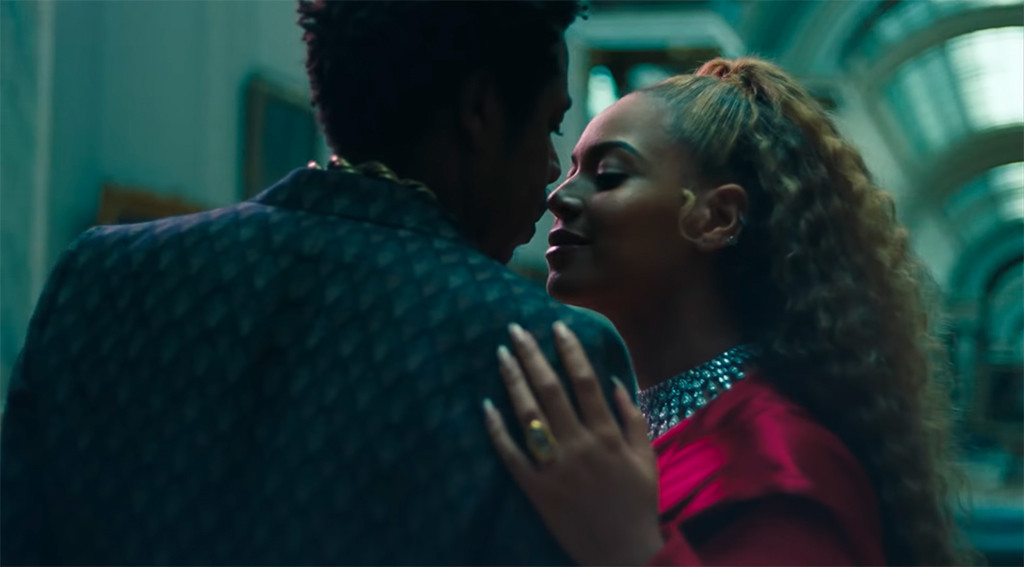 YouTube
8. "Black Effect"
Jay-Z raps that he's "good on any MLK Boulevard," and Beyoncé has his back. The Carters address racial profiling and police brutality with references to Malcolm X, Trayvon Martin and a chorus that goes, "Get your hands up high like a false arrest / Let me see em up high, this is not a test / Let me see em, this is not a test / Now hands where I can see them."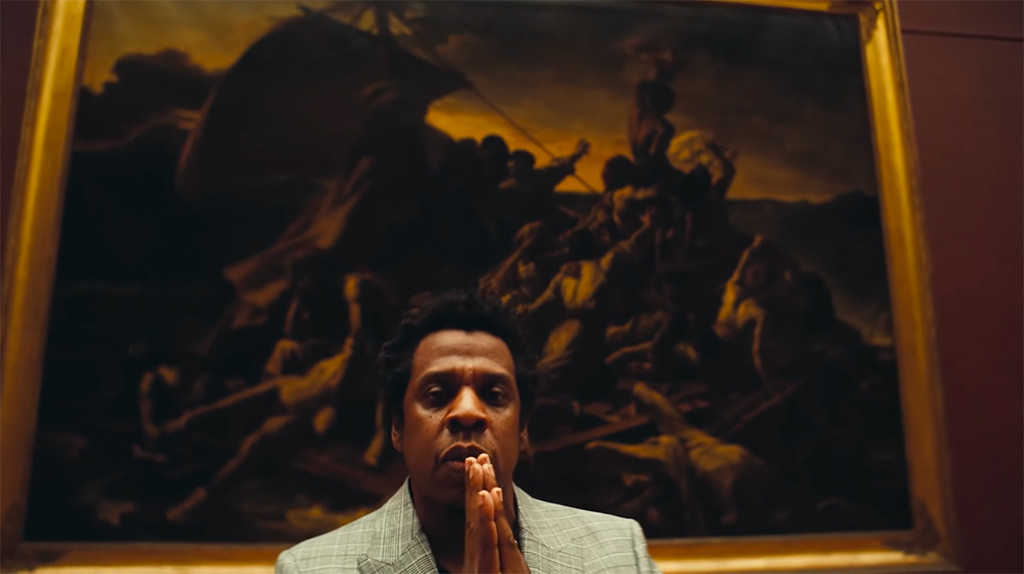 YouTube
9. "Love Happy"
Everything in Love's final track is the grand finale we've been waiting for! Beyoncé and Jay-Z both address the cheating scandal she brought to the surface with Lemonade and he alluded to on 4:44.
"Yeah, you f–ked up the first time, we had to get remarried," she sings, adding after a rebuttal from Jay, "We keepin' it real with these people, right? Lucky I ain't kill you when I met that b—" (We assume that b…is Becky.)
But the chorus seems to best sum up the current state of Mr. and Mrs. Carter's romance. As Beyoncé sings, "You did some things to me, boy you do some things to me / But love is deeper than your pain and I believe you can change / Baby, the ups and downs are worth it, long way to go, but we'll work it / We're flawed but we're still perfect for each other / Sometimes I thought we'd never see the light / Went through hell with heaven on our side / This beach ain't always been no paradise But nightmares only last one night (Happy in love)."
Watch Daily Pop weekdays on E! at 12 p.m.
Don't miss E! News every weekday at 7 and 11 p.m.
Source: Read Full Article