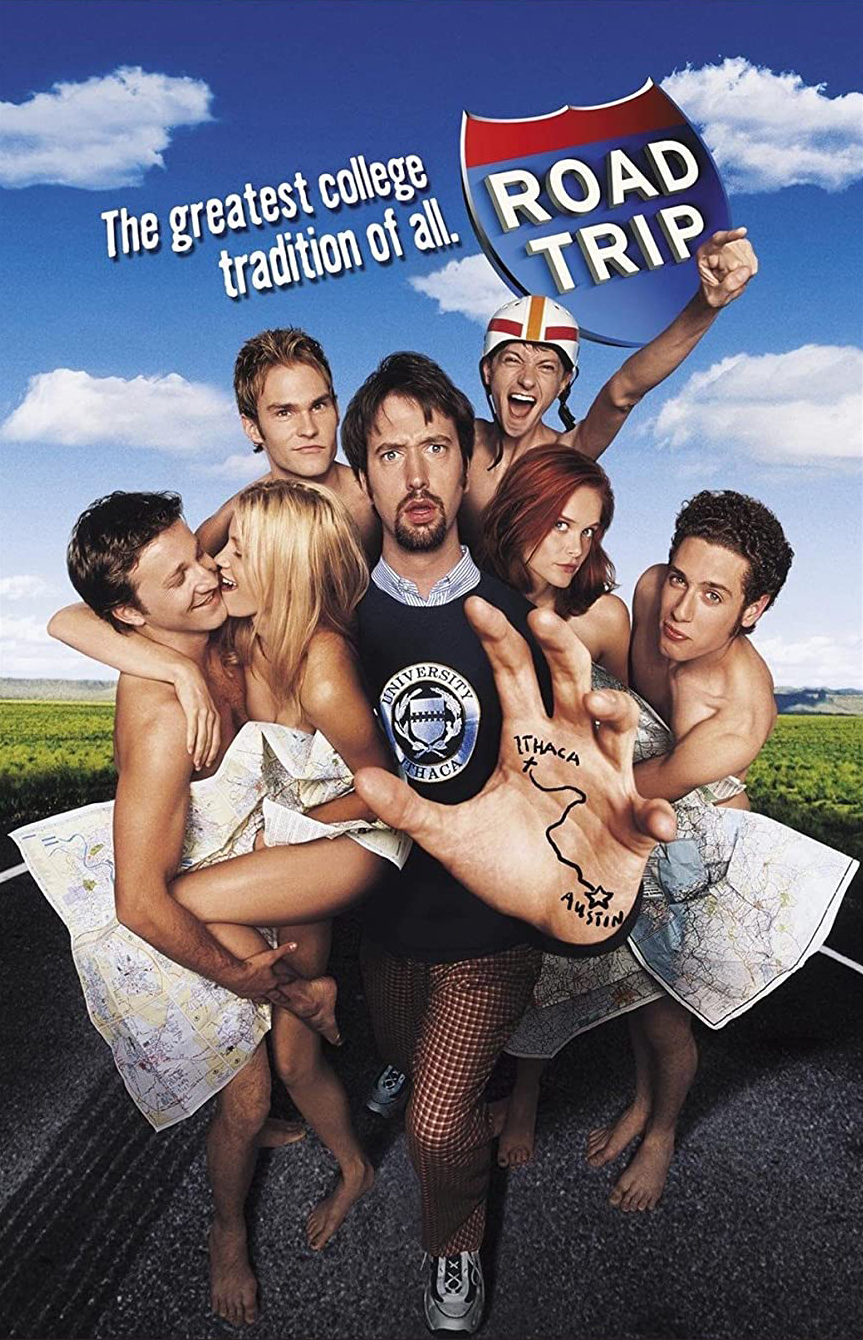 Dreamworks
How do we top Jason Biggs doing it with a pie…?
Such was surely the question on countless filmmakers' lips after the box office success of American Pie, which spurred the urge to fill theaters with debauched hi-jinks that young gentlemen especially would find funny.
Todd Phillipsperfected that formula over the course of the 00s, and he started with 2000's Road Trip, a raunchy gross-out fest cranked up to 11 about a fairly normal college student played by Breckin Meyer who hits the road to intercept a sex tape of him and a one-night stand that was accidentally mailed to his girlfriend, played by Rachel Blanchard, who's at another school. And of course he wouldn't embark on such an important mission alone…
Sex is had between expected and unexpected partners, a prostate is probed, French toast gets a dusting of flop sweat, a mouse is molested by Tom Green. Phillips, who also wrote the story with Scot Armstrong, packed it all in, and even borrowed Stifler from what would soon be a whole American Pie franchise for the ride.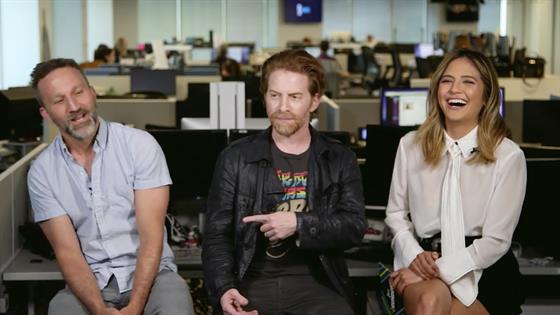 "I find the term 'gross-out comedy' sort of dismissive," Phillips, ready to go to bat for whatever he was working on since the beginning, told the BBC in 2000. "It's very easy to be gross, it's very hard to be funny. I think why Road Trip works is not because of the gross stuff, it's because of the characters."
And since 20 years is a bit of time, definitely enough time for a few twists and turns on everybody's journey, let's get a load of what these miscreants all looked like then vs. now: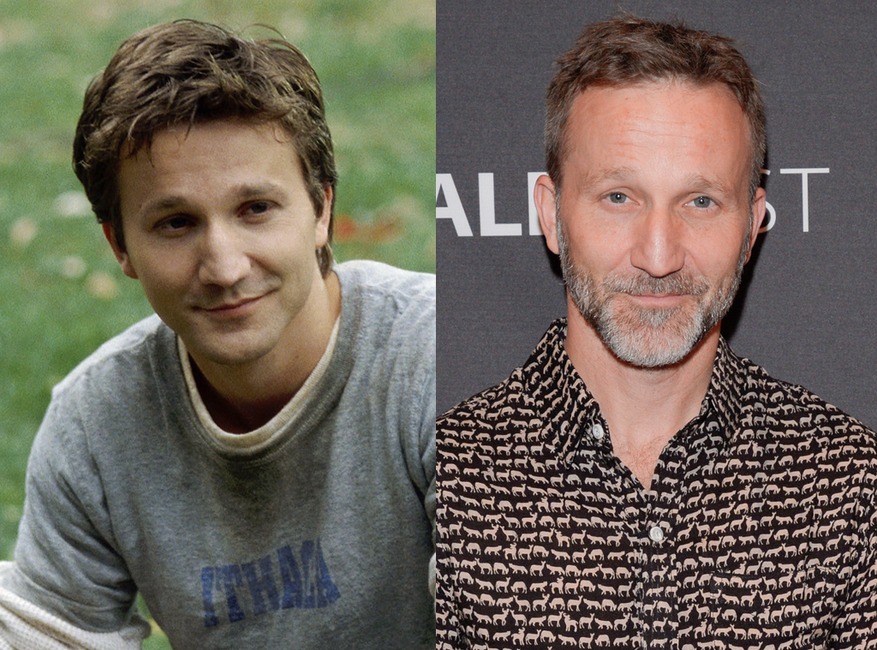 DreamWorks LLC/Entertainment Pictures/ZUMAPRESS.com/Getty Images
Breckin Meyer
After standing out as Travis Birkenstock in Clueless and scoring supporting roles in The Craft, Go and The Insider, Meyer moved into the starring position in Road Trip as Josh—a cheater (it all works out in the end) but the relatively nice, normal one of the bunch. Next up was the ensemble comedy Rat Race and he's the voice of Jon in the Garfield movies with Bill Murray as the lazy, lasagna-loving cat. A regular in movies and TV, Meyer also starred in the legal dramedy Franklin & Bash with Mark-Paul Gosselaar and more recently appeared in Designated Survivor and The Fix.
He has two daughters with ex-wife Deborah Kaplan (who directed him in 2001's Josie and the Pussycats) and since 2017 he's been in a relationship with The Bold and the Beautiful actress Linsey Gofrey after they met on a dating app for people in the industry.
"I always tell him all the time, I'm like, 'I had the biggest crush on you when I was growing up. I loved Travis from Clueless,'" Godfrey told Soap Opera Digest in December 2018. "And I loved him in Road Trip and all that kind of stuff. He thinks that's really funny and I think it's really funny. He was adorable and we both have big crushes on each other. He's the best!"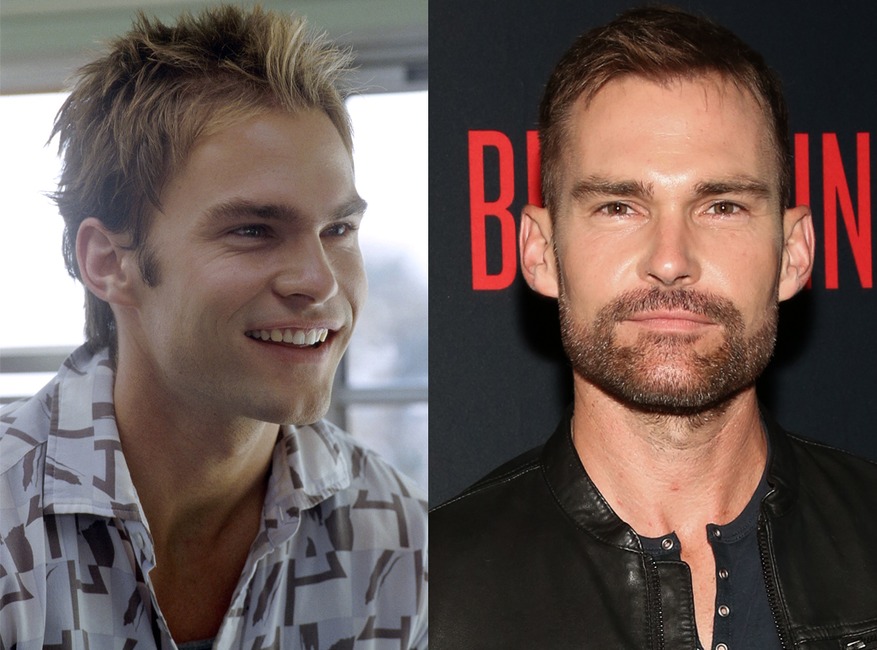 DreamWorks LLC/Entertainment Pictures/ZUMAPRESS.com/Getty Images
Seann William Scott
He had just played Stiffler in American Pie and would have three more turns as the unhinged but well-meaning party animal down the road, but first—Josh's best friend, the mildly unhinged but well-meaning party animal E.L., in Road Trip.
Scott dove into his subsequent type-casting with relish, starring in the bromance classic Dude, Where's My Car? with Ashton Kutcher and Final Destination (both of which also came out in 2000), The Dukes of Hazzard, Mr. Woodcock and Role Models. He also turned up in Old School and Jay and Silent Bob Strikes Back and provided the voice of Crash in four Ice Age films. He has also starred in a number of small films, including the ensemble sci-fi thriller-comedy Southland Tales (audiences didn't really get it either) and the Courteney Cox-directed Just Before I Go.
He actually hasn't done much TV (his movies have quietly grossed almost $5 billion collectively in the meantime), but in 2018 was cast in Fox's Lethal Weapon to replace the fired Clayne Crawford as the resident live wire, but the buddy-cop dramedy was canceled at the end of its third season.
Having maintained an impressively private personal life for two decades, Williams married interior designer Olivia Korenberg in September 2019.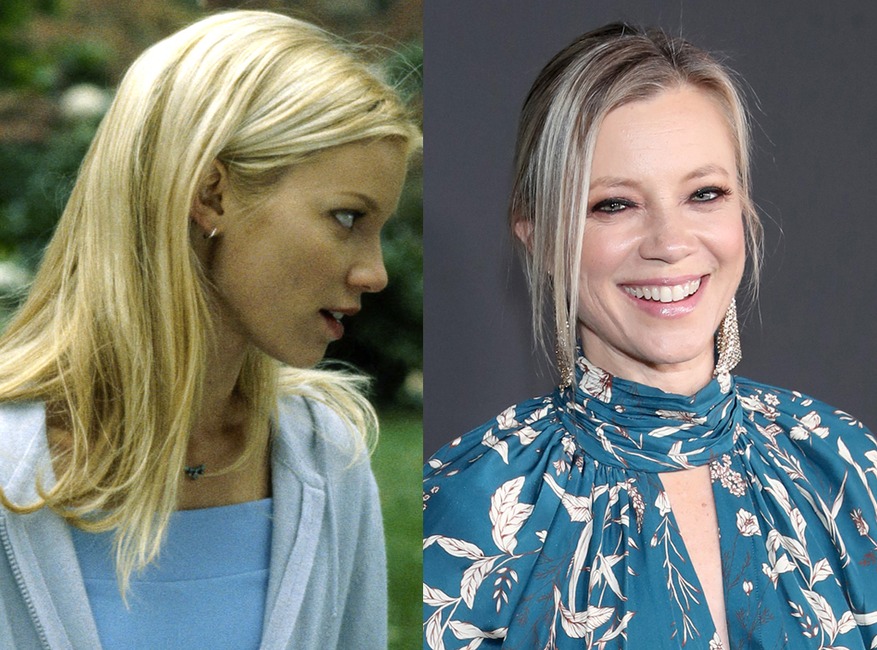 DreamWorks LLC/Entertainment Pictures/ZUMAPRESS.com/Getty Images
Amy Smart
Beth turned out to be the girl for Josh in the end, never mind the shady cinematic start to their relationship.
After Road Trip, which was preceded by modeling, starring in Varsity Blues and playing Ruby on Felicity, Smart reunited with Breckin Meyer in Rat Race and co-starred in The Butterfly Effect with Ashton Kutcher. She has appeared in a slew of films, including Win a Date With Tad Hamilton, Starsky & Hutch, The Best Man, Just Friends (as the object of Ryan Reynolds' long-suffering affection), The Town and the holiday ABC Family classic 12 Dates of Christmas. Later TV work has included Maron, Law & Order: SVU, MacGyver and the new DC Universe web series Stargirl with Luke Wilson, which just premiered May 18, 2020.
Smart married HGTV star Carter Oosterhouse in 2011 and they welcomed daughter Flora via surrogate in 2016.
Article continues below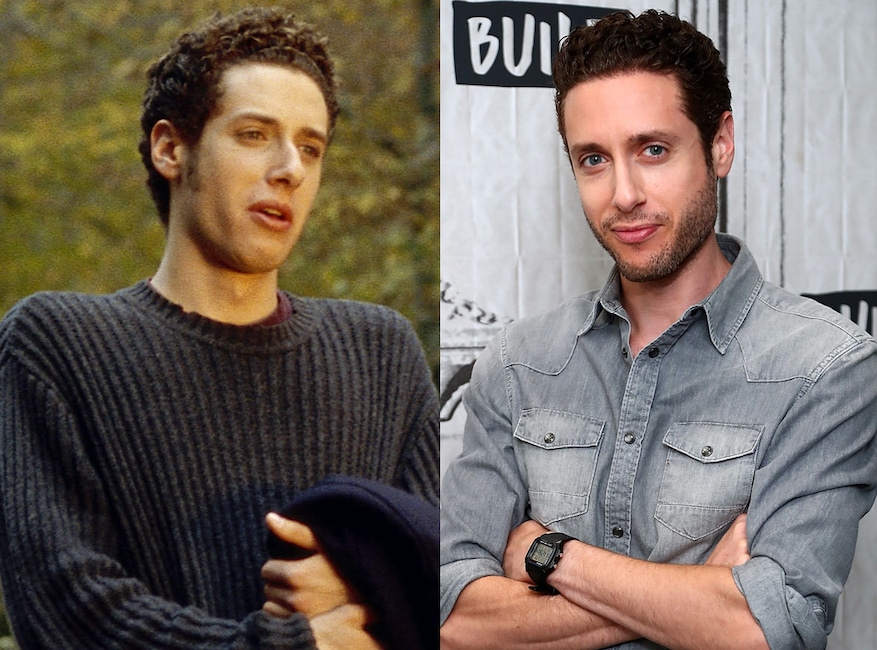 DreamWorks LLC/Entertainment Pictures/ZUMAPRESS.com/Getty Images
Paolo Costanzo
Josh's smart-ass pal Rubin is the reason this road trip was possible, as he's the one who sent the wrong tape (Josh had also been recording innocent video messages in the era before FaceTime and Snapchat) to Josh's girlfriend, Tiffany.
Costanzo went on to co-star in 40 Days and 40 Nights with Josh Hartnett and then landed the technically plum role of Joey's nephew Michael Tribbiani in the ultimately short-lived Friends spin-off. A steadier gig came as a star of the USA dramedy Royal Pains for eight seasons, after which he had a pivotal role in the HBO series The Night Of and joined the cast of Designated Survivor in season two.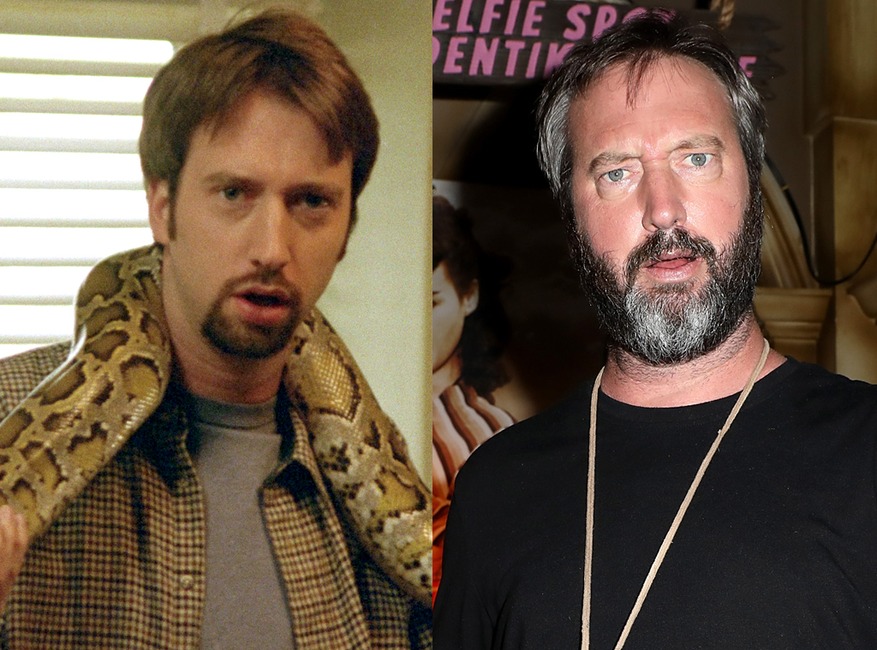 DreamWorks LLC/Entertainment Pictures/ZUMAPRESS.com/Getty Images
Tom Green
Green's bum isn't on the road trip, but his character—Barry Manilow—serves as narrator and school bard. 2000 was an eventful year for the host of The Tom Green Show—he chronicled his successful treatment for testicular cancer on his popular MTV show, and then appeared as The Chad in Charlie's Angels alongside then-girlfriend Drew Barrymore, whom he was married to for eight months in 2001 before filing for divorce that December.
After Road Trip, his biggest movie was 2001's Freddy Got Fingered, but he has written and produced and appeared in all sorts of productions over the years (including Tom Green's House Tonight, an ahead-of-his-time talk show he filmed in his living room, and Tom Green Live), as well as done cameos and a lot of voice work.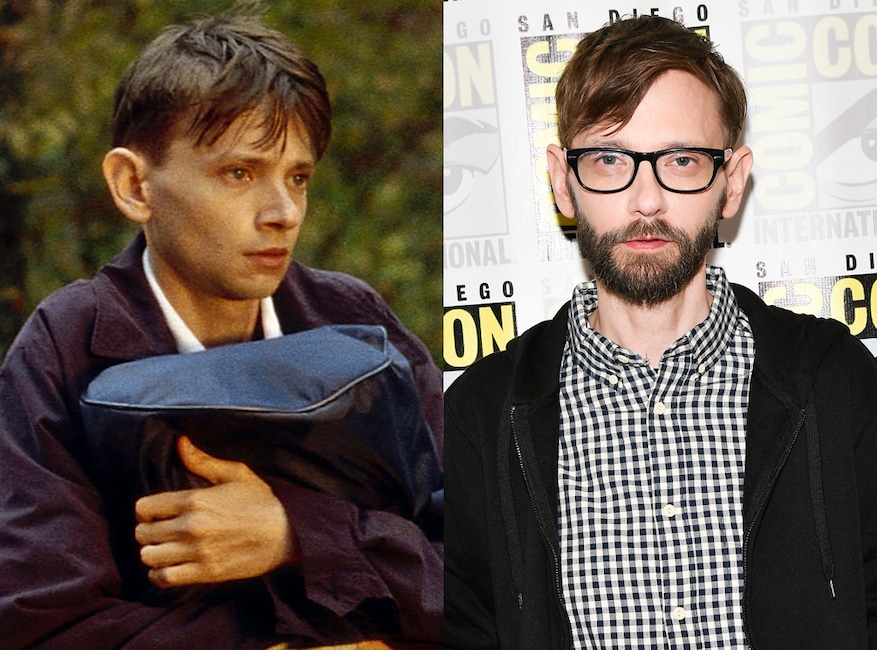 DreamWorks LLC/Entertainment Pictures/ZUMAPRESS.com/Getty Images
DJ Qualls
The meek and scrawny Kyle was a sight gag in and of himself, but though he had some lows (eating adulterated French toast being the most memorable), he also ended up with Rhonda's leopard-print underpants as a souvenir from the best night of his life to date.
After Road Trip, his movie debut, Qualls starred in his own bro comedy, 2002's The New Guy, but is mainly known for supporting appearances in the likes of Hustle & Flow and TV shows including Lost, Criminal Minds, My Name Is Earl, The Big Bang Theory, Breaking Bad, Supernatural, Fargo and The Man in the High Castle, on which he was a regular for three seasons.
He also reprised the role of Kylie in 2009's direct-to-DVD sequel Road Trip: Beer Pong.
After sharing with an audience that he was gay during one of his pal Jim Jeffries' stand-up shows (in 2013 Qualls starred in Legit, a sitcom co-created by Jeffries), Qualls took to Twitter in January 2020 to write, "It is 11:20pm. I just came out on stage at a @jimjefferies show in San Diego. Yep, I'm gay. Been gay this whole time. Tired of worrying about what people would think of me. Tired of worrying about what it would do to my career."
Article continues below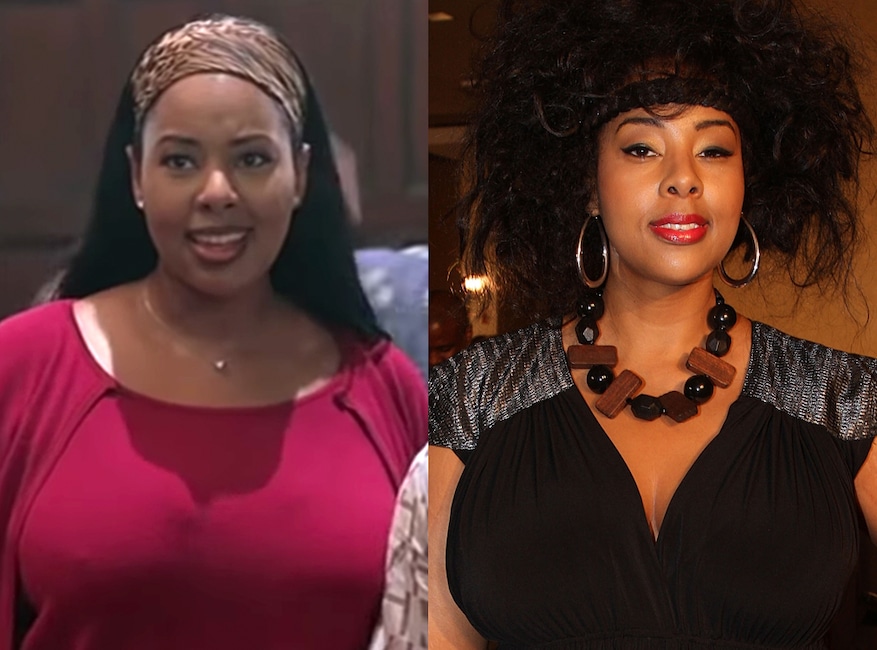 DreamWorks/Getty Images
Mia Amber Davis
None of the aftermath of Rhonda's memorable sex scene, when Kyle's friends tease him, aged well, but Davis made a splash as the confident, sexy-as-hell girl Kyle loses his virginity to on the road. The model and actress went on to a career as a motivational speaker and style consultant before she died at 36 in 2011 from a pulmonary embolism following knee surgery. She was married to comedian Mike Yard from 2008 until her death.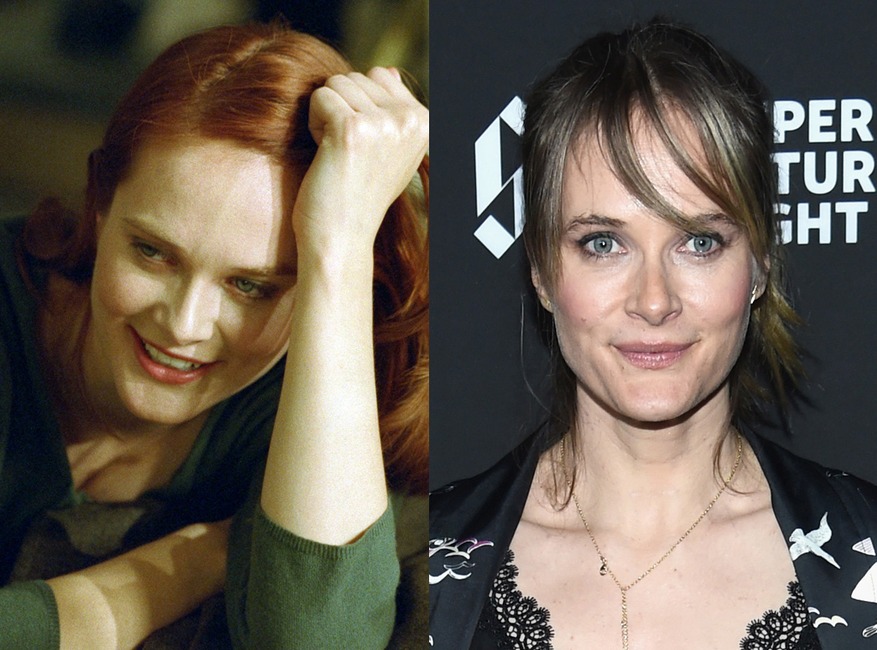 DreamWorks LLC/Entertainment Pictures/ZUMAPRESS.com/Getty Images
Rachel Blanchard
Perfectly nice Tiffany remains none the wiser about Josh's unfaithful ways after the tape turns out not to be what Josh thought it was, and they amicably split up.
Blanchard, the former child star (The Kids of Degrassi Street, Are You Afraid of the Dark?) who played Cher when Clueless was briefly a sitcom, has since worked alongside a slew of talented actors, but her most recognizable film since Road Trip is the instant-cult-classic Snakes on a Plane. Up next, however, she's in Adrian Lyne's thriller Deep Water, the film that brought co-stars Ben Affleck and Ana de Armas together off-camera, due out in November 2020.
Her TV work includes 7th Heaven, Peep Show, Psych, Fargo and Audience Network's You Me Her, which has been renewed for a fifth and final season.
In 2014, Blanchard told ABC News that anything online saying she had a husband named Adrian Brown and two kids was a lie. "That's a rumor," she said. "I think I have an Internet stalker, who started that and then won't take it down. I keep having it taken down and he keeps putting it back up. But I don't have a husband, I don't have two kids."
She has since married composer Jeremy Turner and they have a daughter, Maxine.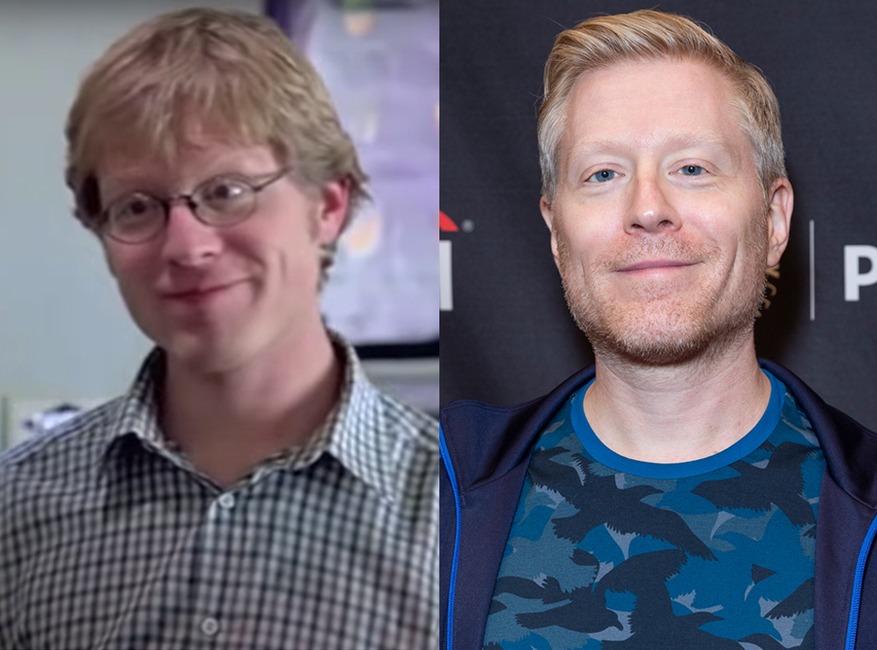 DreamWorks/Getty Images
Anthony Rapp
The star of stage and screen who originated the role of Mark in Rent and Lucas in If/Then on Broadway can play a chilling villain, see anti-Semite McGoo in School Ties and Josh, obsessive TA turned cult leader, in Road Trip. He's appeared in numerous indie films over the years, as well as bigger fare such as A Beautiful Mind and the 2005 movie adaptation of Rent, and his more recent TV work includes Psych, The Knick, The Good Fight and 13 Reasons Why. He currently stars on CBS All Access' Star Trek: Discovery as Lt. Commander Paul Stamets.
In 2017, Rapp changed the course of a lot of things when he said in an interview that Kevin Spacey had made a sexual advance toward him when he was 14 and Spacey was 26, which triggered a spiral of accusations that resulted in Spacey being fired from House of Cards. (Spacey said he didn't remember doing any such thing, but if he did so while drunk, he was deeply sorry.)
"I felt bad for the hundreds of people who were working on the show," Rapp said a year later, reflecting on how swiftly Spacey's career collapsed after he came forward. The actor told BuzzFeed he was "relieved" when House of Cards returned for another season without Frank Underwood.
In November 2019, Rapp announced that he was engaged to his partner, Ken Ithiphol.
Article continues below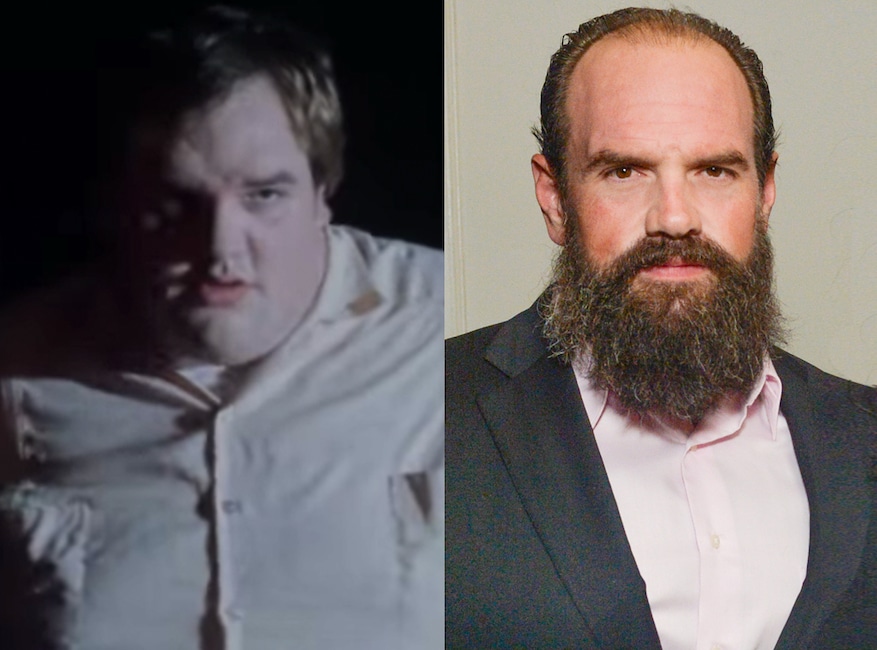 DreamWorks/Getty Images
Ethan Suplee
The before-and-after of the prominent character actor never gets old. Suplee had already excelled at comedy (the only one who can't see the optical illusion in Mallrats; a high school bully's strongman in Boy Meets World) and drama (as Edward Norton's racist lump of a friend in American History X) by the time he had a small role in Road Trip as Ed. He was played a high school football player in Remember the Titans in 2000 and went on to co-star in My Name Is Earl from 2005 to 2009. His film resume includes The Butterfly Effect, Cold Mountain, Unstoppable, The Wolf of Wall Street, Deepwater Horizon and the Norton-directed Motherless Brooklyn, and more recent TV work includes Hulu's Chance, the new Twin Peaks, and Netflix's The Ranch and The Santa Clarita Diet.
He has four children with Brandy Lewis, his wife since 2006, and in January 2020—after almost a lifetime of yo-yo dieting and gaining and losing hundreds of pounds—he proudly revealed off his new muscled physique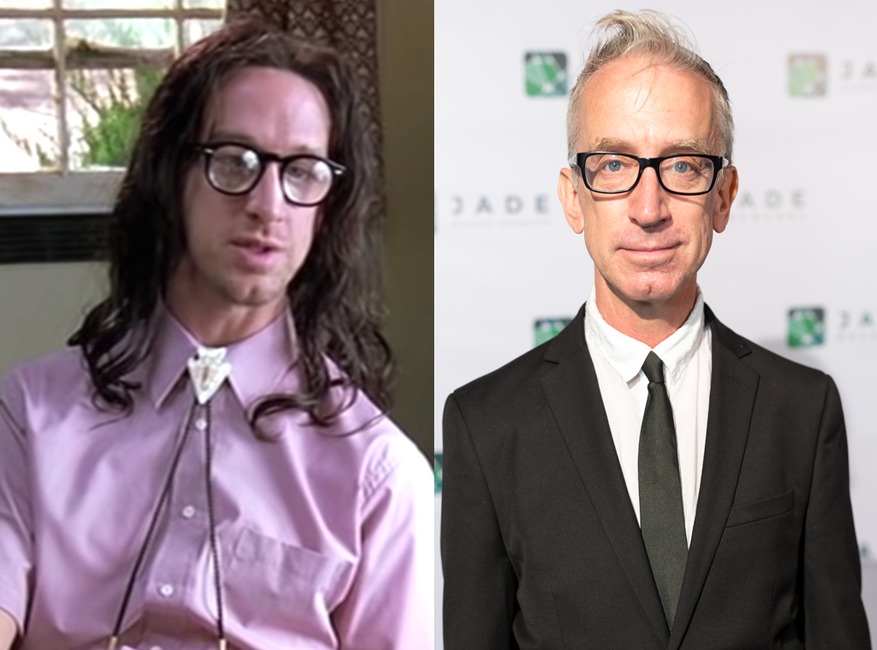 DreamWorks/Getty Images
Andy Dick
The News Radio star and all-around quirky fellow had a brief cameo as an obviously strange motel clerk.
Amid several arrests over the years, some of them involving indecent exposure and groping other men, Dick has been open about struggling with substance abuse that has had him in and out of rehab. But despite the toxic behavior, he has stayed busy, having his own sketch show, The Andy Dick Show, on MTV for a couple years; becoming a regular on the dais at celebrity roasts; releasing a few comedy albums; and doing a lot of cameos as an oddball in the likes of Community, Maron, Workaholics and Netflix's Sense8.
Dick has a son from his first marriage, to Ivone Kowalczyk, and a son and daughter with partner Lena Sved—who obtained a restraining order against Dick in 2018, claiming he had gotten belligerent in front of their son, who in turn locked his drunken father out of the house.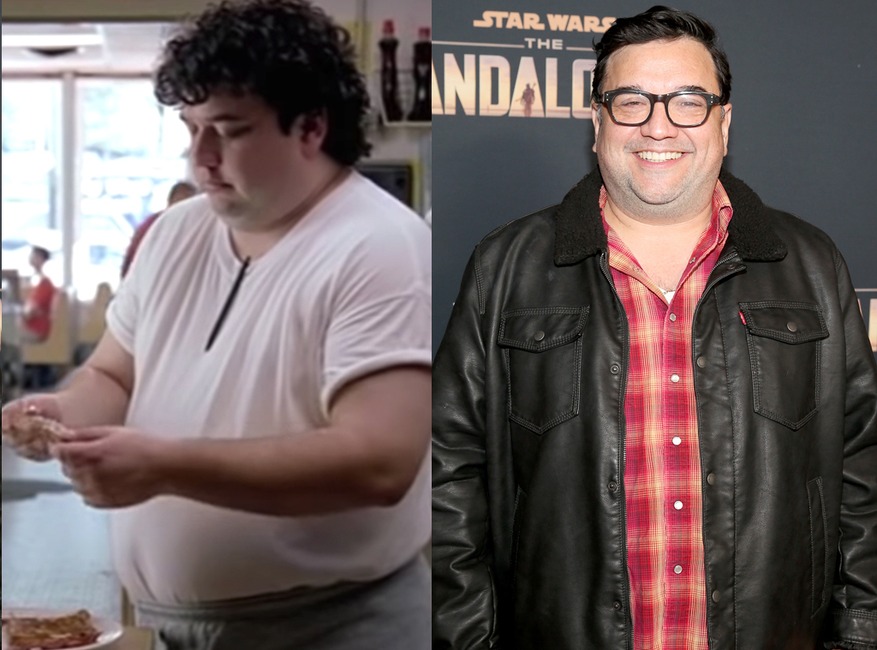 DreamWorks/Getty Images
Horatio Sanz
As "French Toast Guy," an otherwise unnamed diner cook, he amiably agreed to give Kyle a new plate of French toast without powdered sugar, and proceeded to remove the sugar in every obscene way imaginable and serve it back to him.
Sanz had joined the cast of Saturday Night Live in 1998 and stayed until 2006, while also building a resume of small but standout comedic roles in the likes of Boat Trip, School for Scoundrels, Lucky You, Step Brothers, Year One and Bachelorette. He's also the voice of Duncan in Wreck-It-Ralph and Ralph Breaks the Internet. His acting on TV has included 30 Rock, House of Lies, Parks and Recreation, Unbreakable Kimmy Schmidt, Modern Family, Scorpion, GLOW and The Mandalorian.
In 2008 he revealed that he'd lost about 100 pounds, and later said on The Tonight Show that he'd been working out more and cut out alcohol.
Sanz is quiet about his persona life, but he married his wife Jenn in 2015.
Article continues below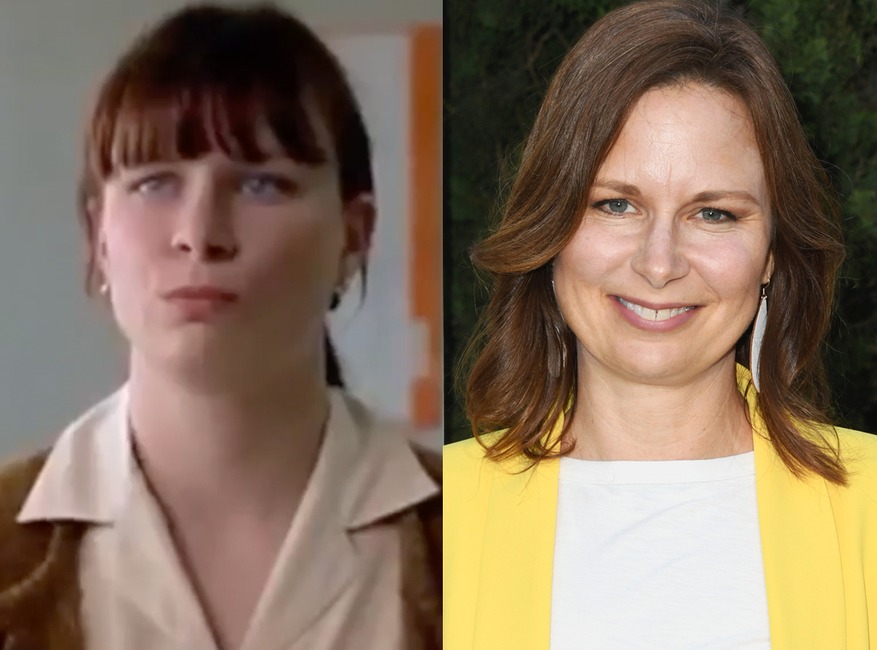 DreamWorks/Getty Images
Mary Lynn Rajskub
A prolific improv comedian and star of Mr. Show and The Larry Sanders Show long before she became the unflappable IT wiz Chloe O'Brian on 24, Rajskub had a quick turn in Road Trip as school bus dispatcher Blind Brenda whose intuition (and middle finger) works just fine.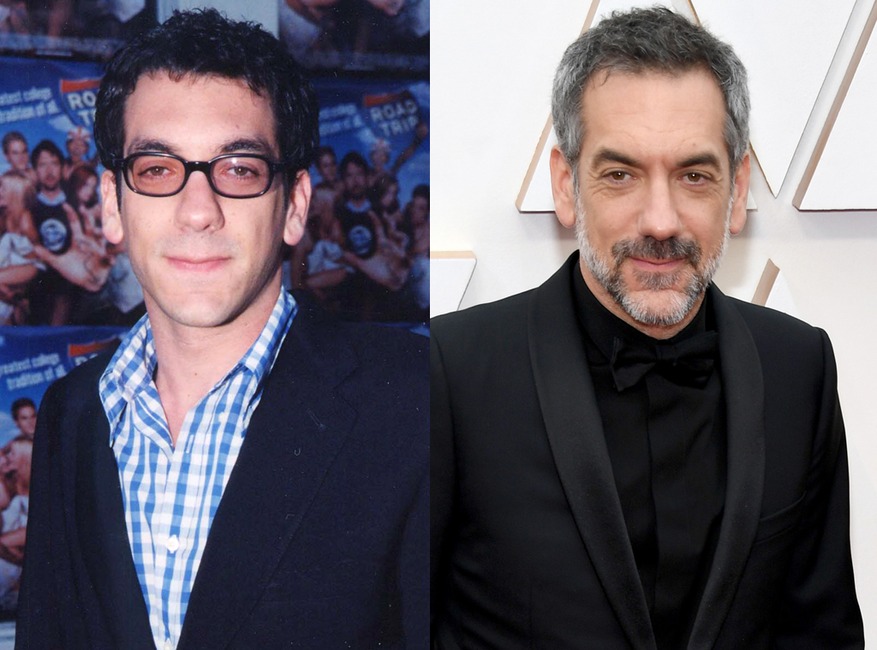 Getty Images
Todd Phillips
Road Trip was just an early stop on the journey for Phillips, who got his start making documentaries (Frat House put him on the map) and then went on to direct and/or write Old School, Starsky & Hutch, School for Scoundrels, The Hangover (as well as Part II and Part III), Due Date, War Dogs and Joker. He also produced A Star Is Born with longtime buddy Bradley Cooper, who in turn was a co-producer on Joker, which was nominated for 11 Oscars, including Best Picture and Best Director. Joaquin Phoenix won Best Actor (as well as every other major award), and Hildur Guðnadóttir won for Best Original Score.
"I'm writing another comedy," Phillips told the BBC in 2000. "But don't worry, it's not a teen movie at all." Just adults who start a fraternity, that's all, and it's spectacular.
Road Trip made almost $120 million worldwide and put Phillips on the dude-comedy map—though, as he would be quick to point out, each of those dudes has a purpose.
Source: Read Full Article