Spoilers for Arrested Development Season 5 Part 1 ahead. Anyone who's watched Arrested Development knows that Buster (Tony Hale) can easily become hysterical — especially when he gets his hands on some juice. But in the show's fifth season, which arrived on Netflix on Tuesday, May 29, the youngest Bluth appears to be in a little over his head. Lucille Austero (Liza Minnelli) is missing in Arrested Development Season 5, and her former paramour/son figure is acting incredibly suspicious. But wait, did Buster kill Lucille 2?
The fact that Lucille 2, who is a majority stakeholder in the Austero Bluth Company has not been seen so far in Season 5 is definitely shady. However, viewers see Michael speaking with her on the phone (maybe?), and anytime a characters asks where Lucille 2 is, the entire Bluth family acts suspicious. Luckily, audiences find out in Episode 8 when Buster's mother visits him in jail that Lucille 2 is fine but "can't come back right now." Buster asks, "You know where she is?" And Lucille responds, "I know who she's with! And that's all I can say."
Does that mean that the Bluths are hiding Lucille 2 away somewhere so they can take control of the company again? If so, Buster obviously didn't know anything about it beforehand. "Did you tell them that you found Lucille 2 passed out on the stair car?" Michael asks an imprisoned Buster. "I think I said 'dead,'" Buster responds. "No, maybe they said 'dead,' and I said, 'I wish.'" "Why'd you do that?" Michael asks. Buster answers, "I thought it was funny."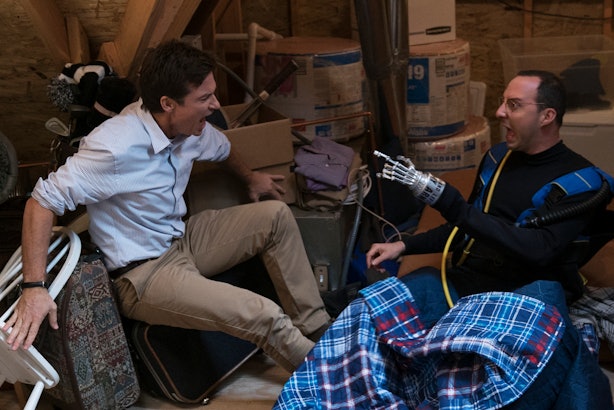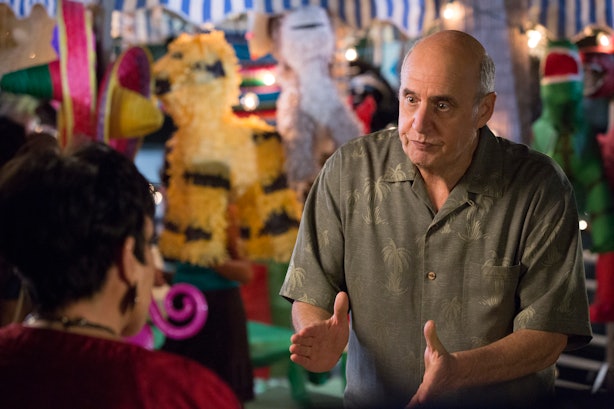 Lucille 2 also ran into Tobias (David Cross) that night and promptly fired him from her Austerity rehab clinic. She saw Michael, too, who tried to seduce her into forgiving his sizable debt. However, Gob (Will Arnett) gave him a forget-me-now, which meant Michael doesn't remember their encounter.
So while nothing definitive has been revealed about Lucille 2's location so far, Buster seems to be cluelessly going along with it. And at least now viewers can rest assured that their beloved monster isn't a murderer. Like Lucille 2 told Buster at Cinco de Cuatro, "I've never known you to want to hurt anybody." And she was right.
Editor's note: Season 5 is controversial due to the presence of Jeffrey Tambor, who was fired from Transparent after being accused of sexual harassment by two co-stars (he denies these claims); he also admitted to and apologized for verbally harassing Jessica Walter on the Arrested Development set in a recent New York Times piece. Co-stars Jason Bateman, David Cross, Will Arnett and Tony Hale were criticized for seeming to defend Tambor and minimize Walter's experience, in the same interview. Bateman, Cross, and Hale have since apologized.
Source: Read Full Article