After much speculation, Camila Mendes is giving fans a little insight into her new romance. According to E! News, Mendes confirmed her relationship with Victor Houston in an interview with the publication at the 2018 Beautycon event on July 14. So now all of the actor's fans can get to shipping the cute twosome.
The Riverdale start didn't beat around the bush during her interview with E! News. Instead, she got straight to the point when asked to confirm her relationship, saying, "I can confirm, sure, I don't care. Sorry, guys." Yep, Mendes is over trying to keep her relationship status a mystery.
Her confirmation comes after some speculation into whether the two were dating, thanks to some very interesting social media posts. In early June, romance rumors were sparked when Mendes posted a fun photo on Instagram embracing the "Archie Andrews" lifestyle with Houston and photographer Barron Roth as they kissed her cheeks. Still, their relationship was only rumored at this point.
On Houston's Instagram account, he's shared multiple photos of him alongside his girlfriend. One particular snap that got a lot of people talking was posted on June 29. The couple posed for the camera together, in a sweet embrace, and he captioned it with, "Happy birthday beautiful." So it's safe to see why some speculated about the couple's relationship status back then.
Her beau also posted a selfie with Mendes on June 30, where they were seriously all smiles, and captioned it with a simple, "Baby." Now that the Riverdale star has confirmed things once and for all, you can probably expect even more cute selfie moments from them.
Who is Houston, exactly? Well, he's not exactly in the entertainment industry, like his popular girlfriend. E! News previously reported in June that they actually attended neighboring high schools in Florida. A source told the publication that the couple reconnected in New York City and have been dating for around two months. Even though Riverdale recently began filming again, per Teen Vogue, the source also told E! News that she "has been making an effort to see [Victor] in between shooting."
While Mendes did recently confirm that she's dating Houston, she released no further details about their relationship as of yet. Although, it could very well be that she simply wants to keep some aspects about her dating life private, which is completely understandable. Before opening up about being official with Houston, the actor was similarly pretty mum when it came to the new man in her life during an interview with NYLON in July. She told the publication: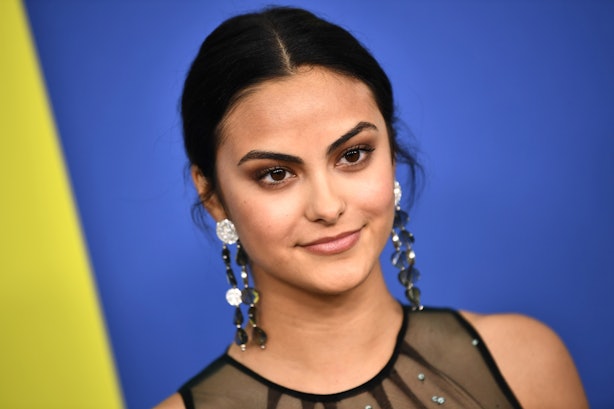 She may not have talked about Houston specifically, but she did open up to NYLON about how hard it is to date others in the same industry as her. "It's just dating people in the industry is tough. I did for a little bit. I've just dated actors. It's hard when that's your world," she said, "You only meet people through work and that can be really tough, because you're not necessarily meeting people that you're similar to. It's just people that you're with because you're working on the same project."
Luckily, she's found love with someone who is outside of the entertainment bubble. Based on all of their adorable Instagram photos together, Mendes and Houston look super happy together. And now that she confirmed that they are dating, maybe fans can expect even more couple-y pics from them in the future.
Source: Read Full Article