The birds are chirping, the tulips are blooming, and your most beloved fast casual dining is out for delivery. No offense to the seasonal florals, but the news of Chipotle's delivery is my favorite springtime pleasure this year. To make this revelation even ~spicier~, you can have a Chipotle burrito delivered to your doorstep for free. Wondering how to get free delivery on Chipotle? A stuffed to the brim burrito can be summoned easily by using the delivery service DoorDash. And for a limited time, with the help of a promotional code, delivery is free.
Yes, those luscious bowls, tacos and burritos — the kind only Chipotle can conjure — are now available to arrive at your doorstep. And all without you having to make the effort to put on pants, abandon the comfort of your home, stand in line and acknowledge for the thousandth time that yes, you know that the guacamole is extra. What you won't have to acknowledge or agree to when you open your DoorDash app to place your burrito order is a delivery fee. Which makes more room in your wallet to get another scoop of guacamole on the side. Just saying.
While a spring stroll to your neighborhood Chipotle sounds like a lovely activity, sometimes, even when it's nice out, you just want to be catered too. Enjoy the new blooms from your screened in patio as you await a ringing doorbell.
Starting Apr. 30, Chipotle will be partnering with the dining delivery service DoorDash. This means 1,600 Chipotle locations across the U.S. and Canada, including New York City, Los Angeles, Atlanta, and Washington D.C. will be able to ship out orders to diners who can't quite leave their desk but really need that barbacoa bowl. In celebration of this partnership — which is really more of a harmonious union — Chipotle fans can enjoy free delivery from Apr. 30 to May 6. A DoorDash spokesperson tells Bustle, "To take advantage of this scrumptious offer, simply place your Chipotle order via the DoorDash app and enter the promo code 'GETCHIPOTLE'."
Chipotle is no stranger to promotions that benefit the customer. For which I and my taste buds are eternally grateful. On Earth Day, it was reported that a number of locations were rewarding customers who brought in reusable water bottles and bags with a buy one-get one deal. According to KVVU-TV, all customers had to do was "show off their reusable water bottles or tote bags to cashiers [to] score a free burrito, taco, salad or bowl with the purchase of one of the aforementioned items." Encouraging customers to show off their sustainability efforts to be rewarded with a burrito is really cool of the popular fast casual establishment. I'd rather bask in the blow of a burrito over a golden trophy any day.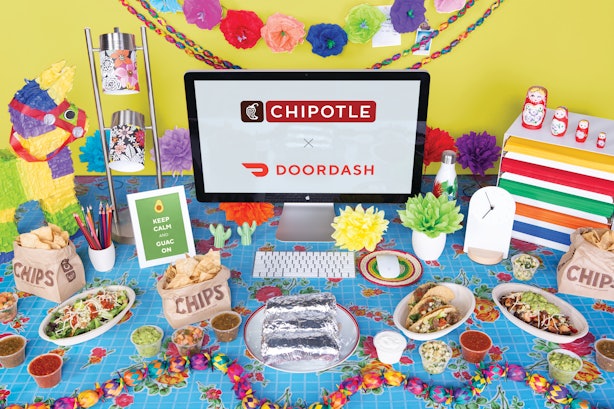 Memorize the promotional code — as a reminder, the magical phrase is "GETCHIPOTLE" — by heart and you'll reap the benefits of getting Chipotle delivered to you for free. At least between Apr. 30 and May 6. Just picture this springtime scene: you in your backyard on your ~lounge chair~ or ~hammock~ soaking in the sweet aromas of a spring garden as your taco order is being prepared.
And while a rose garden might smell delightful, this spring there will be no better scent than a burrito on your lap. Especially when it landed there ~for free~! So lay back, relax, open up your DoorDash app on your phone and enjoy those regular Chipotle cravings a little more this week. You can take a spring stroll after lunch is delivered to your desk, door or hammock.
Source: Read Full Article