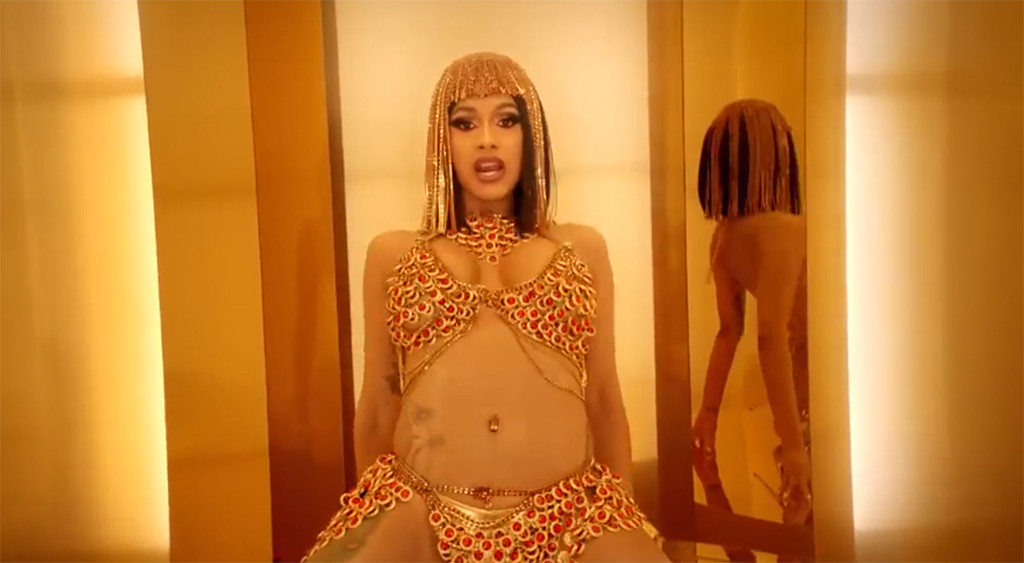 Atlantic Records
Cardi B gets extra racy in her new music video, "Money," which was released on Friday.
The rapper wears several scantily clad outfits, showcases her old stripper moves, balances on two other strippers on a pole and appears naked in front of a piano. Cardi, who welcomed daughter Kulture earlier this year, also breastfeeds what appears to be a baby doll. Female models also show their breasts.
Some fans immediately drew comparisons between Cardi and Nicki Minaj, also known for her scantily clad music videos. In September, the two rappers famously got into a heated altercation at a New York Fashion Week party. Following weeks of bad blood, they appeared to call a truce.
One fan pointed out similarities between two outfits Cardi wears in "Money" and looks Nicki has sported before.
Cardi wears a golden headpiece that resembles the one Nicki had on a 2014 cover of Vogue Italia. Cardi also showcases an elaborate black and white outfit similar to one Nicki had in her, Farruko, Bad Bunny, Travis Scott and Rvssian's 2017 music video "Krippy Kush (Remix)."
Another fan tweeted, "I feel like Cardi B gave HOMAGE to Lil' Kim, Beyoncé, Missy Elliott in the MONEY video. Oh and Cruella De Vil."
Source: Read Full Article