All rejoice hallelujah, the cheesecake gods have blessed us once again with new flavors from The Cheesecake Factory. Hark, is that an "isn't their menu long enough" I hear? Do I detect a distant guffaw at the idea that we need not one but two new cheesecake flavors. Well, SILENCE, YOU CHEESECAKE NON-BELIEVERS. We take what the cheesecake gods offer us and we do not question it.
Starting this July 30, The Cheesecake Factory is adding two new flavors to its menu: Cherry Chocolate Cheesecake and Cinnamon Swirl Cheesecake. Both options are partnerships with brands you know, love, and associate with all things sweet and delicious. The Cinnabon Cinnamon Swirl Cheesecake is made with vanilla crunch cake, cream cheese frosting, caramel, and Cinnabon cinnamon cheesecake. It's basically like if a Cinnabon and a cheesecake had a baby, and it was okay to eat that baby. Each slice comes complete with cinnamon candy crunchies coat on the outside.
The Very Cherry Ghirardelli Chocolate Cheesecake incorporates pieces of Ghirardelli chocolate pieces in between layers of chocolate cake and cherry cheesecake. A slice follows The Cheesecake Factory's notoriously decadent fashion with pieces of real cherries in each slice, a hearty topping of whipped cream, and a crunchy chocolate cherry coating on the outside. It's pink. It's chocolate. It's the cheesecake we all deserve.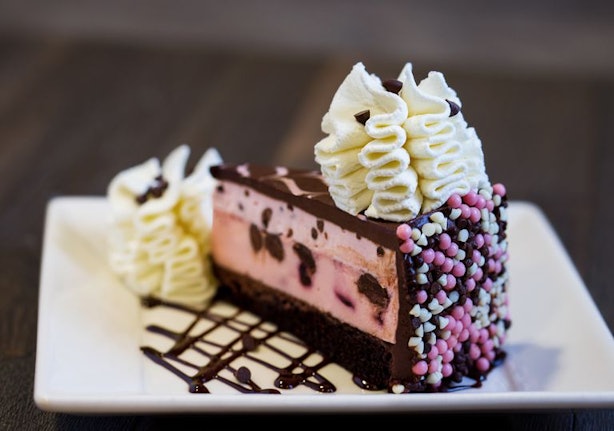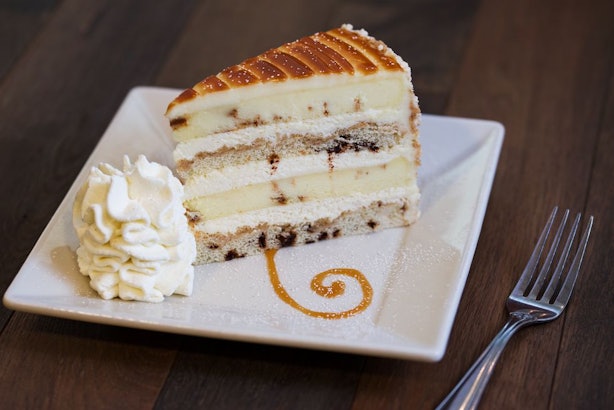 If you're love of The Cheesecake Factory borders on obsession, you're in good company. The cheesecake-centric restaurant got a shoutout on Drake's 2016 album 'VIEWS.' According to a very journalistic investigation by Genius, Drake has been spotted at The Cheesecake Factory at least ten times. Understandably so. Who can say no to free bread?
Speak of which, if you're among those who believe the iconic brown bread to be the star of the show at very Cheesecake Factory experience, you're in luck. The Cheesecake Factory brown bread is coming to grocery stores across the country this year. No more sneaking slices into your purses and pocket or feeling shameful when you ask to box up your leftoverers and an entire loaf of bread. We're all free to enjoy the glory that is The Cheesecake Factory brown bread in shame-free peace.
If you're well-versed in all things cheesecake, you'll know that the release of these two new flavors corresponds with a beloved holiday in the cheesecake comunity. July 30 is National Cheesecake Day. Last year, The Cheesecake Factory debuted a new Funfetti-inspired cheesecake flavor that is the rainbow dessert we've all been dreaming of. There's pink frosting. There's blue frosting. There's sprinkles on the outside of the cake as well as baked into the cake. Funfetti is the OG "unicorn" food trend and we will respect it as such.
In honor of the holiday, The Cheesecake Factory is also running their deal for "Any Slice, Half Price." Just in case eating cheesecake wasn't a worthy enough cause in itself, The Cheesecake Factory is partnering with Feeding America. For every slice of cherry cheesecake sold, 25 cents will be donated to the non-profit organization working toward hunger relief across the United States.
Feeding America partners with 200 food banks and over 60,000 food pantries across the country. The organization also runs targeted hunger relief programs like the School Pantry Program. Through this program, Feeding America provides over 21 million meals to nearly 110,000 children across America every year. You can donate directly to Feeding America here if you want to forgo the experience of eating at The Cheesecake Factory. Or, better yet, donate in addition to indulging in the experience of The Cheesecake Factory. Do good while eating something delicious.
Source: Read Full Article