NBC's Chicago franchise is known for the amazing women in lead roles playing police officers, paramedics, doctors, nurses, and firefighters. If you weren't already aware, yes, Chicago Fire's Miranda Rae Mayo is proud to play Stella, she tells Bustle recently over the phone. Stella Kidd is the only female firefighter currently at Firehouse 51, and Mayo calls it a "humbling" experience to be able to portray not only Stella, but someone who saves people and puts out fires.
"It is an honor to get to play a first responder, period. But to get to play a firefighter, it is the pinnacle for me what is honorable," Mayo says proudly. The role is so important to her that she's even done firefighter training outside of the show. Over the summer, Mayo, David Eigenberg (Herrmann), and Tony Ferraris (a real firefighter who plays Tony on the show) trained with newcomers at a fire college at the Illinois Fire Service Institute (IFSI).
While attending the training, Mayo met Heather Moore, a division chief in Springfield, Illinois. Their meeting left a lasting impression on the 28-year-old. In April, Moore became the first female division chief in the city's history.
Mayo recalls of their encounter, "She was 5'2," she maybe weighed 120, 130 pounds. And she was just talking to me about how it doesn't matter that when I complete a task, it may not look the same as when a guy who is 6'2" and 230 in muscle does it, but I get it done."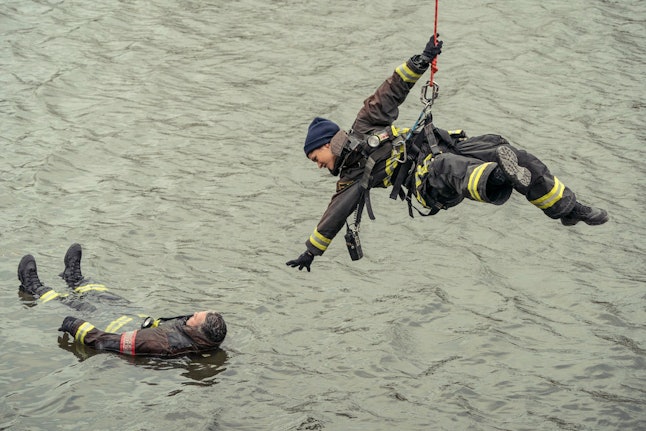 Being able to chat and meet someone like Moore meant a lot to Mayo. "To just be portraying someone of her caliber, of her occupation, in that realm, it blows my mind," she says. "It keeps me wanting to be better and better in my personal life everyday, the fact that I get to play Stella Kidd."
Mayo first came onto Chicago Fire in Season 4 and was upped to a series regular in Season 5. As Stella, Mayo didn't just steal Severide's heart, but also fans. She's someone female viewers have looked up to since the beginning. Many even hope to be her one day.
During her time at IFSI, Mayo met a young woman training, who said Chicago Fire inspired her to become a firefighter. "There was a young lady at the fire college," the actor explains, "I don't know if it was me specifically, but the show, she was just saying that watching the show was what made her want to come and train and be a firefighter. Hearing stuff like that it's just incredible."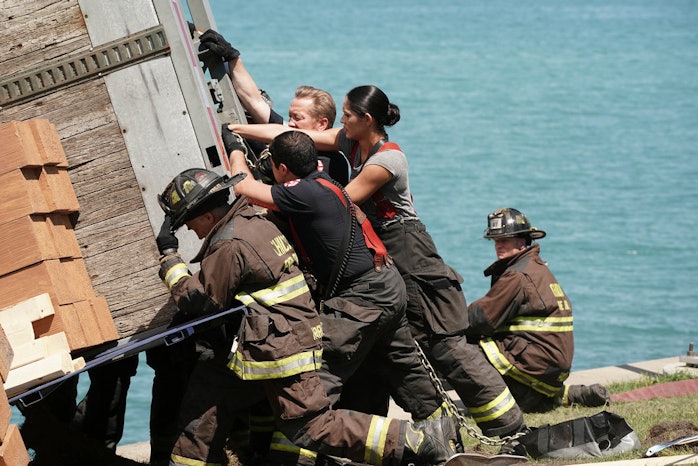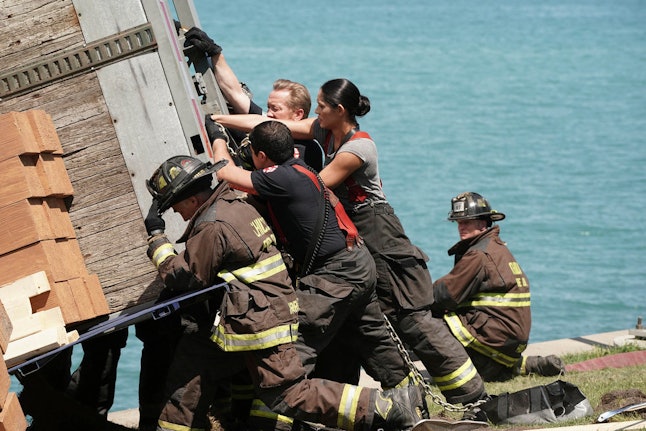 In addition to playing Stella, Mayo also inspires in her real life. The actor is currently training for the 2018 Chicago Marathon on Oct. 7. Nike is sponsoring her, and well, she's experiencing many feelings. "I'm excited, I'm scared, I'm frantic at times, but I am determined, most of all," she says.
Despite going through pretty much every emotion there is, Mayo has chosen to view the marathon in a way that has pushed her to better her life. "The thing that I love the most about this training is it is such a metaphor for life and just breaking through different barriers and obstacles in my own life," she explains.
"Each run feels like its own little mini-marathon and some are really hard and some feel so good, it feels so good to run," Mayo continues. "I just love that it's not about one run, in particular, it's about all of the preparation that goes into getting ready for this event, which is just like life."
For her, the marathon has shown her it's "not about the event," but it's about "the process" and "the journey."
Her life's journey has also found Mayo finally pursuing her other love — music. To make matters even more exciting, a single she's been working on is set to release the week of the Chicago marathon.
"Speaking of breaking through things," she says, "I've been wanting to and dreaming of releasing music, essentially, for my whole life."
She even credits the marathon training for getting her creative juices flowing. "It's been something that has been so nerve-racking and it feels really scary and vulnerable," Mayo says of recording music. "But this training it's been so incredible a big part of it is mindfulness and training my mind so that I can make it through these runs. So, that has just been helping me in every other area of my life creatively, on set, and with music."
Mayo is working with Anthony "The Twilite Tone" Khan on her first single. She calls him a "Chicago legend," who has worked with artists such as Kanye West, John Legend, and Common. She says, "I've just been working on the vocals and I hope people enjoy what I do."
It's probably safe to say Mayo's fans will enjoy what's ahead for her, but most of all, watching Stella continue to empower women of all ages to make their dreams a reality and never apologize for being good at what they do best.
Source: Read Full Article