There are few things more frustrating than when you're casually scrolling through social media and — boom! — spoilers. It's a bummer, for sure, but it's something that you kind of have to expect. On Aug. 7, the day after the Bachelorette finale, Chris Harrison posted a photo on Instagram that some Bachelor Nation fans considered a major spoiler.
The photo in question was of Harrison, Bachelorette Becca Kufrin, and *spoiler alert* Garrett Yrigoyen, who proposed to his lady-love at the end of the episode. Harrison wrote in the caption,
Now, was every fan able to watch the finale live as it aired? Of course not. If you follow Bachelor Nation personalities on social media, though, maybe stay away from social media until you've had a chance to watch the big reveal yourself. Both Becca and Garrett posted celebratory photos on Instagram several hours before Harrison did, but some fans came after the host and his "spoiler" post hard.
"Ugh well thanks for the spoiler," one viewer wrote. "Cause I haven't watched my DVR yet." In response to that comment, another fan replied, "same here. I just threw my phone down and yelled 'dangit!'"
"i knew there'd be at least one!" Harrison retorted in the comments, tagging the bemoaned fan. He then posted a second response, this one directed toward both everyone and no one in particular at the same time.
Harrison wrote:
That was way harsh, Tai — I mean, Chris. Wait, though … was it? Harrison's points are, to be fair, pretty valid. It totally sucks that you 1. weren't able to watch it live, and 2. haven't had time to play it back on your DVR. After all, people have lives, right? On the other hand, the Bachelorette finale aired more than 12 hours ago, and you follow the host of the show. The host! Of course, he's going to post something about the ever-dramatic conclusion. It's literally his job.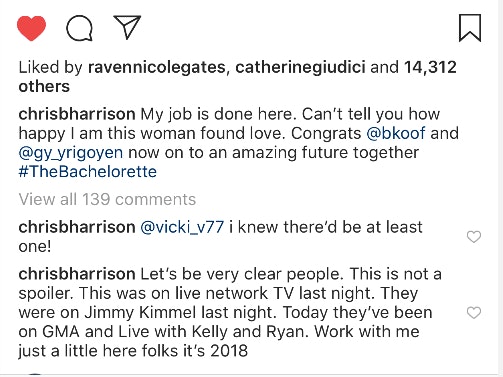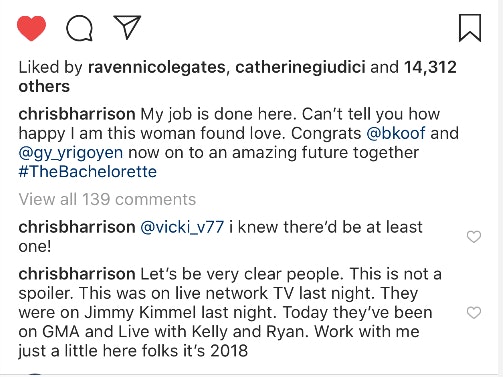 The point being, you have to know how to protect yourself from these types of accidental reveals. Considering the nation-wide fanaticism about the Bachelor Nation franchise, that means no TV, no social media, no internet in general. It's going to be everywhere. If you decide to indulge in any one of those things, though, you should be aware that you're doing so at your own risk — which is probably what Harrison was trying to say by stating that, "it's 2018."
Just be careful, is all. And maybe don't come for Harrison on his Instagram page unless you want him coming for you, too.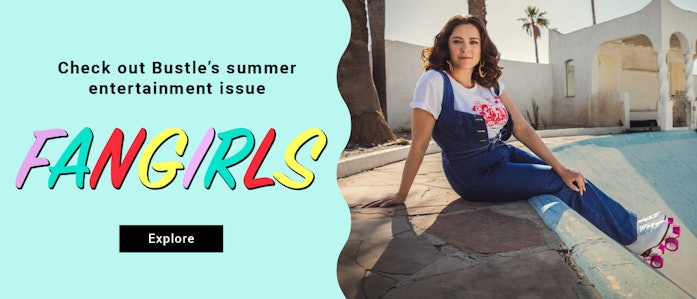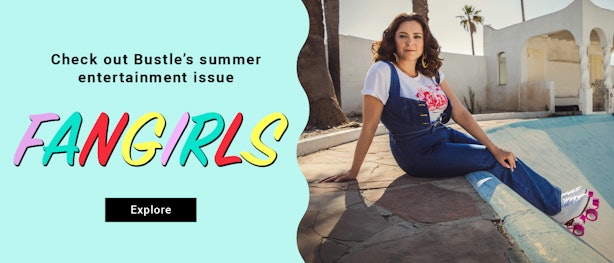 Source: Read Full Article