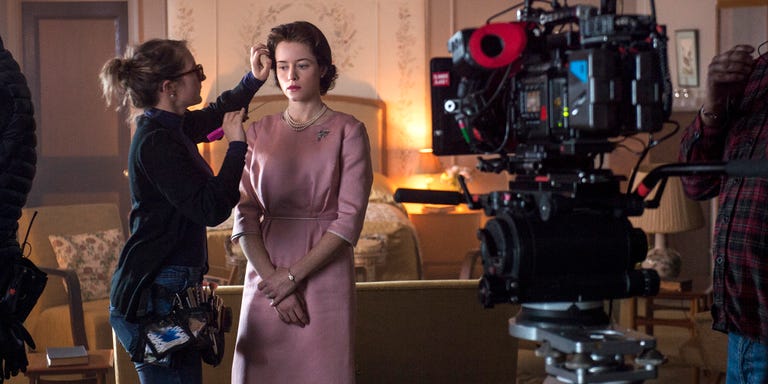 The Crown star Claire Foy inadvertently became the face of the gender pay gap back in March, when a producer of the show revealed the actress's co-star, Matt Smith, made more money for his portrayal of Prince Philip than Foy made as Queen Elizabeth II.
Now, the Daily Mail (via People) reports that Foy received £200,000 in back pay (approximately $275,000) to match what Smith made on the series. Since Foy and Smith both shot 20 episodes of The Crown, it's likely Smith made roughly £10,000 more than Foy per episode. According to a Variety report published in August 2017, Foy made $40,000 (approximately £30,000) per episode of the show.
The controversy began on March 13, when producers Andy Harries and Susan Mackie of Left Bank Pictures told the audience at INTV Conference in Jerusalem that Smith made more than Foy due to his previous high-profile role in Doctor Who. Mackie promised this would not happen again: "Going forward, no one gets paid more than the Queen." The revelation sparked outrage, including a petition asking Smith to donate his extra pay to Time's Up. In a statement, Left Bank apologized to both actors, adding, "As the producers of The Crown, we at Left Bank Pictures are responsible for budgets and salaries; the actors are not aware of who gets what, and cannot be held personally responsible for the pay of their colleagues."
Foy addressed the controversy for the first time in late March, telling Entertainment Weekly she was "surprised" to be in the middle of the conversation, but not by the conversation itself. "I'm not [surprised about the interest in the story] in the sense that it was a female-led drama. I'm not surprised that people saw [the story] and went, 'Oh, that's a bit odd.' But I know that Matt feels the same that I do, that it's odd to find yourself at the center [of a story] that you didn't particularly ask for."
Last week, Smith weighed in, telling The Hollywood Reporter, "Claire is one of my best friends, and I believe that we should be paid equally and fairly and there should be equality for all." He also referenced some sort of compensation for Foy: "I support her completely, and I'm pleased that it was resolved and they made amends for it because that's what needed to happen."
At press time, a representative for Left Bank Pictures did not respond to a request for comment about Foy's alleged compensation. Foy and Smith will not appear in future seasons of The Crown, as their roles were re-cast to account for their aging characters.
Source: Read Full Article