Women in country music are speaking out about lack of representation and gender disparity in the genre.
Country singer Martina McBride, 53, also criticized the lack of female representation in country music after using the streaming music service Spotify.
The "Concrete Angel" singer posted on her Instagram story on Wednesday that she was listening to a song by fellow country artist Sara Evans when she decided to create a "Country Music" playlist on the platform.
The recommendations Spotify suggested she add to the playlist were all by male artists in the genre.
She documented that it took 14 refreshes of the recommendations until one female country artist, Carrie Underwood, finally popped up on the suggestions list for the playlist.
"I just have no words. My heart is pounding. I can't remember when I've been this mad," she posted on her story about the lack of female artists recommended.
"Is it lazy? Is it discriminatory? Is it tone deaf? Is it out of touch? @spotify what.is.it??? Please help me understand," she wrote.
She went on to explain why she was posting about the issue.
"I'm frustrated for my sisters," she wrote in her Instagram story. "For all the great female artists who are making fabulous music. For all the female writers. And MOST OF ALL for every little girl out there who doesn't hear this music And doesn't know that SHE CAN GROW UP AND DO IT!!!"
On Thursday, the country singer shared an update that she had met with Spotify and the two were working to find a solution to the problem. She believes the issue is "industrywide" and not particular to just the streaming platform.
A study was released earlier this year by Dr. Stacy L. Smith and the USC Annenberg Inclusion Initiative, which showed that only 16% of the 500 songs on the Year-End Billboard Hot Country charts from 2014 to 2018 were from women.
The findings backed up long-standing patterns of female country artists being historically underrepresented not only on the charts but also in award shows and on the radio.
McBride also shared photos of some of the most influential women in country music, including Faith Hill, Reba McEntire, Loretta Lynn and Sheryl Crow, among others, in her explanation of why she's so passionate about pushing this cause.
"A female perspective is so important…and has ALWAYS been important…to the narrative of country music," she wrote in her post.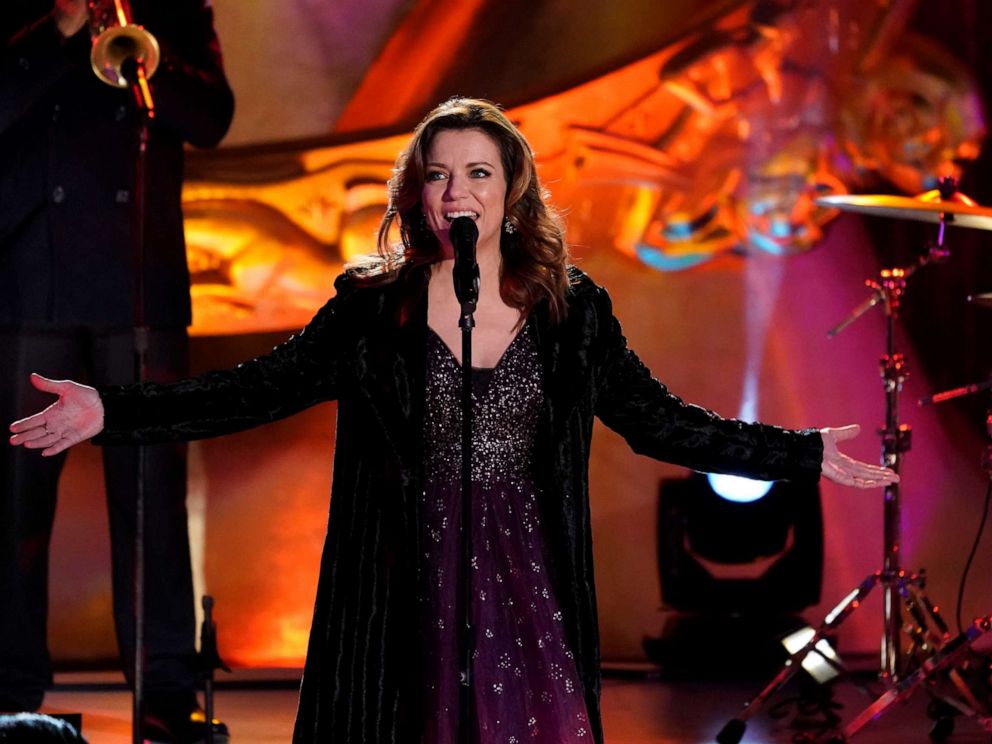 She shared that these strong female artists need more visibility for the sake of the younger generation.
"We have an entire generation of teenage girls that have a limited example of female perspective on their radio station," she wrote. "If they aren't hearing women, who is going to show them that they can also dream big dreams of being onstage and on the radio just like I did when I was a kid looking up to Reba and Patty and Loretta and Dolly and so many others? (Kathy, Suzy, Wynonna, Tanya)."
She also explained whose responsibility it is to continue pushing for equal representation.
"Music should be inclusive and it's up to all artists and industry gatekeepers to come to the table now and work together," she wrote. "It might mean someone taking a chance, taking a risk, doing a little extra. But let's keep this conversation going."
She also issued a challenge to her followers. "Part of the issue is that the gatekeepers say that listeners, especially women listeners, do not want to hear women artists," she wrote. "I'm not making this up .. So I want your help in making a kick— female playlist for Spotify."
She urged people to contribute songs in a suggestion box on her Instagram story.
Source: Read Full Article