Former guests are blasting Dr. Phil for enabling their addictions rather than treating them.
In an expose produced by STAT News and the Boston Globe, three former guests accuse the producers of Dr. Phil of providing them with the very things they were seeking treatment for when they appeared on the show.
The first was Todd Herzog, a former Survivor winner, who has battled alcohol addiction for years. He first appeared on Dr. Phil in 2013 after his family staged an intervention. He was then flown to Los Angeles from his home in Utah and put up in a hotel where he detoxed. By the time he made it to the studio for filming he was sober, but when he arrived at his dressing room Herzog found a 1-liter bottle of vodka there waiting for him.
Herzog downed the entire bottle and a Xanax offered by a Dr. Phil staffer to help "calm his nerves". By the time he was scheduled to appear on set he couldn't even walk. Stagehands and Dr. Phil himself had to carry Herzog and place him in the chair to begin the interview.
"I've never talked to a guest who was closer to death," Dr. Phil said at the onset of the episode. Herzog blew a .263 blood alcohol level on stage – three times the legal limit.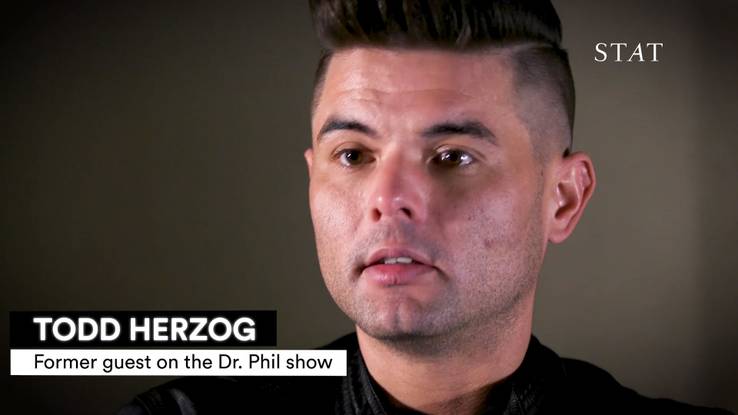 Herzog appeared on the show three more times after that. On the third episode in 2014 another bottle of vodka was waiting for him. On the fourth and final episode in 2016 he made it clear to producers he actually wanted to get clean, and he was put in rehab.
A second guest named Jordan appeared on the show in 2012 after her aunt contacted Dr. Phil about her heroin addiction. Jordan, aunt, and Jordan's mother were all flown out to LA, but during the flight Jordan went into heroin withdrawal. When Jordan's mother contacted the producers saying she needed heroin, they told her to go to Skid Row, a neighborhood known for homeless drug addicts.
Kaitlin, a third guest who appeared on the show in 2016, had a similar story. Kaitlin's mother, Joelle King-Parrish, contacted the show to help treat her daughter's heroin addiction, but there was a complication: Kaitlin was pregnant. Going into withdrawal could harm the baby, so she couldn't be denied either the heroin or immediate treatment. The producers opted for heroin, sending Kaitlin to Skid Row along with a film crew to document her journey.
The show did eventually put her into rehab, but she was kicked out 15 days later for noncompliance. Her baby was put into foster care, and her mother believes Kaitlin is homeless somewhere.
Martin Greenberg, director of professional affairs for the show, denies all allegations saying they're "absolutely, unequivocally untrue."
Source: Read Full Article