Dustin Hoffman Accused Of Multiple SHOCKING Assaults
Eight women have come forward accusing Academy Award-winning actor Dustin Hoffman of sexual assault.
Dustin Hoffman is under siege from women accusing him of sexual misconduct and assault. Eight women have come forward so far with shocking tales of alleged misdeeds, some while they were as young as 15.
Speaking The Hollywood Reporter, Pauline refused to provide her last name, but recounted a horrifying meeting at Hoffman's home in New York.
In 1973, Pauline was working at a Manhattan clothing store that was frequented by Hoffman. The two struck up a friendship of sorts, and Hoffman would often drop by the store just to say hello. One day, he invited her out to see a movie and then back to his home to meet his new puppy. Pauline agreed.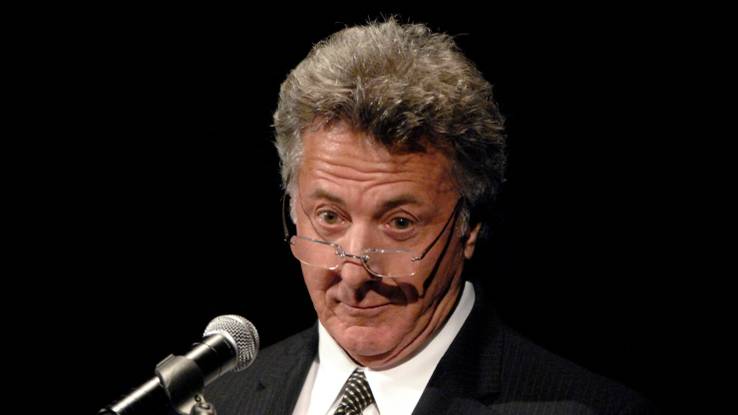 Once there, Hoffman led her to his daughter Karina's bedroom where he proceeded to expose himself and then masturbate in front of Pauline. She was 15.
"I'd never even seen a naked man before. I had never seen anything like it. I didn't know what to say, what to do. I was sitting there eyes wide open. 'I'll be finished soon,' he said. I didn't even know what to say," Pauline told The Hollywood Reporter.
Cory Thomas was 16 when she met Hoffman in 1980. She was friends with Hoffman's daughter, Karina, who went to the same school as her. One evening he took the three of them out to dinner and then suggested they return to Hoffman's hotel room.
"Either Karina or Dustin suggested that (Karina) should go home because it was a school night and she had homework," Thomas recalled. "So she left, and I was left in the hotel room with him alone."
Hoffman excused himself to the restroom and emerged wearing nothing but a towel, which he soon dropped.
"I think I almost collapsed, actually. It was the first time I had ever seen a naked man. I was mortified. I didn't know what to do. And he milked it. He milked the fact that he was naked. He stood there. He took his time," Thomas said.
Luckily, Thomas' mother came to pick her up before the situation could get any worse.
During the filming of the 1987 film Ishtar, Hoffman allegedly assaulted two more women, Melissa Kester and a woman who wished to remain anonymous. The two have similar stories, ending with Hoffman penetrating both with his fingers.
For Kester, Hoffman cornered her in a recording room with her boyfriend oblivious a few feet away. "He put his fingers inside me. And the thing I feel most bad about is I didn't know what to do. I just stood there. I just froze in the situation like, 'Oh my god, what is happening?' It's just shocking when it happens to you," Melissa said.
"Then I just ran out of there, and I sat in the bathroom crying. I thought, 'Oh my God.' I felt like I'd just been raped. There was no warning. I didn't know he would do that."
In 1975, a woman calling herself "Carolyn" worked as a tour guide in Washington DC. As a patron, Hoffman asked her back to his hotel room following the tour bus ride. Once she arrived, Hoffman was shirtless and barricaded her in the room until she agreed to sex.
When it was over, Hoffman gave her $20 for the cab ride home.
Hoffman, speaking through his lawyer, has denied all allegations against him.
Source: Read Full Article