Everything We Know About 'Chicago Med' Season 4
Continuing in television's tried and true tradition of harrowing medical dramas, NBC's Chicago Med has been renewed for Season 4, according to Deadline. As for when that season will debut, fans still have a while to wait — the past three seasons have premiered in either September or November of their respective years.
According to another Deadline report, NBC is taking a page out of Shonda Rhimes' book at ABC and dedicating an entire night to one specific franchise — Wednesdays this fall will be monopolized by the Chicago franchise. Chicago Med, Chicago Fire, and Chicago P.D. will air in that order from 8 p.m. to 11 p.m. on NBC's Wednesday night lineup, according to the outlet.
Star Marlyne Barrett told TalkNerdyWithUs.com in January that though Chicago Med is a familiar genre of television, she thinks it stands out from the crowd because of its pacing and the hospital dynamics it chooses to focus on. "I think we're hitting the marrow of what this cast and production company are able to put together. I think we're able to go down as one of the great shows of healthcare, because of the parallel between what it takes to be a great healer and how to balance your life," the actor said. "I think, contrary to the other shows, we're exploring, at a slower pace, this idea of the constant in our work relationships."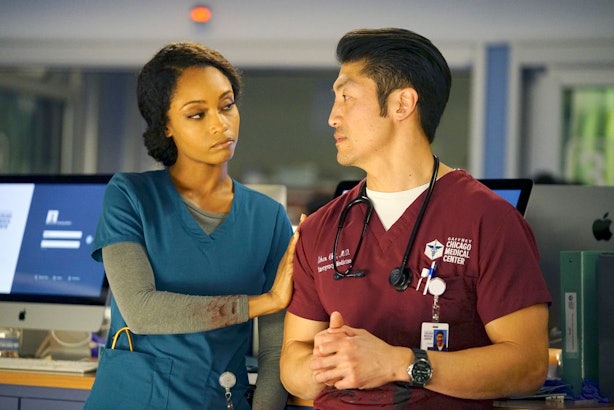 She also said the setting plays big role of how Chicago Med is able to maintain its excitement and drama over several seasons. "Chicago Med is set in one of the most dangerous cities in the country: Downtown Chicago," Barrett continued in the same interview. "It's not Houston with its hospitals that deal a lot with cancer patients. No, it's gunshots and stabbings and car accidents and mental disorders. It's just non-stop drama."
All of the Chicago franchise are the concoctions of TV legend Dick Wolf, who's also behind the original Law & Order and all of its spinoffs. In another interview, Barrett praised his leadership in terms cultivating interesting plots and diversity. "People are going to look at Chicago Med one day and say how ahead of its time it was," she told TheCelebrityCafe.com. "It ends up being this melting pot of a TV show. I know this goes back to all the other shows out there, but [Wolf] is a man that is taking a great leap of faith with all these ethnicities that are being put together. He did it before a lot of people did it."
If Wolf's previous projects are any indication, Chicago Med could have some serious staying power long past Season 4. Law & Order made it to its 20th season, and Law & Order: Special Victims Unit is in its 19th. Chicago Fire, the first of the Chicago franchise, is currently in Season 6, and Chicago P.D. is in Season 5. Deadline reports in the same piece linked above that Chicago P.D. and SVU are tied for second place in ratings behind the smash hit This Is Us, and Chicago Med and Chicago Fire are right behind them.
All of this, plus the fan reactions to Chicago Med as the series progresses, are good signs for the show. Twitter is buzzing with every new development, and Rotten Tomatoes reports a 72 percent positive audience rating for the show. While not perfect, it's also nothing to turn your nose up at. If interest continues, and ratings stay right up there behind NBC's most successful shows, there's really no telling how long Chicago Med could sustain itself. Long-running series likeGrey's Anatomy and E.R. are proof that in this realm of storytelling, the potential is often limitless.
Source: Read Full Article