One of the worst things a parent can be told is that your child has a life-threatening tumour. That was the experience of my neighbours Sue and Wendal six years ago. Audrey, their feisty five-year-old, was diagnosed with an inoperable craniopharyngioma. Coiled around her brain stem, it impinged on her hypothalamus.
Sue and Wendal met with specialists, researched extensively and decided on treatment with the University of Florida Proton Therapy Institute. After two months of organising, the family – including Audrey's older and younger sisters – arrived in Florida to begin the eight-week treatment and auxiliary care program.
Patients come with family, friends, partners and parents from across America and the world for proton therapy and the care which supports and nurtures all of them through the intense uncertainty.
At the end of the treatment everyone gathers to acknowledge the milestone with optimism and relief. When Audrey completed her treatment she, Sue, Wendal, her sisters and all involved stood in the building's vast foyer and celebrated; the weeks of worry over, the family could now go home.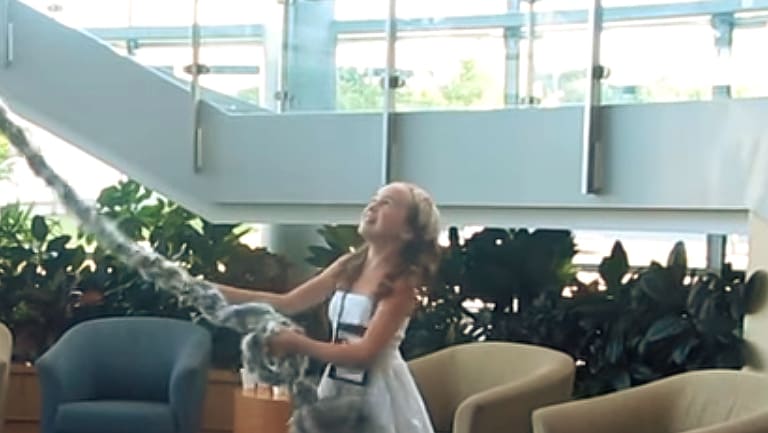 Poppy ringing Aud's Chime after her last session at the University of Florida Proton Therapy Institute in Jacksonville.
After they returned Sue and Wendal talked about giving the institute a gift in appreciation and they kept returning to the space within the glass atrium, which spreads vertically, separating the floors and various hospital wings in the building.
An interval in the building's interior, it's a conduit for everyday sounds; to Sue and Wendal it was an invitation. With a relative they designed a large chime to hang in the atrium to floor level, and after the Proton Therapy Institute CEO and board embraced the idea, the creative work began.
Along with musicians, engineers and metal workers were consulted, and six six-foot-long cylinders were forged. A thick rope – made by a Tasmanian spinner and weaver with wool from Sue's parent's farm – was attached to the chime structure and curled into a spiral on top of the piano below.
On January 26, 2013, with clinicians, board members and patients present, Audrey rang the chime for the first time. The deep melodic sound resonated through the entire building and all present. When Aud's Chime is rung it's heard everywhere and everyone is aware another patient is celebrating the completion of their treatment.
You should see Audrey now: vibrant and articulate, moving from strength to strength. She has responsibility for a growing puppy and is catching up with schoolwork.
The spirit of generosity is a rare gift; a sign of grace and gratitude. Aud's Chime is a permanent reminder that generosity is born of love and hope and can touch strangers from across the world.
Barbara Curzon-Siggers is a writer living in Central Victoria.
Source: Read Full Article