Fans Didn't Hold Back About Hating Lifetime's Portrayal Of Prince William & Kate
Anyone looking to celebrate the impending royal wedding got a chance with a certain Lifetime movie that premiered on May 13. But tweets about Kate and Prince William's portrayal in Harry & Meghan: A Royal Romance show that the movie was anything but universally beloved. It was highly complimentary of its subjects, the soon-to-be-wed Prince Harry and Meghan Markle, but cast the elder royal couple in a very different light. And Twitter is not happy about it. As fan @World_Royalty tweeted,
And she wasn't alone in her critique. Dozens of viewers tweeted their displeasure live on Sunday night as the Lifetime offering aired, a week before the prince and the Suits star are due to walk down the aisle on May 19. Many felt that the Duke and Duchess of Cambridge had been unfairly portrayed against Markle and Prince Harry's relationship, particularly in the beginning. In their fact-check of the program, People reported on that aspect of the portrayal as well, calling it false, insisting that Prince William and Kate Middleton have "always been in the couple's corner."
For proof, the outlet pointed to the joint interview that Markle and Prince Harry gave shortly after their engagement. Asked whether her future sister-in-law had been supportive throughout the relationship, the 36-year-old effused of Middleton, "She's been wonderful." And the former actor's fiancé chimed in, "Amazing, as has William as well, you know, fantastic support."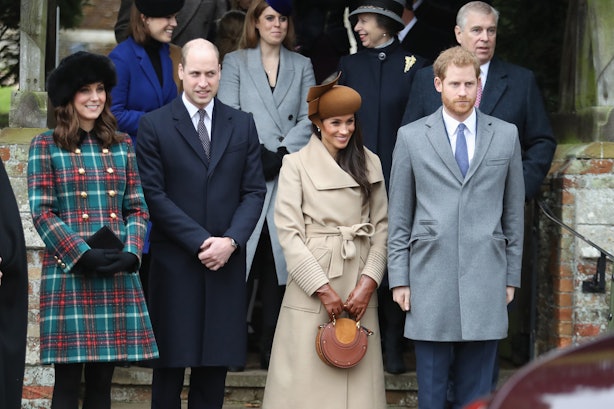 So if that's the reality, then why were Kate and Wills written the way they were by Lifetime? Viewers accused the network of painting the pair as everything from close-minded, to unattractive, to unhappy in their own relationship to even implying the two were in a sham marriage, which really upset some audiences. (Bustle reached out to Lifetime for comment on the backlash, but did not receive an immediate response.)
But these are Lifetime viewers after all, so they're creative even in their criticisms of the network's programming. Here are just a few of the witty complaints dotting the internet right now in the wake of A Royal Romance.
Indignation
"Yes, I'll hold for Mr. Lifetime."
Full-On Fear
The stakes are always going to be high when you can write any line at all into the mouth of a royal.
Disappointment
It's 2018, and many hoped that TV could do a little better than those played-out gender roles of yesteryear like the nagging wife and the nagged husband.
Anger
Go to your room and think about what you've done.
Recognition
You know you've sat across from a fictionalized Will or a Kate at one of your own family functions, and wondered how soon you could get away.
Anticipation
Some people just want to watch the internet burn.
Pure Curiosity
The world demands receipts, and it demands them now.
Disbelief
You're not alone in that.
Delight
Get yourself some popcorn and settle in.
Annoyance
At least use the same cast from the original…
Discouragement
Judge Judy is not amused.
Only the network can explain exactly what they intended, but at the end of the day, the movie is a work of fiction. Every work of fiction needs its antagonists, to help heighten the storyline and move it along, and it appears that Lifetime just got theirs from an unexpected source. The love story that Prince Harry and Markle share is beautiful because it's so simple and easy, and not much got in the way of their romance. But that doesn't make for much of a storyline, so it's hardly surprising that the writers threw in a few curve balls. Based on fan responses, it's a bummer that Will and Kate took the brunt of that negativity.
Source: Read Full Article