In January 2017, Serena Williams had a dream that she was pregnant. She woke up, took a pregnancy test, and discovered that it was positive. She then went out onto the tennis court in Melbourne, Australia, and won her 23rd Grand Slam — against her sister, Venus, no less. File that under "your fave could never." Williams tells this story at the beginning of Being Serena, a documentary series from HBO Sports, the first installment of which premieres on May 2. Its five episodes will follow Serena Williams as she becomes a mother; and the raw and fiercely intimate docuseries showcases the tennis star in a whole new light — one that even her super fans have never seen.
Episode 1 of Being Serena, titled "Fear," takes audiences through Williams' pregnancy, which is surprisingly free from complications, such as morning sickness. She and her then-fiancé, now husband, Reddit co-creator Alexis Ohanian, anticipate the arrival of their baby girl by setting up her room and displaying Williams's newest trophy in a spot of honor. "I wanted her to see the Australian Open trophy, because she should know that having her in my body didn't stop me from succeeding — from winning," Williams explains.
In fact, it seems to be business as usual throughout her pregnancy. A mere 35 days before her due date, Williams even works out with her personal trainer. "Your shirt's gonna pop up with this one!" the trainer jokes of her protruding belly. "I know, my shirt's too small!" she laughs, looking down at her swollen stomach. Of course, staying fit and healthy would be a priority for this mom-to-be in particular.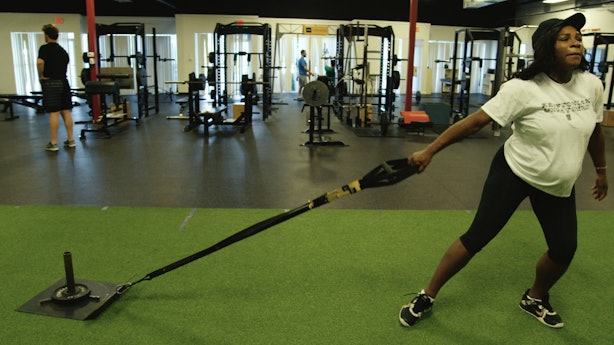 Throughout the episode, a countdown clocks the time remaining before the baby is due, stoking fear of what's to come. "I'm not someone who takes their health for granted," Williams says. "With as many issues and scares as I've had — embolisms, hematomas, blood clots — I think I've learned pretty well how to listen to my body." Above everything else, however, she expresses concern for the health of her baby.
And her fear is certainly not unfounded. Williams has suffered from blood clots before — in fact, back in 2011, she had a life-threatening pulmonary embolism, per The Guardian. "At first people said it would be fine, it would be all right, but it turned out to be a lot more serious," she said in the interview with the paper. "If it had been left two days later, it could have been career-ending — or even worse." So her trepidation is understandable.
This first installment of Being Serena takes viewers right into the delivery room with an anxious Williams. When she expresses to her mom, Oracene Price, that she's scared giving birth is going to hurt, Price laughs, "Well, that's part of it." The more intimate scenes like this one, by the looks of it, were actually recorded by Ohanian, who murmurs encouragements into Williams' ear as the moment creeps closer. It's jarring to see Williams — who's covered magazines and co-starred in Beyonce's Lemonade, among many other glamorous achievements — so fearful and completely unconcerned with keeping up the athletic charisma she's so famous for. Seeing how this world-famous, impossibly decorated athlete deals with this more common experience will make her fans love her even more.
However, 14 hours after her labor was induced, the baby's vitals begin dropping. The doctors decide to perform a C-section, and Williams is wheeled away to surgery. "I was terrified," she says after the fact. "And it was a whole new kind of fear." The second episode will give viewers a personal look at the terrifying complications that occurred after the birth of Williams' daughter, which the athlete first spoke about in a Vogue cover story.
Luckily, Williams is used to taking intimidating situations and looking for the positives. "Fear has always been valuable in my life," she says in the documentary. "Without fear, without doubt, without discomfort in what we're doing, what is there for any of us to overcome?" Indeed, that inner fortitude and perseverance is what ultimately makes Being Serena so compelling. It's why fans can't get enough of watching Serena Williams, on the court, or, in this case, off.
Source: Read Full Article