JSYK, a fortunate New Moon is headed our way in philosophical Sagittarius on November 26 to bring us all a lucky break in matters of love. The archer is aiming its arrow right for our hearts (sorry to this man: Cupid) and healing past wounds. We are now being cosmically pushed to open ourselves up to love—and right before the holidays! Now, go RSVP yes to all those holiday party invites.
But first, here's what this New Moon means for you:
ARIES
Have you been longing to see the world? Well, it's time you started planning a vacay that will allow you to run wild at a safari in Madagascar or dune surf in Sydney. Or maybe just a quick local weekend trip somewhere you've never been. Pack your bags and get your passports ready because you and bae are headed on a magical exotic trip—one that will make both of your IG followers hate you. (In a good way.)
TAURUS
Your relationship may deepen under this New Moon, giving you the opportunity to get to know bae deeper. You'll get the total DL—from what drives them truly wild to, um, their favorite color. In return, they'll hang on your every word, which will make you feel seen and understood (for the first time in a while). Love will seem limitless now. Enjoy the rapture, while it lasts.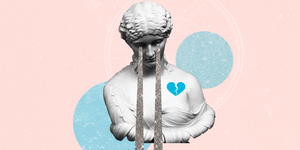 GEMINI
A relationship change is in play under the New Moon. Your commitment will become stronger, as will the need to be together 24/7. Although you feel like you can't live without your S.O., it's time to chill, just a little bit ,and do things without each other. You will have separation anxiety for a bit, but you'll feel more confident as a result.
CANCER
Love is just around the corner for you—literally. Keep your eyes open during this New Moon, as you may connect with someone you encounter every day. Maybe the cool barista you think is cute will finally ask you out? Or the person who sits next to you in spin class will let you know they're crushing on you. *immediately books a bike in the next available spin class*
LEO
A crush is forming—even if it doesn't last. You are picking up on serious romantic vibes from someone new. Yes, it's true, they're flirting with you non-stop too, which will serve to boost your confidence. PSA: Before you move forward in pursuing this cutie, keep in mind that the odds of this relationship developing into anything more than minor teasing is very unlikely. Sorry bb!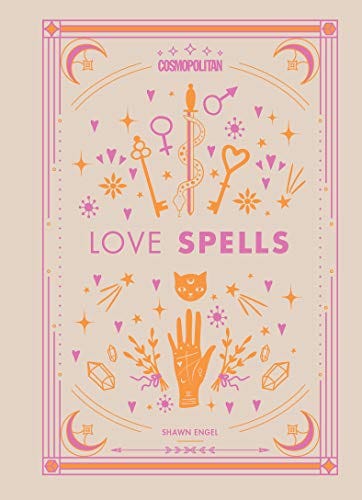 VIRGO
The "type" of relationship you want is shifting. In the recent past, you've wanted a serious partnership with your one and only. Now, you are thinking about loosening up the constraints and how you define your relationship. You may find that taking a step back actually creates a deeper commitment between you both, as you're allowing them to take the reins and come to you.
LIBRA
Unfortunately, words can hurt. A fact you're learning about more than ever under this New Moon. TL;DR: A recent argument with bae will leave you saddened all day along. But don't despair! You two will make up later in the day and start fresh. You'll both apologize and mend things quickly—allowing you both to spend the majority of the evening making up together in, ahem, the bedroom. *wiggles eyebrows*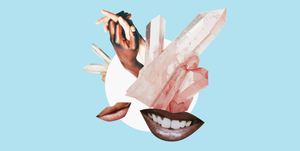 SCORPIO
Your confidence is at a high, which is making swipe the day away on Tinder. Don't hesitate in making the first move, you may find someone you really like. Swipe right more than left, to ensure maximum success in finding a new boo. An impulsive date, that will last until sunrise, will make you swoon and smile with glee. You're on fire, lil stinger!
SAGITTARIUS
Real talk: You're reevaluating your philandering ways and how you've been at fault in past relationships. You're feeling encouraged to reconnect with an ex and make up. It's time to bury the hatchet and resolve matters once and for all in order for you to move forward in life. Remember, every new beginning comes from one other beginning's end. (It's a song lyric, look it up.) You're no exception to the rule.
CAPRICORN
You are feeling as though bae isn't living up to your expectations and, well, the truth of the matter is: they aren't. The flip side of this narrative is that you've set the bar too high for them in the first place. You can create harmony together if you accept your S.O. for who they are. Have a realistic approach to love, Cap!
AQUARIUS
You have the chance to connect with your ex and become buds. Before you enter the friend zone though, ask yourself if you are ready to become close with them again. Also, make sure you don't have residual feelings lingering (and vice versa), as it may create problems down the road. Most importantly, don't get too close for comfort because the relationship may get awkward. Just sayin'!
PISCES
Finding a balance between work and love will be hard now, especially since you are receiving a major promotion, which will demand more hours at the office. Before you send yourself into a tailspin, find a way to make it work. Create a joint Google Cal where you can manage both of your schedules to ensure oodles of time wrapped up in each other's arms.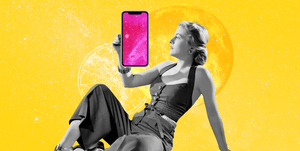 Source: Read Full Article