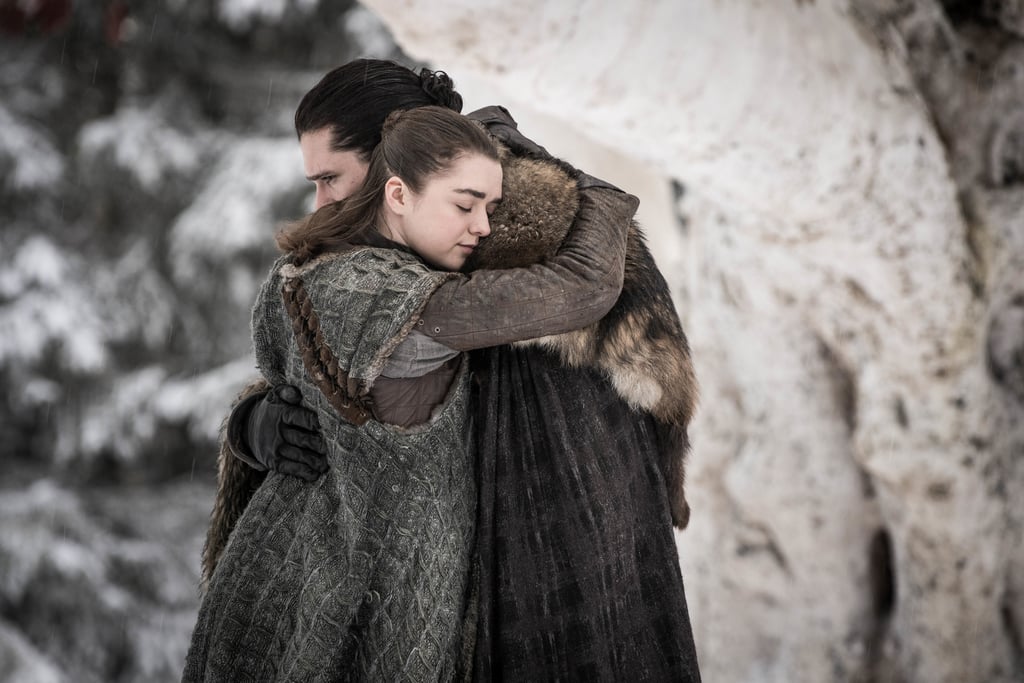 Over eight seasons, Game of Thrones fans have witnessed Arya Stark's transition from a young lady of Winterfell begrudgingly enduring stitching classes with Sansa to a skilled assassin with a kill list. The first step in Arya becoming her true self can be traced back to when Jon Snow gifts her with Needle, her sword, in the series premiere. Before declaring for the Night's Watch and heading to the Wall, Jon has the skinny weapon made for his youngest sister, who is also heading on a journey to King's Landing with Ned Stark. "Sansa can keep her sewing needles; I've got a needle of my own," Arya says before naming her beloved weapon Needle. "First lesson: stick them with the pointy end," Jon quips.
Jon might not know it at the time, but gifting Arya the thin weapon sets her up to fulfill her destiny, and she is eternally grateful. After everything she goes through after escaping the Red Keep in season one, Needle is by her side. Well, it is briefly stolen by Polliver in Harrenhal and hidden during her time with the Faceless Men, but Needle is Arya's true connection to the Stark family throughout her time away from them — and she refuses to let it go. Not to mention, she's used it to kill a few people who stood in her way over the years.
After reuniting with Gendry in the season eight premiere, she asks him to make her a new weapon with dragonglass, presumably for the highly anticipated fight against the White Walkers. Despite a new weapon coming her way and having Littlefinger's Valyrian steel dagger, Needle will always be important to Arya. Ahead, see some photos of Arya with her beloved Needle.
Source: Read Full Article