Orange Is the New Black knows exactly how to warm our hearts and simultaneously break them. Spoilers ahead if you have not finished Orange Is the New Black Season 6, FYI. The finale of the Netflix dramedy's sixth season introduced hopeful next chapters for many inmates fans have followed for years, while also giving others new brutal realities to contend with. What happened to Blanca at the end of OITNB Season 6? Her story took a tragic turn.
It's release day at Litchfield Max for a select few in episode 13 of Season 6. Piper Chapman is finally about to leave the bars, bullying, and bull-true realities of prison behind (that includes her new wife, Alex) and embark on whatever the heck she's about to embark on on the outside. But what's supposed to be the "best day of one's life" quickly takes a gut-wrenching turn for a fan favorite character. Blanca Flores (Laura Gomez) is also up for release and as she and Piper get ushered into different lines as they exit prison in the final moments of the Season 6 finale, it's clear that something devestating is about to happen.
As Piper and Blanca go their separate ways, a scene outside Litchfield reveals that somewhere Linda Ferguson (Beth Dover), MCC's (now rebranded as PolyGon in a post-riot PR spin) new head honcho is unveiling a company initiative as a crowd cheers on: Immigration Detention Centers. Cut back to Blanca as she finally sees the light of day only to face a brutal reality. US Immigration and Customs Enforcement is waiting for her. She's quickly handcuffed by ICE police before breaking down in sobs, going from one form of handcuffs to another. To make the situation even more heartbreaking, her boyfriend Diablo is shown waiting for her with flowers oblivious as to where the love of his life is as the sun illuminates his grinning face.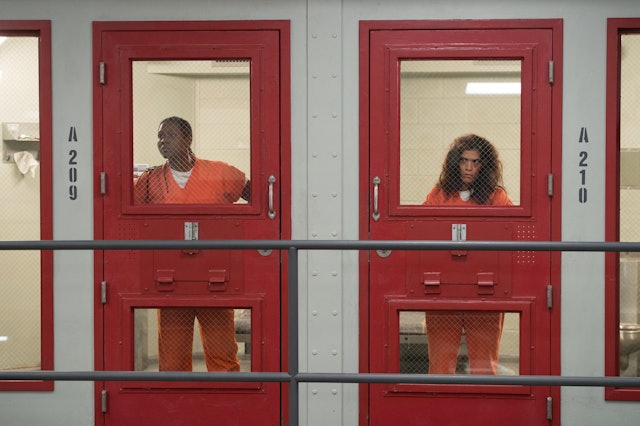 OITNB gave Blanca and viewers hope only to rip it away at the last second. Much of her storyline through Season 6 seemed to borderline on the unnecessarily absurd — desperate to have a baby before it's too late, she and Diablo hatch an unsuccessful scheme to secretly impregnate her using a smuggled condom on visiting day and a turkey baster. What seemed silly and trivial is now unsettling, knowing that Blanca and Diablo briefly thought they would immediately get to try for a child the old fashioned way upon her release. What will happen to Blanca now? How will she deal with the possibility of deportation? Will Season 7 focus on Immigration Detention Centers? Given America's current political state and the debates raging on the subject, it seems that at least a small shift — or even a flashback-esque glimpse — could be on the horizon.
Even though it's hard to stay sunny about this show sometimes, I'm optimistic that this isn't the last Orange Is the New Black (or Diablo) has seen of Blanca. Her Season 4 backstory and her prison evolution offered a multifaceted depth that propelled the once-mysterious character to compelling heights. Orange Is the New Black probably won't give everyone the happy ending they're looking for, but hopefully there will at least be updates on as many people as possible come Season 7.
Source: Read Full Article