It's been four years since the heartbreaking death by suicide of Robin Williams, yet the new HBO documentary, Robin Williams: Come Inside My Mind, feels incredibly timely. The film, which premiered at the 2018 Sundance Film Festival and hits the streaming site on July 16, comes at a time when mental health is a more vital topic than ever — especially after the recent deaths by suicide of Anthony Bourdain and Kate Spade. Speaking on the phone recently, Come Inside My Mind Marina Zenovich says that she hopes that the doc continues the conversation about mental illness in a meaningful way.
"Every case is different, but I hope the film will make people talk about suicide and realize that we're all in this together and if people need help, they can reach out to people," says Zenovich. "People shouldn't hide or feel shame if they're down and out, if they're sad, if they're depressed. They should try to seek help, and hopefully the film will help people realize that."
The HBO documentary delves into Williams' years-long struggles with mental health and addiction, which developed long before being diagnosed with Lewy Body Dementia — the condition attributed by his family as the cause for his suicide. The film also features interviews with Williams' firstborn son Zak, who expresses how difficult it was to experience the loss of his father. "In the weeks following my father's passing, it was hard to kind of feel anything…everything felt very raw," says Zak in the doc. The 35-year-old explains that one of the ways he found closure after Williams' death was by scattering his father's ashes in the San Francisco Bay with one of Williams' best friends, Bobcat Goldthwait. They decided to jump in the ocean with the ashes, sensing Williams' energy around them.
All of Zenovich's interviews with her subjects in the documentary are emotional, but the director's interviews with Zak feel particularly personal. The oldest of Williams' three children (Zelda is 28 and Cody is 26), Zak is the only one featured in the film speaking to Zenovich. "It was a tough interview in the sense that I don't know how much he wanted to do it," recalls the director. "But he did it and he gave his all… he gave an amazing interview that really gave us insight into who Robin was offstage and as a parent."
Another notable person who speaks in the documentary about his relationship with Williams is Billy Crystal. The Father's Day co-stars remained close friends throughout Williams' life, and in the documentary, Crystal explains that he was one of first people who the comedian opened up to about his health struggles. Crystal was also one the last to hear from Williams before his death; at the time, Crystal had planned to take a vacation with his wife, but he wanted to make sure his friend knew he could contact him at any time and that they could meet up once he was back. At the end of their conversation, Williams said to him, "You know, I love you," showing gratitude for their decades-long friendship.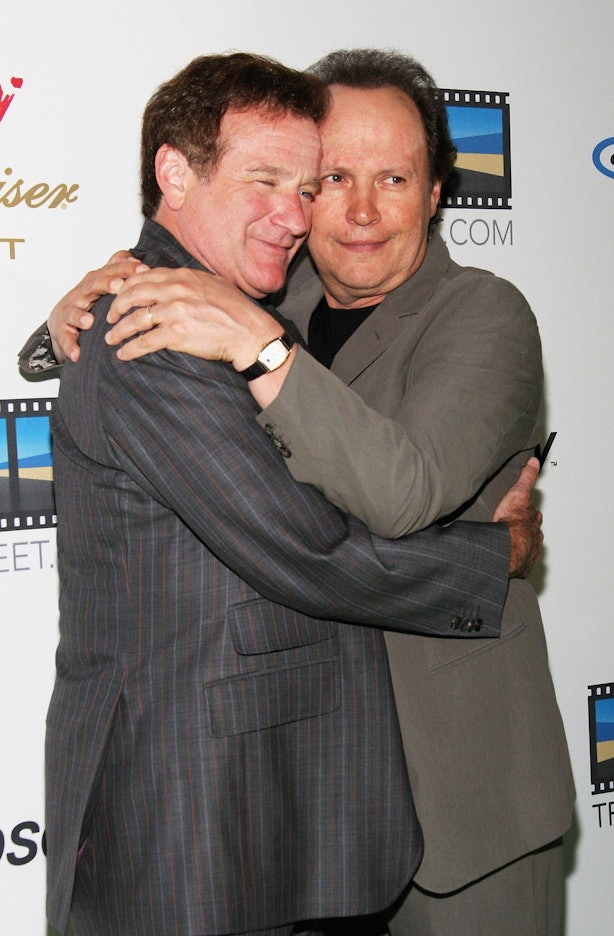 As Crystal and others featured in the documentary attest, Williams tried his hardest to work through his mental illness, understanding his role in bringing joy to the lives of so many. Both on-screen and off-, the actor was had a loving, generous persona, but most fans never saw the extent of that side of him. "I had no idea how compassionate he was, how giving he was, how much time and money he donated without ever wanting any press about it," says Zenovich. "He loved making people feel good and feel OK. I assumed that, but I didn't know to what degree."
Williams clearly had a major impact on the lives of so many people, and the documentary shows how his close friends tried their best to reciprocate the love and compassion he felt towards them. Even still, many of them felt helpless over not being able to do enough for him while he struggled with mental illness, and watching the doc, it's easy to wish that Williams had been more open about his struggles. But of course, depression and mental illness overall are complicated, and it's often not easy for those suffering to tell their loved ones the extent of their situations.
Yet instead of focusing on that aspect, the HBO documentary hones in on how strong Williams' support system was, and how much his friends and loved ones fought to help him prior to his death. As such, Come Inside My Mind opens up the conversation about suicide in a powerful way, choosing to celebrate the life of a beloved comedian rather than pointing blame at his environment or delving into "what ifs."
If you or someone you know are experiencing suicidal thoughts, call 911, or call the National Suicide Prevention Hotline at 1-800-273-8255 or text HOME to the Crisis Text Line at 741741.
Source: Read Full Article