Healthy Foods Surprisingly Available at Walmart You Need to Start Buying
Walmart isn't known as a health food store. But, surprisingly, the superstore carries good-for-you food options for those who know where to look. Keep reading to find out what should be in your cart next time you visit Walmart.
Great Value deluxe stir-fry veggies
These veggies will help you put dinner together in just minutes. | Walmart
According to Eat This, Not That!, "the frozen Deluxe Stir-Fry comes with carrots, broccoli, Italian green beans, water chestnuts, red peppers, and baby corn for only 25 calories a serving." Compared to other stir fry mixes, the Great Value brand is the healthiest choice. As a rule of thumb, steer clear of canned vegetables. Some cans contain BPA but even in cans labeled as BPA free, reach for fresh or frozen veggies.  They don't contain preservatives and salt like their canned counterparts, Eat This, Not That! says.
Wild Garden snacks to go
Keep these at your desk to satisfy those afternoon cravings. | Walmart
According to Self magazine, "Alissa Rumsey M.S., R.D., owner of Alissa Rumsey Nutrition and Wellness, loves them because they're filled with protein, fiber, and healthy fat, which means they'll keep you feeling satisfied and happy for hours." Walmart.com sells Wild Garden snacks for $1.85. At that price, you can stock up on lots of portable snacks. Walmart also carries dips and spreads from Wild Garden, according to their website.
Beanitos white bean chips
A fun snack you won't regret munching on. | Walmart
When a craving for chips hits your tastebuds, reach for Beanitos White Bean Chips. "Most chips are low in protein and fiber, but these have 4 grams of plant-based protein per serving," Rumsey told Self. Walmart sells these bean chips in a variety of flavors. Flavors include sea salt, bbq, and cheddar.
Organic quinoa
Quinoa is chock-full of protein and easy to make. | iStock.com
For those who haven't tried quinoa or know how to pronounce it (it's pronounced "keen-wah"), Walmart is a good place to try the grain. A 32 ounce bag of organic quinoa costs $8.22, which works out to 26 cents per ounce. Walmart has tri-color quinoa too. Prepare to be full longer when eating quinoa. According to Women's Health, a "quarter-cup serving contains a whopping four grams of fiber and six grams of protein."
Amy's organic lentil soup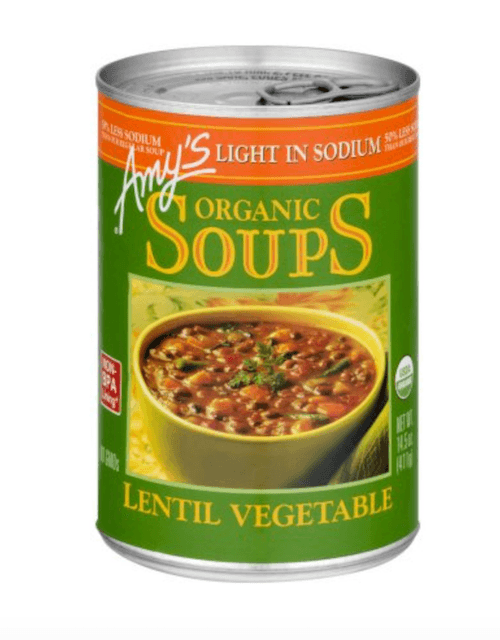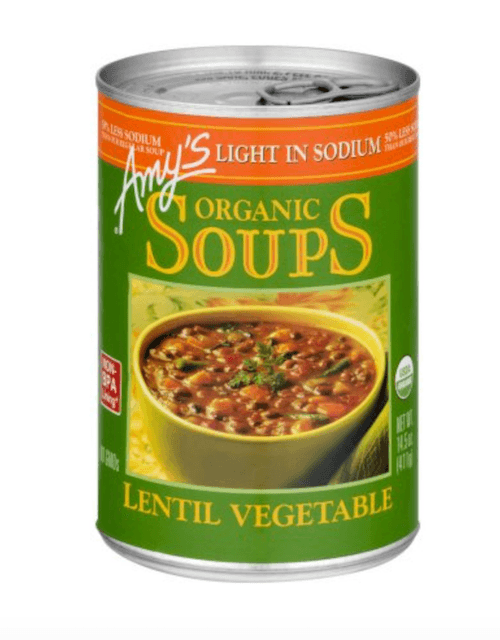 Warm up a can of this hearty soup for an easy lunch. | Walmart
Canned soups can be loaded with sodium. For those who want the convenience of canned soup without the added sodium, pick up Amy's organic lentil soup at Walmart.  Women's Health says this "soup keeps the sodium content down to just 340 milligrams per serving (stopping bloat in its tracks), while providing six grams of fiber and seven grams of protein in the form of nutrient-dense veggies and lentils." Bonus: collect barcodes from cans of Amy's soup to redeem coupons from the manufacturer.
Great Value oatmeal
Oatmeal — the ultimate breakfast staple.  | Minadezhda/iStock/Getty Images
Eat This, Not That! recommends buying oatmeal from Walmart's own line of groceries. Stock up on the Great Value brand oatmeal for a healthy breakfast food option. According to Eat This, Not That!, "At only 100 calories a packet, the GV Oatmeal boasts dried fruit and 4 grams of protein with zero sugar." The publications cautions against extras like brown sugar.
Wild Oats branded items
Keep your pantry stocked with these. | Wild Oats
"Look for any product from the Wild Oats brand," blogger Kristin, says on her site. "I was pleasantly surprised at the price, clean ingredient list, and large selection of organic products," Kristin wrote. She isn't exaggerating about the large product selection. Organic pastas, salads, dressings, hummus, and bread describes only a small portion of their products.
Check out The Cheat Sheet on Facebook!
Source: Read Full Article