As you've probably noticed unless you recently time-traveled here (IN WHICH CASE, WELCOME, 2019 IS WEIRD), Meghan Markle is pregnant with her first child. And you might be wondering when the world will be blessed with this new royal baby? Cool-cool-cool, same. Lucky for you, using some sleuthing skills and basic math, I've estimated, nay, *figured out* her due date, so let's get right to it.
First: Here's What Kensington Palace Said
Kensington Palace announced Meghan's pregnancy back in October, and vaguely revealed she was due in "spring 2019." Obviously, the spring season spans anywhere from March 20 to June 21, so this was zero amounts helpful. Thanks, Kensington Palace!
Their Royal Highnesses The Duke and Duchess of Sussex are very pleased to announce that The Duchess of Sussex is expecting a baby in the Spring of 2019. pic.twitter.com/Ut9C0RagLk
Second: What Meghan Has Said
Back in January, Meghan was asked by a fan about her exact due date, and she (somewhat surprisingly!) revealed that she's expected to deliver the royal bb sometime in late April or early May.
Meghan has told wellwishers in Birkenhead that she is six months pregnant – due end of April/beginning of May! Lots of baby chat today! #dukeandduchessofsussex
What George Clooney Said (and the *Biggest* Clue Yet)
On February 12, Meghan's friend George Clooney broke his silence about her negative media portrayal, and revealed that she is seven months pregnant. Here's George:
Okay, so. If Meghan was seven months pregnant (or ~28 weeks) on February 12, it stands to reason that she'll be eight months pregnant (or ~32 weeks) on March 12 and nine months pregnant (or ~36 weeks) on April 12. However! Due dates are actually scheduled at the 40 week mark—which would put Meghan's at around May 10. A Taurus! How lovely.
However!
Prince Charles and his wife Camilla just announced they're taking a RoYaL TrIp to Germany from May 7-May 10, and it wouldn't make sense for them to leave that close to Meghan's due date unless she was actually due before that, right?
Keep in mind that we won't know whether or not Meghan's had her baby until Palace officials roll over to the hospital and put up a plaque dishing the tea (the royal equivalent of a group text), but until then, keep these dates on your radar….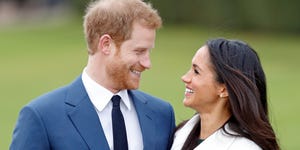 Source: Read Full Article