Once upon a time, Bradley Cooper was like, "Tell me somethin', girl, are you happy in this modern world? Or do you need more?" And Lady Gaga was like, "I'm off the deep end, watch as I dive in…to this giant pool of money."
Basically, what I'm getting at is that Lady Gaga is rich. Very rich. Which is kinda what happens when you devote your life to making iconic music, starring in iconic TV shows, and being part of this century's most iconic meme. But aren't you wondering what her exact net worth is? Cool, same, let's break it down.
Her Music Has Earned $tacks on $tacks
If you'd like to know exactly how much money Gaga has made through her music, the answer is HOLY CRAP SO MUCH. According to RIAA, she has sold $78 million worth of digital singles. And her album sales are pretty fire too—Born This Way sold more than 1 million copies in its first week alone.
That deserves some…wait for it…APPLAUSE.
(Ha ha ha ha, you're welcome.)
Let's Not Forget Her Box-Office-Breaking Tours
One of the main ways pop stars make their millions [Writer's note: Sigh, WHY AM I NOT A POP STAR] is from touring. As you already know if you're a Little Monster, Lady Gaga's tours are spectacular—and they've earned her a lot of money. Keep in mind that she doesn't get to keep all this money (there are people to pay!), but here's a sample of just how impressive her sales have been: The 2009 to 2011 Monster Ball Tour—which was by far her biggest tour—took home $227.4 million.
Oh, and how can we forget Gaga's Vegas residency? She literally made $1 million a NIGHT onstage and became the fifth woman with a Vegas residency to achieve the half-a-billion-dollars earnings milestone, which is a BFD.
I'll give you a moment to weep at your bank account.
She's Sooo Savvy With Her Endorsements
For the most part, brands that work with celebs aren't like, "Here's precisely how much we're paying them!" but it's safe to assume Gaga got paid plenty when she was made creative director of Polaroid (wow, sounds like a totally real job that she definitely did every day!), and let's not forget her glamorous Versace campaign: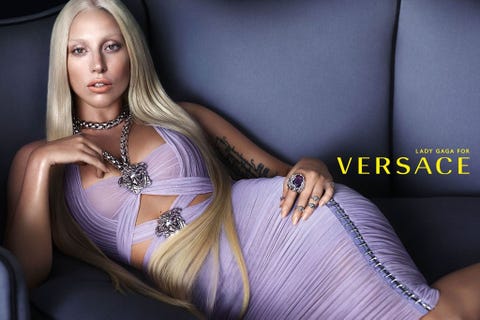 FYI, Lady Gaga also makes tons of money on merch, which includes her line of perfumes. Her debut fragrance, Fame, was released in 2012, and as of 2013, it had earned more than one billion dollars worldwide. Yeah, that's billion with a "b."
Did I Mention She Has a Makeup Line Now?
Following in the footsteps of her good friend Rihanna, Gaga made a makeup line of her own called Haus Laboratories with her longtime makeup artist, Sarah Tanno. The brand is still fairly new, so exact figures are TBD, but when it launched on Amazon during Prime Day, many of the products instantly became best sellers in their respective categories. What does that tell you?
And Then There's Hollywood
Not only did Lady Gaga star in the fifth season of American Horror Story (for which she won a Golden Globe!), but she also starred in 2018's biggest blockbuster A Star Is Born. It's unclear how much Gaga has made from her acting gigs, but A Star Is Born had a relatively small budget by Hollywood standards (just $36 million), so her initial take-home for the film likely wasn't that huge despite her name recognition.
So, What Is Gaga Worth?
According to Celebrity Net Worth, that would be $320 million. Read it and weep. And I mean that literally, because I am fully crying rn.
Source: Read Full Article