The 18th annual BET Awards have almost arrived. The big event airs Sunday, June 24, and with it come the usual questions: Who will be performing? Nicki Minaj, Miguel, and Janelle Monáe, among others. Who is hosting? Jamie Foxx. Who is nominated? More like who isn't nominated, right? And, for the Team Drizzy crowd: Will Drake be at the BET Awards?
The "Hotline Bling" singer has been nominated for Video of the Year (both "God's Plan" and Migos' "Walk It Talk It"), Best Male Hip Hop Artist (alongside big names like JAY-Z and Kendrick Lamar), and the Coca-Cola Viewers' Award ("God's Plan"). One might think being nominated for four awards would guarantee Drake's attendance, but this wouldn't be the first time he's played hooky.
In 2017, Drake didn't submit his album More Life for consideration in the next Grammys, per the Associated Press. According to the same article, the singer hadn't attended the 2017 Grammys, either. What's more, in Big Sean's 2015 song "Blessings," Drake raps, "I could give two f*cks 'bout where the Grammys go/I just gave out Grammys on my Instagram." That doesn't necessarily mean the "Nice for What" rapper is against all awards shows, but it does show that he's not always going to make an appearance.
However, Drake has also been collaborating recently with Migos, who are set to perform at the BET Awards on Sunday. Their song "Walk It Talk It," from their 2018 album Culture II, features Drake. Interestingly enough, the music video also features 2018 BET Awards host Jamie Foxx. Is it simply a coincidence, or does it all mean something?
The trap trio, meanwhile, are nominated for Best Video ("Walk It Talk It" ft. Drake), Best Group, Best Album (Culture II), and the Coca-Cola Viewers' Award ("Motorsport" ft. Cardi B and Nicki Minaj). So it will be interesting to see what songs the "Bad and Boujee" artists choose to perform and which (if any) collaborators join them onstage.
What's more, Drake is set to release his latest album, Scorpion, on June 29. The FADER reported that a new Toronto billboard hints at the record being double-sided. Could he perhaps unveil a new song on Sunday? Even more interesting, Drake's upcoming tour is cleverly called Aubrey and the Three Migos. Hmm…
The Canadian rapper has been making headlines lately. On June 13, Drake released a music video for "I'm Upset" that featured many of his former costars from the show Degrassi: The Next Generation. Drake played a character named Jimmy Brooks on the Canadian teen soap, and the reunion was exciting for many Degrassi fans.
Drake was also recently in a beef with rapper Pusha-T, who stirred the pot with a song on his album Daytona, per the Washington Post. The track, "Infrared," took some shots at Drake, implying he used a ghostwriter. "It was written like Nas, but it came from Quentin," say the lyrics. Quentin Miller is one of Drake's collaborators and his rumored ghostwriter, per The New Yorker, but Miller has denied ghostwriting.
Consequently, Drake responded with his own diss track, "Duppy Freestyle," which, according to that same Washington Post story, mentions Pusha's fiancee. Pusha-T then brought it to the next level with "The Story of Adidon," the artwork of which featured a young Drake in blackface. In the song, Pusha alleges, among other things, that Drake had a secret child with a porn star. (Bustle reached out to Drake's team about these claims at the time of the song's release, but did not receive an immediate response.)
On his Instagram, Drake explained the blackface image as a picture from back in his acting days in 2007, when he was "working on a project that was about young black actors struggling to get roles, being stereotypes and type cast. The photos represented how African Americans were once wrongfully portrayed in entertainment."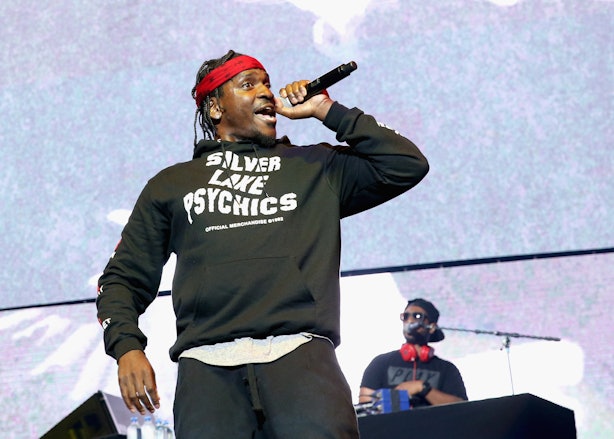 After that, Drake released "I'm Upset," and the music video shifted the conversation to Degrassi.
While he's given no indication yet that he will make an appearance on Sunday night at the BET Awards, Drake could surprise fans and join Migos onstage for a rendition of "Walk It Talk It" or maybe even an unreleased track. In 2017, Kendrick Lamar surprised fans by joining Future onstage for the "Mask Off" remix. There's always a chance Drake will pull a similar stunt. But if not, perhaps it's all just part of God's plan.
Source: Read Full Article