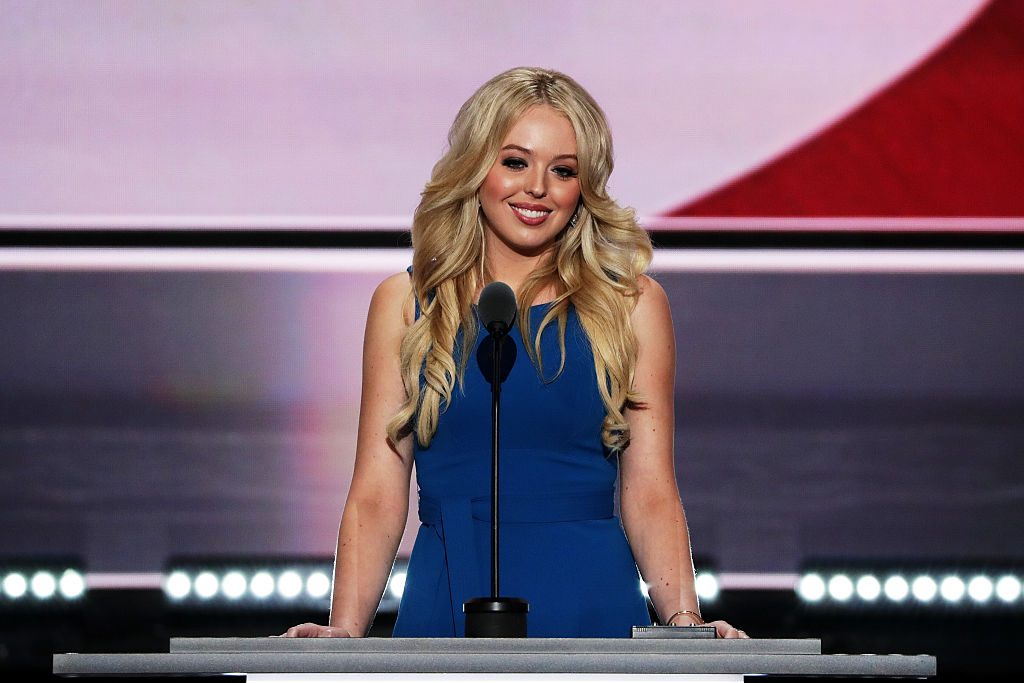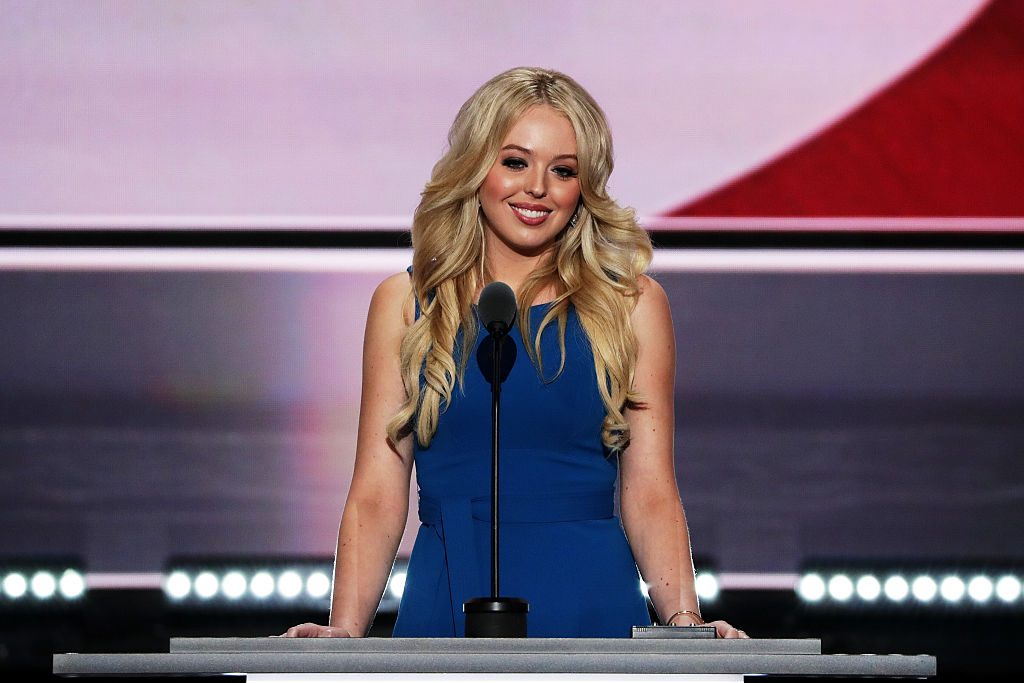 Tiffany Trump speaks on the second day of the Republican National Convention. | Alex Wong/Getty Images
For better or worse, the American people are now intimately familiar with Donald Trump's most prominent family members, Melania, Ivanka, Eric, and Don Jr. The President of the United States even has a young son, Barron, who has gotten more and more attention in the media ever since his dad won the electoral college on that fateful November night. But Trump has one adult child that the public hasn't become quite so familiar with.
That would be his 23-year-old daughter, Tiffany Trump. Although nobody is questioning whether Donald loves his youngest daughter, it's also fair to say she has been somewhat of an outsider compared to her half-siblings. Let's take a closer look at a few things you may not know about Tiffany, including why she is the black sheep (or the Meg Griffin) of the Trump family.
Next: The famous affair
The forgotten daughter
Trump's three oldest children, Ivanka, Eric, and Don Jr., are all the product of his first marriage to Ivana Trump. She and Donald were married from 1977-1992, but divorced shortly after she discovered that he was having an affair with then-model Marla Maples. Just months later, Marla was pregnant with Tiffany.
Trump eventually married Marla, but they separated just a handful of years later and ended up divorcing in 1999 when Tiffany was only six years old. Tiffany grew up just fine, having attended the University of Pennsylvania and currently going to law school. But the history is what it is, and there are plenty of reasons why Trump shied away from putting Tiffany in the spotlight throughout his presidential campaign.
Next: Thousands of miles away
Off on the opposite coast in Los Angeles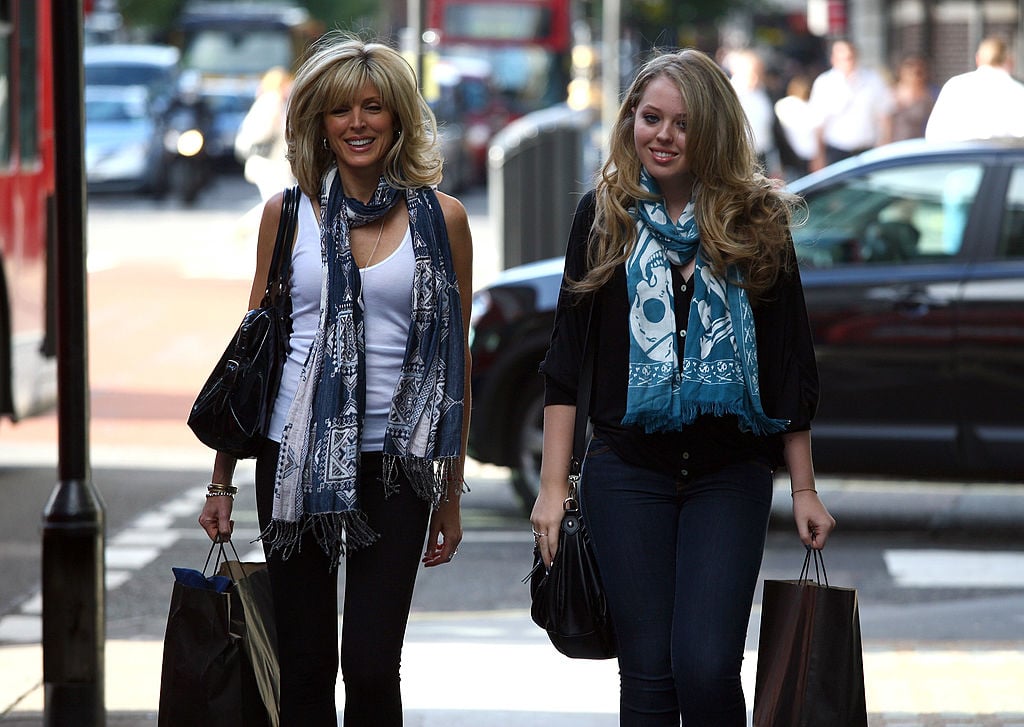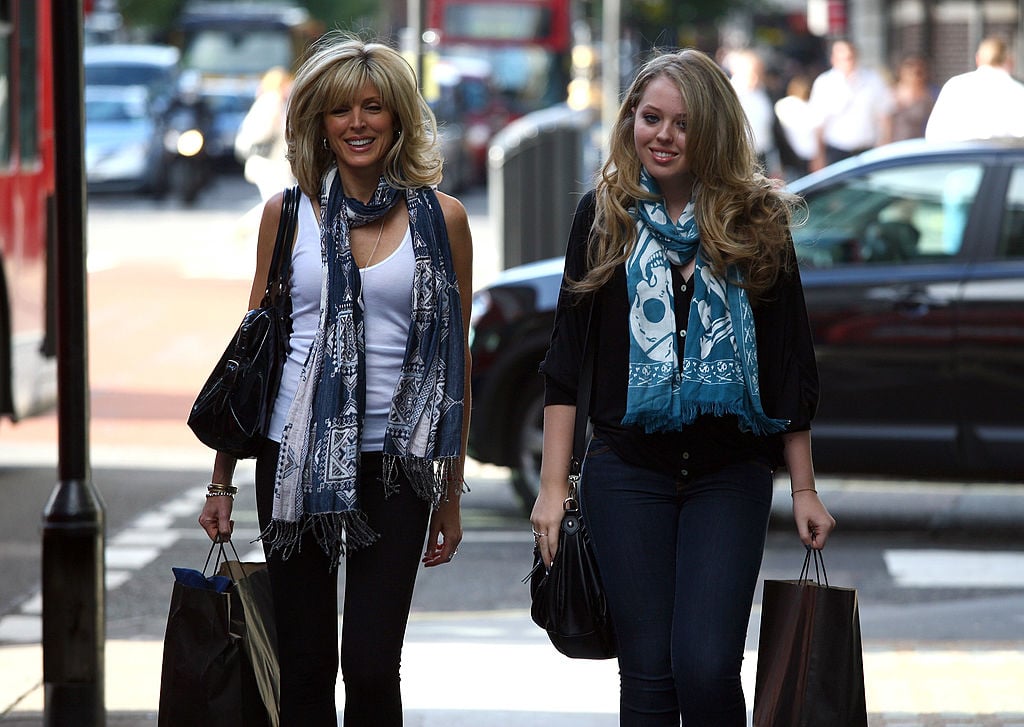 Tiffany Trump and Marla Maples walk side-by-side. | Gareth Cattermole/Getty Images
After Marla and Donald divorced, Tiffany and her mother moved out to Los Angeles – thousands of miles away from her father. That was a major source of separation, with Trump being actively surrounded by his other children in New York City but rarely seeing Tiffany.
"Her daddy is a good provider with education and such, but as far as time, it was just me," says Maples. "Her father wasn't able to be there with day-to-day skills as a parent. He loves his kids. There's no doubt. But everything was a bit of a negotiation."
"I would bring her into New York a couple times a year and let her go see her dad in the office and let her go have dinner with him and [Donald's wife] Melania," Maples recalls. "I just said it's important for her to form her own relationship with him, without my input. I wanted to create some consistency where she could see him."
Everyone knows what a busy man Donald Trump is as the president, and you can imagine how busy he was as a businessman. Seeing his daughter just a few times a year? It's an honest case of "out of sight, out of mind."
Next: Did the other Trump siblings try to take Tiffany's inheritance?
How the other Trump siblings tried to take Tiffany's inheritance
According to an article in People, a decade-old conversation between Donald Trump and Howard Stern has reappeared, and it features information regarding Tiffany. In the conversation on The Howard Stern Show, the host goads Trump into admitting that Ivanka and Don Jr. actually attempted to get their father to cut Tiffany out of his will – for the sake of their own inheritance.
"I have a friend who is also like a very rich guy," Trump replied. "And he said how his children hate the new children coming along and everything else; I said, 'Yeah, because every time you have a child, it's 20 percent less."
Trump jokes about it openly, and the obvious way that Ivanka and Don Jr. felt about their sister at the time says volumes about her relationship in the family. But an anonymous source obtained in the same People article claimed the situation for Tiffany is even worse than Trump's conversation with Stern would make it appear.
"She says she is not guaranteed anything, which is one of the reasons Tiffany and Marla have been so respectful of her dad and tiptoed around so much," says the source.
Next: How much does Donald Trump support Tiffany?
Limited financial support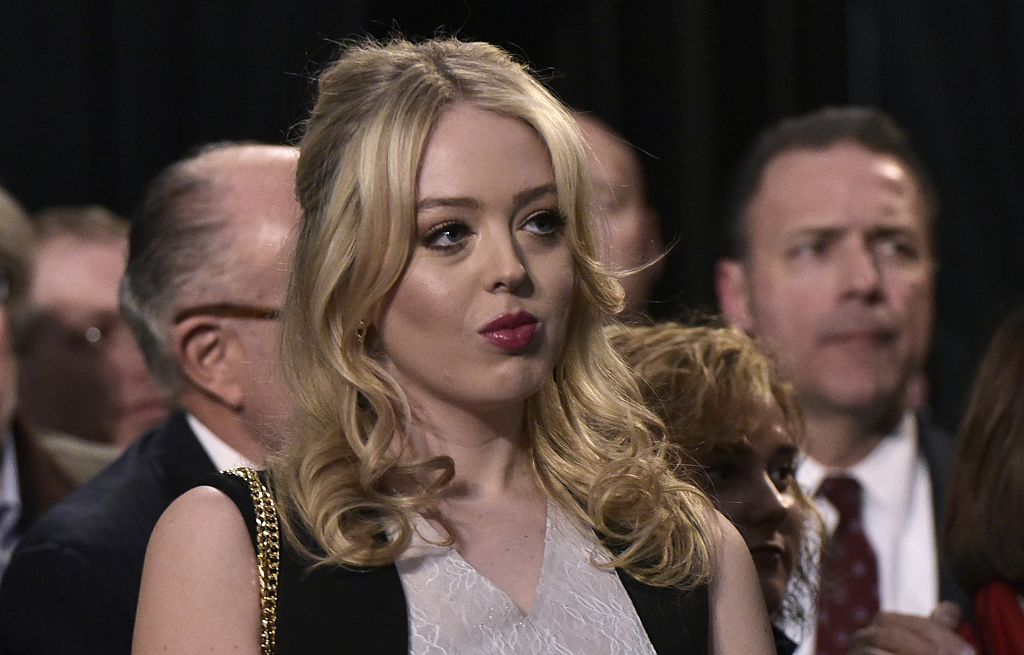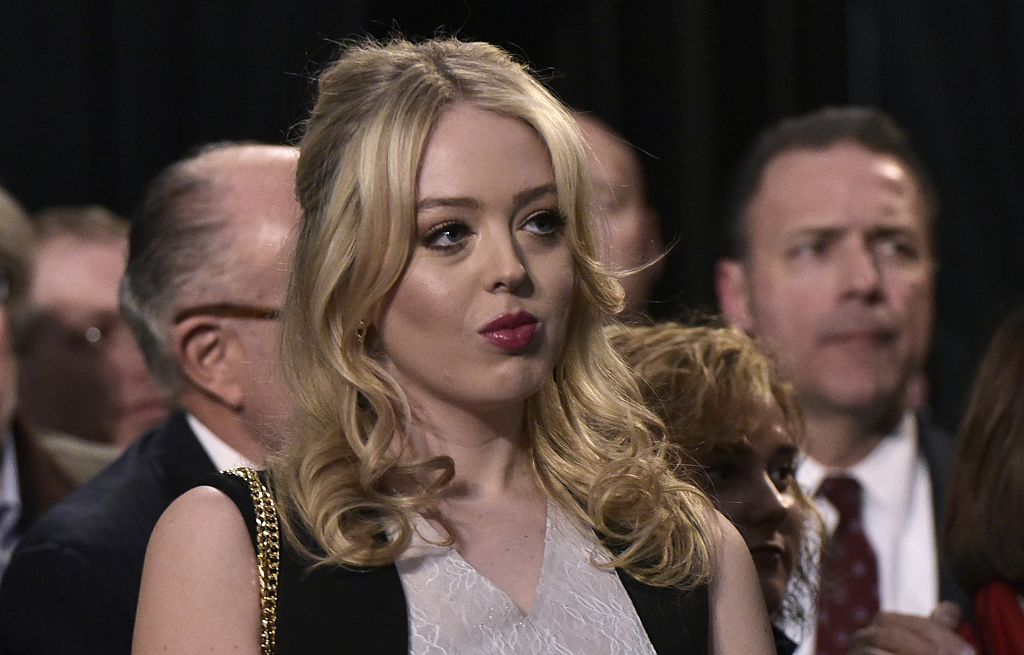 Tiffany Trump watches as her father, Republican presidential nominee Donald Trump, addresses the final rally of his 2016 presidential campaign. | Mandel Ngan/AFP/Getty Images
While Marla raised Tiffany on her own out west, the young girl received little in the way of financial support from her father – at least compared to his other children. Her college, of course, was still paid for and he got her an apartment, but that has been it. In Ivanka Trump's book, The Trump Card: Playing to Win in Work and Life, Trump's eldest daughter writes about her relationship with Tiffany as they grew a bit older. That included a tidbit about helping her achieve a bit more financial stability, through their father.
Ivanka writes that Tiffany wasn't exactly looking to go on big shopping sprees, but mostly had simple needs. She didn't have access to a credit card like the other Trumps – and like most children in affluent families.
All she wanted, really, was a way to enjoy some of the privileges her friends got to enjoy, in the same way she would have enjoyed them if she'd lived under our father's roof … I went to our father and suggested he think about surprising Tiffany with a credit card for Christmas, with a small monthly allowance on it. Sure enough, he did just that. Tiffany was thrilled and relieved. And so appreciative.
The fact that Ivanka, who has developed a much stronger relationship with Tiffany in recent years, had to go out of her way to do this for Tiffany says a lot.
Next: Ivanka helped Tiffany get her foot in the door at this famous company.
Ivanka even helped Tiffany get an internship
It really could have been Ivanka pushing Tiffany to try out modeling, given she's introduced her younger sister to fashion in another way. Tiffany interned at Vogue, but it was all thanks arrangements made by Ivanka.
Tiffany even landed a summer internship at Warby Parker, a popular eyewear company, so she's definitely getting her experience in the industry.
Next: Where did Tiffany's name come from?
Trump named her after a store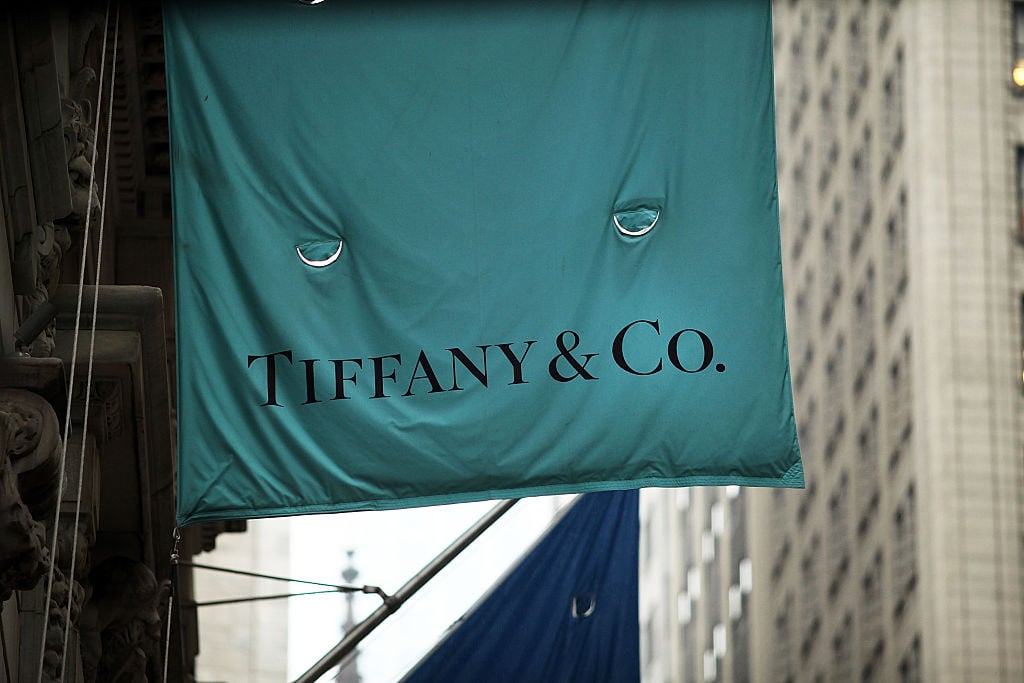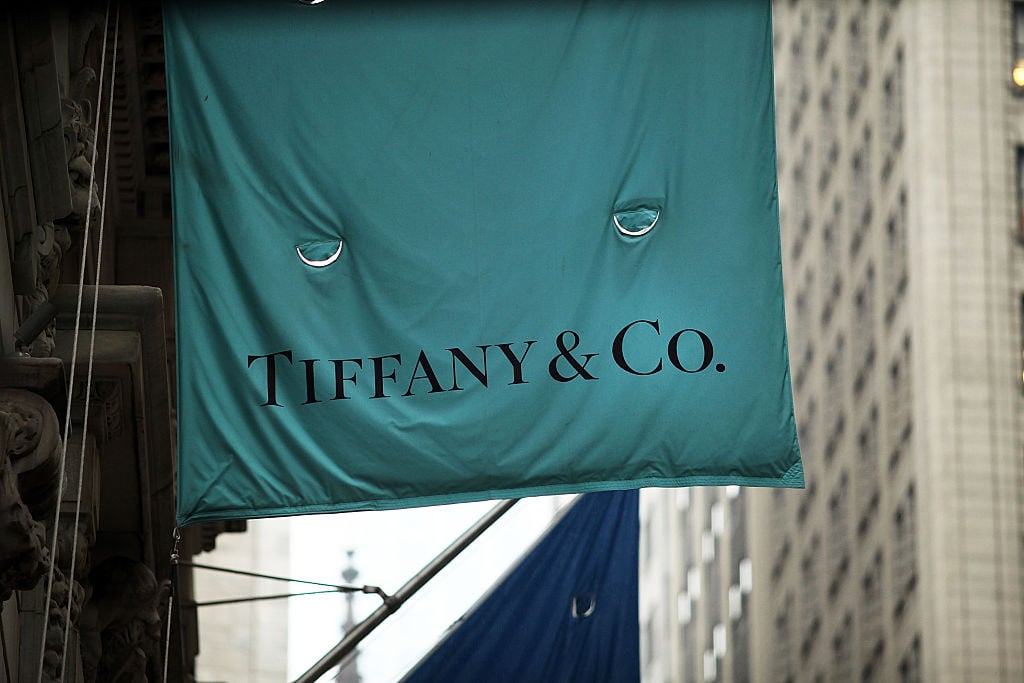 A flag for a Tiffany & Co. store hangs along Wall Street in Manhattan. | Spencer Platt/Getty Images
The original comparison, which we have not forgotten, is that Tiffany is the "Meg Griffin" of the Trump family. That is in reference to the oldest child on the hit Fox comedy Family Guy, an awkward and unpopular teenage girl (voiced by Mila Kunis) that often draws the ire of her family. We aren't making the case that Tiffany is awkward or unpopular – in fact, that part seems to be the opposite. But on the show, it's revealed that Meg's real name is actually Megatron, courtesy of her dad.
Well, Tiffany was named by her father as well – after the famous jewelry store, Tiffany and Co. The store actually sits adjacent to Trump Tower in New York City, and there are worse stores to be named after if you're a Trump child. But this similarity between Tiffany and Meg Griffin was just too good to pass up. Maybe she should just be thankful she wasn't named after a car that turns into a robot.
Next: An obvious sign she wasn't raised too closely around her father.
She flies coach
One obvious sign that Tiffany wasn't raised too closely around her father? She's totally cool with flying coach. According to Cosmopolitan, Lara Maggs revealed that "unless she's with her dad, she's happy to fly coach. When we flew together from Philly, we were in the middle seats at the back of the plane."
Tiffany may be labeled as the "forgotten Trump," but based on her much humbler personality (in comparison to the rest of her family), we think it was for the better.
Next: Donald Trump is proud of her to a lesser extent.
Trump is proud of her 'to a lesser extent'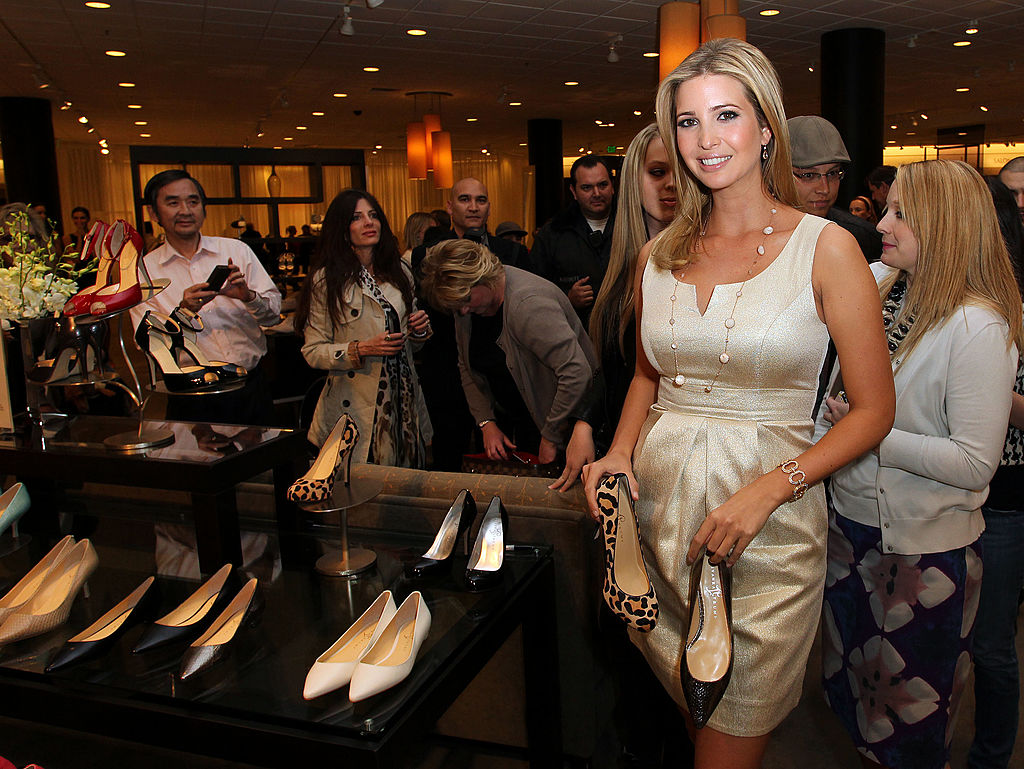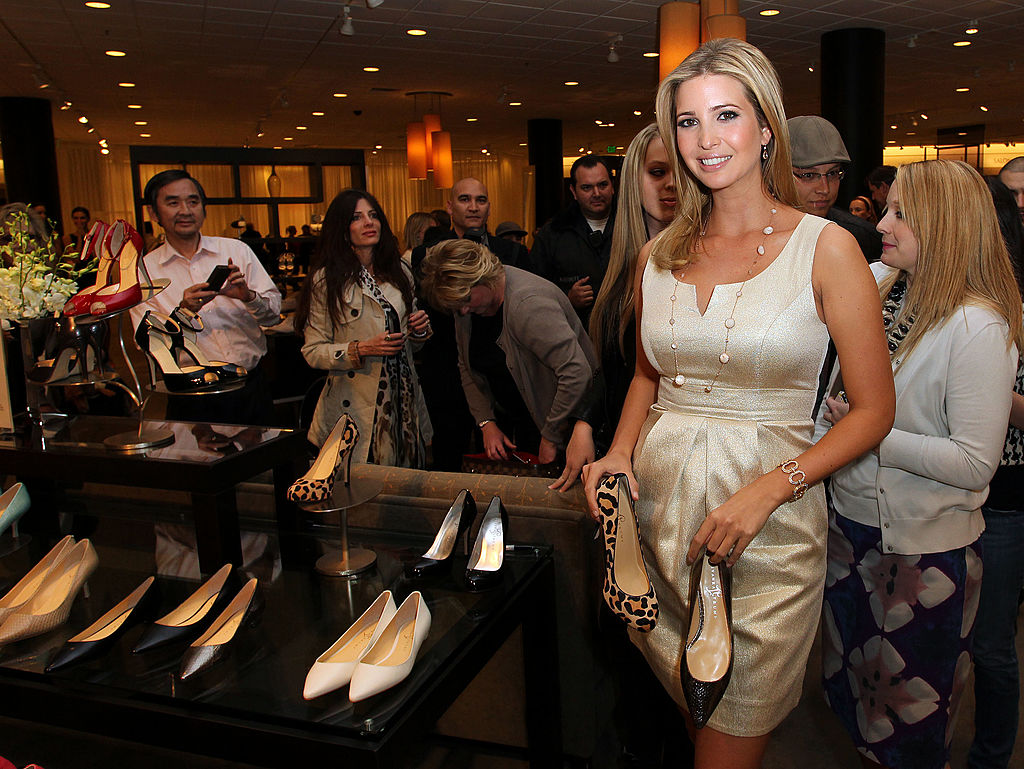 Ivanka Trump attends the Launch of Her Spring 2011 Lifestyle Collection of Footwear at the Topanga Nordstrom. | Frederick M. Brown/Getty Images
On election day, Donald Trump spent some time in an interview with Fox & Friends praising his children. Except something was a bit off about the way he spoke about Tiffany.
I'm very proud of my children. I mean, I'm just looking at them right now as an example … but I'm very proud 'cause Don and Eric and Ivanka and, you know, to a lesser extent 'cause she just got out of school, out of college, but, uh, Tiffany, who's also been so terrific. I mean, they work so hard.
Trump is proud of Tiffany, "to a lesser extent." The president simply has a way with words and saying exactly what he thinks, even if it's not kind or what someone would want to hear. His assertion that he's less proud of his own daughter's achievements simply because she just finished school is peak Trump.
Next: Her boyfriend supported Hillary Clinton.
Her boyfriend is a Democrat
If there's one thing that isn't a relationship deal-breaker for Tiffany, it's politics. Ross Mechanic, who Tiffany has been dating since 2015, is reportedly a Democrat.
According to Vanity Fair, "Her boyfriend, Ross Mechanic, a registered Democrat who voiced support for Hillary on social media, interned over the summer at Jared Kushner's real-estate investment start-up, called Cadre."
Mechanic also accompanied Tiffany to the 2016 Republican National Convention in Cleveland, so they clearly don't let their differences get in the way.
Next: Trump wasn't thrilled with having another child.
Trump wasn't thrilled with having another child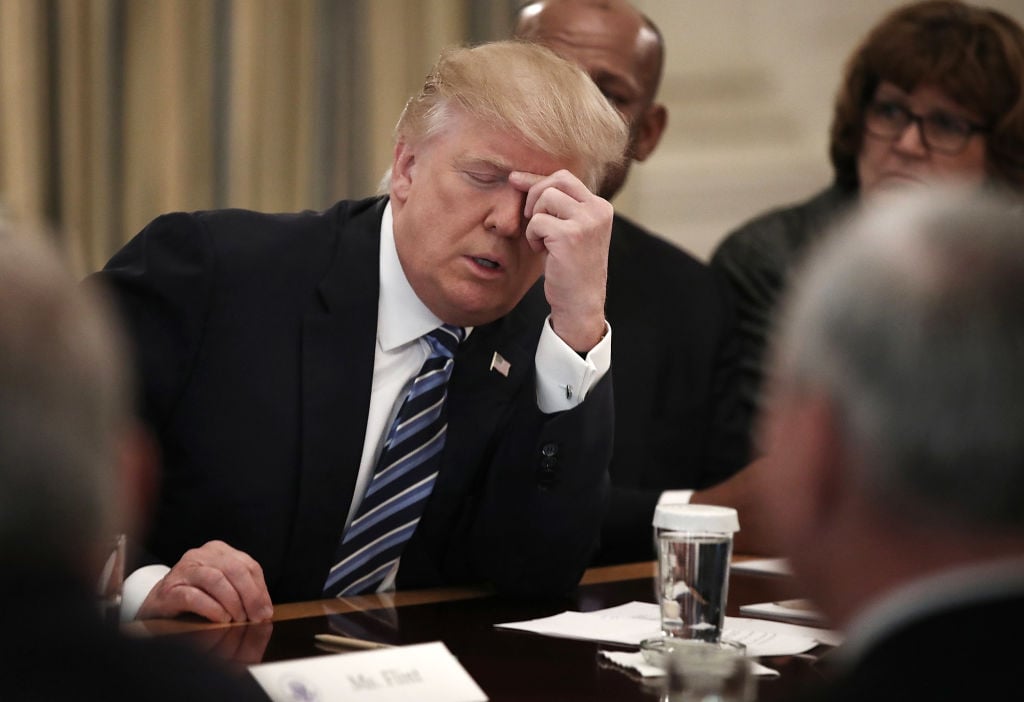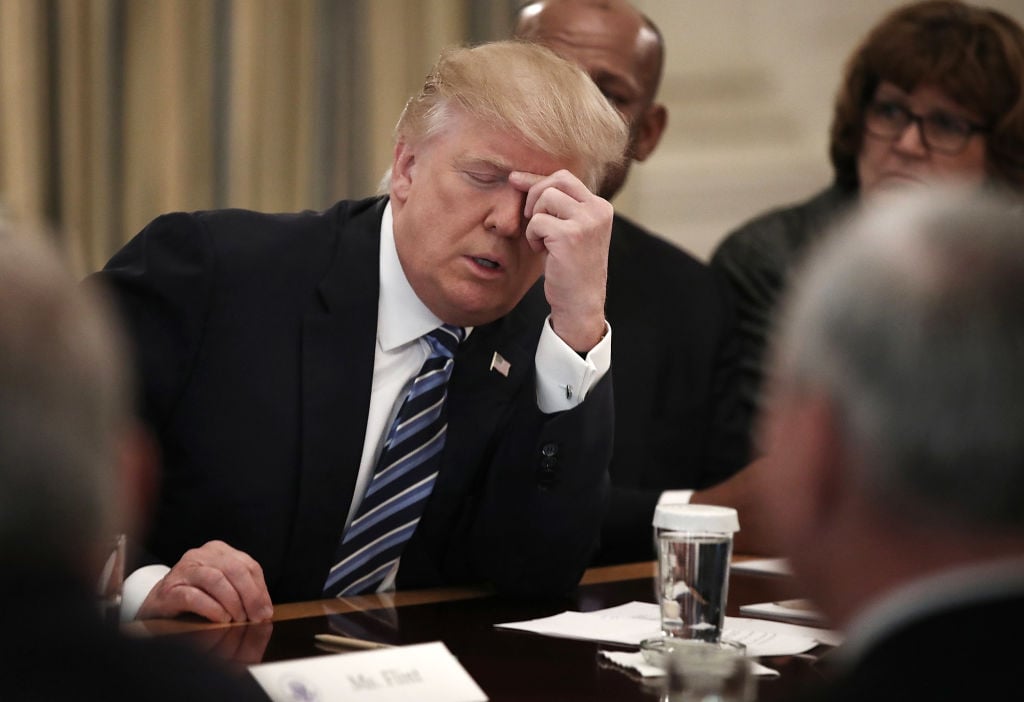 U.S. President Donald Trump meets with members of the airline industry at the White House. | Win McNamee/Getty Images
Trump, of course, was never thrilled that he was even having Tiffany with Marla Maples. At the time, she was merely his girlfriend – the mistress that caused his marriage to Ivana to come to an abrupt end. In a 2004 interview with Stern, Trump laid out exactly how he felt the moment he found out he was going to have another child.
"Honestly, I'm glad it happened. I have a great little daughter, Tiffany. But, you know at the time it was like, 'Excuse me, what happened?' And then I said, 'Well, what are we going to do about this?' She [Maples] said, 'Are you serious? It's the most beautiful day of our lives.' I said, 'Oh, great.'"
Tiffany is a stunning young woman and, by all accounts, extremely intelligent. It's hard not to feel bad for her and think that she deserves much better than how she has been treated by her father and, at times, her half-siblings.
Additional reporting by Chelsea Leary.
Check out The Cheat Sheet on Facebook!
Source: Read Full Article