Just a heads up: You do not want to piss off Hilary Duff.
The Younger star completely annihilated her neighbor on Instagram Stories on Wednesday, venting about his smoking habit and even calling him out by name.
"Calling all New Yorkers with asshole neighbors—really open to any advice you have," she said in the now-deleted story, per People. "My neighbor smokes cigarettes and weed all night long. My apartment reeks. Seriously, what do I do?"
Hilary also posted her neighbor's name—Dieter Addison—all over the video (which has been preserved by fans).
Hilary Duff's Insta stories calling out her neighbor Dieter Addison is the content we all deserve. pic.twitter.com/uZVovvdVC0
"We know your parents pay your rent. We know you've never worked a day in your life—must be nice," she continued. "Have some respect for your neighbors who work hard to live in that building. Don't be a dick, dude—and put your trash down the shoot."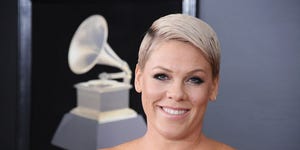 She also wrote on Instagram that she "Worked 15 hours yesterday and back at work again at 5:30 a.m.," even though she got "zero hours of sleep" because of her neighbor. "This is the real world Dieter the [eggplant emoji]. Your smoking ain't delicious."
Hilary Duff is going OFF on her noisy neighbor on her Instagram story right now and I am living for it pic.twitter.com/ooZKuReTur
She even tagged Dieter on Instagram and wrote "Found youuu. I know [you're] still sleeping. I really hope your [hangover] hurts." She also shared a close-up of his Instagram profile picture. Finally, she advised Dieter to "stop breaking all your furniture when you fight with your girlfriend or boyfriend."
"It scares me and my kid," she said. "Therapy is cheaper."
So! Hilary doesn't like her neighbor.
People on Twitter really, really loved the drama:
Hilary Duff publicly dragging her neighbor on her Instagram story is the best
Hilary Duff dragging her neighbor for filth on IG stories is content I never knew I needed.
Hilary Duff outside Dieter Addison's apartment pic.twitter.com/B4io9ZDXEq
For his part, Dieter denied Hilary's claims that he smokes weed to Page Six. He said that while he smokes cigarettes, he lives with a sober companion and works three jobs. He also noted that this is a "smoking" building, which is why he had signed the lease.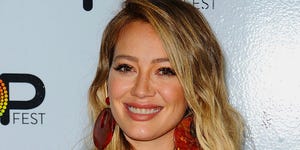 Ever since Hilary publicly shamed him on Instagram, "I am getting a lot of hate mail and threats from her fans," Dieter told Page Six. "It is so bad I'm going to have to get a bodyguard. I am from a very private German family and we are hiring lawyers."
He told Page Six later on Wednesday that he had called the police because he claimed Hilary's BF punched him in the face over his smoking. However, police told E! News that when they arrived at the scene there were "no visible injuries." A report of harassment was made but there were no arrests.
A publicist for Hilary later shared the following statement to E! News:
Let's talk: It sucks to be subjected to constant smoke, noise, and garbage in your halls, and from Hilary's side, he sounds like he might not be the best neighbor. But he also has the right to do what he wants within the confines of his own apartment, and calling out a person on social media when you have a massive following like Hilary is pretty… extreme.
Either way, it's safe to say that the drama is far from over.
Source: Read Full Article