Even though it was released 14 years ago, Mean Girls is still very much firmly embedded in popular culture. From people still wearing pink on Wednesdays, to fashion lines turning out character-inspired collections, to makeup brands creating makeup lines that capture the essence of the Plastics, it's everywhere. And now Hot Topic made a Mean Girls palette and clothing line, proving that Cady Heron and the gang aren't going anywhere. (Hot Topic has sizing from SM-3X.)
The eyeshadow collection is called The Plastics Eyeshadow Palette, and it retails for an affordable $14. It features 12 cruelty-free matte and and shimmer shades in a pink glitter case, with about a thousand refrences to the iconic movie. When you flip the case open you get a big mirror with Damien hovering in the corner wearing his hoodie and sunglasses, with the phrase, "She doesn't even go here!" across his chest. Then there is a decal with the quote "You're Like, Really Pretty" scrawled underneath the mirror, already overloading you with amazing Mean Girls one-liners.
The shadow names are just as fun, where in the top row you have "Fetch," which is a lilac purple that represents Gretchen Wieners; "I'm A Cool Mom," which is sparkly pink and embodies Regina's mom's pink sweater; "Cheese Fries" which is a shimmery gold; and "I'm a Mouse, Duh" which is a matte dark brown and captures the moment Karen Smith said that while wearing lingerie at a Halloween Party.
The Plastics Eyeshadow Palette
$14
Hot Topic
The next row has "Queen Bee," which is a metallic silver; "You Go Glen Coco," which is a burnt brown; "Get In Loser," which is a taupe and hints at the moment Regina told Cady she's going shopping with them; and "Rainbows And Smiles," which is a pumpkin orange and reps the shirt the Crying Girl wore during her "rainbows and smiles" speech during the trust fall scene — which also is coincidentally when Damien shouts out "She doesn't even GO here!"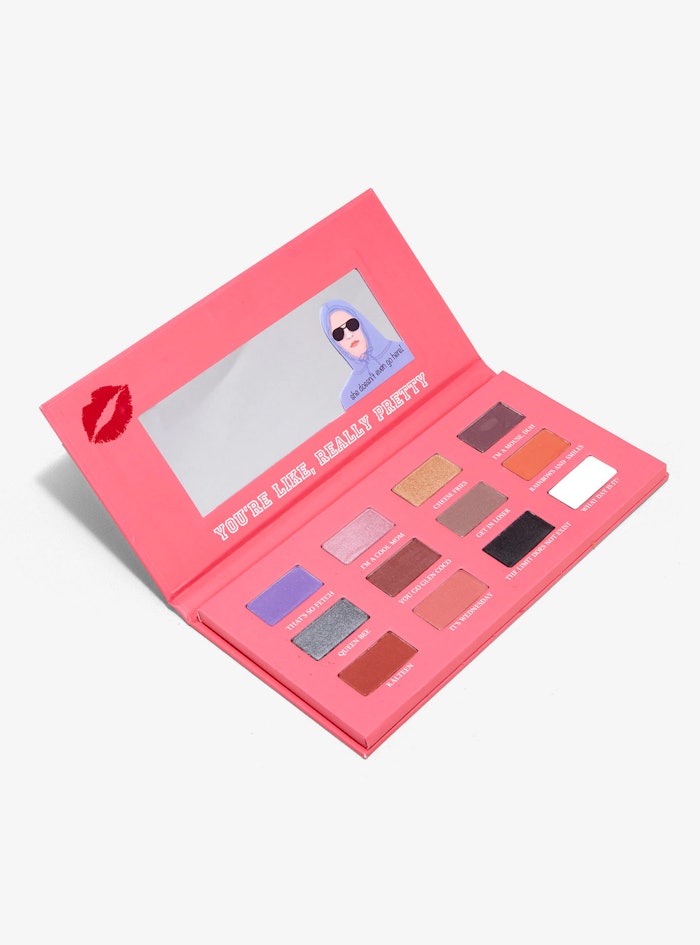 The Plastics Eyeshadow Palette
$14
Hot Topic
The last row has a warm orange shade called "Kalteen," after the "diet bars" Regina was tricked into eating; then there is a coral hue called "It's Wednesday. "After that, there is a black color called "The Limit Does Not Exist" after the moment Cady won the Mathlete tournament and thought back to the problem on the black chalkboard; and a white transition shade called "What Day Is It?" after the iconic "October 3rd" scene.
As for the merchandise range, take a peek at all the fashion goodness below.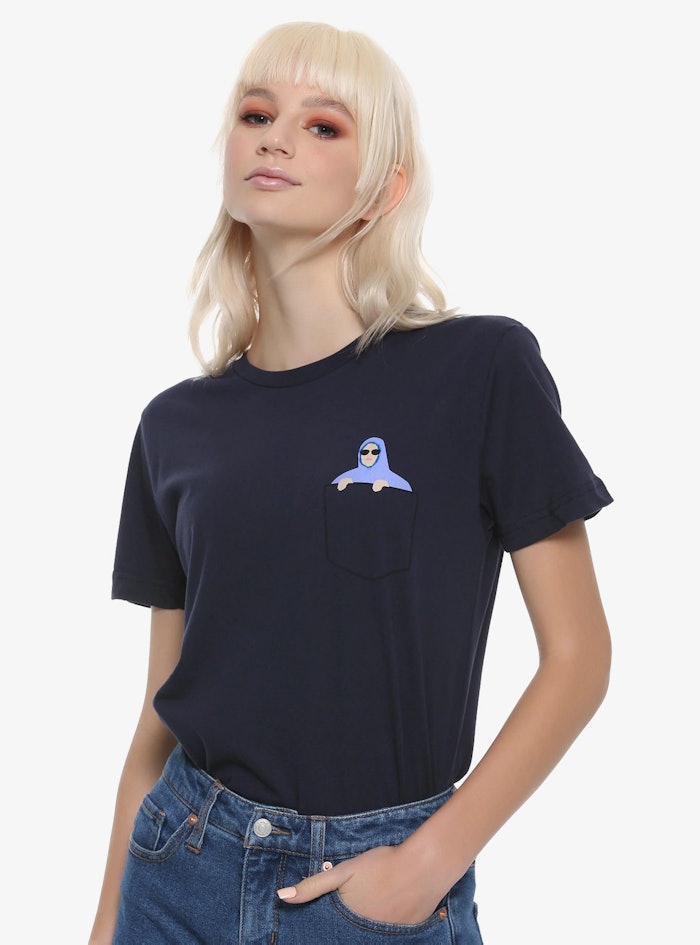 Damien Pocket T-Shirt
$18
Hot Topic
Sometimes you need someone in your pocket to call out people. Get this Damien t-shirt and have a sassy character by your side all day long.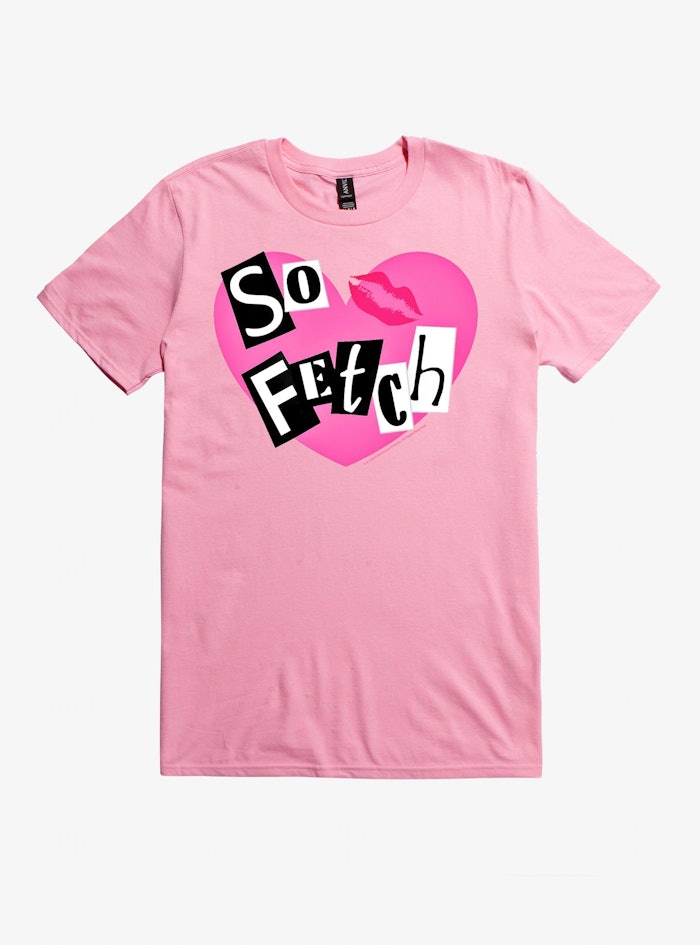 So Fetch T-Shirt
$18
Hot Topic
A hybrid between the motif of the Burn Book and Gretchen Wieners' failed catchphrase, this shirt is peak Mean Girls.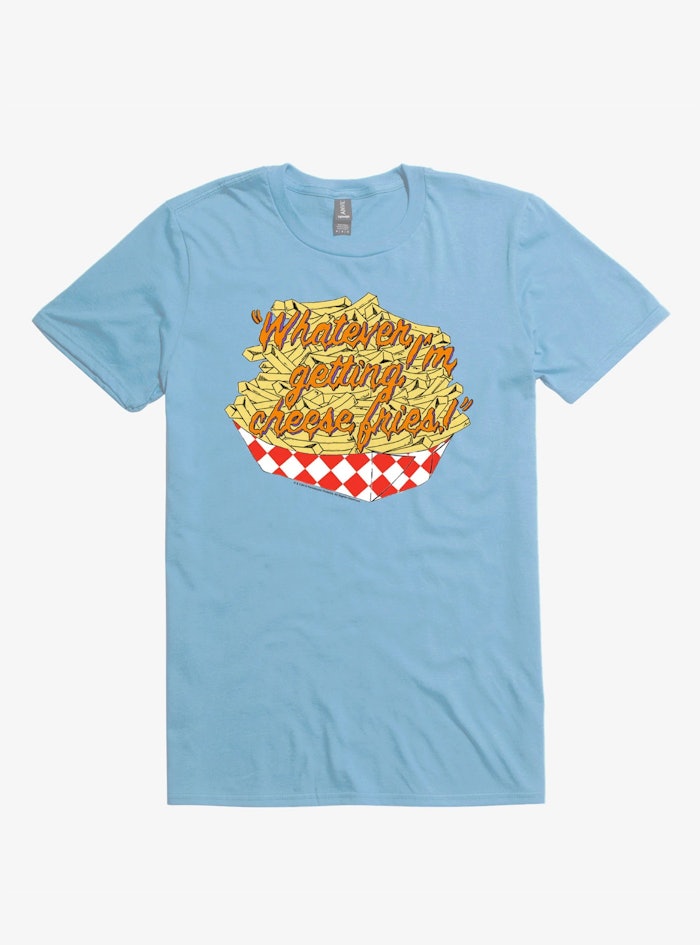 Whatever I'm Getting Cheese Fries T-Shirt
$18
Hot Topic
Capturing the relatable moment when Regina tried to find out the percentage of fat in her nutrition bar, and Cady gave her a complex math problem back. Put off by all the algebra thrown in her direction, Regina threw down the bar and said "Whatever, I'm getting cheese fries."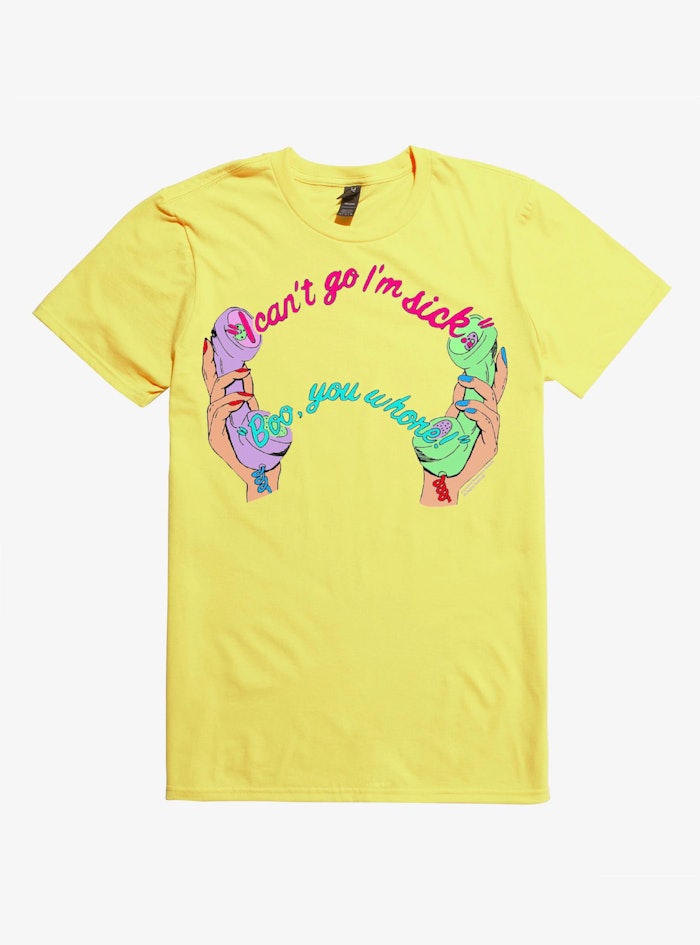 I'm Sick T-Shirt
$18
Hot Topic
"Boo, you whore" was a catchprase for years after this scene.
Whether you want a novel eyeshadow palette or a few graphic tees with iconic catchphrases on them, this is an amazing way to pay tribute to one of your favorite movies.
Source: Read Full Article