Who doesn't want to be a Barbie girl in a Barbie world?
When I uncovered Unique Vintage's Barbie-inspired clothing line, my 10-year-old-self was screaming.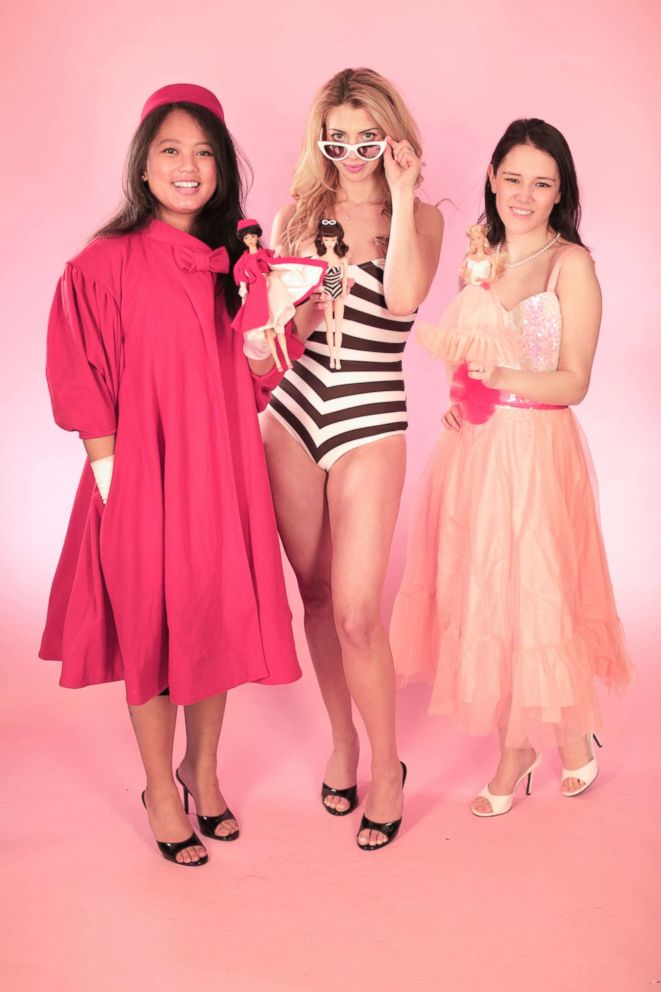 The fashion line is inspired by Barbie's original wardrobe. And even though Barbie herself turned 60 this year, her look never goes out of style.
"My favorite thing about the collection is that everyone can be Barbie," Abbi Graddy, marketing coordinator at Unique Vintage, told "Good Morning America."
Graddy said the line caters to all body types, from petite to plus-size.
"Vintage clothing is hard to find in larger sizes and we wanted to make that more accessible and affordable," she added.
From the iconic Suburban Shopper outfit to the vintage black and white bathing suit, nearly every look is based off of a real Mattel Barbie.
"As one of the largest in the vintage reproduction apparel industry, our collaboration with Mattel was a natural fit," said Katie Echeverry, founder, CEO and creative director of Unique Vintage. "Our consumers are real women with real careers, who, like Barbie, range from computer engineers to surgeons and everything in between. We recognize the limitless potential of every woman to create her own universe and fully express herself in whatever ways are unique to her."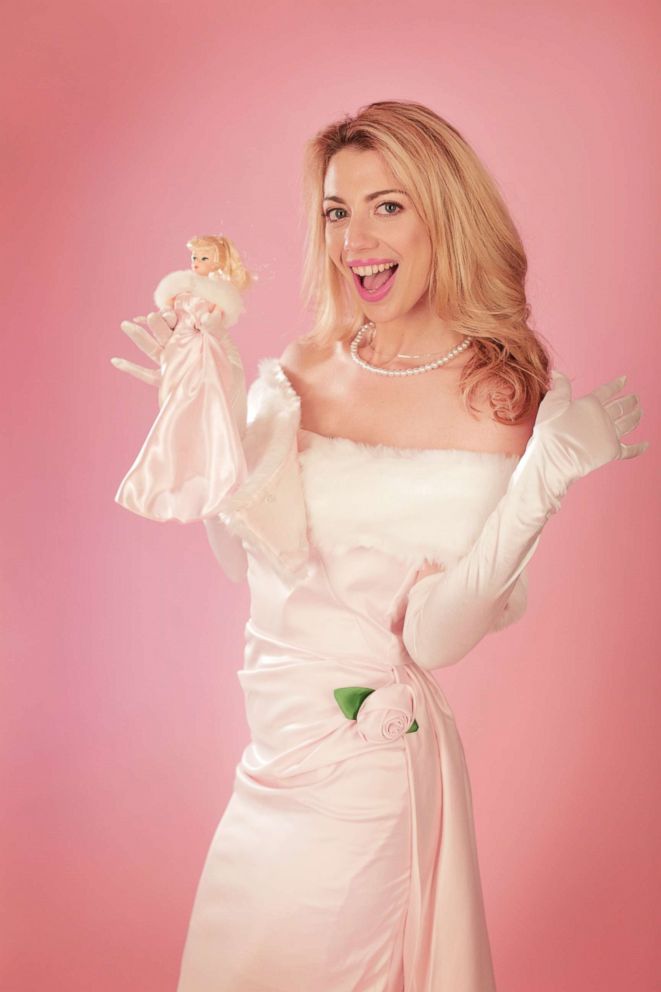 Growing up, I had my dream Barbie doll and one I was slightly intimidated by but admired. From Red Flare Barbie to Peaches 'n Cream Barbie, my co-workers joined me in my quest to transform into the doll we loved the most and the version we wanted to be.
Brittany Berkowitz, GMA producerFavorite Barbie: Enchanted Evening Barbie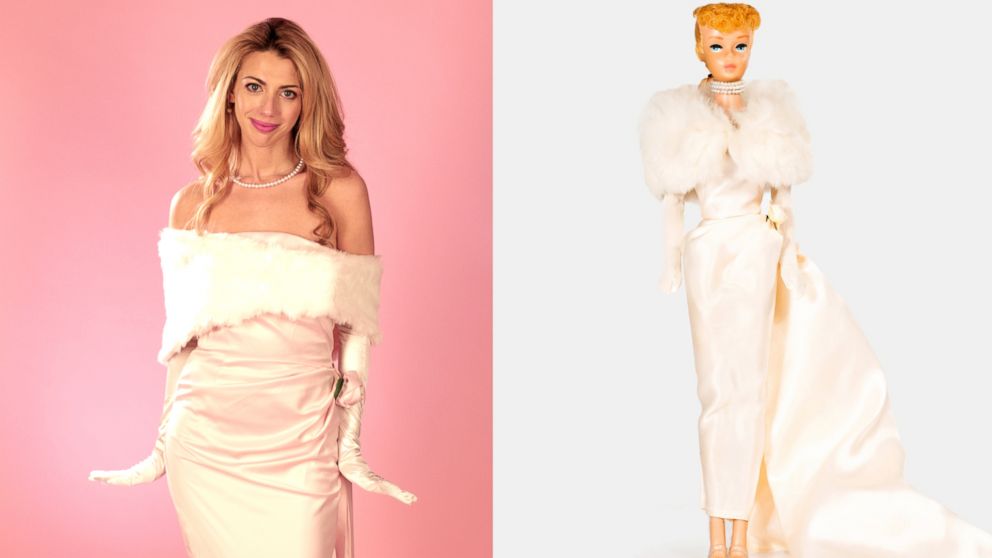 Barbie's 1960s looks were some of my favorites. But growing up in the '90s, they were considered collector's items and were meant to be kept in the box. Enchanted Evening Barbie was a doll that I wanted to look like and I dreamed of playing with.
I truly felt like Barbie in this outfit. The dress itself was super comfortable and the best part was all the fabulous accessories! From a fur shall to a pearl choker necklace, I felt like I got to play adult dress up and match my BFF.
Alexa Valiente, ABC News producerFavorite Barbie: Black Magic Barbie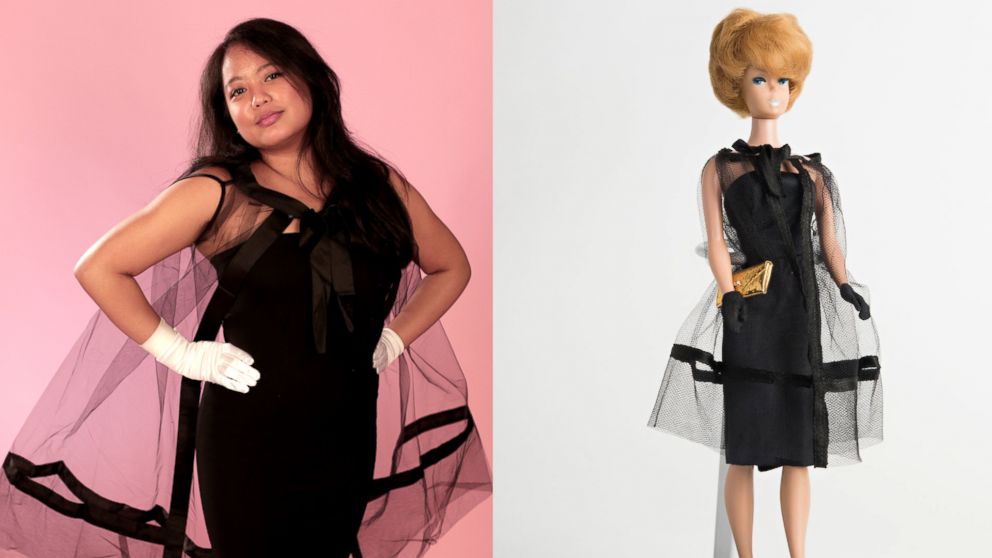 "Barbie was my first source of inspiration for fashion," Alexa said. "Before I'd even look at magazines, I'd look at what a Barbie was wearing."
Alexa said she had a lot in common with Barbie's Black Magic sheath dress, a look that's really just a simple little black dress with a stylish cape draped over it.
"I don't like to wear clothes that are too revealing but I like to take a risk with my fashion," Alexa said.
Alexa was a big fan of her transformation. She loved that the dress was comfortable but she still felt fabulous in it.
"Now I need a cape in every part of my outfit," she said.
Elisa Tang, GMA associate producerFavorite Barbie: Suburban Shopper Barbie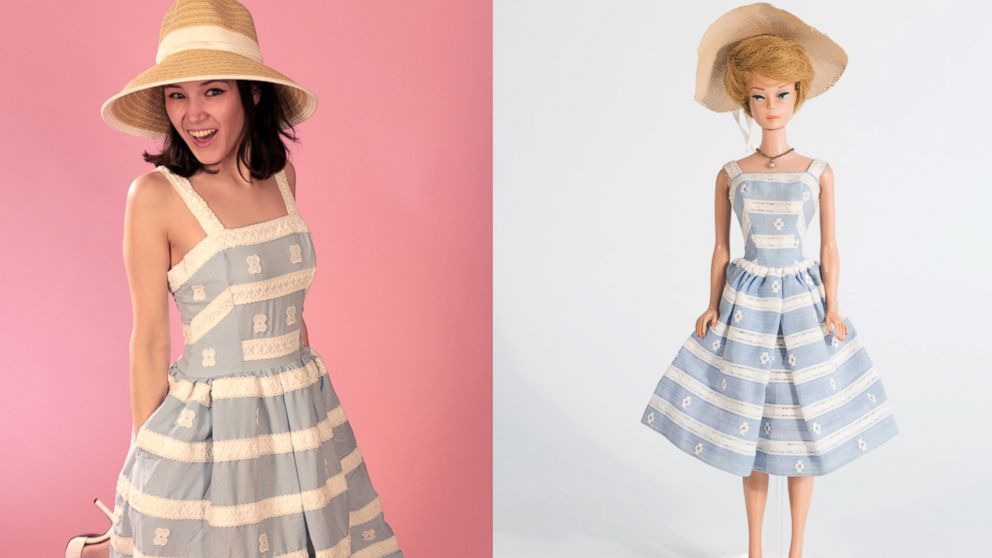 Elisa's pick was Suburban Shopper Barbie, one of the classic 1959 editions.
"I love her because she is on a mission and that is to look awesome while having a productive day," she said.
Elisa gave two non-plastic thumbs up to the look. But her favorite part?
"The dress has pockets!" she said.
Brittany's aspirational Barbie: Black-and-White Striped Swimsuit Barbie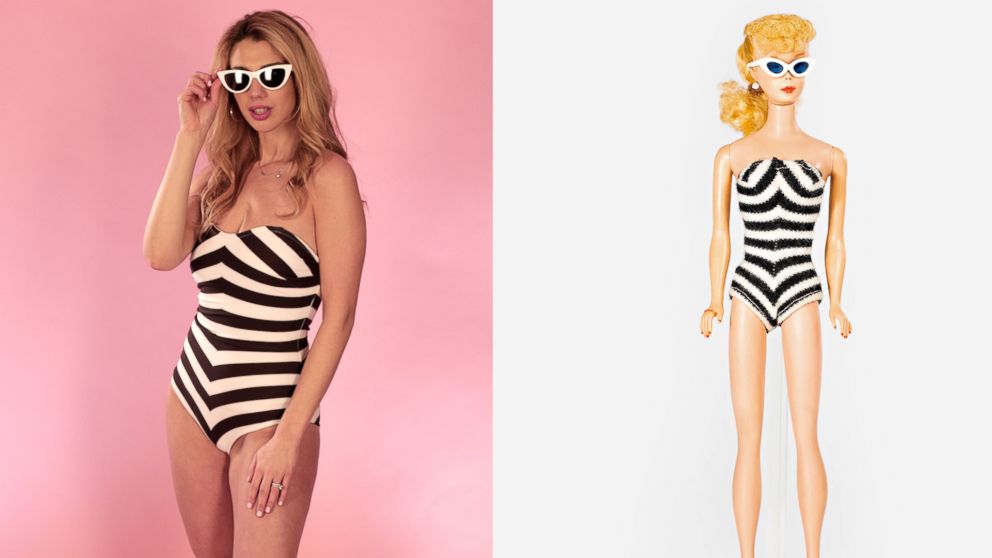 For my aspirational look, I chose to transform into the very first Barbie from 1959, where she debuted in a black-and-white striped swimsuit.
Growing up, this Barbie was goals. Barbie was the spitting image of confidence and as someone who struggled with their body image, I wanted to be as comfortable in my skin as this Barbie.
My nerves were put at ease once I saw myself in the one-piece. With the help of Barbie, I felt fierce and confident. To me, the look wasn't just a swimsuit, but a suit of armor.
Alexa's aspirational Barbie: Red Flare Barbie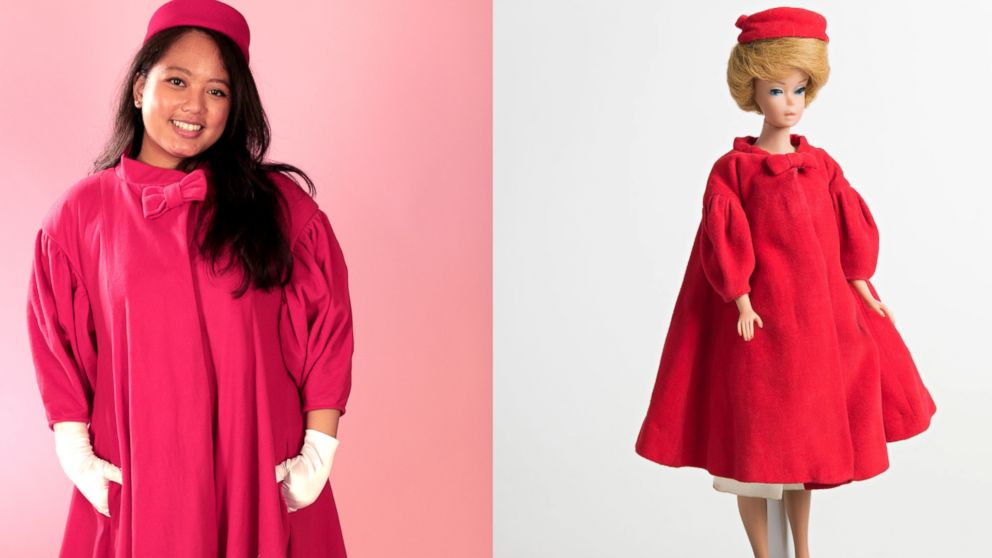 Alexa decided to transform herself into Red Flare Barbie to get a little outside her style comfort zone.
"I was really intimidated by this look because it reminds me of all the famous women of the '50s and '60s," she said. "I never thought it would look good on someone like me because I've never seen anyone that looks like me wearing it."
The look had Alexa feeling her Barbie best.
"I don't even drink coffee but I feel like I need a Starbucks cup and a dog to walk wearing this outfit," she said.
Elisa's aspirational Barbie: Peaches 'n Cream Barbie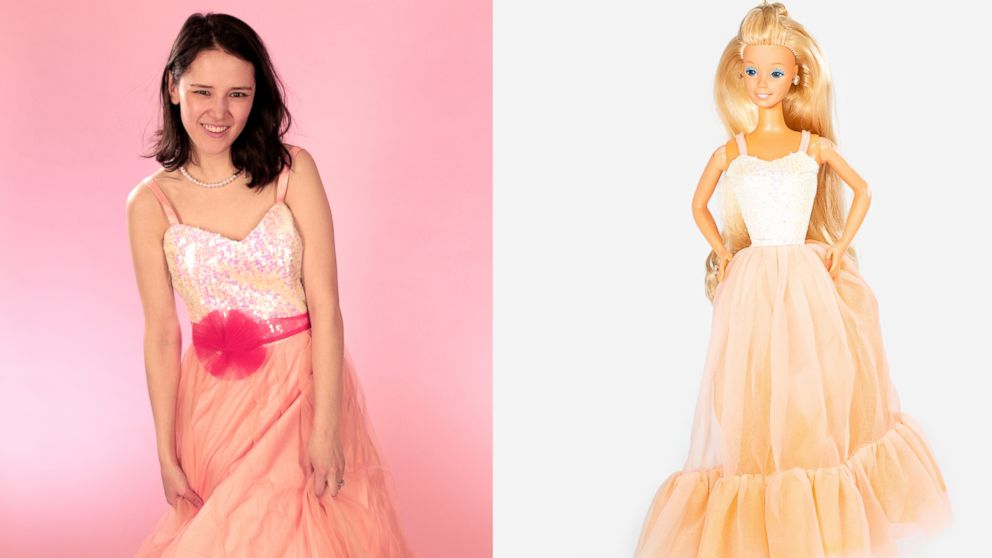 Peaches 'n Cream Barbie is an '80s version of the doll that sports a flamboyant dress with a sequin top.
"I don't dress like this ever," she said.
Elisa said her friends would be in shock to see her dressed like Peaches 'n Cream Barbie but she loved her new look.
"This is the Barbie that I aspired to be and now I get to be her … this is so cool."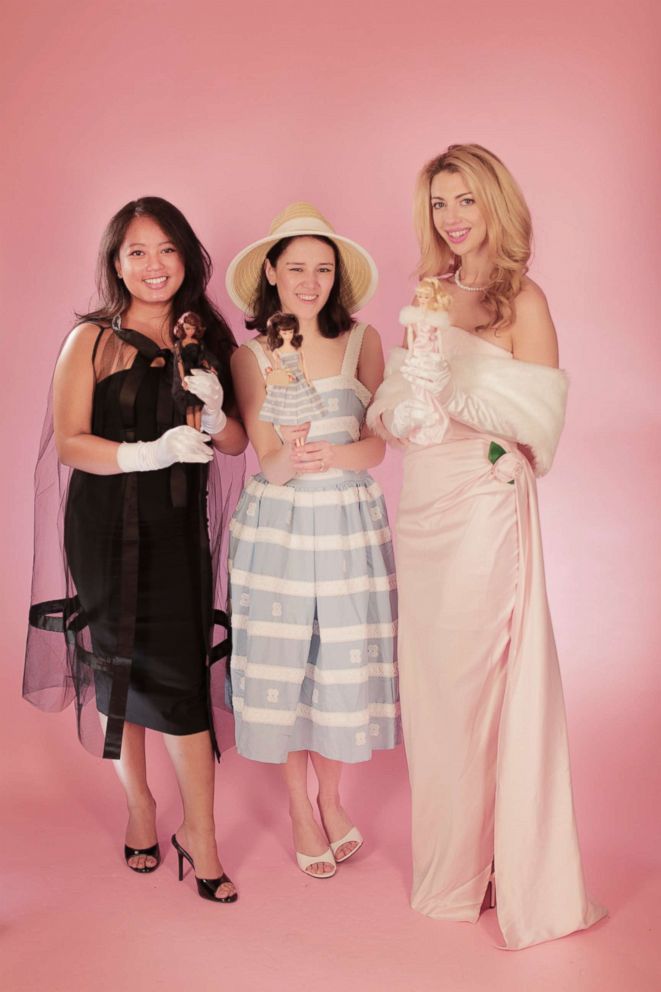 Source: Read Full Article