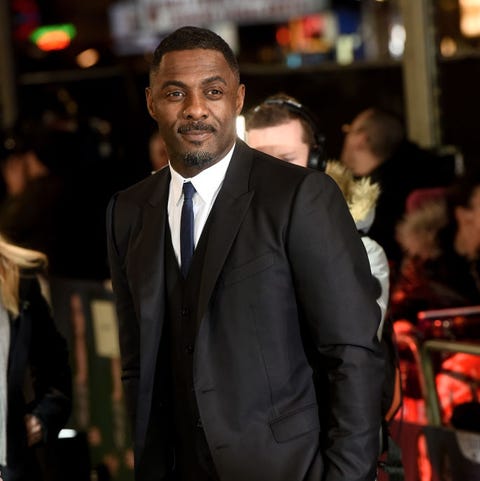 People magazine has crowned Idris Elba the Sexiest Man Alive for 2018, and the internet is celebrating with memes.
pic.twitter.com/yVOEttW0Bi
The British actor is beloved for his stints on the police procedural show Luther and on HBO's crime series The Wire, as well as in movies including Thor: Ragnarok, Pacific Rim, and Beasts of No Nation. (There's also the fan campaign to make him the next James Bond, which continues to follow him.) Of course, his broad, muscular 6'2" frame certainly didn't hurt in nabbing his latest title.
Elba, 46, is no stranger to Men's Health. As our cover star in 2015, he provided insight into how he trains for his roles. Here's how Idris Elba eats and works out, and how it can help you (though best of luck on the Sexiest Man Alive part) to stay fit, too.
Idris Elba loves a workout that doesn't require anything except your body.
Elba no doubt has access to plenty of Hollywood help in maintaining his physique. But when he talked to Men's Health, he kept his fitness routine as simple as possible. He fired off rapid jabs and a left-right combination, then a barrage of knee kicks, at a nonexistent opponent.
"Shadowboxing is one of the best workouts you can do," he said. "You don't need any equipment, and it works every muscle. It's what Nelson Mandela did many mornings in his jail cell." (Elba played Mandela in the 2013 film Mandela: Long Walk to Freedom.)
Kickboxing is a passion.
Elba has been training in kickboxing for more than a decade. The sport requires intensive, all-body athleticism. But for Elba, it has another significance: allowing him to knock someone on their ass.
"Some guys want to be toned or want to jog for miles," he said, "but my ultimate fitness goal is to be fight-ready. If I step into the ring, could I go toe-to-toe for five rounds? That's what I strive for. That's what I consider fit. I want to know that if I'm being wrestled to the ground, I've got the strength to fight a man off. Kickboxing is rugged—it's all core strength. But when you're fight-ready, you feel like you can last forever."
While Elba doesn't spar when he's working because film producers consider it too dangerous, footage of him in the ring shows he's not to be messed with.
https://www.instagram.com/p/BMIKfd7hjMa/
https://www.instagram.com/p/BMIKfd7hjMa/
https://www.instagram.com/p/BMIKfd7hjMa/
View this post on Instagram
Idris Elba Smashes it at York Hall! 👊🏾😂🇬🇧
A post shared by Madonna (@madonna) on
He appeared in a Discovery show, Idris Elba: Fighter, following his training and kickboxing.
It's too bad we won't get to see him go fists-to-fists as Bond, since he said he won't be taking on the role.
His cardio is unusual.
You might imagine someone like Elba exhausting themselves with a miles-long run or hustling on a rowing machine or bike. But Elba's go-to cardio move is even more stripped-down than his shadowboxing.
"My favorite way to break a sweat is skipping," he told People. "I like to skip. Ten minutes of skipping is a lot of work, believe it or not. Your whole body's going and you break a sweat very quickly."
So now you know: Elba is a skipper. He does, however, still fit in other exercises inside a gym. In fact, he's pretty much sweating all the time. "I try to fit in workouts whenever I can," he told Men's Health. That could mean 45 minutes of running in the morning, doing 100 pushups, or swimming, which he adds "works every muscle in your body."
He's not afraid of carbs or dessert.
Elba is conscious of what he puts into his body, but he doesn't follow some super-strict diet. He has a rule to always eat a good breakfast, getting in carbs and protein, usually a healthy cereal and eggs.
He doesn't see carbs as an enemy, but rather as fuel. "The best thing that I cook is toast. I'm really good at making some toast. Believe that!" he said. (Okay, so maybe he's not the world's greatest chef.)
And he'll even indulge in sweets when the mood strikes. "My favorite midnight snack is a Snickers bar," Elba said. "You know it's a nougat, it's caramel, but it's quick as well. And you can get rid of the wrapper really quickly so no one has to know."
Source: Read Full Article