Inside Pauley Perrette's Accidental NCIS Journey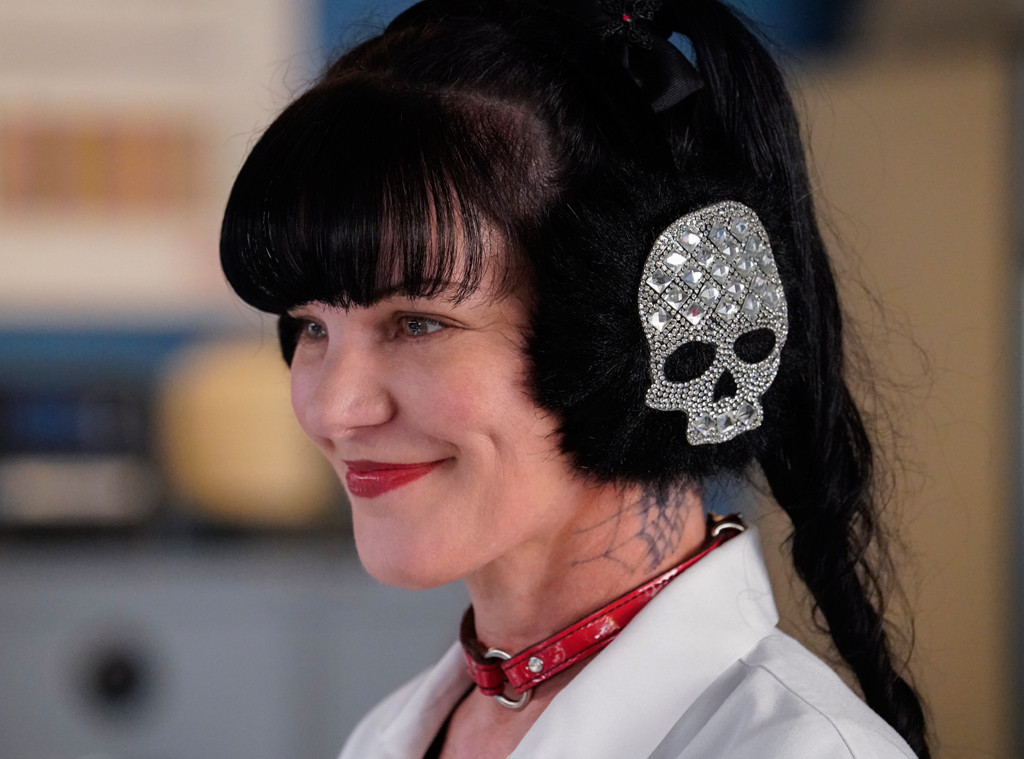 CBS
Remember that time you woke up and all of a sudden NCIS had been on for 15 years?
Where does the time go? But fans of the enduring CBS hit are waking up to a new landscape at the Naval Criminal Investigative Service, one without forensics and tech expert Abby Sciuto, played by Pauley Perrette since 2003.
Perrette's character has been an indisputable fan favorite, one who will carry on in endless syndicated repeats, but whose real-time journey with the team is over. Other stars have left NCIS—Michael Weatherly enjoyed his own emotional exit in 2016—but no departure to this date has been fraught with as much tension and interest in a character's fate as Perrette's goodbye this month.
Which within days had sparked a mystery of its own.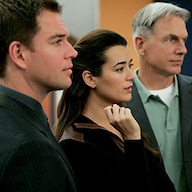 Photos
TV's Most Shocking Exits: Stars Who Walked Away From Hit Shows
The departure itself wasn't a surprise—Perrette had announced last October that this would be her final season—but a week after Abby's goodbye episode the actress decided she'd had enough of whatever inaccurate rationales the Internet had come up with to explain her leaving the stalwart crime procedural. (Last fall she tweeted that her planned exit had nothing to do with a rumored skincare line, for instance—a rumor that, coincidentally, also plagued Joanna Gaines. That actually turned out to be a separate serious issue, with the FCC slapping a network of online marketers with a $179 million fine for faking celebrity endorsements.)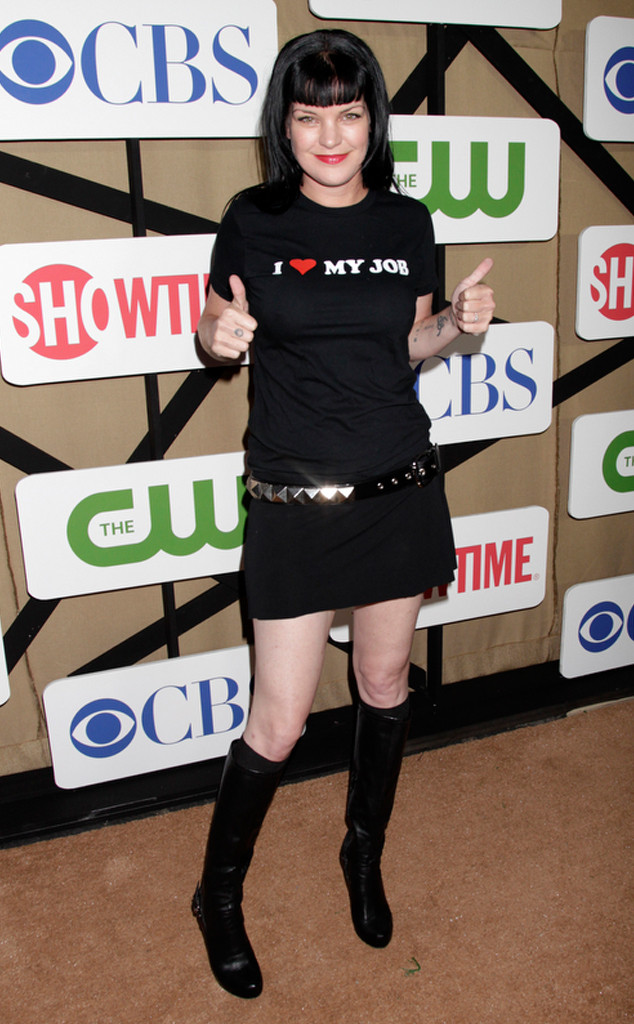 Francis Specker/CBS
She had just said in 2016 as NCIS' 14th season got underway that "there's not a single day I don't wake up and I'm just so overwhelmed with being grateful." She told Hollywood Today Live, "I'm so happy. I love my job, I can't believe I get to play Abby Sciutto!" She also, because she was asked about the show's sparse haul of Emmy nominations, said that she'd rather be home on any night with her dogs, beer in hand, paychecks in the bank, than be "in a big uncomfortable dress standing in the sun and someone handing me an award."
But in the end Perrette made the environment she was leaving behind sound downright sinister.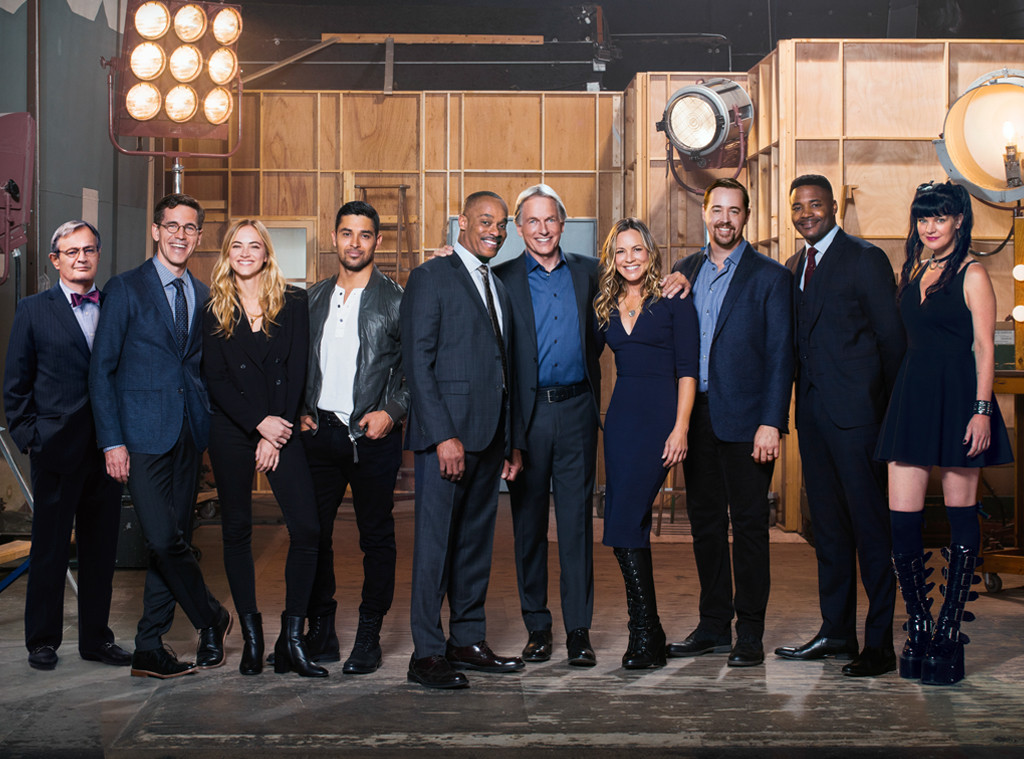 Kevin Lynch/CBS
"I refused to go low, that's why I've never told publicly what happened," Perrette—who once upon a time joined Twitter to fundraise and further her reach as an activist but then became a self-proclaimed "Twitter-aholic"—tweeted May 12. "But there are tabloid articles out there that are telling total lies about me. If you believe them? Please leave me alone. You clearly don't know me. (Sorry guys, had to be said)."
She continued in the early hours of May 13, "Maybe I'm wrong for not 'spilling the beans' Telling the story, THE TRUTH. I feel I have to protect my crew, jobs and so many people. But at what cost? I.don't know. Just know, I'm trying to do the right thing, but maybe silence isn't the right thing about crime. I'm… Just… ?" Then, 20 minutes later, "There is a 'machine' keeping me silent, and feeding FALSE stories about me. A very rich, very powerful publicity 'machine'. No morals, no obligation to truth, and I'm just left here, reading the lies, trying to protect my crew. Trying to remain calm. He did it."
And two hours after that: "I've been supporting ant-bullying programs forever. But now I KNOW because it was ME! If it's school or work, that you're required to go to? It's horrifying. I left. Multiple Physical Assaults. I REALLY get it now. Stay safe. Nothing is worth your safety. Tell someone."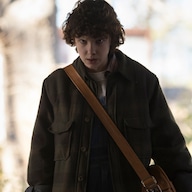 Photos
These TV Characters Were Supposed to Die
CBS Television Studios immediately sought to quell the reaction to those loaded tweets, telling E! News in a statement, "Pauley Perrette had a terrific run on NCIS and we are all going to miss her. Over a year ago, Pauley came to us with a workplace concern. We took the matter seriously and worked with her to find a resolution. We are committed to a safe work environment on all our shows."
Perrette then responded on Twitter, "I want to thank my studio and network CBS They have always been so good to me and always had my back."
But viewers who analyzed every second of her send-off this month hadn't missed the fact that she and series star Mark Harmon hadn't shared screen time all season (Abby even said goodbye to Gibbs in a note). The Wrap has reported that a rift between the two actors opened up in October 2016 after Perrette was the only person on set with enough clout to confront Harmon when he continued to bring his dog to set after it bit a crew member, who needed stitches.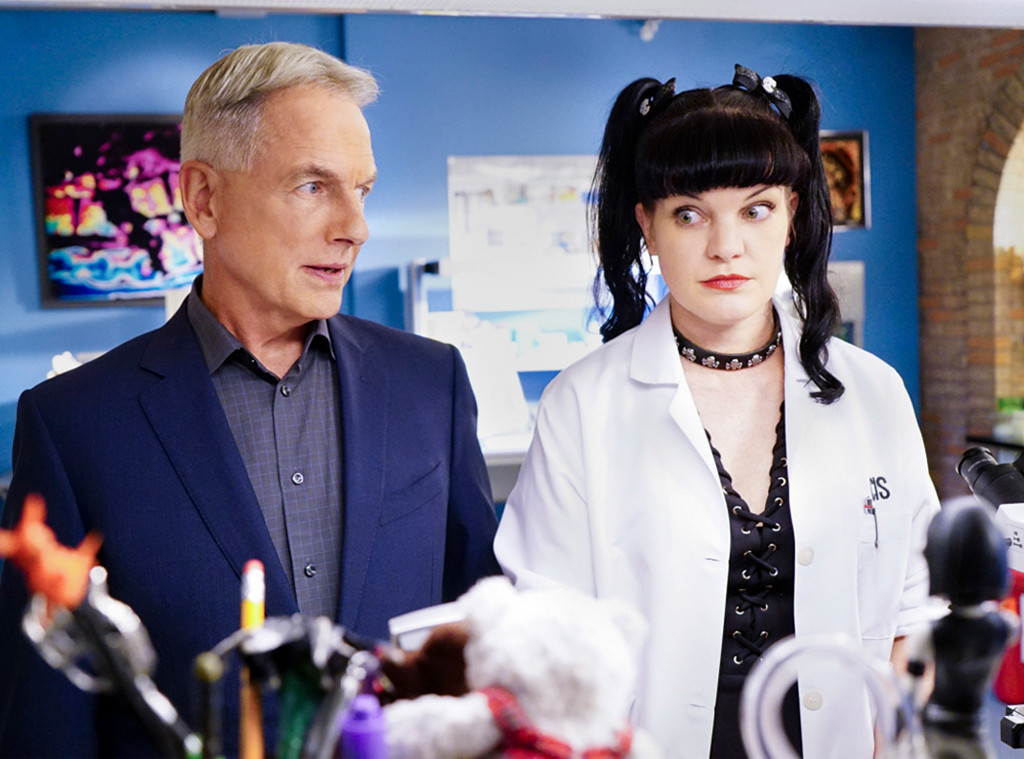 Sonja Flemming/CBS
After that, "she did her scenes on one day and he did his work on other days, and they still produced a great show," a source told The Wrap. "It was simply scheduled that they did not work the same days." (An insider also insisted that Perrette was not referring to sexual harassment or physical abuse when she wrote "Multiple Physical Assaults."
Before the reported dog incident, NCIS showrunner Gary Glasberg had died suddenly that September, leaving the entire production in mourning. "Our hearts are collectively broken," she tweeted at the time.
Then in January 2017, watching the SAG Awards and fired up over Trump, her dad being in the hospital, her dog recovering from surgery and the clamor from some corners for celebrities to stop talking politics, she tweeted, "You think my thoughts don't matter because I'm an actor? I had thoughts when I worked for a car lot, Taco Bell, was a bartender, and worked as a cook assistant in the bottom of a boat in a foot of dirty dish water… My (VERY REPUBLICAN) dad is in the ER and I'm terrified because I love him so much, politics don't stop my daddy love. I'm his little kid scared to death right now. My dog is in surgery and intense rehab. And I'm scared. My boss died suddenly and his memorial was today and I miss him and it sux. Three of my friends died this year."
Perrette added, "Does this seem like 'CELEBRITY PROBLEMS?'"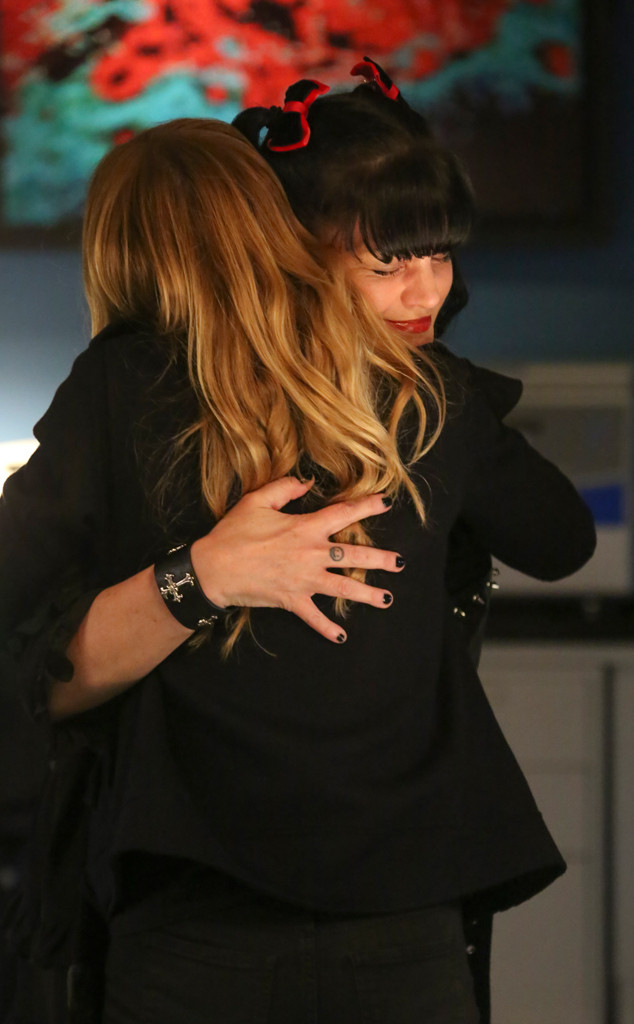 CBS
Whatever truly hastened her exit from NCIS, Perrette sounded genuinely sorrowful about leaving for the average reasons you would logically come up with—nostalgia, leaving a cast and crew that had become like family (at least some of them), saying goodbye to a character she'd been living with for 15 years, depriving her fans.
"It makes me sad to imagine a world without Abby in it. It really makes me sad, " Perrette told CBS News last month.
"I'm still grieving. And it's sad. I, like, usually cry in my car every single day when I drive to work. And I usually cry on my way home at some point. And then I take a deep breath, and I go, 'All right,' you know?" She was as proud as ever of her brainy, confident character whose inspiring effect on girls wanting to study math and science became known as the "Abby effect." Perrette added, "Abby made science cool and attainable for young women. And this television character did more than encourage it. It made it cool. It made it exciting. It made it fun."
But it goes to show that not even the actress who was repeatedly voted the most-liked female star on prime-time TV—she just went out on top, too—was not necessarily having an easy time of it behind the scenes. Her rapid rise ended up being bittersweet, a mixture of real-life and rumored on-set drama making for a not always pleasant day at the office despite the perks of having such a plum job.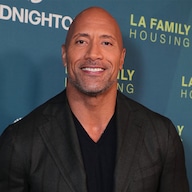 Photos
Do-Gooder Gallery
"We've been on an upward trajectory since the beginning," a beaming Perrette said on CBS' The Early Show in 2011, "and it just has kept growing and growing and growing. It's been incredible, and the cast and the crew all love our show and we're just nothing but grateful and happy. It's the greatest job."
Told that the show's success of late pretty much all boiled down to her, she shook her head bashfully, insisting, "It's all about everybody…The collective effort of everyone making the show, and also the fact that we all love our show and we're all having a blast is what it's all about."
"I'm not nearly that smart or focused" as Abby, she assured. But she was being characteristically humble.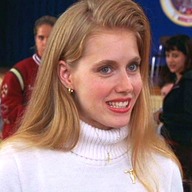 Photos
Stars' First Roles
Perrette originally hails from New Orleans and went to high school in Georgia, where she was crowned homecoming queen and voted Best Personality and Most Easygoing her senior year. She studied sociology, psychology and criminology in college with designs on possibly becoming an FBI agent, but ended up moving to New York, where she tended bar and did other odd jobs before the right introduction to a director led to a load of commercial work.
On CBS This Morning in 2015, Perrette called her acting career a "total accident."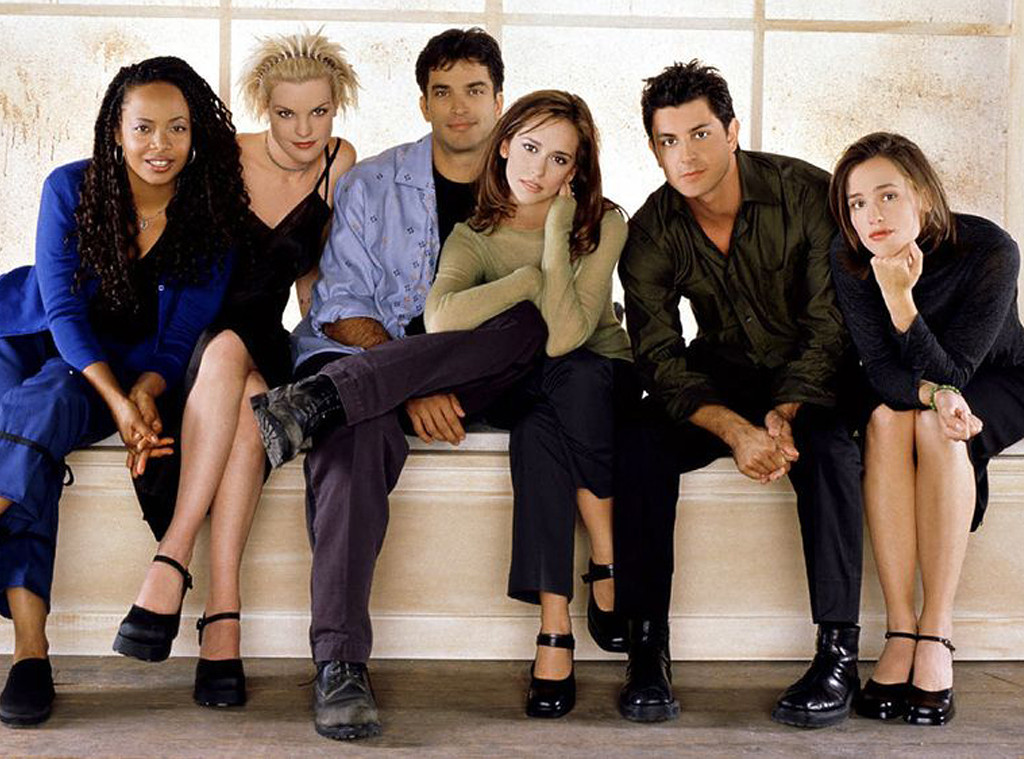 FOX
Eventually she moved to L.A. and not long after making her TV debut on an ABC Afterschool Special she landed a recurring role on the second season of the critically acclaimed Stephen Bochco drama Murder One. It didn't go past a second season, but Perrette hasn't stopped working since. Recurring guest roles on Frasier and The Drew Carey Show eventually turned into Perrette landing the role of Jennifer Love Hewitt's quirky (of course) apartment manager on The Time of Your Life.
That didn't last, either, but Perrette—whose raven-dyed hair (she's a natural blonde), tattoos and subtly raspy voice came to signify the smart/sassy/sarcastic supporting role—was only a couple years away from a two-episode stint as Abby Sciutto on the CBS military legal drama J.A.G. The rest is spin-off history.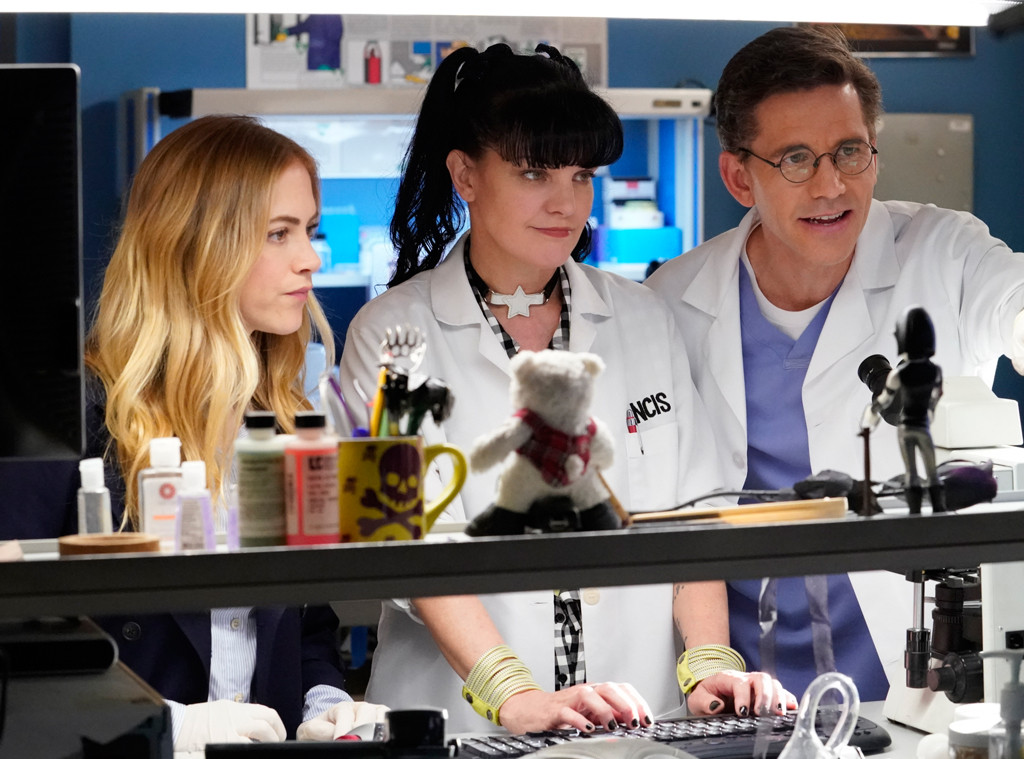 CBS
"I think, after all these years, an older generation might look at someone with tattoos and instead of thinking they're a thug, they maybe think they're a scientist," she mused recently to USA Today.
"Abby's never called herself 'goth.' She's never called herself anything, except 'Abby,'" Perrette told E! News in 2014, reflecting on how popular she was with NCIS viewers—and on the common interpretation of her The Cure-fan-friendly style.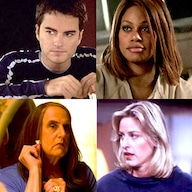 Photos
Remember These LGBT Firsts on TV?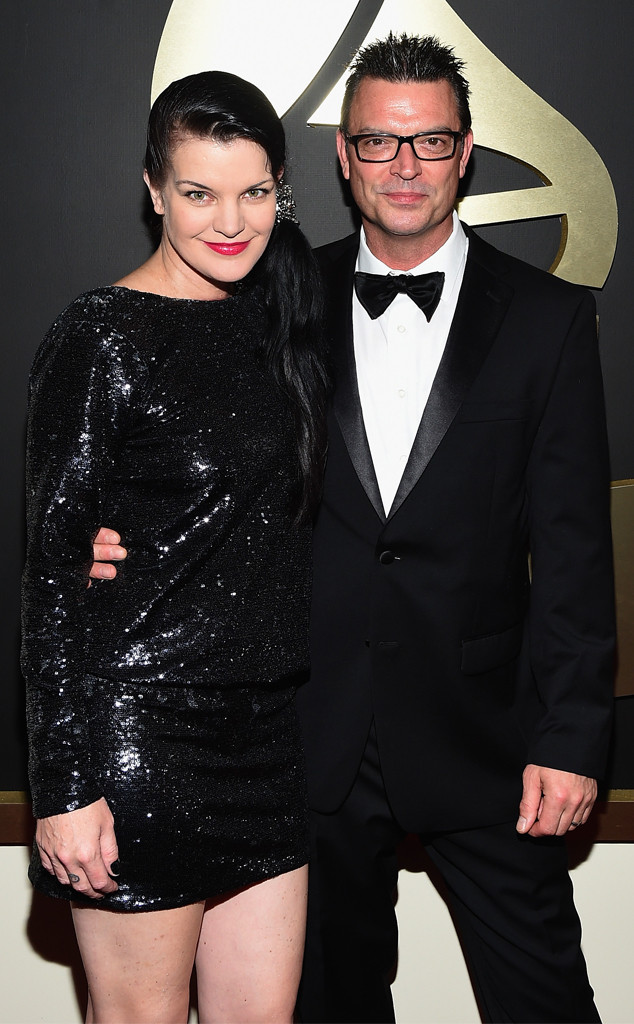 Larry Busacca/Getty Images for NARAS
When she talked to E!, she had been engaged to former British Royal Marine turned aspiring actor Thomas Arklie since Christmas Day, 2011, but had said multiple times that they wouldn't get married until same-sex marriage was legal.
When the Supreme Court ruled the Defense of Marriage Act unconstitutional on June 26, 2015, paving the way for same-sex couples to tie the knot in every state, Perrette was one of a number of engaged celebrities who was apparently expected to run out and get married immediately.
"We have been engaged for four years because we worked for a federal, marriage-equality law, and that Friday was the strangest day," Perrette, a longtime LGBTQ rights activist, told FOX411 a month later. "My life as a civil rights activist and as a straight ally has been marching, speaking, donating, marching, donating, speaking, marching, speaking, rally, holding poster signs, and then it was over. It was so weird."
A number of her gay friends were getting married, she said, but she admittedly hadn't thought about herself yet.
"There are certain benefits [to marriage]," Perrette said. "With us, we have different insurance and things. There are certain benefits that we would have from being married, and every time I thought about it, I thought, 'How many same-gender couples have been together 25 years and can certainly benefit from that, too?' So, for me, now, it's pretty exciting."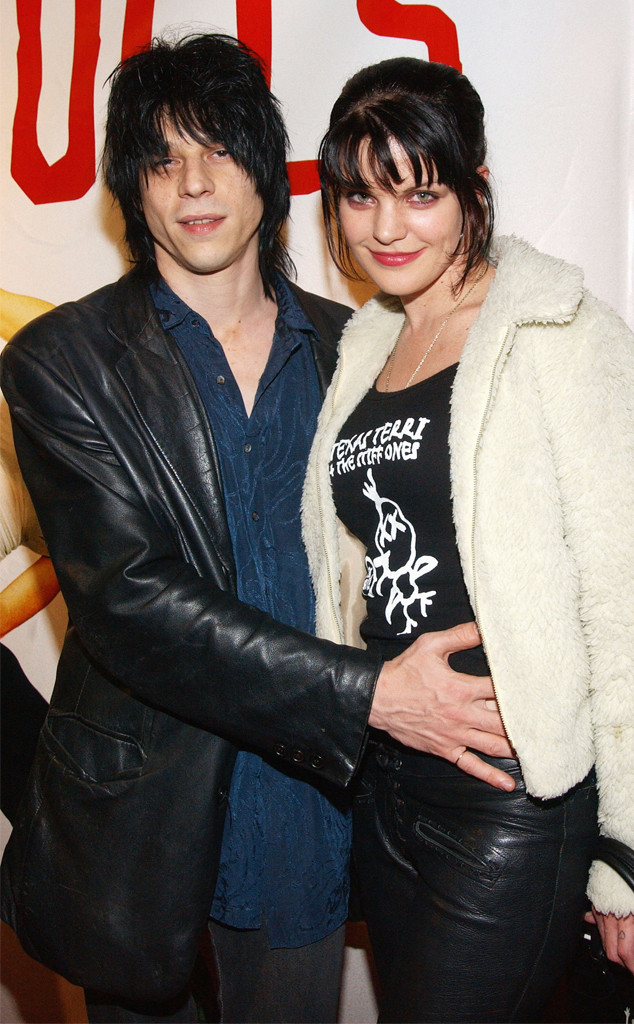 Vince Bucci/Getty Images
By then she was also fully aware of the downsides. She was married previously to Coyote Shivers rocker Francis Shivers from 2000 until their separation in 2004. Their divorce was finalized in 2006 but she secured a restraining order against him first in 2005. According to court documents, per the New York Post, it was granted due to a "history of emotional abuse," and then renewed multiple times. Shivers was arrested for violating the order in April 2012 after he and his wife showed up at the same L.A. restaurant as his ex-wife, and he in turn accused her in a court filing of using restraining orders as a means of harassment.
"For years, I've been saying that this was going to happen—in court documents, in police reports," Shivers, facing jail time for the violation, told the Post in 2013.
Without ever referring to her ex-husband by name, Perrette talked to 48 Hours last year for a special on stalking. "I have a permanent restraining order, but those can only do so much," she said. "The biggest problem we have right now is that the stalking laws have not been updated since the Internet. That is just ridiculous because a lot of stalkers use the Internet, that's their main tool. There's a lot we have to get changed but especially Internet stalking laws."
Shivers is still seeking compensation for the wrongs he feels were done to him, but a lawsuit he tried to file against Perrette days ago in Los Angeles was stayed upon further review, as in 2008 he was deemed a "vexatious litigant" by the state of California—meaning, they thought he was trying to use the legal system to harass or manipulate someone. According to Page Six, previous suits he tried to file were rejected for that reason. Talking to Fox News, he called Perrette "a serial false accuser."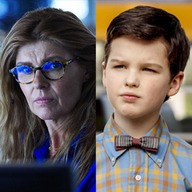 Photos
Renewed or Canceled? Find Out the Fate of All Your Favorite Shows
Perrette was also briefly engaged to NCIS cameraman Michael Bosman, whom she started dating in 2005 while her divorce proceedings were underway. Ultimately the progress for same-sex marriage didn't hasten her nuptials with Arklie; they eventually split up.
"Nope. Tried it. Not for me. Not at all," she told CBS News last month when asked about her love life. Asked if she was happier in the wake of that realization, she replied, "Delighted. Probably the best decision I ever made in my life was the time that it took me to go like, 'Wait a minute. This is silly. I don't have to have a boyfriend, or a husband, or a girlfriend, or anything, you know?' I don't need any of that. Like, I do whatever I want. I do whatever I want. And I think that is rad."
Meanwhile, the fame game became a mixed bag for Perrette, who's expressed endless gratitude for her fans but doesn't particularly love the day-to-day scrutiny that comes with being a celebrity.
"Everybody's really nice and very excited—people get excited to see Abby," she told CBS News in 2011. "I'm not Abby on a random Saturday." Perrette added, smiling, "It's a phenomenon, definitely." She used to have "little tricks" to avoid being recognized, but "they don't work anymore. It's over."
Seven years later (and that's 28 in Twitter years) she sounded a little more jaded on the subject. "It's being a commodity," she said about fame last month. "It's just very dehumanizing. I hope I'm not wrong, but I think that I have earned a little bit of time to myself. Just stay home. Go to church."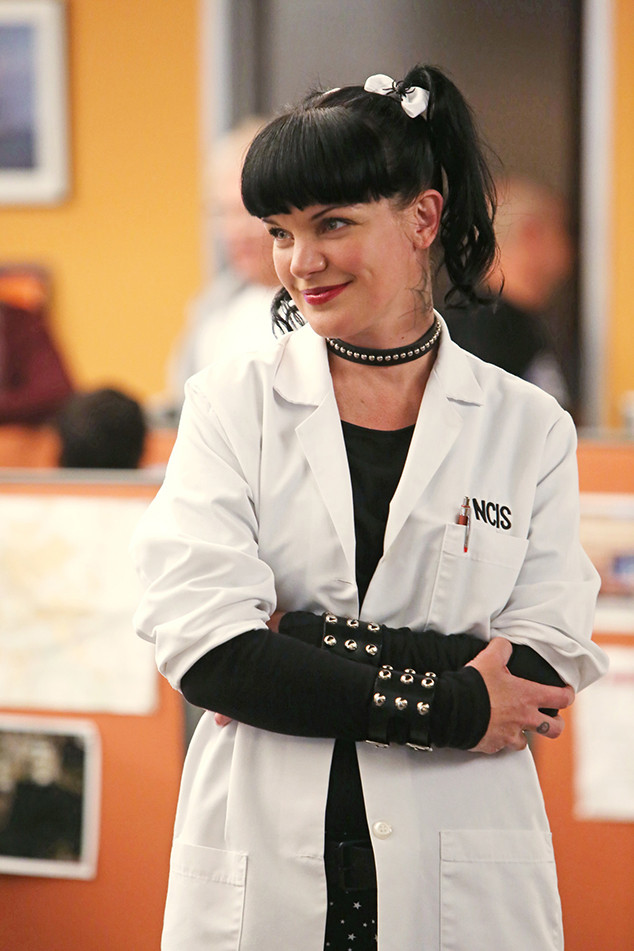 Monty Brinton/CBS
She appreciated her fans so much, though she refused to change her signature 'do even when her life depended on it. A decade of at-home dye jobs ultimately resulted in Perrette acquiring a PPD allergy, which at first just caused scalp irritation but—as she wanted to get the word out there to fans—can be fatal if you don't change your routine.
She shared on The Queen Latifah Show in 2015 that she was relying on black hairspray to keep the look going. "But now Abby has black nails 'cause if I touch my head it looks like I've been digging in a coal mine," she quipped. But the world wasn't ready for a blond Abby, she insisted. "I'm a little Abby-obsessed, I love her so much and I want to be her when I grow up," Perrette said, to much applause. "There's just something about that character that's almost like an anime…She's always looked the same and you don't want to see a big change…Like you don't want to see Charlie Brown with a big head of hair! That would be weird, right?" (She eventually found coloring technology "that's smarter than I am.")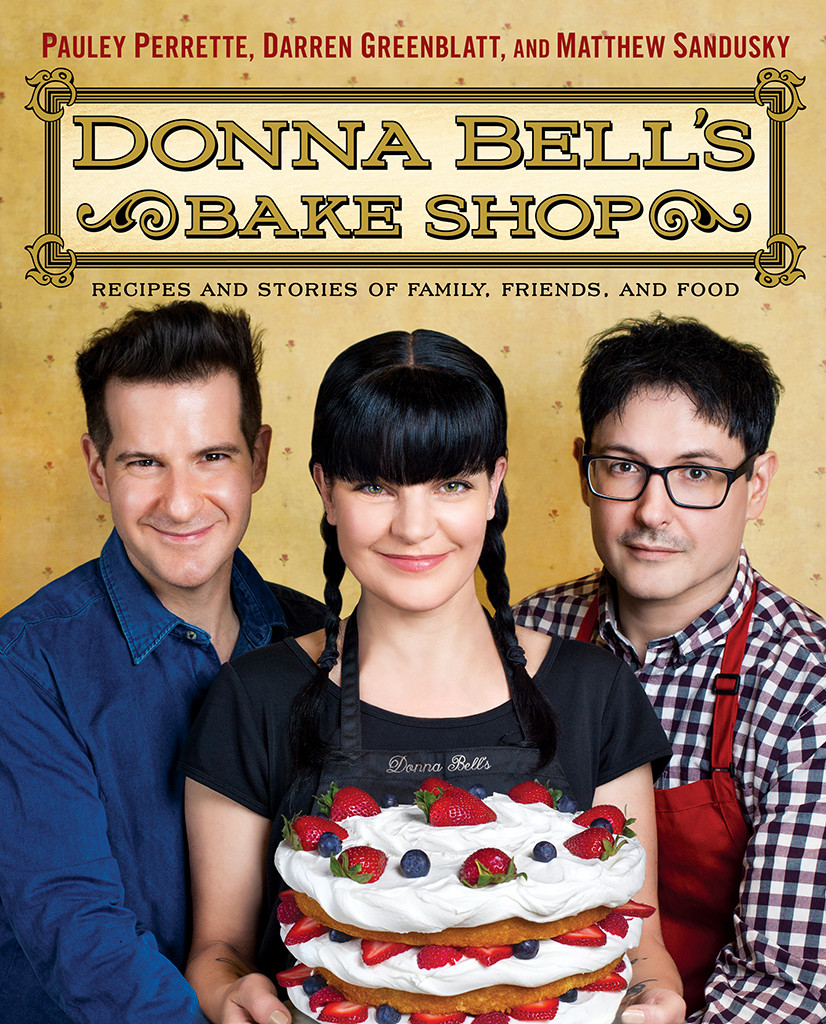 Simon & Schuster
Perrette's big heart has been in evidence for years, from her work on behalf of the LGBTQ community and the homeless to her support for women's shelters and animal rescue groups. She wrote the song "Beautiful Child" to benefit efforts to prevent suicide among LBGTQ teens. She's set up scholarship funds at her alma mater, Valdosta State University in Georgia, and New York's John Jay College of Criminal Science for students wanting to study forensics. In 2015 she co-authored the cookbook Donna Bell's Bakeshop, named after the New York bakery opened and run by some friends in honor of her late mother, who died of breast cancer in 2002.
"My mom was such a wonderful lady, I lost her way too early," Perrette said on CBS This Morning. "And I think anybody…no matter how old you are, it doesn't matter, when you lose your mom you feel like an orphan. You feel really kind of…" She indicated feeling out of sorts. "For my friends who are fortunate enough to haven't had this happen to them yet, my heart hurts for them."
Ironically, considering her work to help the homeless community, Perrette was physically assaulted on a Hollywood street by a homeless man in November 2015 (and accosted again by a different man in February 2016). Though she feared for her life and was understandably traumatized, she also thought about the bigger issues at hand.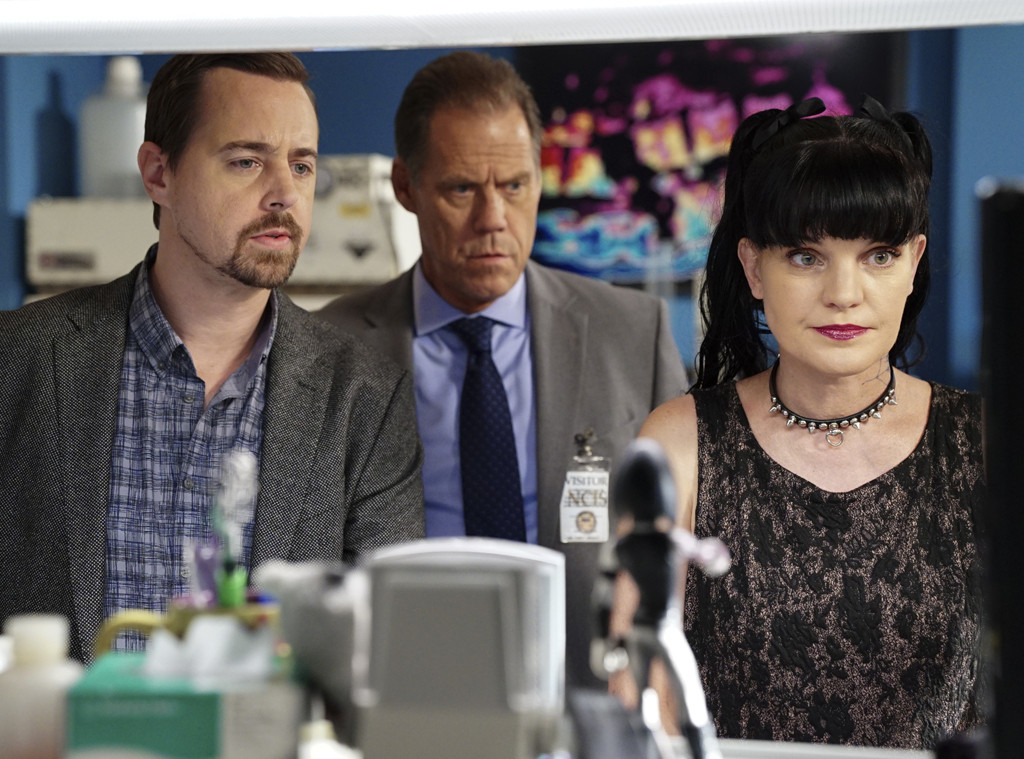 CBS
"My life changed tonight. My…I don't know," she tweeted. "We need full mental health care. We need housing and help for the homeless. We need to support our cops. We need to not walk alone. I need to heal."
The man, identified as David Merck, was arrested and eventually charged with making a criminal threat and false imprisonment by violence. A few months later, Perrette wrote that "of course" she had forgiven him.
"My heart broke for him," she wrote in an essay for Motto. "My tears that night were for him. I had looked into his eyes. There was nothing there. It seemed like his soul and his humanity were gone," she wrote. "He was out on the street without resources. It was a consequence of our failure as a society to take care of our mentally ill and impaired homeless community."
She continued, "Of course I forgive him. I have no anger, only sadness. He didn't know who I was, he didn't know who he was. He is very confused, he's homeless and he needs help."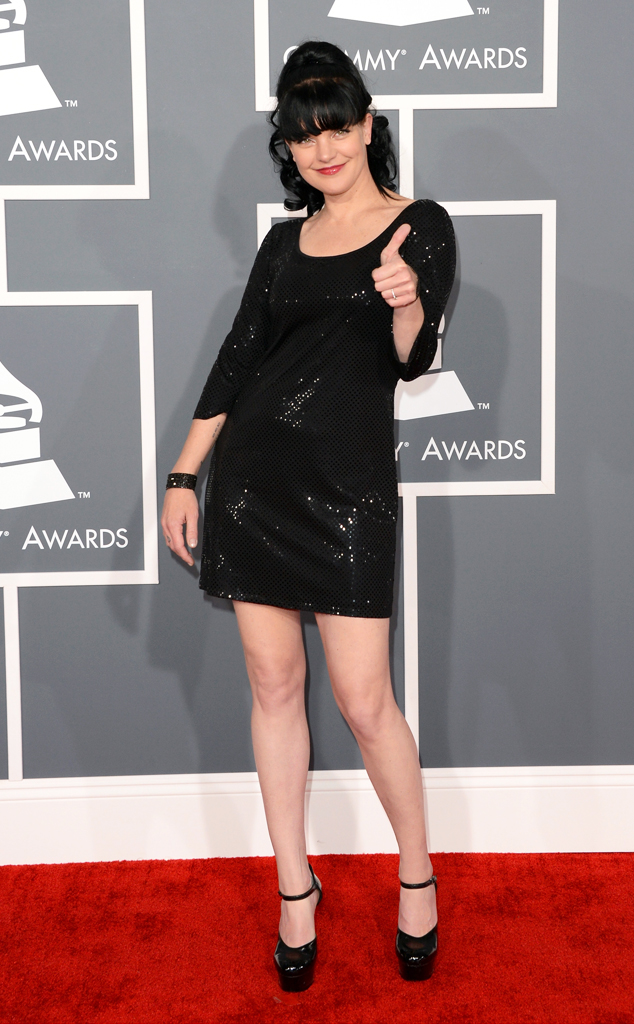 Jason Merritt/Staff
"There were a lot of feelings and a lot of emotions, but I feel like at the end of it all, as strange as it sounds, if that incident had to happen in the universe, I feel like it had to be me," Perrette told People in December 2016. "I feel like it was supposed to be me somehow because I have a lot of experience working with the homeless, working with the mentally ill. This instance, de-escalation that had to happen right then."
However, the actress expressed fear this past February after Merck, who was committed to a state psychiatric institution, was released.
"It changed my life forever," she said in a statement to Fox 11 News. "I don't walk outside my house. I think it's entirely possible that the next word I hear about this guy is that he'll kill a female."
At least her home is full of four-legged love. Perrette's beloved rescue dogs were on hand when she sat down with CBS News before Abby's final episode aired.
"They're so totally my kids!" she exclaimed. "My whole life is about them. Everybody's, like, 'Hey, you wanna gonna out?' And I'm, like, 'No.' 'Cause that would take me away from my dogs!"
But if you do see her out, whether it's at Hollywood United Methodist, her usual house of worship, or somewhere else—be cool.
"I gotta say, church is not the place to go chase down your favorite celebrity, I'm just throwin' it out there," she said. "Hospitals, bathrooms, churches, please do not chase down your favorite celebrity at any of these places!"
Source: Read Full Article