The It's Always Sunny In Philadelphia gang are all terrible people, but Deandra "Sweet Dee" Reynolds is unfairly regarded as the worst by her male compadres. So Dee takes matters into her own bird hands for an It's Always Sunny all-female reboot of "The Gang Beats Boggs." In an effort to show that women can do what men can do, Dee enlists the Waitress, Artemis, Mac's mom, and Charlie's mom to recreate the Season 10 premiere episode. Dee, Charlie, Mac, Dennis, and Frank attempted to drink 70 beers during a cross-country flight like baseball player Wade Boggs legendarily did. Both the mixed-gender and "Ladies Reboot" hit turbulence in the ultimate goal of beating Boggs, but Dee's scheme results in hilarious and legitimately thought-provoking commentary on women-led reboots and gender inequality in the entertainment industry and beyond. Spoilers ahead!
Dee books the five women on an all-female flight to Los Angeles for the Women's March. But she's tricking her companions since they don't know that her true intention is to redo the Boggs drinking challenge with women. Just like Dee didn't know who Boggs was in the original episode, the other women also have no clue. Artemis and the Waitress criticize the plan because rather than just copy the men, they want to come up with a different, better plan that's based on a "badass woman." Dee counters with an argument that many a Hollywood executive has probably stated with confidence before: "It's the same exact thing, but it's with women, right? So it's a new idea."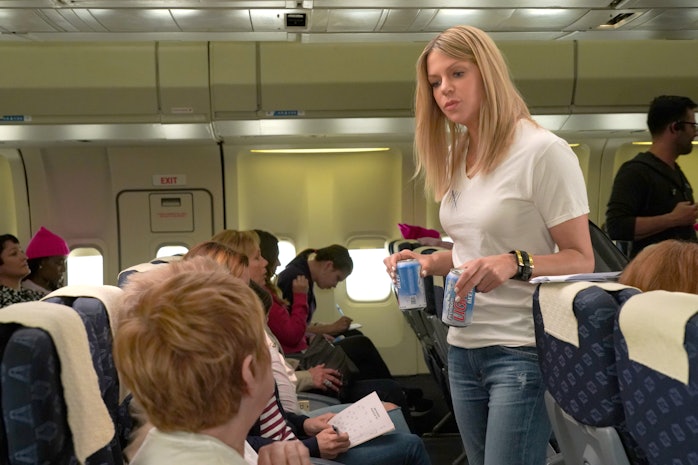 But Artemis longs to do something different because this reboot stuff is "lazy and uninspired." So they attempt to find a woman sports star to fuel their antics. They end up on Secretariat ("I don't like that she was named after a secretary. She should be a boss, but fine," Artemis replies) before they discover the racehorse was male. So Dee makes up a story about tennis great Martina Navratilova.
"The only way to beat men is by competing against other women," Dee tells the Waitress. But a booze-fueled vision of Navratilova soberly explains the problem with Dee's logic. (While Boggs appeared as himself in the original, Dawn Alden fills in for Navratilova. At the time of the episode's premiere, it's not clear if this is because the tennis pro opted out or if perhaps this is an intentional knock that female reboots aren't as popular as the originals.) "It's not about hating your opponent," Alden's Navratilova tells Dee. "Male opponents have the luxury of hating each other, but as women, we have to stick together to fight for the respect we deserve." Unsurprisingly, Navratilova's feminist take on female competition is completely lost on Dee.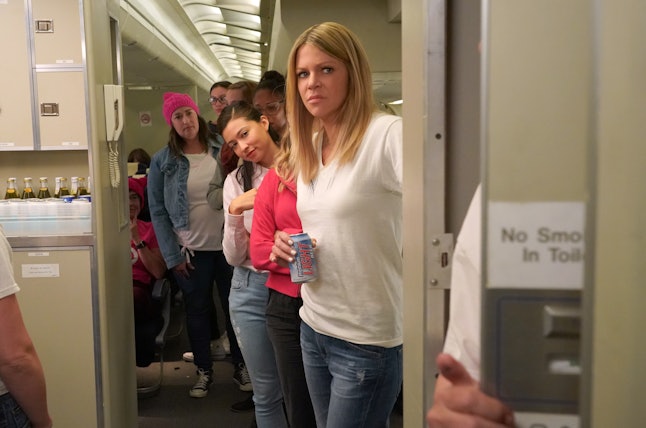 Throughout the outrageous episode, It's Always Sunny has a real debate about the merits of all-female reboots. To Artemis' point, they inherently lack originality. Rather than a female story being told, it can feel like thoughtless pandering to simply insert women into roles that were originally created for men. Plus, gender stereotypes can negatively impact the perception of female characters doing what male characters have done before. The Waitress says that women binge drinking is "depressing and sad" while Dee notes it's "fun" when men do it. Yet, the episode — as the series has always done — challenges that stereotype before tackling the other generalization that women can't be as disgusting as men.
The "Ladies Reboot," written by Dannah Phirman and Danielle Schneider and directed by Kat Coiro, seems to nod to Bridesmaids when Artemis' secret plan comes to fruition. Rather than do the "male hand-me-down plot," she spikes the tea she's serving to the passengers with ayahuasca. Anyone who drank the tea becomes violently ill for a truly disgusting vomiting scene. "The maximum gross-out," Artemis says through her puke proudly. "So nobody saw that coming from women."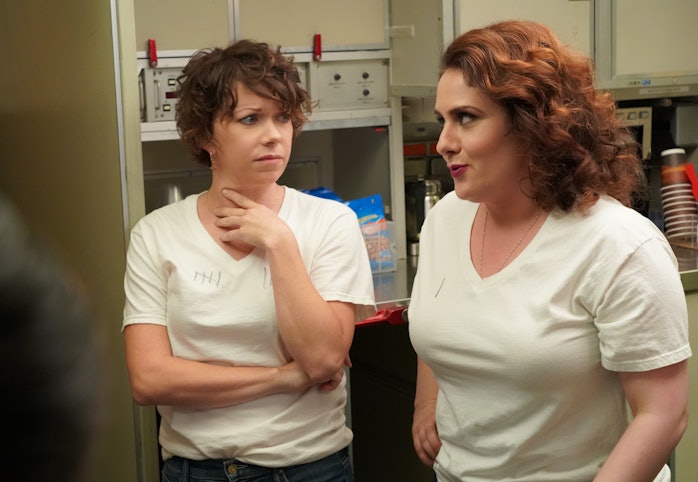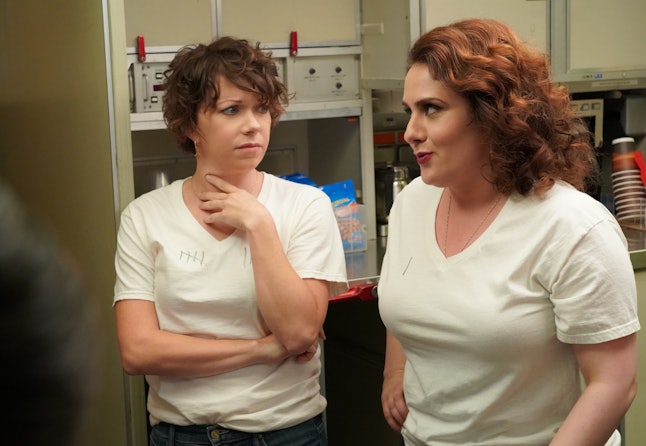 Frank, Charlie, Mac, and the waiter from Guigino's (he'll apparently return for the upcoming Super Bowl episode) all make appearances, but It's Always Sunny reinforces that men aren't essential to comedy. Dee, the Waitress, Artemis, Charlie's mom, Mac's mom, and even Gail the Snail get plenty of laughs all on their own. And the episode is loaded with even more gender role send-ups. The airline is only serving rosé on the all-female fight since everyone knows women don't drink beer. And Charlie's mom is incapacitated with fear at the notion of female pilots or even of a woman doing math.
"The Gang Beats Boggs: Ladies Reboot" is certainly a parody of female-led reboots, but it's not invalidating them. After all, Mindy Kaling was a major part of the It's Always Sunny Season 13 premiere when she filled in for Dennis and she also starred in Hollywood's most recent female spin-off, Ocean's 8. Instead, the It's Always Sunny In Philadelphia "Ladies Reboot" manages to do what any art form featuring women (reboot or not) should do — show that men and women really are equal. Whether that's in good behavior, bad behavior, or Wade Boggs-inspired behavior.
Source: Read Full Article