Seeing a YA book turned into a film is not exactly a rare occurence. Some of the biggest and most lucrative films of the last 10 years — Harry Potter, The Hunger Games, Twilight — were stories pulled directly from the pages of young adult books. What is rare, though, is for a novel featuring an almost entirely Asian-American cast of characters to get that same on-screen treatment — without being whitewashed. But Jenny Han's beloved rom-com To All The Boys I've Loved Before is leading the charge for change.
"I'd always hoped it would happen, especially for this particular book," Han tells Bustle. "Books and films are very different mediums, and not all books are meant to be films, but I thought To All the Boys I've Loved Before would translate well to the screen. It's been a long road, so when I finally got the call that it was really happening, I couldn't believe it. Authors will tell you how common it is to have a book optioned, but it is rare to see it come to fruition. In fact, I didn't truly believe it until the first day of shooting."
To All The Boys I've Loved Before is the story of 16-year-old Lara Jean Covey, who keeps unsent love letters hidden away in a hatbox her mother gave her before she died. But one day, her secret love letters are mailed out, and her love life goes from completely imaginary to totally out of control. Lara Jean teams up with one of her letter-receiving crushes, Peter, to deal with the aftermath, and in the process, she learns a lot about herself, her family, and, of course, true love.
"I've never seen an Asian-American girl be the lead in a teen movie before, so this is particularly meaningful for me," Han says. "It's been such an uphill battle to get to this point. Early on, before the book even came out, there was interest in getting this story made, but when I insisted that the lead had to be Asian, the interest faded away. It happened again and again. So I'm so happy to be here now, with Netflix as my partner."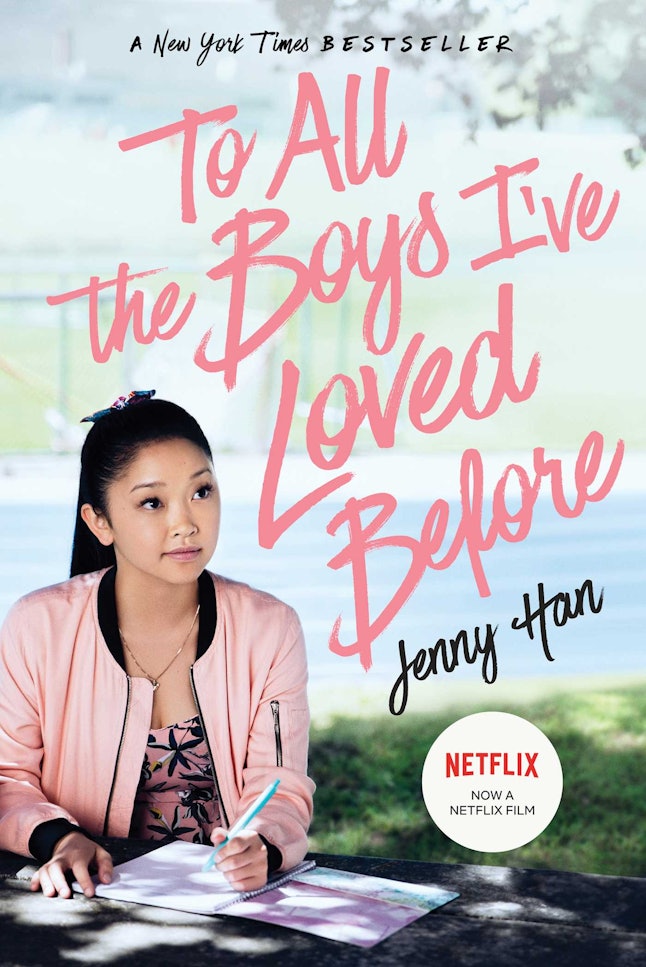 To All The Boys I've Loved Before by Jenny Han, $8.78, Amazon
To All The Boys I've Loved Before is actually one of the very first YA novels to be adapted by Netflix — L.M. Montgomery's classic Anne of Green Gables and The Kissing Booth by Beth Reekles are notable predecessors — and it's part of a rom-com revitilization that has been lighting up screens in 2018. Becky Albertalli's Love, Simon is undeniably one of the most popular book-to-film adaptations of the year, and announcements for adaptations of Sophie Kinsella's Can You Keep A Secret? and Sally Thorne's The Hating Game have recently been announced.
"There are [now] so many more platforms from which to tell those stories," Han says. "I'm so glad that smaller romantic movies have a chance to thrive at a place like Netflix."
But despite the mostly celebratory atmosphere that has surrounded news of the Netflix adaptation of Han's novel, it hasn't been without controversy, either. There were rumblings within both the book and film communities about the possibility of "problematic" Asian-American representation in the casting of the adaptation. The Covey sisters in Han's novel are Korean-American, but the actresses playing them are not. Lana Condor, who portrays Lara Jean, is Vietnamese-American while Janel Parrish, who plays her eldest sister Margot, is Chinese-American. For Han, though, the idea of policing the casting of Asian-American stories would only add to the lack of diversity now plaguing most media.
"I was once at a panel of Asian-American TV and film creators, and one writer said that she wrote a character to be Korean-American, and when it was difficult to cast her, the producers said they should scrap her being Asian altogether," Han says. "My feeling is, there are already so few opportunities for Asian-American actors that I hate to see those opportunities even more narrowed. From the first time I met Lana, I told her that all I want is for her to keep working and to be able to get the kinds of opportunities that other actresses who star in YA adaptations get."
Most importantly, To All The Boys I've Loved Before is not leading the charge for more robust Asian-American representation alone. The big screen adaptation of Kevin Kwan's novel Crazy Rich Asians was released on Aug. 15, just a few days before Lara Jean's story began streaming on Netflix. And more book-to-film adaptations are on the way — many featuring primarily POC casts, including Angie Thomas's The Hate U Give film, which is set for release on Oct. 19, and the George R.R. Martin-produced adaptation of Nnedi Okorafor's Who Fears Death. It's an exciting time for those who want to see inclusive and diverse tales on TV and in theaters.
"The fact is, if this movie does well, other Asian-American YA stories will get greenlit," Han says. "That means more points of view, more representation of all kinds. No one story will ever represent everyone, but I really hope we keep getting cracks at bat, because I have many more stories to tell, and so do so many others."
Source: Read Full Article