Welp, we can't say we didn't see this coming: Bachelor in Paradise's Jordan Kimball and Jenna Cooper are no longer.
The 26-year-old model, who previously competed on Becca Kufrin's season of The Bachelorette, confirmed his breakup with her in a somber Instagram caption (accompanied by a black and white headshot, natch) the day after the reality show's dramatic finale, in which cheating allegations surfaced. "To think, to feel, to fall. These emotions interact with experiences and people, when you find a person you think about them, you feel when they feel and sometimes you fall," he wrote. "Being careless with someone that you give your heart to and reach milestones with isn't sensible no matter what the terms may be . . . I'll be taking time to pursue my inner peace and she will always have me to talk to."
Although Jordan was full of wild antics during Becca's season, he was far more toned down on Bachelor in Paradise. In fact, Jordan and Jenna surprised everyone in Bachelor Nation by coming across as what appeared to be the season's strongest couple. Jordan seemed to be instantly smitten with Jenna, and later took their relationship to the next level in a fantasy suite. By the end of the season, Jordan proposed, and the couple began planning a wedding (with Chris Harrison as the officiant, no less).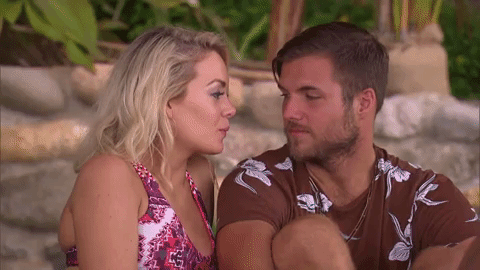 Shortly before the finale aired on Tuesday night, however, franchise spoiler blogger Reality Steve shared screenshots of text messages reportedly sent from Jenna to an unidentified man. Some of them were graphic in nature, while others claimed that she only started a relationship with Jordan to bring publicity to her business and that she doesn't even like him, "let alone love him." Jenna denied the cheating allegations, but Jordan admitted he didn't believe her. He explained to People that the news "felt like a body drop," and that the state of their engagement was in limbo. "I got taken down. I'm weak in the knees and I feel like I have rocks in my stomach."
Now it seems the pair have officially split, joining all the other couples this season who parted ways. Read Jordan's message about the situation in full below:
"To think, to feel, to fall. These emotions interact with experiences and people, when you find a person you think about them, you feel when they feel and sometimes you fall. When you're in love with even the experiences you've had with them it's something to respect. Being careless with someone that you give your heart to and reach milestones with isn't sensible no matter what the terms may be. I have not had an easy life and having struggles allows me to grab onto tough times and discard them from my path. I deal with unreasonable circumstances reasonably and have come to terms with a decision to remove myself from the relationship, it breaks my heart to think, feel and fall for this. It's dropped me. Fumbling emotions and being understanding is not easy. I'll be taking time to pursue my inner peace and she will always have me to talk to, if you've reached out to me, allow me time. Thank you to those that have."
Source: Read Full Article