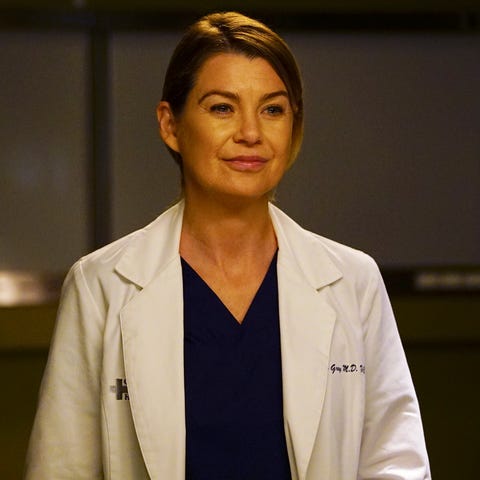 Big news, Grey's Anatomy fans: Meredith Grey has a new love interest, and you probably already know him.
Josh Radnor, a.k.a. Ted Mosby from How I Met Your Mother, is officially joining the cast of Grey's, reports People (although it's not clear if it's as a guest or a recurring role) to play Meredith's maybe boyfriend.
In a sneak peek for Thursday's episode obtained by People, Meredith shows up to work all done up. After her coworkers grill her, she reveals that she's going on a blind "lunch" date.
In the clip, Meredith's sister-in-law Amelia Shepard walks in and asks, "What happened? Are you going to a funeral?" (To be fair…it's pretty rare to see Mer wearing anything other than scrubs.)"What's wrong with you?" Alex Karev says. "You look weird." "Oh my god, you have a date," Maggie Pierce says.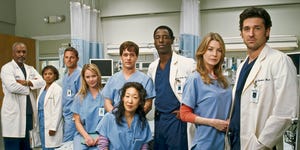 After she's pumped for details, Meredith admits that she's never met the guy before and doesn't even know what he looks like. But we do!
Some fans are pretty freaking pumped about the news:
I stopped watching greys anatomy awhile back but @JoshRadnor being Meredith's new love interest? I'm SO HERE for it.
Thanks for coming to my "TED" talk? #ThatwasaPun #HIMYM pic.twitter.com/dkz0NI656s
BRB preparing my Ted Talk on this subject bc I HAVE THOUGHTS https://t.co/SZnQ400v42
Others (especially devoted Scott Speedman fans who loved his character's past chemistry with Meredith) are…less than excited about this:
Is this my karma for not like the himym finale? https://t.co/GjPBHQDHOj
MEREDITH GREY HAS BEEN THROUGH TOO MUCH FOR THIS. WHERE IS SCOTT SPEEDMAN? I have been waiting so patiently ? https://t.co/1tzJ0SlW6b
That's not Scott Speedman? https://t.co/PmROlZ2hL4
Why the universe won't just give me Scott Speedman in a happy romantic plotline on TV anymore is beyond me, who watched his time on #GreysAnatomy and thought, hmm, needs more Ted from HIMYM. Apparently only the writers.
And, of course, the inevitable HIMYM jokes are already flying:
And that kids.. is how I met your mother. pic.twitter.com/ZKLEl0yJN4
No word yet on Josh's character (other than the fact that he might be the next big thing in Meredith's life) but I can't WAIT to see how this plays out!
Grey's Anatomy airs on ABC on Thursdays at 8 p.m.
Source: Read Full Article