Wilkinson opens up about her dating life now — or lack thereof — and getting herself out of a "very bad, dark place."
It may have been rocky there for a minute, but apparently it's all love between exes Kendra Wilkinson and Hank Baskett.
The former "Girls Next Door" star opened up about her relationship with her ex-husband in a new interview with Us Weekly, shedding some insight into how well they coparent five years after she filed for divorce in 2018. The two share two children; son Hank IV, 13, and daughter Alijah, 9.
"I'll forever love my ex-husband, you know, he's the greatest father to my kids and that's all I really just ask for. That itself is so good," she told the outlet. "It's good enough and if later down the line things happen, then they happen. I will always love him and I loved him once. Love doesn't just go away."
"We only have a short time on Earth, and once you love someone, I will always love them, you know?" she continued. "And my kids are just so happy and they're so taken care of."
Kendra and Hank tied the knot on June 27, 2009 at the Playboy Mansion and had two children together during their marriage. They also weathered a very public cheating scandal back in 2014, after Baskett allegedly had an affair.
On "Marriage Boot Camp: Reality Stars," Baskett said he was merely trying to score some weed when he showed up to the models' apartment, but things escalated when he came out of the restroom to find her making out with another woman.
Kendra and Hank finalized their divorce in February 2019.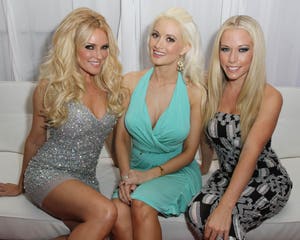 Holly Madison and Bridget Marquardt Detail Issues with Kendra's Book: 'It's Kind of F—ed Up'
Speaking with the publication, the model-turned-real estate agent also said their children are doing well — highlighting their son's basketball skills and their daughter's starring role in a production of "Matilda."
"They're so much good, and life is just getting good again," she said. "I was struggling for years … I was in a very bad, dark place for a long time. So, life is finally starting to get good again and I hope that I can continue this and keep pushing."
She added that when it comes to her dating life these days, it's "very nonexistent."
"I'm really so in love with building my new career in business and focused on my two kids. I don't have [a] nanny or housekeeping [service], so I don't really have a lot of time to give to some dude," she explained. "You know, it's just not really exciting for me to think that way. It's more exciting to sell houses and feel that good feeling."
Wilkinson's HGTV series "Kendra Sells Hollywood" kicked off its second season earlier this month.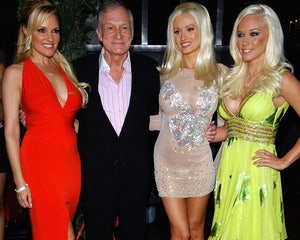 Kendra Wilkinson Responds After Holly Madison Spills 'Girls Next Door' Secrets About Hef, Sex and More
Source: Read Full Article