Spoilers for Arrested Development Season 5, Part 1 ahead. Saturday Night Live fans have to be excited about one of the several new faces on Arrested Development in Season 5. Kyle Mooney joins the cast as Murphy Brown, Tobias's (David Cross) long-lost son. The duo don't seem to have much in common — Murphy Brown wants to be either a dog doctor or work with computers, while Tobias tries to force him into acting. But they're both sufficiently awkward, so it's obvious to everyone that the two are related. But who is Tobias' son Murphy Brown's mom?
Audiences first meet the new Fünke family member in Season 5, Episode 3, when Murphy Brown is half-heartedly impersonating Buster. "Did the skit start? I don't have the hook thing," he mumbles. No one in the room, meanwhile, seems to have any idea who he is. In fact, in a later episode, the Bluth family voices their assumption that he is Tobias's boyfriend — or "acting partner," as Lucille (Jessica Walter) says in air-quotes. "They think that we're boyfriends, dad," Murphy Brown laughs. "I'm his bastard father," Tobias explains. "This is my bastard son."
The name Murphy Brown purposely invokes the Candice Bergen-led TV show, which is getting a revival next season, but in fact both Murphy and Brown are his first name, à la George Michael. What's more, Mooney's character is not named after the fictional '90s news anchor but instead a famous private investigator who worked for the Chicago Sun Times and the Washington Post, according to Tobias. Unfortunately, Murphy Brown's real last name is never mentioned. Tobias states that it's now Fünke. "Oh, that's how you say it," his son says, mildly amused.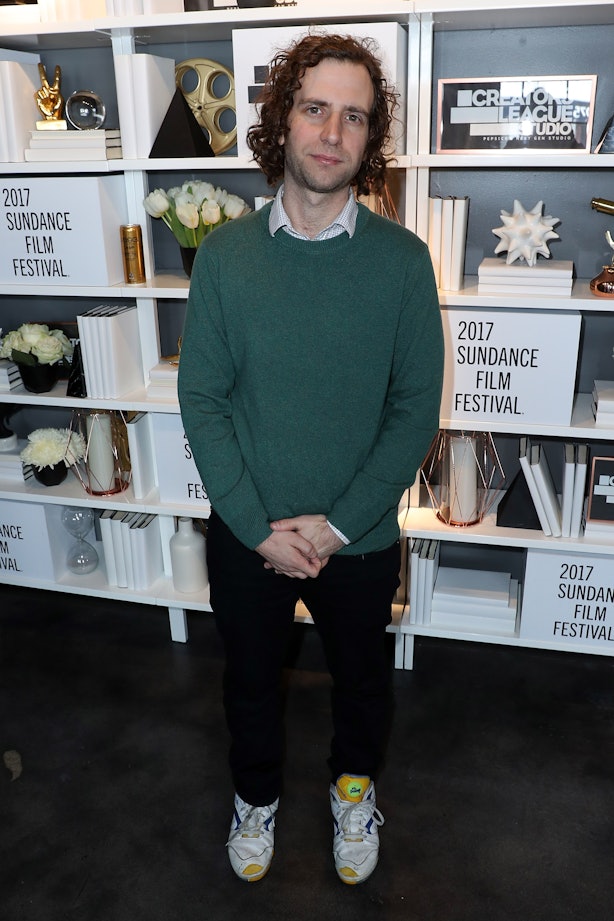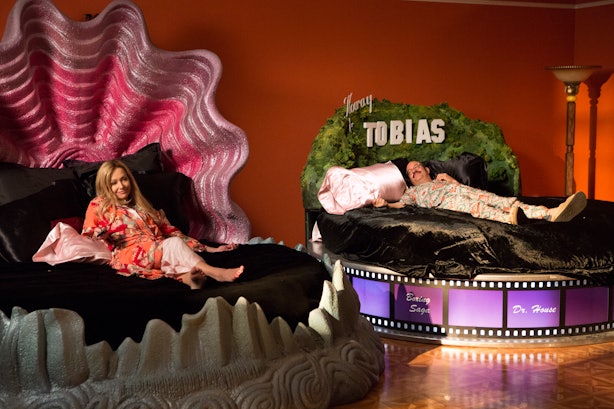 And viewers also don't know how old Murphy Brown actually is. After the family talks about Buster's imprisonment in front of him, they wonder whether "the boy" can be trusted. "Am I the boy?" he asks, confused. "I've never heard a man ask that question," Lucille says, condescendingly. "Nor have I," George Michael responds, happy to finally have the upper hand.
Though Murphy Brown's origins are still a mystery, Kyle Mooney seems like a perfect choice to play Tobias's awkward son. He's been on SNL since 2013, and during that time, he's also appeared in movies such as Neighbors 2: Sorority Rising and co-wrote and starred in the 2017 film Brigsby Bear. On SNL, he and fellow cast member Beck Bennet have made a name for themselves by writing weird and off-kilter sketches, which usually involve mumblecore and purposeful bad acting. It is, for some reason, hilarious.
So while viewers will have to wait until the second installment of Season 5 to find out who Murphy Brown's mom is, they can look forward to seeing more of Mooney as Tobias and his son try to forge a relationship. Maybe Tobias will even teach him to blue himself.
Editor's note: Season 5 is controversial due to the presence of Jeffrey Tambor, who was fired from Transparent after being accused of sexual harassment by two co-stars (he denies these claims); he also admitted to and apologized for verbally harassing Jessica Walter on the Arrested Development set in a recent New York Times piece. Co-stars Jason Bateman, David Cross, Will Arnett and Tony Hale were criticized for seeming to defend Tambor and minimize Walter's experience, in the same interview. Bateman, Cross, and Hale have since apologized.
Source: Read Full Article