After her breakout role in Netflix's hit rom-com, To All the Boys I've Loved Before, Lana Condor has a new and totally different movie in the works. While TATBILB was a smash hit, fans can expect to see the actor who played the lovable Lara Jean Covey take on a more serious role. That's because on Tuesday morning Deadline reported that Lana Condor will star in a new sci-fi thriller called Warning, and this time around, there's definitely no Lara Jean, and no Peter Kavinsky.
Sure, the perils of high school dating are enough of a psychological mind-meld to make someone confront the deep questions of life, but it sounds like Warning will take a more head-on approach to philosophy than TATBILB. The description of Warning on the film's official IMDB page reads, "Loneliness, death and the meaning of life, explored through vastly separate lives colliding in interweaving short stories set in future Earth." It's about as different from To All The Boys as one can get, but it sounds like Condor is more than ready to take on this new meaty role.
The 21 year-old posted a photo of the news on her Instagram's stories, calling the movie "the next next adventure." Perhaps the double "next" was a typo, or Condor simply meant to indicate that she has other "next" projects before this one, like the upcoming TV show Deadly Class, which will air in 2019 on SyFy.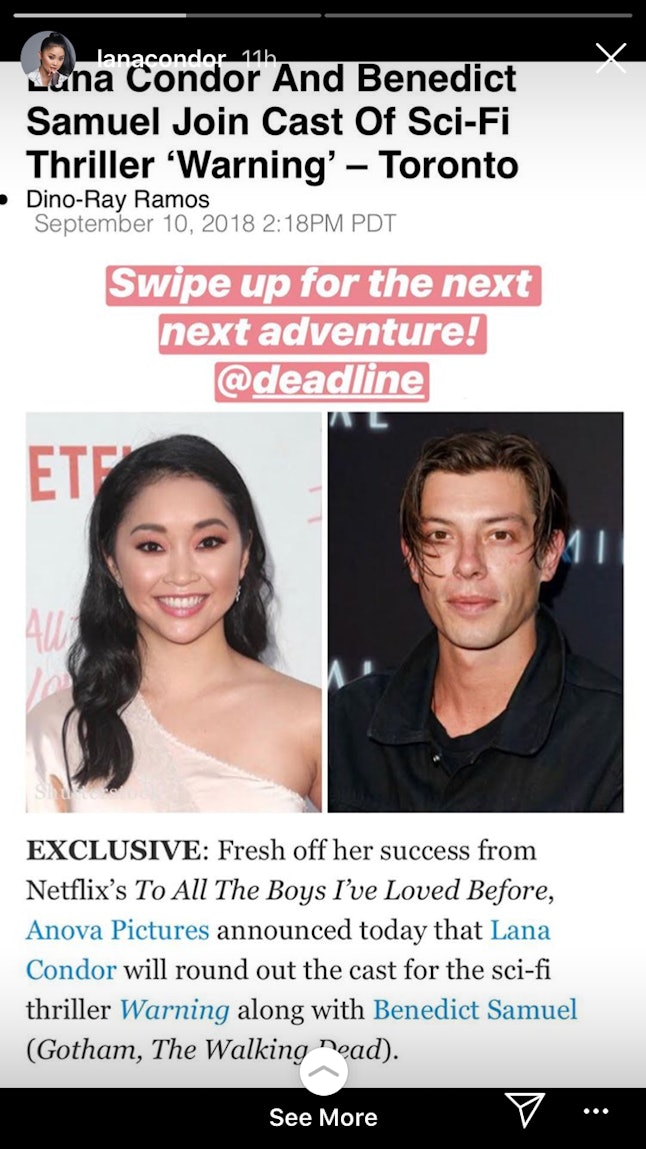 According to Deadline, Condor will be joined in Warning by Benedict Samuel, Homeland's James D'Arcy, and Laura Harrier, to name a few, and co-writer Agata Alexande is set to make her feature directorial debut on the film. Perhaps the only thing that Warning and To All The Boys will have in common, besides Condor's starring role, is that both movies have female directors. (Susan Johnson directed TATBILB, which hit Netflix on Aug. 17.)
The two upcoming roles that Condor has on the docket are exciting, but of course everyone's already waiting to hear about a To All the Boys sequel. Since the book by Jenny Han upon which Netflix's wonderful high school rom-com is based on has a sequel, fans are hoping that they'll get to see Condor step back into Lara Jean's combat boots in due time. No official plans for a sequel have been announced, but if the film continues to do well, the odds are looking good.
For now, it seems like Condor hopes to expand her horizons by taking on these awesome sci-fi roles that Warning and Deadly Class will provide. It's really not the greatest surprise that Condor is branching out from the rom-com genre, because the actress has repeatedly spoken about how important she finds representation in entertainment. It makes sense that she wants to contribute to Hollywood's diversity across all genres. During an interview with Bustle in August, Condor said, "I'm thrilled that I do have the platform and the responsibility to represent my community on screen, and that's what I love the most about it, that I can do that for girls that look like us." Then, she added "That's all I care about!"
Fortunately, fans will be seeing a lot more of Condor in the future. And Warning may just be the most mysterious and intriguing of her upcoming projects — for now.
Source: Read Full Article